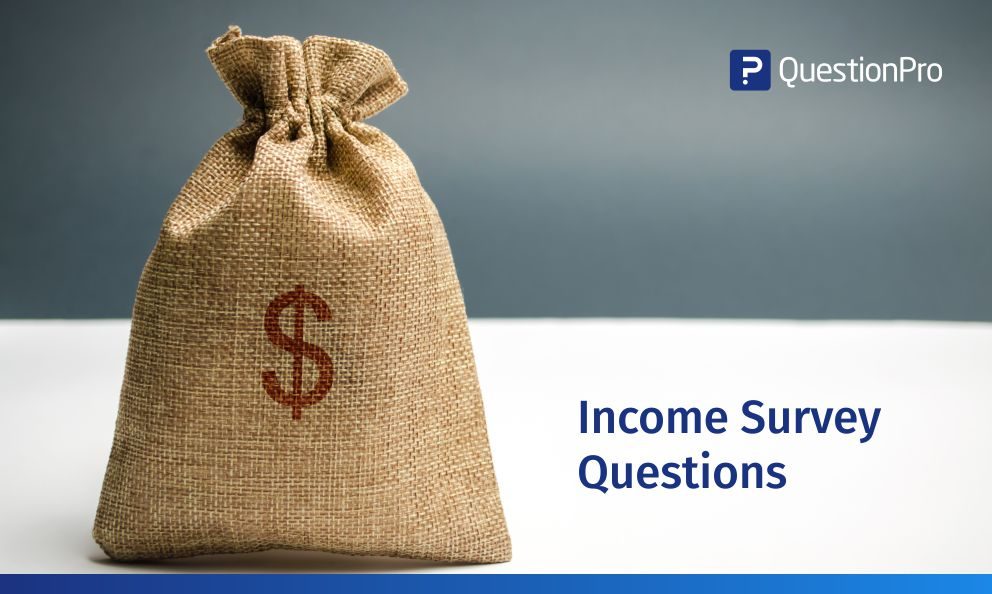 What are Income Survey Questions?
Income survey questions is a questionnaire that is asked to understand the financial status of an individual. They shed light on what is the amount of income that a person makes in a year, be it individual income or household income.
Income survey questions can be sensitive in nature. Some respondents might feel that income showcases the personal growth of an individual and hence answering such a question often makes them feel embarrassed. Such questions are used in surveys either as a part of demographic questions or typically for financial institutions like banks, money lending businesses, etc to determine the financial capabilities of an individual.
Income survey questions as a part of demographic questions are used by researchers to evaluate the financial status of the respondent. These type of questions can help researchers with information to find the right target audience, conduct pricing research, and many more. It helps the researcher to understand the audience on a granular level which can lead a company to place their products/services in the right price range and make strategic decisions accordingly.
For example, a fashion clothing company wants to find out the right target audience and also know what should the price range for their product be, to capture higher market share. In such a case, a profile survey including demographic questions such as age, sex, household income etc would allow the company to narrow down the targeted audience. Further, income survey questions can be asked to the targeted audience to find out appropriate pricing for their products.
Top 10 Income survey questions for questionnaires
Here are a few examples of income survey questions most commonly used in a good survey design:
Which of these describes your personal income last year?

$0

$1 to $9 999

$10 000 to $24 999

$25 000 to 49 999

$50 000 to 74 999

$75 000 to 99 999

$100 000 to 149 999

$150 000 and greater

Prefer not to answer
In the above question, information regarding the individual's personal income can be gathered. It is a very generic question, which provides an overview of the income that the respondent as an individual has. Such information can be useful to segment the audience on the basis of income slabs, which can be used to make well-informed decisions.
What is your total household income?

Less than $10,000

$10,000 to $19,999

$20,000 to $29,999

$30,000 to $39,999

$40,000 to $49,999

$50,000 to $59,999

$60,000 to $69,999

$70,000 to $79,999

$80,000 to $89,999

$90,000 to $99,999

$100,000 to $149,999

$150,000 or more
The above question enquires about the total household income, which suggests additional incomes that are in the family. For instance, the respondent has a working wife, a brother who has a business and parents who are working as well. Such a question will have to include the income coming in from all these sources. Such questions can be used by financial institutions to understand the financial capabilities of an individual, or the same can be useful for market research as well. Using the data gathered from such a question, can enable the researcher to segment the audience in appropriate groups and even find the target audience for a company's product or service.
Do you have income from any sources other than salary?

Yes

No

Prefer not to say

Did you receive alimony during the last year?

Yes

No

N/a

Prefer not to say

Did you receive any social security benefits or disability income in the last year?

Yes

No

N/A

Prefer not to say

Did you receive any money from selling stocks/bond/real estate last year?

Yes

No

N/A

Prefer not to say

Have you received any income which is exempted from federal tax?

Yes

No

N/A

Prefer not to say

Did you receive any monetary contribution for child support in the last year?

Yes

No

N/A

Prefer not to say

Have you received any monetary contributions of gifts that included rent or utility payments from someone who does not live with you?

Yes

No

N/A

Prefer not to say

List all the sources of your income?
Above are a few sample income survey questions that dig deeper into the financial aspects of an individual. Such questions are usually asked by financial institutions or government organizations.
5 tips you should consider while writing income survey questions
Know your audience

– When asking income questions, the researcher should have an idea about who the respondent is going to be. He has to make sure that the respondent can relate to the questions that are being asked to him. For example, income survey questions can be asked to adults only, and not students.

Instruct precisely

– To avoid confusion and to make sure the respondent understands correctly, precise instructions should be given while asking these questions. For example, personal income or household income, etc.

Relevance of questions

– Relevance of questions will result in the variation of response rates for your survey. If your research does not need in-depth information on the individual's income, avoid asking too many income related questions. For example, if the survey is not related to information gathering to capture the financial capabilities of the respondent, a series of income related questions should be skipped. A single question, giving an overview of the person's income should be more than enough.

Wording the question appropriately

– For many respondents, such a question is intrusive and personal in nature, hence enough care has to be taken by the researcher while asking the question to not offend anyone or choosing the right range and even including the 'prefer not to say' option.

Using approximate numbers

– Many times, it is difficult to answer the income question with exact numbers and also many respondents would prefer not to mention the exact number for their income. Hence, while asking such a question, providing a range of income is the appropriate method to go with.
Although the above points can help you to write effective income survey questions, they often come with a lot of challenges as well. Definite answers are a little difficult to get, even when the question is regarding an individual's personal economic status. Such a question can be intrusive and complicated. Points which can cover sources of income, average expenses, income before tax and after tax, etc are some of the points which impact the research. Covering all these points can enable a researcher to gather accurate data for the research. However, a number of questions will always be based on what information is needed for the research. Income survey questions can be asked for in-depth information as well, often required by government institutions, financial institutions, etc. This will include a series of questions to find out information related to the respondent and their family earnings. For example, income tax questionnaires, rent income questionnaires, a loan eligibility questionnaire, etc.
For instance, a financial institution would probably need much more detailed data regarding the respondent's expenses, the source of income, etc, however, market research would probably need only the income before tax is deducted and afterward.