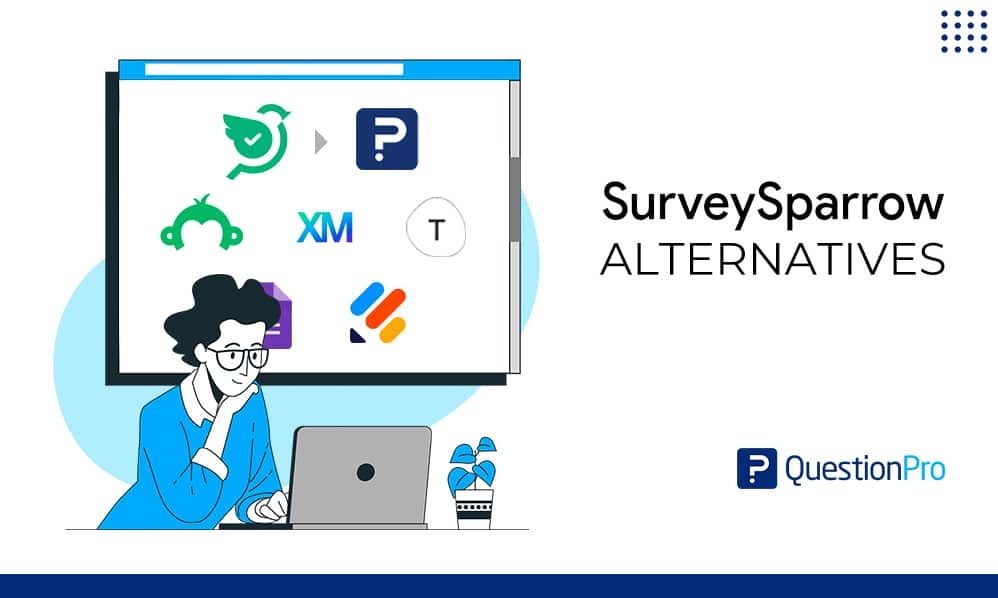 Looking for SurveySparrow alternatives? We'll walk you through the top 5 alternatives that offer excellent performance and intuitive UI at affordable prices.
No doubt, SurveySparrow is a good survey software, but why go for just "good" software if you can get "great" software? This article is for those SurveySparrow users who are not happy and are searching for other tools.
But before that, let's start with a short introduction of SurveySparrow and how it compares with other survey software.
What is SurveySparrow?
SurveySparrow is an online survey software to create questionnaires and collect data. Hence, any alternative to SurveySparrow must also offer basic functionalities like creating a survey, distributing it and generating reports.
We analyzed a few online reviews left by SurveySparrow users on Capterra to learn what they have to say. While they were happy with the basic features, they looked for more advanced features. The customers wanted a software that was easy to integrate and offered a great API to developers.
For instance, here's are some of the positive reviews left by customers,
"I love that the software is flexible and not too expensive. Support are great and helped resolve my clients issues fast."

"This is a great application to ask shopper opinion on various subjects. It's likewise simple to utilize."
On the other hand, there were a few customers who complained about their bad experiences, 
"Lot of dependence on developers, which is a huge time suck. Doesn't allow you to handle bulk loads such as deleting or copying an audience list."

"Lack of email marketing features. There is no way to send reminders easily or even segment audiences."

"The drag and drop question box is quite buggy and not correctly snap into the alignment."
We analyzed different survey software to find the best SurveySparrow alternative, but before that let's see how SurveySparrow compares with QuestionPro.
Top 5 Best SurveySparrow Alternatives
We analyzed different survey software based on the below factors.
Number of features

Customization 

User-friendliness

Robustness

Integration capabilities

Support

Pricing

     
Alternative Top 5  – TypeForm
TypeForm has an intuitive UI that users find easy to use and navigate. It offers many features and considered as one of the most robust software. However, it is not recommended for small and medium businesses as their pricing structure is not flexible. Also, it doesn't meet expectations when it comes to customer support, automated email reminders and user segmentation.
Check out the Best TypeForm Alternative
Alternative Top 4 – Qualtrics
Qualtrics is a great platform meant for advanced market research and experience management. Hence, it is suitable for large organizations that want to run advanced research studies like pricing research. It offers a stable application performance and is packed with good features for customization. However, it is not suited for small businesses or non-profit organizations due to its high price. Many users also complain about their user support.
Check out the Best Qualtrics Alternative
Alternative Top 3 – JotForm
Jotform is a good choice for those searching for SurveySparrow alternatives as it is easy to learn. It is ideal for users with a non-technical background. They offer cost-effective plans with a user-friendly UI. However, sometimes it suffers from performance issues and crashes while generating reports and uploading media. It can be a frustrating experience to start all over again.
Check out the best JotForm Alternatives
Alternative Top 2 – SurveyMonkey
SurveyMonkey is a widely-used survey platform by students and integrates well with third-party apps. Choose this tool if you are searching for stable software that offers customization options and resources to get started. On the downside, it is pricier than SurveySparrow for the same set of features and has a steep learning curve.
Check out the best SurveyMonkey Alternative.
Alternative Top 1 – QuestionPro
With a QuestionPro Essentials account, you get 80+ features for free, which include survey creation, customization, distribution, and report analytics. They offer 40+ question types to create a survey. You can reuse questions in different surveys or choose from 350+ premade survey templates.
You can program your surveys with 10+ logic types and create 30+ reports.  With Team edition, you get a multi-user account to collaborate and work on the same research project. QuestionPro lets you send your surveys through email, website, mobile app, QR code, social media, and more. 
It offers a complete end-to-end solution that differentiates QuestionPro from SurveySparrow and many other survey software alternatives. You can choose your sample audience a database of 22M+ respondents as per your geography, language, age, etc requirements. 
QuestionPro Surveys is pricier than SurveySparrow's paid plans. However, if you compare QuestionPro survey software features available in its paid licenses with that of SurveySparrow, the former offers far more at the same price. 
QuestionPro offers its advanced paid license free to non-profit organizations and at a highly discounted rate to universities and academic institutions.
For these reasons, QuestionPro makes the #1 of SurveySparrow alternatives and the best choice for students, small teams, and market research organizations.
Why is QuestionPro the best of SurveySparrow Alternatives
Like SurveySparrow, the QuestionPro Surveys Essentials account is free for a lifetime and does not require a credit card! They offer tons of free resources such as live training, help documentation, case studies, ready-made survey templates, monthly interaction with experts, ad much more.
With a paid account, you get a dedicated account manager and can connect with their support team 24*7 via chat, email, or phone.
QuestionPro is ISO 27001:2013 certified and complies with GDPR, HIPAA, CCPA, SOC 2, and other data privacy and security regulations.
Here's what QuestionPro customers said about us on Capterra.
"Pretty good multi-language support. It allows you to ensure that the respondent does not exit the survey without completing it."

"The ability to learn how to use on my own, but still has great help sections and live chat option if I was in a bind. The free trial is great and offers the meat you get with a basic plan."
We also found a user who thought, "No real cons, but implementing some features takes a bit more time than I expected."
G2 Comparison: QuestionPro vs SurveySparrow
QuestionPro rates 4.5/5 stars with 532 reviews. By contrast, SurveySparrow rates 4.4/5 stars with 1,514 reviews.

When assessing the two solutions, reviewers found SurveySparrow easier to use. However, QuestionPro is easier to set up and administer. Reviewers also preferred doing business with QuestionPro overall.
Reviewers felt that QuestionPro meets the needs of their business better than SurveySparrow.

When comparing the quality of ongoing product support, reviewers felt that QuestionPro is the preferred option.
Conclusion
While there are many SaaS survey tools in the market, we found these were the top 5 based on our analysis and user reviews.
The best survey software for your research needs depends on your requirements. Create a free account with these 5 options. Explore their features and evaluate performance. You can also create a free trial account and find out if it suits your requirements. 
QuestionPro is trusted by leading brands like the American Cancer Society, Thales, Energizer, BMW, and many more. Sign up today and let us know if you need any help with your survey and research needs. We'd be happy to chat!