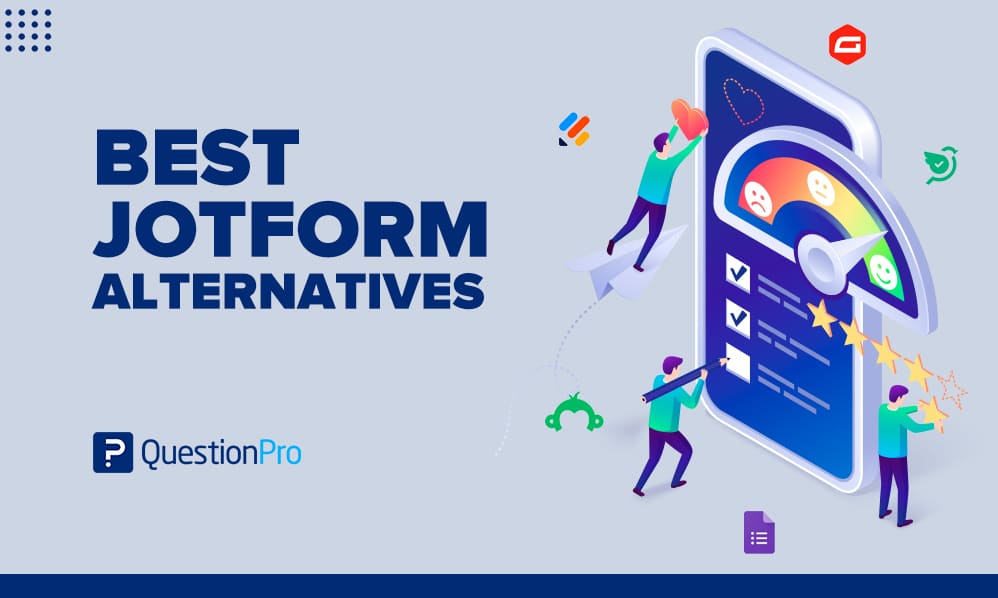 In the market, more and more form platforms appear with fascinating functions to meet the needs of the most demanding users. JotForm is undoubtedly one of the leaders in the market. However, there are a couple of tools that are great Jotform alternatives to consider when making a decision.
Below we have gathered the best competitors listing their main characteristics and all the necessary information to choose the one that best suits your needs. Let's get started!
Why choose an alternative to JotForm?
Jotform is a company based in San Francisco, CA, whose main product is an online form builder that allows its users to create forms to capture data from their visitors for further analysis. The Jotform alternatives are other software with similar functions to the ones offered by JotForm.
JotForm has established itself as a favorite among researchers and marketers thanks to features such as its branching/skip logic, security, design, and integrations.
Like all tools, Jotform has strong and weak points, so it is essential to know your competitors in case you need to migrate to another platform that meets your expectations and adapts to the needs of your projects.
Top 10 Best JotForm Alternatives
Among the best Jotform Alternatives on the market, the following stand out:
QuestionPro
Typeform
Wufoo
WPForms
SurveyMonkey
GravityForms
SurveySparrow
Google Forms
Formstack
MicrosoftForms
#1 – QuestionPro
QuestionPro is software for surveys with a wide variety of functions that make life easier for professionals from various areas and industries daily, thanks to its incredible versatility and multiple functions that adapt to any need and project. It is one of the best JotForm alternatives in the market.
This platform has positioned itself as the best JotForm alternative thanks to the fact that in addition to having the possibility of creating forms simply, it has a large number of features to collect data more efficiently, in addition to its powerful analysis suite that allows you to investigate between all the information obtained and reach conclusions that have an impact on the business and efficiently manage the records.
Some of the most outstanding features of QuestionPro are:
Appearance and UX/UI: QuestionPro is a constantly evolving platform, not only in its tool but also in its interface. It currently has a fairly intuitive and orderly UX/UI, allowing users to adapt to its platform quickly.
Forms Customization: QuestionPro looks good inside and out. Thanks to its various customization features, it is possible to create very attractive forms using its pre-designed themes, survey editor, or CSS editor with QuestionPro. You can create forms that adapt to your brand and inspire confidence in your users.
Types of Questions and Logics: This survey platform will allow you to use different questions and logic to ensure that the experience of the people who fill out the form is optimal and the data collected is what you need to achieve your goals.
Advanced Analysis: QuestionPro has a reasonably robust data analysis module. You can manage all the data collected to detect areas of opportunity, discover your target audience and generate detailed reports.
Integrations: In addition to having many features, QuestionPro allows its users to connect their forms with other platforms to create a perfectly unified work environment thanks to its native integrations to platforms such as Hubspot, Google Sheets, Tableau and Salesforce in addition to the possibility of transferring data via API and FTP.
Best of all, its Essentials license is free of charge, and you can try the main features at no cost or, if you wish, access a trial of its advanced licenses. You can check their prices and main features here.
QuestionPro Pricing -> https://www.questionpro.com/pricing/
#2 – Typeform
Another great Jotform alternative can be found on Typeform, an ideal platform for creating very eye-catching forms thanks to its attractive templates that adapt to any situation or line of business.
Among the main strengths of Typeform are its good design and the intuitiveness of its software. Although not as robust in analytics as platforms like QuestionPro, Typeform offers features that will allow you to get the most out of your forms.
Typeform has become one of the favorite platforms for marketers and web designers thanks to the incredible appearance of its forms and the advanced levels of customization it offers its users.
Like many platforms in this list, Typeform allows you to use intelligent logic, analyze the results obtained and connect your form with other platforms thanks to its integrations with Hubspot, Slack, and Google Analytics, among others.
Typeform has a free license for those who wish to explore its platform. However, to access a little more advanced features, you will have to purchase one of its paid licenses which starts at $25, with the limitation that it will only allow you to collect up to 100 responses per month. From then on, you can always continue to improve your account to meet your needs.
If you are considering trying out Typeform, we invite you to read our article: Alternatives to Typeform.
#3 – Wufoo
Wufoo is a cloud-based form builder specializing in offering its users the ability to create incredible forms that perfectly fit your website and have some exciting features. It's one of the fair jotform alternatives.
This platform has among its strengths the possibility of collecting online payments directly from its forms thanks to the multiple integrations with payment gateways such as PayPal, Strike, Square, and others.
In addition, it has integrations with other platforms, allowing you to take advantage of the full potential of its forms. Among these options, you will find integrations with CRMs and data analysis platforms to make the most of the information collected and effectively manage each registered contact.
The initial price of its platform is $14, and, like Typeform, you can collect up to 100 responses and create up to 10 forms.
#4 – WPForms
If we talk about powerful but simple tools, wp4 is one of the ones that best fits this description. Its platform allows its users to create forms by dragging and dropping elements in a very intuitive way.
Its main differentiator is its complete integration with WordPress, one of the most popular CMS on the market, making it the favorite tool for entrepreneurs and web designers.
Among the main features of Doble Perform, you can create contact forms, registration forms, surveys, and payment forms. In addition to its design functions, you will be able to access the more than 400 pre-designed Te Late that it has to make the process of creating your form even more straightforward.
Another aspect to highlight is, without a doubt, its cost-quality ratio, since for only 49 $50 a year, you can make unlimited forms and receive unlimited responses on a website, so if you use WordPress to manage your website, it can undoubtedly be one of the options to consider How to alternative to Jotform.
#5 – SurveyMonkey
Surveymonkey is one of the best-known survey platforms, but it also has many followers among those who want to create online forms.
This platform will allow you to create surveys to access slightly more advanced functions to collect and analyze data later.
A little-known fact is that Momentive is not only the owner of this platform but also of Wuufo, so if you want to make forms, consider this or other SurveyMonkey alternatives, depending on the needs of your project.
#6 – GravityForms
Here we present Gravity Falls, a platform to create personalized online forms with which you can collect paid leads and create an efficient workflow to improve your customer and data acquisition.
As with WPForms, GravityForms offers seamless integration with WordPress. Its users can insert forms into their articles and websites managed with this CMS in a simple, fast, and attractive way.
This platform has some official integrations with platforms such as PayPal, dropbox, Hubspot, Mailchimp, and Zapier, allowing you to optimize data collection from those who visit your website.
The most basic license of this platform costs $59 per year. With it, you will have access to its main features to start collecting data quickly.
#7 – SurveySparrow
SurveySparrow is also a survey platform that allows you to create forms on their platform. In addition to its easy-to-use interface, you can access its analysis suite to understand your target audience better and discover areas of opportunity, thanks to the feedback from your visitors and the data they provide you.
The main focus of this tool is to collect feedback. However, it can also be used for data capture, appointment scheduling, event registration, and lead capture.
Being a platform for surveys, it gives you various options to distribute your forms, either by embedding the survey on your website using HTML, or through other means such as QR codes, links, SMS, or social networks.
If you want to try SurveySparrow, you can do it with its free license, allowing you to collect up to 100 responses without charge. If you want to access more answers, you will have to purchase one of its paid licenses, starting from 19 USD per month.
#8 – Google Forms
Google Forms was one of the most popular platforms on the market, not only because it is backed by a giant in the technology industry like Google but also because it offered a simple product to those who need to create forms.
This platform used to allow you to create questionnaires in a reasonably efficient way. It also allows you to access a suite of analysis tools that are simple but useless.
Google Forms was the ideal platform for those who wanted to make forms uncomplicated and didn't need to perform robust analysis afterward or manage their data more complexly.
Now that Google reported being closing Google Forms, you can look out for the best Google Survey replacement.
Upgrade your survey game with Google Survey Alternatives. Our blog provides valuable insights and recommendations.
#9 – Formstack
Finally, we want to talk about forstalk.com, a simple platform that does what it promises: create forms quickly.
With its platform, you can create forms of any type, such as:
Order Forms
Client Forms
Event Sign-ups
Feedback Forms
surveys
Evaluations
Questionnaires
Everything in a simple way thanks to its drag-and-drop editor and the simplicity of its platform.
In addition, in its more advanced paid licenses, you will be able to access quite exciting functions, such as the possibility of receiving online signatures, automating the creation of documents, and integrating it with other platforms, such as CRMs and payment gateways.
We hope this list and all the information we have included in this article will help you choose the ideal platform for your next big project.
Conclusion on the best JotForm Alternatives
Having a perfect online form will translate into more registrations and more sales, so it's not something you should take lightly.
At QuestionPro, we have dedicated years of development to creating the ideal platform adaptable to any market need. By acquiring our software for online forms, you are not only acquiring one of the best leading platforms of its kind but also accessing a large number of resources to train you, training and a great team behind it to ensure that your project is a success.
If you want to create unique forms and take advantage of all the information collected in a way you never imagined, start using QuestionPro now.
You can start by creating a free account (no need to enter a credit card) and check out our main features to convince yourself that QuestionPro can be the next great ally you need in your project. Starts now!