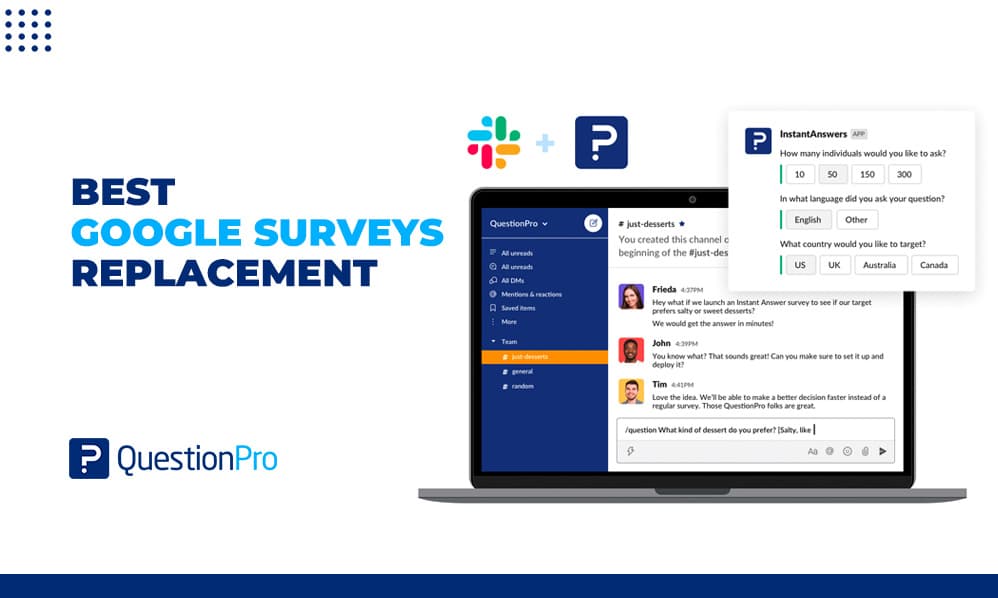 Google Surveys is shutting down, so what is the best google forms replacement?
In recent months, Google has announced the closure of various platforms in its portfolio. The original version of Google Analytics stands out to make way for GA4, its Stadia gaming platform, and recently Google Surveys. Some will have continuity, and others will have the days counted. In this article, we will focus on your data collection platform and try to answer: what is the best Google Survey replacement?
Google has made it official that as of November 1, the Google Surveys platform will no longer be available to the public. Its current users will only have until December 1 to download their data before the definitive closure.
If you are a user, we recommend preparing for this change by reading our article: How to move on from Google Surveys
The platform was very popular among researchers and marketers as it allowed them to carry out simple studies without having to deal with the logistics of finding people to respond to their surveys in person, so this closure leaves more than one with feelings like the following:
google surveys has been an amazing source of insights for my clients and new business pitches. i'm very sorry to see it being sunset! https://t.co/n5DSY3Y2H9

— Ed Lee (😷 x 💉💉💉) (@edlee) October 5, 2022
Given this situation, an exodus has begun in the search for the best Google Surveys alternatives. If that is your case, we have good news for you. Here, we share why QuestionPro Audience is the best Google Surveys Replacement in the market.
QuestionPro Audience: The Best Google Surveys Replacement
QuestionPro is a company with headquarters in Austin, TX, that for more than 17 years has promoted the customer experience research and measurement industry with the development of innovative solutions and features for almost any market need.
This has made it one of the most versatile tools on the market, offering its users the possibility of carrying out research with a high level of reliability and effectively.
Therefore, it is not surprising that within all the available options, QuestionPro Audience can be considered one of the best Google Surveys replacements in view of the imminent disappearance of the Google platform.
QuestionPro Audience is QuestionPro's online survey panel and sample for research, where its users can access millions of survey respondents for all his research needs.
Why QuestionPro Audience?
Unlike Google Surveys, QuestionPro Audience is a platform with a greater number of features, which makes it not only a great replacement for Google Surveys, but you will also experience an incredible improvement in your processes and results.
Among the most notable strengths of this platform are:
Great segmentation power: You have access to more than 10 million respondents. You can also segment them according to your needs using an intuitive interface to establish the criteria that fit your needs to obtain quality responses.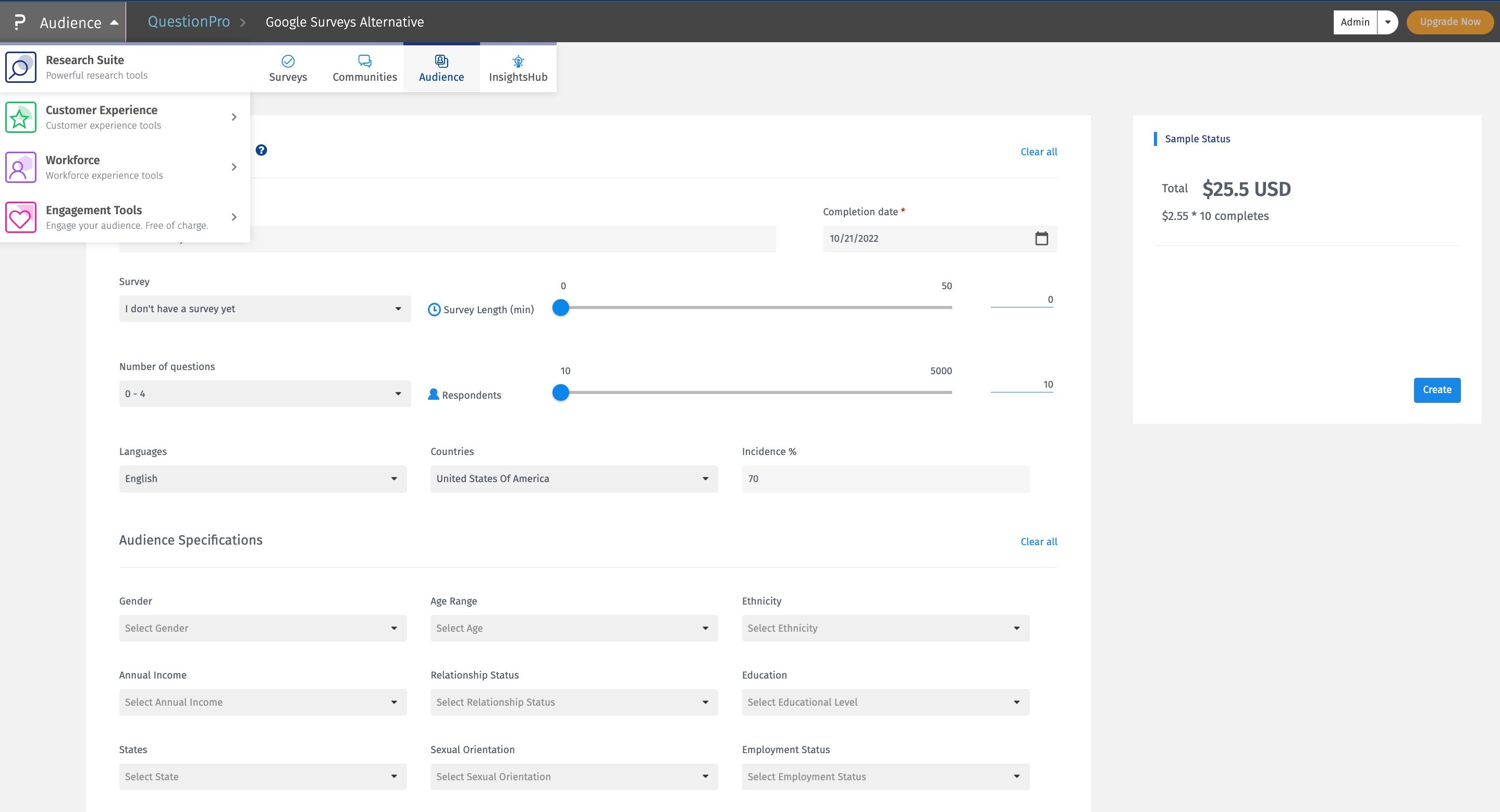 Participant control: Our panel is constantly being updated and maintained. We regularly Weed out unsuitable panelists in addition to removing fatigue and distortion factors through control measures and a high level of sampling filters.
Specialized niches: Small Business Owners, Gamers, Pet Owners, and Builders/General Contractors are just some of the specialized segments that you can find on our platform, something that very few platforms in the market offer.
Security and monitoring: Our panelists must undergo a rigorous recruitment process where they provide detailed demographics and background information, accounting for more than 300 data points collected from each member.
In addition, we are constantly maintaining the panel and maintaining constant monitoring against fraudulent practices to guarantee the fidelity of the answers.
Instant Answers: Shorter and quicker quantitative surveys
Remember at the beginning of the article, we mentioned QuestionPro is always looking for new and better ways to collect data? We weren't exaggerating! Introducing QuestionPro Instant Answers, a fast and efficient way to receive answers right in your Slack workspace.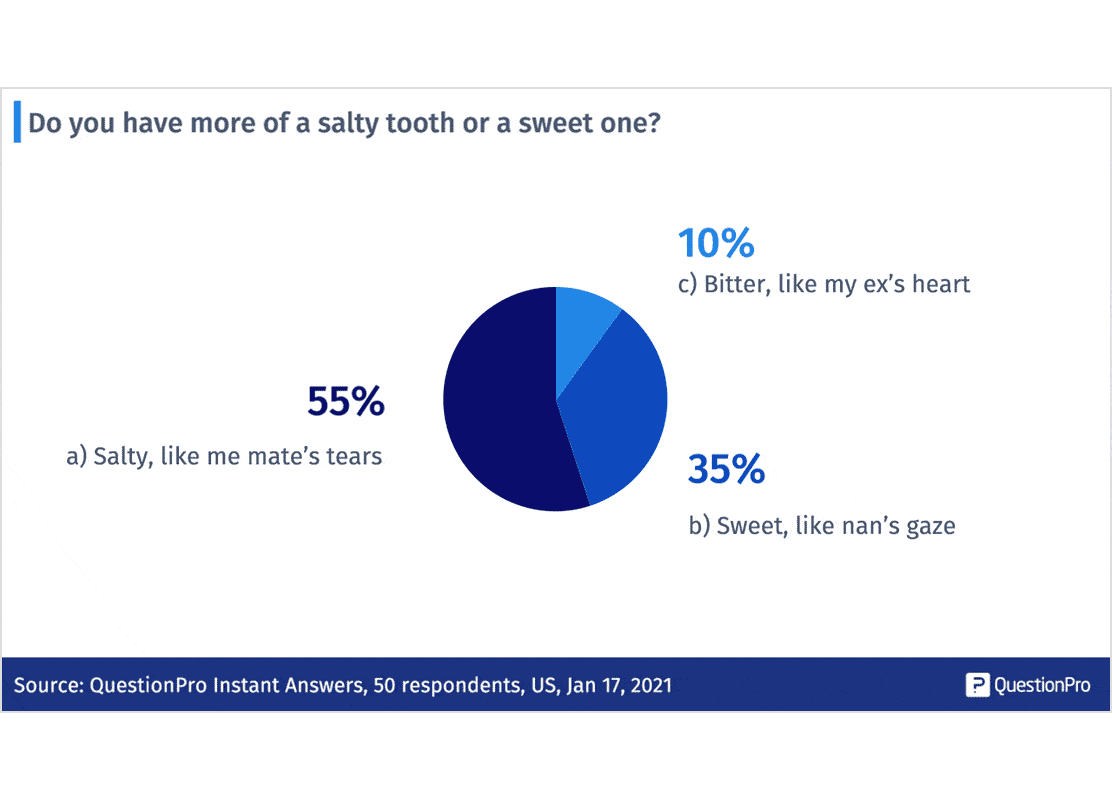 In recent times, remote work has become a reality for many. This was possible thanks to platforms like Slack that allow effective communication no matter where you are, making it a daily use tool for different professionals, including researchers.
Always looking for ways to make research more accessible, QuestionPro puts Instant Answers at your disposal, where you only have to install our bot, post a question, choose the region, language, and sample size, and that's it! Instant Answers automatically fields the question to a general population of double opted in and verified respondents, all without leaving the comfort of your Slack workspace!
Incredible, isn't it? Learn more about this fantastic tool here: