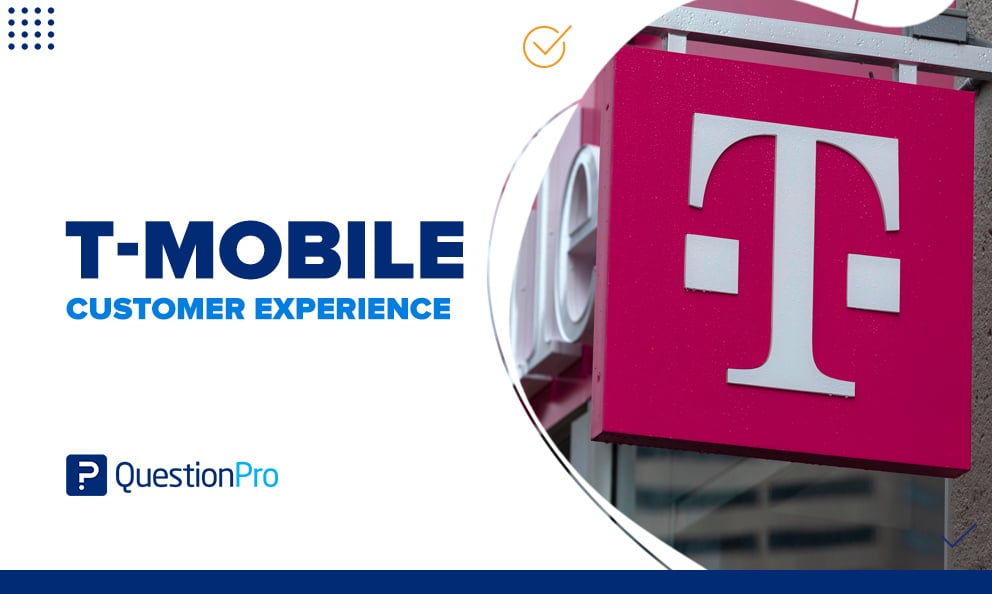 We've been exploring the customer journey within different industries. This time, we're curious about the Telecommunications industry, as about 81.6% of Americans own a cellphone by 2023. Among the most popular Telecommunications industries, we have T-Mobile US. We can say its approach to the customer experience is customer-centric and innovative, as it was the third-largest wireless carrier in the US by the end of Q4 2022, with 113.6 million subscribers.
Let's explore what the T-Mobile US customer experience does to provide exceptional service in a highly competitive market. We'll learn about its key components, the significance it hold for the company, and valuable lessons that other businesses can learn from their success.
The T-Mobile US Customer Experience
The T-Mobile customer experience is a comprehensive approach to serving and delighting customers across all touchpoints of their journey with the company.
It goes beyond merely providing a product or service; it's about creating meaningful interactions, anticipating customer needs, and continuously improving to exceed expectations. At its core, T-Mobile US' customer experience strategy is driven by a commitment to simplicity, transparency, and innovation.
Customer experience is no joke to T-Mobile; it's a fundamental part of their DNA. The company understands that happy, satisfied customers are more likely to stay loyal and become advocates, which is crucial in a competitive industry. T-Mobile has consistently invested in creating an exceptional customer experience because they recognizes its direct impact on customer retention, brand reputation, and overall business success.
T-Mobile US Customer Experience Main Observations
If there's something we can say about the T-Mobile US customer experience, it is that it is dynamic. This company emerged as a notable competitor distinguished by specific characteristics within the telecommunications industry. From personalization to community engagement, these facets illuminate how T-Mobile US has carved a distinctive niche within the competitive telecom market:
Personalization: T-Mobile US excels in tailoring its services to individual customer needs. They use data analytics to understand customer preferences and behaviors, allowing for personalized offerings and recommendations.
Simplified Plans: T-Mobile US is known for eliminating complicated rate plans and contracts. Their "Un-carrier" approach simplifies pricing, making it transparent and easy to understand.
Digital Transformation: The company has embraced digital channels for customer interactions. From online account management to customer support via social media, T-Mobile US provides a seamless digital experience.
Empowered Employees: T-Mobile US empowers its employees to solve customer issues proactively. Customer service representatives are given the autonomy to make decisions that benefit the customer.
Community Engagement: T-Mobile US fosters a sense of community among its customers. They often involve customers in product development and seek their feedback for continuous improvement.
Examples of the T-Mobile US Customer Journey Map
Understanding the T-Mobile US customer journey map is key to comprehending their commitment to customer experience. It's a strategic tool that outlines every touchpoint, interaction, and emotion a customer experiences from the moment they become aware of the brand to their post-purchase engagement.
To illustrate this, let's consider a customer's journey through five key stages: Awareness, Consideration, Purchase, Usage, and Loyalty. Here's a snapshot of what each stage entails:
Stage 01: Awareness
| Touchpoints | Activity | Pain Points | Solutions |
| --- | --- | --- | --- |
| Social media ads | Becoming aware of T-Mobile US | Lack of information | Clear, informative marketing materials |
| Billboards | | Confusing ads | Simplified messaging |
| Online reviews | | Limited product details | Provide comprehensive product information |
Stage 02: Consideration
| Touchpoints | Activity | Pain Points | Solutions |
| --- | --- | --- | --- |
| T-Mobile US website | Evaluating telecom providers | Overwhelming plan options | Streamlined plan categories, online chat support |
| Comparing plans | | Complex pricing structure | Provide easy-to-understand pricing |
Stage 03: Purchase
| Touchpoints | Activity | Pain Points | Solutions |
| --- | --- | --- | --- |
| Online purchase | Selecting a telecom plan | Complex checkout process | Simplified checkout, guided assistance |
| In-store visit | | Long wait times | Implement efficient in-store processes |
Stage 04: Usage
| Touchpoints | Activity | Pain Points | Solutions |
| --- | --- | --- | --- |
| T-Mobile US mobile app | Using telecom services | Connectivity issues | Efficient customer support, network enhancements |
| Customer service calls | | Service delays | Streamlined support procedures |
Stage 05: Loyalty
| Touchpoints | Activity | Pain Points | Solutions |
| --- | --- | --- | --- |
| Exclusive customer rewards | Choosing T-Mobile US | Competing offers from others | Valuable loyalty incentives, personalized offerings |
| Loyalty programs | | Lack of visible benefits | Clearly communicate program benefits |
Stage 06: Advocacy
| Touchpoints | Activity | Pain Points | Solutions |
| --- | --- | --- | --- |
| Customer referrals | Recommending T-Mobile US to friends/family | Lack of referral incentives | Implement referral programs with rewards and incentives |
| Social media sharing | Sharing positive experiences on social media | No easy sharing options | Provide convenient sharing buttons and encourage user-generated content |
Now, let's dive deeper into each stage of the T-Mobile US customer journey map, understanding the touchpoints, activities, pain points, and solutions that define the experience:
What We Learn from the T-Mobile US Customer Experience
The T-Mobile US customer experience offers valuable insights for businesses across industries. Here are some key takeaways:
Embrace Simplicity: Simplify your product offerings and pricing. Transparent, straightforward options resonate with customers.
Leverage Digital Channels: Invest in digital platforms for customer interactions. They provide convenience and accessibility.
Empower Your Team: Trust your employees to make decisions that benefit the customer. Empowered employees lead to better customer experiences.
Engage Your Community: Create a sense of belonging among your customers. Involve them in product development and decision-making.
Map Your Customer Journey: Understand every stage of your customer's journey. Identify pain points and find innovative solutions.
In conclusion, T-Mobile US has set a high standard for customer experience in the telecommunications industry. Their commitment to simplicity, personalization, and innovation has made them a customer-centric success story. By studying their customer journey map and adopting some of their best practices, your business can also enhance its customer experience, leading to increased loyalty and growth.
Ready to elevate your customer experience strategy? Discover how QuestionPro's CX can empower your organization to enhance customer satisfaction, streamline processes, and drive growth. Start your free trial today and embark on a journey to deliver unforgettable customer experiences.