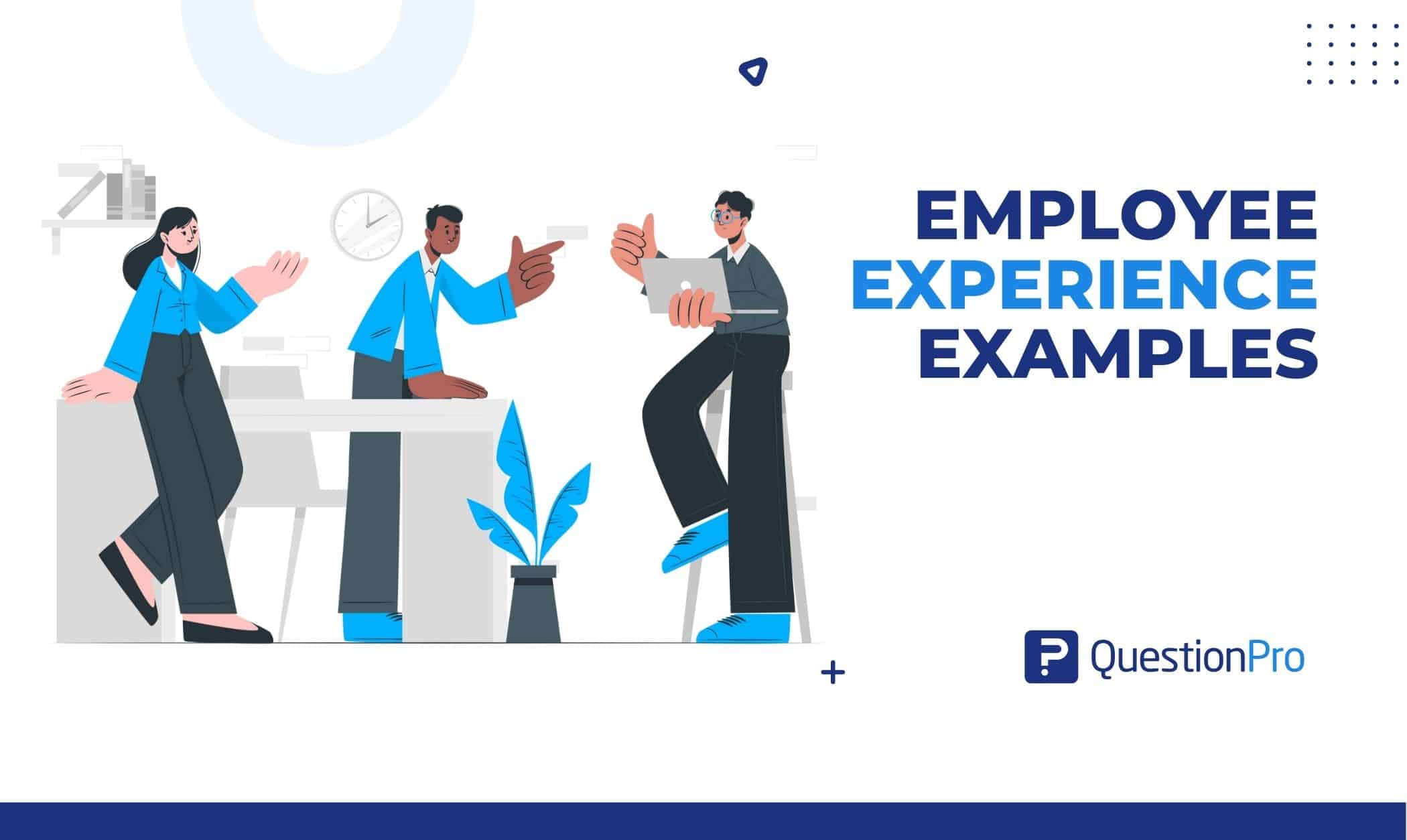 Everybody needs inspiration from time to time at work. The workplace is not the focus of employee experience. The sense of community results from an employee's interactions with the business.
If you want to see some good employee experience examples, you've come to the right page. We've gathered a list of the 10 best companies that go above and beyond to ensure their employees have a great time at work.
Let's know about employee experience before moving on to the examples.
What is employee experience?
Employee experience (EX) refers to what workers see, hear, and feel during their organizational tenure. It affects your entire organization, including your bottom line. How workers feel about it can positively or negatively impact retention rates, company culture, employee engagement, output, and morale. Proactivity, alignment, and engagement are just a few outcomes of a well-designed employee experience.
Understanding customer experience is one method to understanding employee experience management. The same should hold for your employees if you want to ensure that your consumers have a wonderful experience with your business.
Now let's discuss the importance of employee experience.
LEARN ABOUT: Organizational Resilience
Importance of employee experience
Employee experience is important since it directly impacts your HR procedures and operations. The following points will help you understand why it is necessary and beneficial:
To retain talented employees: Talented workers seek employment in an environment that values and encourages them. Good experience is crucial for someone who can punch their own ticket.
Teamwork: It is essential for a company's personnel. When working together, people can become closer or farther away depending on their experiences.
Work Support: A positive experience encourages workers to give it their all. Employees will feel more secure about their work and less fearful of failing if their company exudes a supportive atmosphere.
Improves Engagement: Workers who hold a positive view of their workplace report feeling energized by it. They pay close attention and are passionate about giving it their all.
Inspires creativity: There are advantages for both employers and employees when people can think clearly and creatively. Innovation, which results from creativity, fosters growth.
Enhances company image: When employees are asked about their jobs and have nothing but positive things to say, those comments get established in the company's image.
All these benefits depend on having a good time in your workplace. So, now is the time to look at some effective employee experience examples in the workplace. Read on to explore.
10 Effective workplace employee experience examples
Some companies are leading the way in figuring out what their employees need and improving their lives using motivational, social, and psychological methods. Their goal is to build an organization that people can't resist joining.
Here is a list of 10 companies with their effective employee experience examples:
01. Airbnb
Airbnb has been at the forefront of the movement toward a greater emphasis on the employee experience for several years. Mark Levy's hiring in 2013 marked the beginning of the company's transformation.
Mark Levy proposed establishing an Employee Experience department similar to the one dedicated to handling Customers' need
The experience offered: Airbnb has built its entire business strategy around the concept of making people feel at home everywhere, and this extends to the company's employees as well.
Each employee is treated with the same respect and consideration as would be given to a paying customer so that the company can provide the highest service to all its guests.
The Result: These efforts combined to earn them a spot on the Best Places to Work list.
02. HP
HP, a technology powerhouse, is the company of one of the best employee experience examples. The company has improved its entire business performance in just a couple of years and saw its stock price rise.
The experience offered: The training and career possibilities for its staff are now HP's primary concerns. They renovated its medical facilities and implemented a number of training and development programs for their employees. These projects helped them make the workplace more interesting for their employees.
The Result: The employees concentrate all of their efforts on raising the company's revenue.
03. Telstra
Regarding the whole experience of working for the company, Telstra is light years ahead of its competitors.
The experience offered: Telstra revised its flexible work policy to support the availability of flexible work for all roles. To enable people to interact and work in a way that serves them, they offer flexible working, job sharing, and a variety of employee development initiatives.
The Result: Studies show that Telstra employees become more productive and invested in their work after being given these various possibilities.
04. Wegmans
The Wegmans grocery store chain deserves its inclusion here because of its positive impact on its employees' lives. Their excellent reputation in customer service is a direct outcome of the positive working environment they've created for their employees.
The experience offered: A highly engaged workforce is built on a foundation of training and development initiatives. This is why they spend so much money annually on training and development. Wegmans provides its employees with both professional and life skills training.
The Result: Revenues increased due to their ongoing efforts to improve employee engagement. Wegmans increased its yearly revenues by putting more of an emphasis on employee experience management.
05. Arby's
This American hospitality giant truly believes in its slogan, "Inspire Smiles Through Delicious Experiences," and uses it as an internal rallying cry. When Arby's was having financial difficulties, the company's chief executive officer began to place more emphasis on employee involvement.
The experience offered: In times of distress, the company turns to its frontline employees for thoughts and solutions, integrating their comments, empowering them, and increasing employee experience through career development and higher education.
In addition, the company offered its employees free meals, job advancement opportunities, and flexible work schedules.
The Result: After these initiatives, Arby's workers feel that the company is a fantastic place to work and has a lower employee turnover rate than most of its competitors.
06. NVIDIA
This technology monster is well-known for more than simply its graphics card. NVIDIA's employee-focused, collaborative, and inclusive environment has earned global acclaim and produced impressive results.
The experience offered: Their employee-focused culture provides some of the most extraordinary working conditions in the sector. Because of what NVIDIA provides, employees are genuinely satisfied.

Work-life balance
Prioritizing family for employees
Opportunities for charitable giving or community services
ESPP & RSU stocks for financial development
Flexibility
Reliable team
Workplace environment
The Result: The stock price of NVIDIA is high, and it has been named one of the finest places to work.
07. Adobe
Adobe thinks that the employee experience is a mix of art and science. Science is the data collected, and art is the content used to make people feel something.
The experience offered: As the company's founders initially believed, their finest assets are the people who leave daily. Their own cloud-based intranet, which keeps everyone in the company in touch, is the main thing that improves the employee experience on the inside.
The Result: Internal drivers and an emphasis on working experiences through office connections have helped Adobe reach the top in employee experience.
08. Mozilla
The pandemic prompted Mozilla to increase its emphasis on the employee experience, and the company quickly found success in the new conditions.
The experience offered: Mozilla was digitizing its company gatherings and experimenting with new ways to keep remote workers involved.
For example, implementing virtual onboarding. It allowed Mozilla to reconsider the need for physical venues.
The Result: Costs were decreased due to the decrease in their requirement for physical places at the time.
09. Southwest Airlines
Southwest Airlines is one of the most effective employee experience examples. It is one of the most cost-effective airlines and has a dedicated crew and top-notch amenities. According to the airline quality report, it also has a low passenger complaints rate.
The experience offered: Southwest Airlines wants to do the right thing regarding how they treat their employees. The company says its excellent reputation for customer service is due to how much it cares about its employees. Its flight announcers are known for how friendly and funny they are.
The Result: As workers are treated well, they are more likely to provide excellent customer service, which leads to more satisfied clients and higher earnings.
10. Accenture
Accenture recognizes the importance of the employee experience and recognizes it is the new arena of competition.
The experience offered: Accenture determined three main steps to great employee experiences:

Identifying pockets of value, discovering the emphasis between business results and priority workforce, and delivering additional business value from employee experience initiatives.
Understanding employees to design hyper-personalized workplace experiences.
Co-creation, experience design, and customer-centricity in developing the workplace.
The Result: With a highly productive workforce in the employee experience, these actions have helped them maintain their competitiveness.
LEARN ABOUT: Employee Centricity
How to enhance the employee experience?
No matter how big or small your business is, improving your employees' experience needs to be a whole-business approach. Let's look at a few of the most important things you can do to make your employees happier.
Anonymous feedback surveys: Anonymous employee surveys support by giving employees fun methods to express their opinions.
Effective communication: Everyone in the organization must communicate effectively. Workers must feel secure to communicate. They must understand that their feedback won't backfire.
Performance reviews: Measuring the performance of your staff is another excellent way to understand them. A "QuestionPro Workforce 360 degree feedback" performance assessment can be used to concentrate on each employee's strengths and weaknesses.
Workforce experience: Employee interactions should be sincere and sympathetic. Make this a simple process. Utilize the same stages and experiences that all employees have gone through to improve, enrich, and enhance the employee experience..
Educate managers: You must educate your managers if they cannot give their employees that experience. Train your managers and provide them with opportunities to improve the employee experience regularly.
LEARN ABOUT: Work culture
How QuestionPro workforce helps to improve the employee experience?
QuestionPro Workforce is a survey and analytics platform for culture and employee experience that offers valuable statistics and insights into your people and may assist you in bringing about the best type of change.
The QuestionPro workforce can enhance your employee experience in the following ways:
Workplace culture: You can build a strong culture and a better business using the information from employee engagement surveys. Positive work culture directly affects your business, including how it runs, how employees do their jobs, how much money it makes, etc.
Employee experience: QuestionPro Workforce helps you understand how your employees feel, what drives and inspires them, and how to empower them from the minute they join your company.
People analytics: You can utilize your data to its fullest and provide your business executives with timely insights on managing corporate culture better and boosting productivity.
360-degree feedback: It is one of the best ways to measure leadership. You can test important and cutting-edge skills like inclusive leadership, resilience, managing team capacity, and many others.
Accessibility: QuestionPro Workforce can be used on the web, tablet, or phone. Employees can be surveyed from anywhere with the help of email, SMS, and the portal. Confidentiality and anonymity are ensured by using an FTP/API and an employee roster.
Security: QuestionPro has a cloud-based employee experience management platform with data centers worldwide. Here world-class security SOPs, Respondent Anonymity Assurance (RAATM), and GDPR compliance are all offered.
Reach & Support: To facilitate rich discussions and a streamlined experience, QuestionPro provides unlimited users, surveys, and responses at no extra cost. A customer success team is available 24/7 for round-the-clock help.
LEARN ABOUT: Employee Rewards Ideas for Employee Engagement
Conclusion
What can you take out from this? All of these companies of employee experience examples have invested in their employees and are reaping the rewards like more employee engagement, improved employee performance, and lower expenses.
A lousy employee experience can have long-lasting effects on your company. Disengaged and unhappy employees won't ever work to advance your organization. A great workplace and corporate success depend on happy and healthy workers. Your first step should be to improve the employee experience if you want to boost business earnings.
So look out for QuestionPro workforce and its 360-degree feedback tool if you're serious about investing in employee experience software. With this application, no one can prevent you from conducting engaging employee surveys and discovering the needs of your employees.