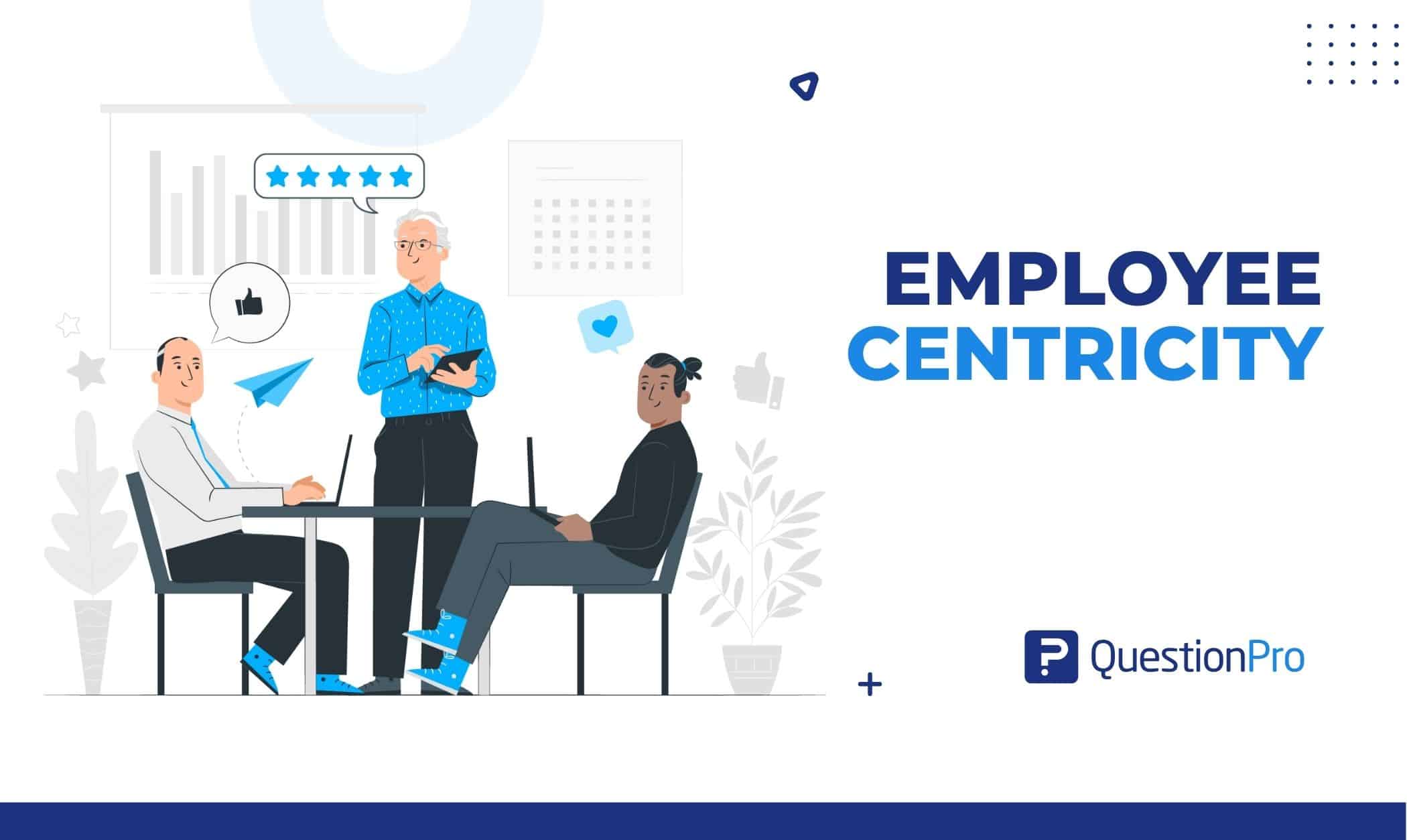 When employees are satisfied, businesses can flourish. In employee-centricity, businesses focus on the employees by putting their needs and want first. Learning how to make an organization more focused on the needs of its employees can help you and your coworkers get along better.
Employee-centric culture benefits organizations in many ways, from improved productivity and retention to better customer centricity service. This blog explains employee centricity and gives you a list of steps you can take to employee-centric culture.
What is employee centricity?
Employee Centricity is a new way of managing people in a company. It is based on putting the employee at the center of the company's strategies when designing talent management policies.
A company's activities are centered on employee needs under employee centricity. Instead of focusing on the company's outputs, such as revenue and customer satisfaction, the corporate culture focuses on the professionals who make those outputs possible. It treats its employees well because it recognizes their importance to its success.
What is an employee-centric culture?
An employee-centric culture encourages ideas, creativity, free-flowing communication, and new ways of doing things throughout an organization.
In an employee-centric workplace culture, employees feel secure expressing suggestions and questioning a structure that may be restricting productivity and performance.
When employees think that their company is looking out for their best interests, it makes them feel good about working there. It leads to a happy, engaged, and productive employee-centric culture.
In employee centricity, no one is afraid to say what they think or make suggestions because they don't want to get in trouble or lose their job.
How to create a culture of employee centricity?
Employees are the backbone of any business. So ensuring employees have a pleasant time at work is important for your company's growth. With an employee-centered culture, you can do more for your employees without risking high costs for the company.
To develop an employee-centric culture, you need a plan. Let's explore some key steps to create an employee-centric culture:
Welcome unique perspectives
Employee centricity depends on supervisors and team members talking to each other often and openly. Facilitate conversations that encourage employees to say what they think, even if it goes against the organization's standards.
Giving employees the freedom to do their jobs as they see fit and talk freely about their problems can make them feel appreciated.
Positive communication patterns can make the workplace more diverse and welcoming. The professionals may also be more honest about their thoughts, which can help managers resolve conflicts and keep employees happy.
Focus on your professional growth
Helping employees improve their skills is another way to create an employee-centric culture. Supervisors can give constructive criticism to show employees where they can improve while leading more personal conversations.
Team members can learn that their boss cares about how they do at work, which can motivate them to work harder and improve their skills.
To effectively mentor employees, organizational leaders can tailor employee feedback so that employees know their managers are watching and judging them based on their actions. There can be a positive relationship between employee growth and business growth.
Recognize quality work
Professionals can produce better work with strong communication and skills. Putting employees first means giving them praise for how hard they work. You can show appreciation and praise in public by recognizing the particular tasks employees did and how they helped the company.
Set up a way to always talk about successes at work. Recognition allows employees to congratulate one another on their accomplishments, which can strengthen workplace culture bonds and improve teamwork. Team members can get ideas from what their coworkers do, which can help them figure out how to do their own work.
Use employee feedback
Receiving feedback can be just as important as giving it to employees. Make it possible for employees to talk about their experiences working in the company's corporate culture.
For example, you can give out surveys that allow employees to answer questions anonymously about important topics, such as work environment and flexibility.
You can give a try to QuestionPro to conduct surveys. Then, you can look at the answers to see how far the company has come in creating an employee-centered environment.
By using your results, you can show your employees that you listened to their concerns and took the initiative to fix them, making the workplace more pleasant for everyone. And this is how employee centricity worked.
Conclusion
In a nutshell, creating employee centricity has a lot of benefits that could help your business do better. It is mainly because your employees are getting more done, are more engaged, have a better work-life balance, and are healthier. All of these things help a business get better and make more money.
QuestionPro helps companies that want to focus on their employees by giving them a survey tool that helps them measure their employee feedback. With QuestionPro, businesses can conduct surveys to know what their employees feel.
QuestionPro's workforce has solutions and answers for every business and problem. It also assists you in gathering all of the information necessary to provide valuable insights. If you are looking for a free demo, contact QuestionPro!