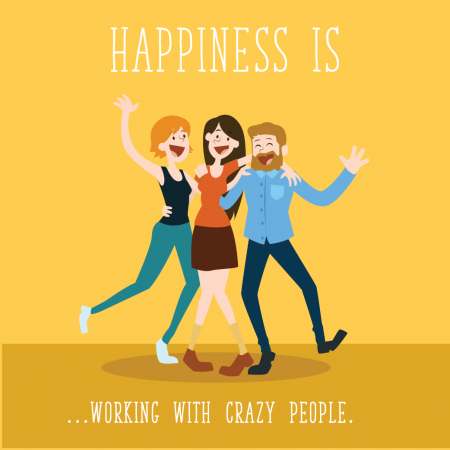 It's found that organizations with "happy" employees outperform their competition by 20%. That's a significant margin – not just from an employee retention and HR cost-saving perspective, but also in having a competitive edge that results in real revenue addition.
Money is a very important factor to get employees to be productive but there's an additional factor that's required to keep them productive – happiness. It's happiness that makes them more productive, efficient and also pushes them to stay longer with your organization.
But sadly, it's reported in 2017 that, 58% employers in the United States are highly resistant to the fact that they need to work on the challenges their employees face on a daily basis. Employee engagement and happiness currently lack the metrics to be successful. Organizations need to invest time and patience to strategize and implement employee happiness techniques.
It has been suggested in the past that employees can also try and keep themselves happy by performing activities like meditation for a couple of minutes every day, helping colleagues in small or big ways or reflecting on the top reasons they love to come to work every day. Colleagues, especially managers are integral decision makers of an employees happiness.So, it's advisable for employees to be respectful, patient and encouraging towards them so that they create a conducive work environment.
Here are 5 suggestions to help you create a better workplace:
Be a source of constant assurance:
Every employee looks for colleagues or bosses who reaffirm their self-worth. Telling your employees things like: "Awesome job" or "We're really happy with your work" or "I love your commitment towards work" or "Our team is grateful to have you onboard" will make their day and push them to work harder. Isn't that what you want?
This is the simplest way to create a better workplace. Smiles spread delight. Smile and say  "Hi" or "Hey, how are you" to double the people you do now and see the magic it spreads in your organization.
Celebrate success, big or small:
Success should be announced and celebrated. Promote a small or big success by talking about it in meetings or casual encounters with colleagues. Celebrate personal and professional milestones like birthdays, anniversaries, promotions etc. so that employees can bond with each other and create a better workplace.
It usually happens that when you have a disagreement with a coworker, you forget the tone and may end up causing emotional trauma to the individual. To avoid such instances, instead of being defensive, you could use terms like "Interesting" or "I understand where you're coming from, but…"
This could make the disagreement lighter and help create a better workplace.
Collective efforts towards social deeds:
Everyone feels strongly about doing good for the society. Doing it as a team/organization will not just make everyone feel good but all spread a positive vibe in the organization. This will improve productivity, efficiency and also push the employees to work harder. A win-win idea to create a better workplace.