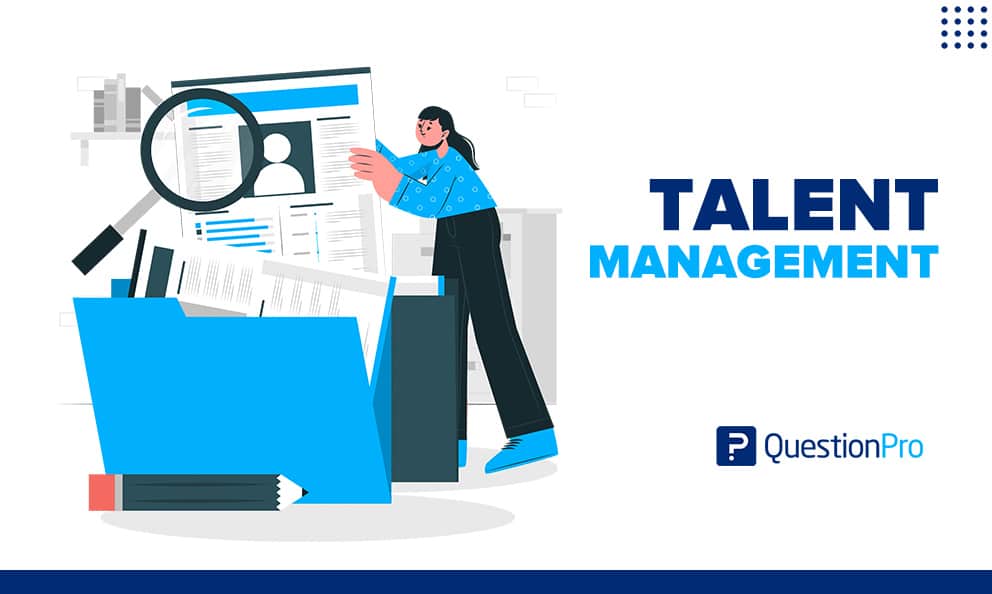 A rebirth of the work-worker-workplace equation has resulted from global developments in talent management. Like all other parts of work, talent management processes have developed over time to accommodate people-specific trends and have progressed quickly in recent years. 
In today's world of rapid change, strategic personnel management is essential. Talent management strategies are a continual process that comprises recruiting and maintaining high-quality personnel, upgrading their abilities, and consistently inspiring them to enhance their performance.
Its main goal is to create a motivated staff that will remain with your organization long-term. The actual method will vary from company to company.
This blog will define talent management, what components must be maintained, and what procedure should be used.
What is talent management?
Talent management is choosing and handling the best-suited candidates to work for a company. The method evaluates talent gaps and empty roles, locates and employee onboarding applicants, and improves their abilities. Engaging, keeping, and motivating them will help the company achieve its long-term goals.
It is the carefully managed, deliberate process of hiring the right people and helping them attain their most significant potential while meeting business goals. This program may involve official and informal counseling, mentorship, secondments, and networking events with board members.
This once-simple field now includes organizational capacities, workforce planning, and individual performance and talent development.
Importance of talent management
A talent management system refers to managing the whole employee lifecycle. It encompasses onboarding, recruitment, talent development, salary management, and other pertinent activities.
The talent management system is essential to organizations because it plays a vital role in maximizing the potential of their employees and attaining strategic goals. Here are some reasons why a talent management framework is important:
Attracting and retaining top talent

Companies must hire and retain the best employees in a competitive labor market. Comprehensive recruitment methods, corporate branding, and competitive remuneration packages help attract and retain top talent.
Developing a skilled workforce

Talent management processes identify and develop employee skills. A talent management model helps you navigate and optimize your management process by visualizing its aspects.

The talent management model includes employee training, coaching, and professional development to improve their skills. Companies can cultivate skilled employees that can innovate and adapt by investing in employee development.
Succession planning

It involves succession planning. It involves finding and training internal leaders to allow a smooth transition when critical positions open. Effective succession planning maintains leadership continuity, organizational stability, and long-term success.
Enhancing company culture

It creates good organizational culture. Strong company cultures boost employee satisfaction, engagement, and productivity. The talent management framework promotes learning, teamwork, and performance excellence, creating a pleasant workplace culture and continual progress.
Building a strong employer brand

Positive employee experiences and growth opportunities build a strong employer brand, attracting talent and making the company more competitive in the labor market.
Mitigating risk and promoting agility

Talent management strongly addresses skill gaps and talent shortages. Organizations can avoid workforce shortage risks by identifying important jobs and talent needs. This proactive approach helps companies adjust to market changes, technological advances, and competitive pressures.
Key components of effective talent management
Here are some vital components of managing talent, which will explain how to go about the talent management process and can give the best results when they are used strategically:
Having a goal in mind

The first and most important thing is knowing what the company wants to achieve and planning to get there. Once you know what you want to accomplish, you can give key positions to the employees who will help the company get there.
Getting the right talent

It's essential to bring in new talent acquisition, but it's even more important to bring in the top talent. You need to develop and plan ways to hire employees with the right skills and experience and a good fit for the tasks they will be asked to do. It is perhaps the most important part and takes the most work.
Retain Talent

Bringing in new talent to the company is a fantastic concept. But what about identifying current and developing it? This plan will allow you to spend less on talent acquisition and more on other company growth tactics!
Performance evaluation and development

The overall goal of the talent management process is to achieve a specific goal using collaborative efforts. To get the most remarkable outcomes, you need to ensure that the correct individual is assigned to the proper job. Every employee needs to be offered a position that fits them and gives them many opportunities for personal growth.
Motivation and engagement

Employee performance is greatly influenced by motivation. An organization's job does not end with the employment of workers. The actual work starts after the employee joins the company.

When an employee believes his development is directly related to the organization's development, he will appreciate the significance of his job and aim to do even better in the future. 

Motivating your staff may help them remain motivated and engaged throughout the process. Better outcomes are associated with more employee engagement and motivation.
The Process of talent management
Even though the management of talent isn't always a straight line, it could be thought of as a process that starts with recognizing the need for talent acquisition, moves on to filling that need, and then grows and improves the skills, traits, and expertise of both new and old employees.
Let us now look at the process of proper talent management:
Planning

Planning is the first step in the management of talent, just like in any other process with a set goal. It entails identifying human capital gaps, generating job descriptions for essential tasks, and creating workforce planning for recruitment campaigns.
Attracting

Next, decide if the talent needs should be supplied by employees already in the organization or outsiders. In either case, the process would need a steady flow of applicants. Common outside sources are job sites, social networks, and word-of-mouth. 

Knowing where to find the right people is crucial ahead of time to ensure a seamless operation. And that is where the company's reputation as an employer comes into play because that determines how good the applications are.
Selecting

Nowadays, recruiters may utilize software and AI-enabled solutions to shift through a large population of CVs to concentrate on the most relevant possibilities and identify the right match. Written exams, interviews, group discussions, psychometric testing, and in-depth research of the applicant's public information help construct an accurate image.
Developing

Many companies now believe in recruiting for attitude and training for skills. It makes sense since you want a bias towards specific skill sets; you are hiring the person, not the CV. 

Developing workers to help them grow with the company and preparing them for the competence required to contribute to corporate success also creates loyalty and enhances employee engagement. 

It starts with a proper onboarding technique to help the employee settle into the new position, then counseling, coaching, mentoring, and job rotation plans to enhance skills, aptitude, and competency.
Retaining

Talent must be efficiently kept for any company to succeed and sustain itself. Most firms strive for talent acquisition by offering promotion possibilities, increasing participation in special initiatives and decision-making, and retraining for more sophisticated professions.
Transitioning

Effective talent management focuses on collective organizational change and evolution by developing individual workers. It means making each employee feel like they are a part of something greater.

Retirement benefits, departure interviews, and efficient succession planning may seem unconnected at different career stages. Yet, they are all transition factors that enable the common journey.
Tips for an effective talent management strategy
Talent management strategy is an ongoing process that necessitates regular evaluation, improvement, and adaptation to meet your organization's and workforce's changing needs.
Align talent management strategy with business strategy

Integrated talent management strategy with the broader business plan of your organization. Determine the skills and abilities required to achieve strategic goals and concentrate your performance management efforts on acquiring, developing, and retaining personnel in those areas.
Identify and prioritize key roles

Determine the crucial roles in your organization that significantly impact business performance. Prioritize these positions while developing people management programs and workforce planning activities. Ensure you have a robust pipeline of people ready to move into these critical jobs as needed.
Foster a culture of continuous learning

Promote learning in your company. Give employees chances to learn, grow, and stay relevant. Support development with training, workshops, mentoring, and coaching. Promote lifelong learning and a supportive work environment.
Continuously evaluate and adjust

Assess and update your talent management strategy often. Monitor employee turnover, engagement, and talent acquisition success rates. Get employee and manager input to improve. Keep up with management trends and best practices.
Implement robust performance management practices

Integrate performance management with career growth. Create a performance management system with clear expectations, regular feedback, and rewards. Set SMART (Specific, Measurable, Achievable, Relevant, Time-bound) goals to assist employees in growing, conduct performance evaluations, and give constructive comments.
Conclusion
Talent management strategies include deliberately designing career routes for each employee. Having a road plan to follow enhances retention because workers know what they have to look forward to and strive towards. We all work better when we know where we're going and our next steps in our professions.
They can then cooperate effectively to accomplish it. Using QuestionPro Workforce, you can learn more about encouraging your staff to provide you with regular feedback and start making a difference in your company.