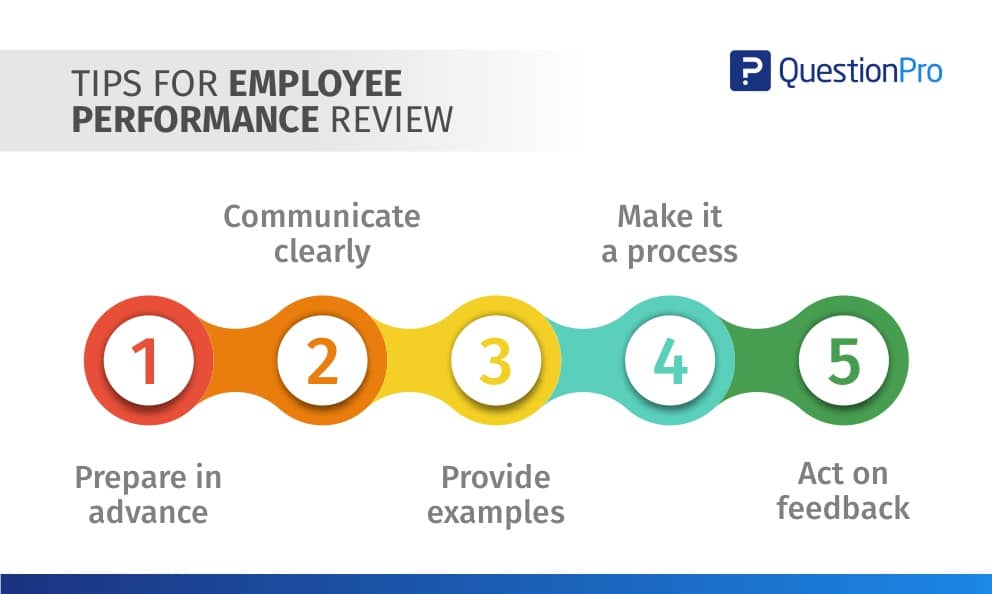 What is an employee performance review?
An employee performance review involves a formal meeting about how an employee is fairing in an organization- development and performance-wise. This review is a planned process and can be conducted quarterly, half-yearly or annually depending on the organization. 
There are multiple attributes that are discussed in these meetings and these are usually planned discussions between the employee and his/her supervisor or manager. The attributes that are discussed vary from performance indicators, work plan, KRAs, compensations to personal commitment, engagement, work satisfaction and more. 
An employee performance review is a two-way process, an employee is free to share his/her feedback with the manager or the supervisor. Most employee performance review is a one-level process except 360-degree performance reviews that uses a multi-rater system where managers, co-workers, colleagues provide input and employee self-reviews himself/herself. 
In the next section, we will discuss the top 7 tips for effective employee performance review for a foolproof completion and implementation of the process. 
Learn more: Employee performance review software 
Top 7 tips for foolproof review
Every organization has a set process for employee performance review, it is different for different organizations. Whether it is a large scale organization or a medium to small scale organization, these tips will help you as a manager to lead more confidently.  
These employee performance review tips can also be used in your day-to-day meetings with your employees and these tips will make your process positive and robust. This will help you improve your abilities to interact with your reporting employees. 
Here are the top 7 tips:
1. Prepare in advance 
It is always a good practice to prepare in advance for an employee performance review, you need to have your systems and processes in place. You need to keep the employee file ready before you actually sit face-to-face with him/her. In the file you should have notes from the previous reviews you or anyone else might have conducted. If there are any forms that you as a manager need to fill out, should be duly done. You should be completely ready before you speak with your employees if you want to give feedback that actually makes sense. 
2. Communicate with clarity
Clarity while communicating with your employees is a must. This comes only if you are prepared beforehand. You should avoid swaying in all positive or all negative direction. Being overly critical will demotivate your employees and saying everything positive will leave no scope for feedback and improvement. Tactfully share the positives and alongside tell the areas of improvement, this will keep the discussion balanced and subtle 
3. Provide examples 
Be prepared, communicate with examples, it is easier to convey the message you want to share with your employee. Be prepared with both areas of achievement and areas for improvement and share them during the process. Being able to site particular information proves you have done your homework. 
4. Use a multi-rater review system 
360-degree feedback is anonymous feedback from managers, colleagues, co-workers and most importantly an employee gets to self evaluate. 360-degree feedback is collected by deploying a 360-degree survey. These people respond to the survey by filling out appropriate responses to the various attributes of the employee. If your employee performance review tends to fixate on particular attributes or markers then it is the best way to broaden the results of your discussion. 
5. Make it a part of your handbook 
In your organization, the employee handbook should have clear directions on how the process works, what is expected from the employee being reviewed and the attributes it is going to cover. There should be complete transparency about the process and employees should be made aware of it at the time of onboarding itself. Clearly lay out the entire process along with the timeline. You should work with your legal advisors to come up with a robust system and process. 
6. Make it an ongoing process 
Instead of just conducting reviews annually, make it an ongoing process. Conduct reviews quarterly and even half-yearly. This way your employees will have regular feedback sessions and if there are any issues addressed in the previous review process they can be addressed in the next one. You can make regular adjustments to employee performance instead of pushing big changes all at once.
7. Act on the feedback
An employee performance review is a two-way process when your employees receive feedback, they should be encouraged to give feedback about the processes and the systems. Make sure when you receive feedback from them, you act on those feedback points diligently. Lead from the front. When your employees see their suggestions being implemented they will have a greater sense of belonging towards the organization. 
QuestionPro Workforce is meant for HR managers who want to monitor and measure workforce engagement, staff productivity, etc. Try the tool, start conducting and deploying surveys today!