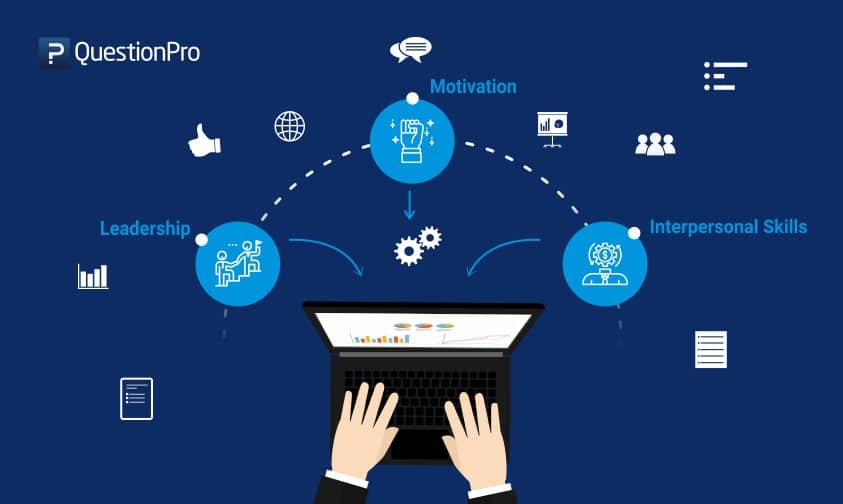 Since the days of implementing a formal employee appraisal system in the early 1950's, modern businesses have come a long way. Over one-third of all U.S companies, now collect multi-source feedback or simply a 360 degree feedback about their employees. A report by Edwards, M. R., & Ewen, A. J. (1996) claims the over 90% of Fortune 500 companies prefer looking at the big picture when it comes to employee assessment rather than the age-old objective performance appraisal.
LEARN ABOUT: Performance Appraisal Survey
Types of 360 degree employee assessment survey
It is a no-brainer to understand that each corporation has a different employee structure and hence will have different touch points to assess their employees. So, I can't write a 360 degree feedback employee assessment survey that fits all businesses. Nobody can. I've been chatting up some leaders and influencers in the Human Resources industry to come up with a list of areas which are common and important to almost all kinds of businesses. And bonus, I have a few examples of your 360 degree employee assessment survey.
LEARN ABOUT: Workplace Employee Experience Examples
1.Leadership
This can be branched out further into subcategories like decision making, crisis management, mentoring skills and a million more. Some example survey questions under this category can be
Does employee X display leadership skills? If so, give us an example.

How would you rate this employee on a scale of 1- 10 based on his contribution to his team through his leadership skills, 10 being the best contribution.
LEARN ABOUT: Leadership Assessment Tools
2. Interpersonal Skills
Let's admit it. We all have our ups and downs with our co-workers. We are still majorly working with humans aren't we?
Have you experienced any problems with your co-worker A?

How would you describe your co-worker's ability to build healthy relationships at work?
3. Problem Solving
Problem-solving can be as vague or as specific as you want to be. The professionals suggest that you go with examples on this one.
Please describe in detail, a recent problem you experienced and solved at work.

What skills would you say, this employee uses when it comes to problem-solving at work?
4. Motivation
Your 360 degree employee assessment survey has to be customized to give you accurate data. I am motivated to give you more example questions here. But, let's face it, motivation and engagement can be very personal.
Can you give an example of your motivation levels to deliver project X well within the deadline?

Would you say your co-worker O plays an important role in keeping the team motivated? If yes, give an example.
LEARN ABOUT: 360 Leadership Assessment
5. Efficiency
Efficiency is not objectively measurable. This area of assessment needs to be looked at from all perspectives. It is easy to get lost in the weeds at a modern workplace.
Would you recommend an open space seating arrangement for effective collaboration among your team?

What areas of improvement would you recommend for this job role to be effective and efficient?
Learn more: Employee Satisfaction Assessment Survey
Learn more: employee engagement survey examples
The issue with the tools available for 360 degree surveys is not customizable. QuestionPro is your one-stop solution for all employee engagement needs an organization might have. QuestionPro's WorkForce solutions enable you to look at the big picture when it comes to employee engagement and assessment. Your next 360 degree employee assessment survey with the right tools, I mean, QuestionPro WorkForce, can show you the master of the big picture in your company.