Employee engagement surveys are a collective initiative that every organization must conduct at frequent intervals to keep their employees motivated, engaged, and productive. It's a process in which every organization should add this in their business module like any other process as the more the employees are engaged, the better they will serve your customers.  
4 Excellent Employee Engagement survey examples of real brands
Here is the list of top 4 employee engagement survey examples used by real brands. Check out here:
1.NSC – National Safety Council

The National Safety Council has come up with the initiative to eliminate the deaths at work, in homes, communities, and on roads. The below employee engagement survey example is conducted by NSC in different organizations, and brands who took the initiative to make their employees aware of the use of opioids and how it's misuse can lead to the death of an individual due to drug poisoning. 
This survey example includes the statement question with a scale of 1 to 5 where 1 stands for strongly disagree and 5 stands for strongly agree. These questions are termed as the single side matrix question, which can be used by any brand that wants to make their employee aware and strict about the usage of opioids. 
The questions asked in this sample employee engagement survey have covered every aspect of opioids and how it's overuse can affect the body. It covers:
1. Awareness about opioids and how it's overuse can impact the body
Risk of opioids addiction

Support the employees who are struggling with opioids addiction

Ask the doctor why pain killer is being prescribed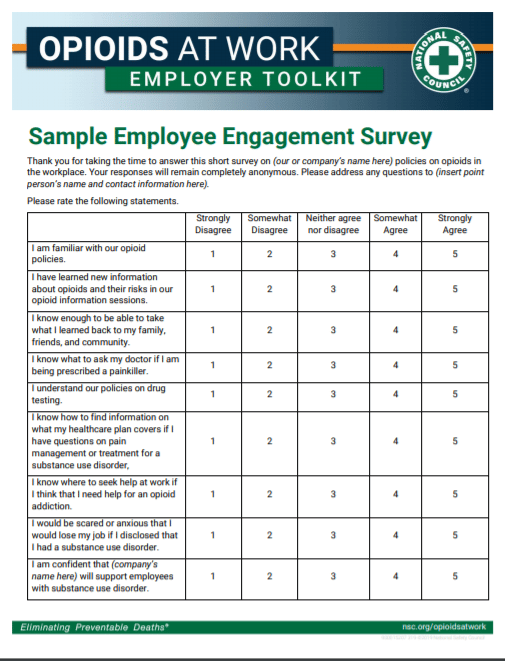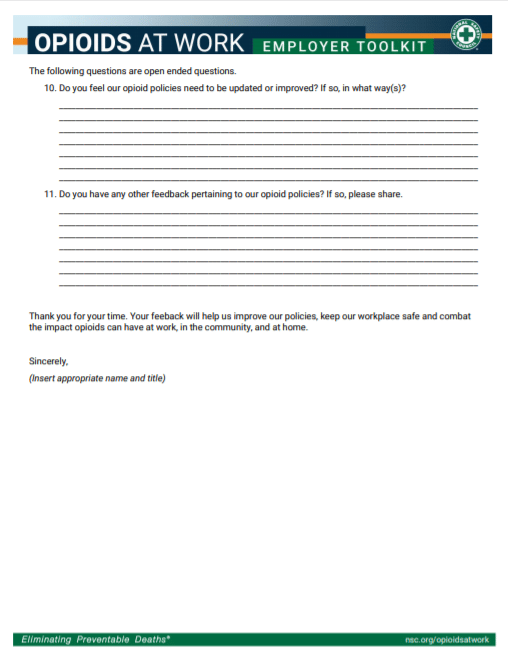 BambooHR

If you want to focus on your employees, then BambooHR is a perfect portal that provides Employee Engagement software with the integrated employee engagement survey template, onboarding survey examples, and others.
The below employee engagement survey examples show the set of questions with a scale that ranges from 1 to 5 where one stands for strongly disagree and five stands for strongly agreed. Also, it includes the open text question to share feedback about the organization in a specific format. The design, language, and fonts make this survey perfect in terms of survey completion rate and quality responses. 
The questions asked in the survey cover every aspect of the organization like, company goals, core values, mission, vision, and leadership members. The distribution of this survey will help organizations to know the feedback about their process, functioning, improvements, recommendations, and objectives from the employee's perspective.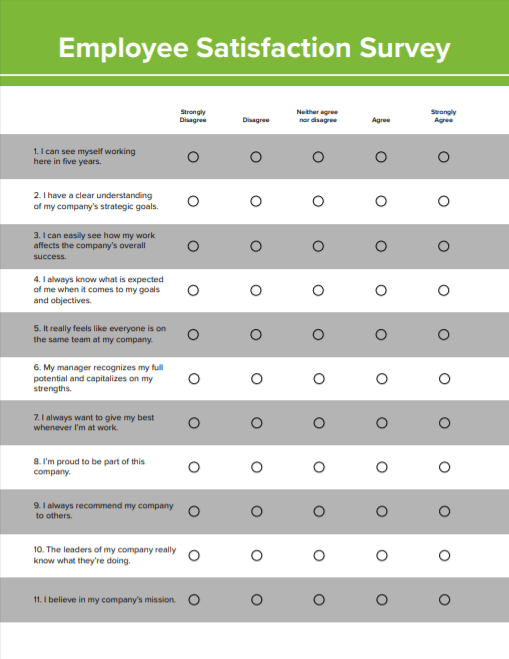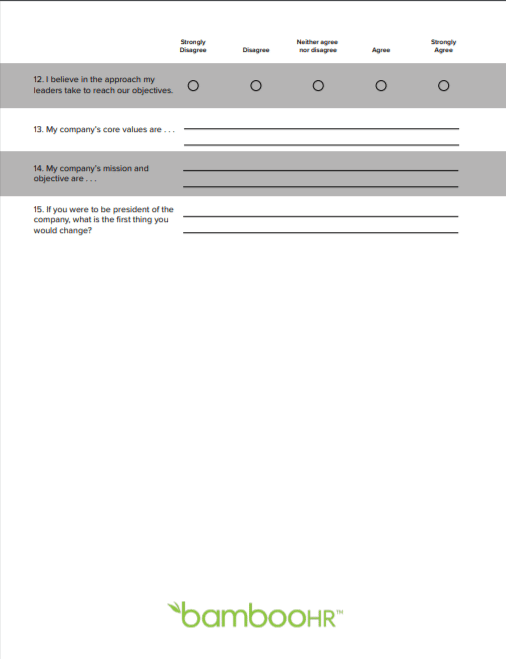 Bluewire Media 

Bluewire Media is an Australia based organization that provides templates for different activities like social media campaigns, event marketing, surveys, and others.
The below survey example is used to measure both employee engagement and satisfaction. It includes single-select questions with the Options starting from 1 to 5 where 1 stands for strongly disagree, and 5 stands for strongly agree. Below listed are the features of this employee engagement survey:
Ask your workforce with 12 employee engagement questions to see how engaged and happy your employees are. 

It also includes the Net Promoter score question to check whether your employees are promoters or detractors

This survey can be downloaded in either Google spreadsheets or MS Excel format.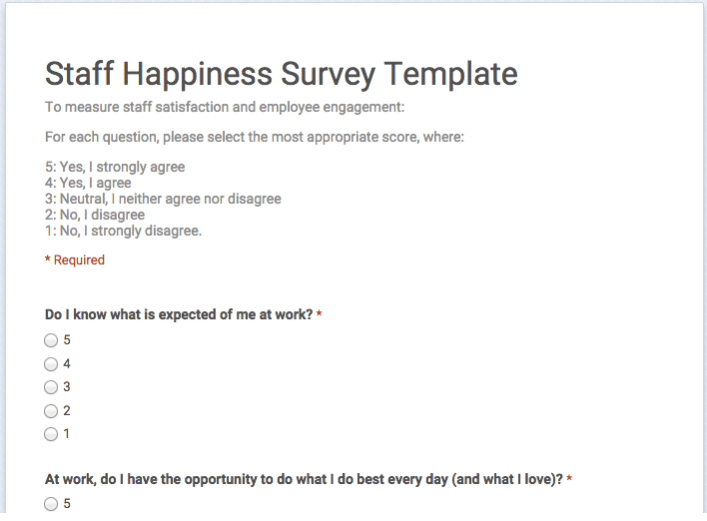 4.Smart Church Management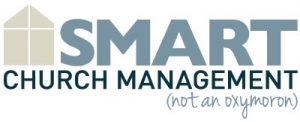 Smart Church management is a consulting company which provides tips,and tools to church leaders for managing their church employee, time and money. 
Below is the survey example which is used by the church leader to deploy the survey among their employees to know the challenges they are facing in working with limited resources – time, money and people so that they can improve it (if any) and keep the church employee engaged. This survey includes the sets of questions with a rating scale of 1 to 10 where 1 stands for strongly agreed and 10 stands for strongly disagree. The survey design is perfect from the employee perspective as it's and simple and easy to use. 
The survey includes all those questions which every church leaders want to ask from their church employees like job satisfaction, appreciation, Salary survey, and goals. The deployment of this survey will help church leaders in improving the church processes and functioning based on the responses they received from church employees.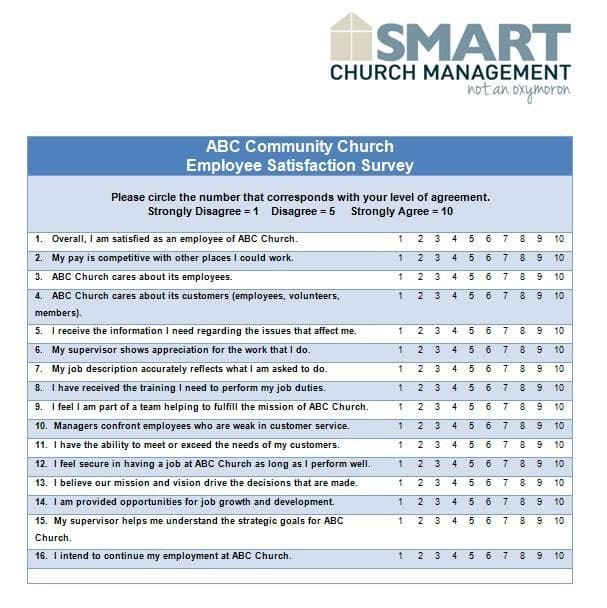 Why are employee engagement surveys necessary?
Engaged employees are the building block for any organization. Therefore to understand the level of engagement, an organization needs to implement employee engagement surveys at frequent intervals. Moreover, it also helps the organization to know the aspects that actually drive the workforce to perform amazing and also the ones who are stopping them. 
The continuous feedback from the employees, help organizations to assemble insights on how they need to improve the negative feedback, and make sure that the workstation is filled with engaged and positive employees. Here are the top 3 reasons why employee engagement surveys are necessary:
Measure Employee Engagement: Once you have deployed the employee engagement survey, then you can measure the employee engagement rate and can work on the action plan after analyzing the responses you have received from the employees. 
Motivation, loyalty, and referrals are the 3 parameters on which every organization can win if they keep their employee engaged.
Health of Organization: The organization processes and functions define the overall health of the organization. It has a hierarchy starting from the leadership team to managers and then the executive team. If at every level of an employee, the goals and responsibilities are defined, it will result in more employee engagement and productivity at work.
Setup Benchmark: Based on the responses you got after deploying an employee engagement survey, it will help you to benchmark the data and compare your organization's performance with the other organizations that are in a similar industry. It is an excellent way to set up the benchmark in different areas in your organization. 
5 Key Benefits of Employee Engagement Survey
Employee engagement is also an essential asset for every organization. Listed below are 5 key benefits of deploying employee engagement survey:
Intelligent way of listening to employee voice: If you as an organization are implementing employee engagement surveys at regular intervals, then you are giving freedom to your employees to raise the concerns they are facing while working with the resources they are provided. It will help the organization in building a positive work environment where the employees are motivated and engaged. 
"The employees whose voice is heard at the workplace are 4.6 times more effective to perform their best work."
Helps organizations to analyze their progress: With the responses received from the previous employee engagement survey, organizations can easily analyze to see whether they have made positive progress on the concerns that were raised by the employees. At the same time, they can also work on the average feedback to make it better.  
"Organizations with engaged employees see the growth of 233% in customer loyalty and 26% in annual revenue."
Improves organization culture: if the organization is involving its employees in every activity, process ,and functioning, then automatically the work environment transforms into a more enjoyable and positive organizational culture.
"88% of employees believe that organizational culture is important for business success."
Resolves issues quickly: In around 70 percent of organizations, the management keeps on procrastinating the serious issues, but conducting employee engagement surveys at regular intervals and receiving the same issue every time helps organizations to work on the issues on the priority basis.  
"62% of organizations take the decision quickly based on the results of an employee engagement survey."
Improves Employee Retention Rate: Hiring the new employee is always expensive and time consuming for the organization. Therefore to get rid of this cost to the business, every company must keep its employees happy and engaged by conducting employee engagement surveys at regular intervals.
"83 percent of employees feel that if they are given new opportunities at work, they're more likely to stay with the organization."
Employee Engagement Survey Tool 
If you want to conduct the employee engagement survey in your organization, then QuestionPro Workforce is an excellent tool or software that enables organizations to create pulse surveys, live polls and questionnaires and distribute the survey through multiple channels like email, website, pulse review app and website embed. 
Moreover, through Workforce, you can track the employee experience throughout their employment cycle, which helps the organization in tracking the employee responses and thus turn out to be helpful for organization insights and analysis. Here are the top three advantages of using employee engagement survey tool:
Time-saving:

A platform that is equipped with pre-defined survey templates can be used to send to the employees as soon as based on the requirement. A tool that is simple, easy, and time-saving. 

Data Protection:

While conducting an engagement survey, data security is an essential factor in which the HR department must consider. This tool has in-built functionality to allow and inhibit access to selected employees, which assure data protection.

Customization functionality:

This tool comes up with a fantastic feature where organizations can

customize the portal to match their brand colors and themes, which undoubtedly improves the employee responses.