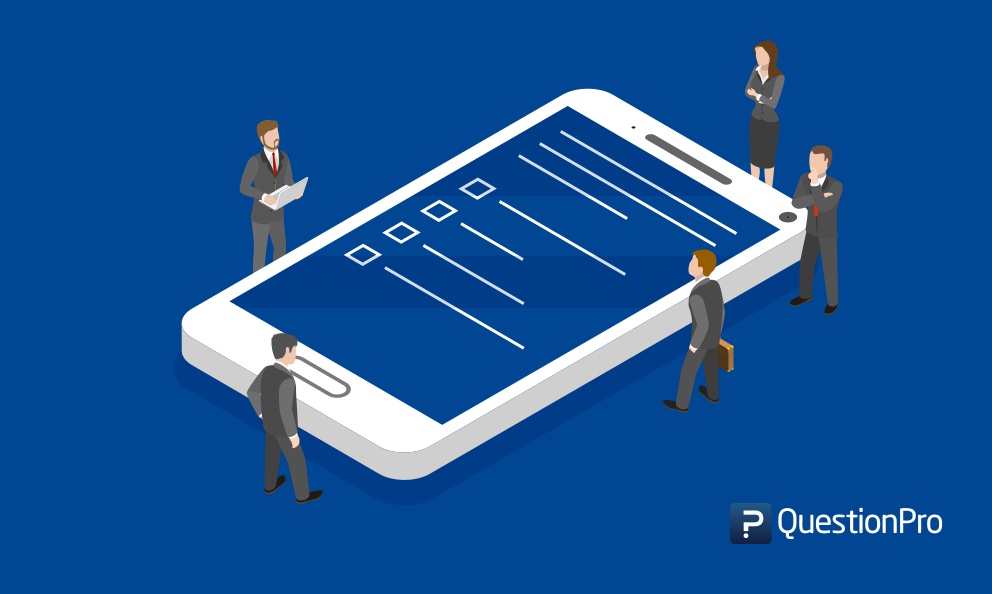 Employee opinion survey is an employee survey, also known as staff survey, which gives your organization a measure of employee attitude, employee satisfaction, employee motivation and other similar attributes to understand their strengths and weaknesses, their inclination, their concerns etc. across a range of cultural and performance areas.
Consider hypothetically, your organization has 5000 employees seated across the globe. It is practically impossible to interview each one of them to note their thoughts and other concerns related to work. The easiest way is to deploy an employee opinion survey to be able to collect the most useful insights from them.
Employee opinion is a belief or a conclusion held with confidence by employees at a workplace, but not substantiated by proofs. This is a classic example of perception is a reality, but only with a twist!  So, to align perceptions and reality (stating facts and figures) organization can deploy employee opinion survey to collect feedback directly from the employees.
Learn more: 30+ FREE Employee Survey Templates
So now that you have decided to deploy employee opinion survey, here are some of the survey questions that can help you collect employee feedback and other opinions, that will help you analyze the strengths and weaknesses of your employees and also any possible areas of improvement within the organization.
On a scale of 0-10, how happy are you at work?
To measure employee engagement and satisfaction, you must start with this question. It is undoubtedly the most direct question to ask but is also the most important question to ask. Regularly finding out where your organization's morale falls on a 10 point scale allows to track it. Consistency is the key here.
What responsibilities at the workplace motivate or inspire you?
By asking this survey question, organizations get a clarity about an employee's area of satisfaction related to his/her work. Inspiration is essential at the workplace, if you don't have a motivated bunch of people at work, it will poorly reflect on the end result- goals, vision and mission of an organization.
Who in the organization motivates you the most?
There is nothing wrong in being inspired. In fact, it is good to have someone at work who inspires the employees and get them to their maximum potential. This is a positive way of asking employees about their inspiration and how they relate to them.
Are you comfortable approaching your manager/supervisor with doubts or concerns?
A healthy professional relationship at work can do wonders for an organization. It is important for an organization to know if its employees are comfortable asking doubts or conveying their concerns to their reporting managers or supervisors. Asking this question would help organizations know the reality.
Are you happy with the way the appraisal system works in this organization?
This question will help organizations yield a first-hand response from the employees if they think the appraisal system is fair or not. Employee feedback will be genuine and sincere on this matter and will help organizations dwell on this subject if there is any feedback that seems to be an immediate concern.
What are the reasons for you being associated with the organization?
Here is where you will be able to compile a list of reasons your employees have for still being employed with the organization. This feedback will let the organization know what good they have already done and identify their areas of strength.
Would you recommend this organization to your family or friends for employment?
Let this question be a follow-up question to the previous one. Employees will have an answer which will either help your identify your strength or weakness. In case, employees unanimously say they won't refer the organization to their family or friends for employment, you know there are grey areas that need immediate attention.
Would you recommend this company to customers who are looking for products/services offered by your organization?
Net Promoter Score is one of the important factors when it comes to customers and their association with the organization. The least an organization would want its own employee being the detractors and not referring customers to their own company. This feedback will help you analyze this area.
Are you proud to be a part of this organization?
An employee spends an average of 40 hours or even more at work, if they are not proud or happy being a part of the organization, most of their productive hours will go cribbing about why they are there in the first place. This question will help you clear their dilemma.   
Is there anything else you would like to contribute, to make this organization better?
Always ask open-ended questions at the very last. This leaves a scope for the employees to fill in feedback that you might not have covered in your survey. This question will leave the option of expressing their concerns or applauding the good work you have done over the years.
An employee opinion survey is like a

performance review

for your organization. It is important for an organization to know where they stand with respect to

employee satisfaction

or

employee engagement

and similar attributes to be able to identify the areas of improvement.

Employee opinion surveys pinpoint staff priorities, that helps an organization see in the right direction and to know where they should focus their efforts.

If an organization is already aware or have an idea about the changes that they need to incorporate, it is advisable to test the waters prior to implementation by asking your employees for their feedback. You will be surprised to know how your employees respond, sometimes offering you a better approach than you could possibly fathom.

If as an organization, you are not aware of any areas of concern, then it is the right time to deploy an employee opinion survey.

Surveys

often reveal important issues you had no idea were a factor.
Now you can create employee opinion survey at the click of a button with QuestionPro. Employee opinion surveys measure how every employee associated with a business feels about the different aspects of their work environment, which includes, the management, co-workers, work culture, policies etc.
With QuestionPro, you can confidently conduct a survey that gains feedback from your employees and analyzes this to make informed decisions. Here is how the QuestionPro survey creation process works:
Create-

QuestionPro has an entire library of

30+ FREE employee surveys

for you to choose from. These surveys can be customized to suit the business needs of an organization and can be branded as per an organization's branding guidelines.

Distribute-

When you are done designing your survey, use different channels to distribute your survey, which includes email, social media, QR codes and more.

Analyze-

With QuestionPro, you can analyze the responses of your survey anywhere, with a built-in real-time summary. If you need advanced analytics, easily export your results to

SPSS

or Excel.