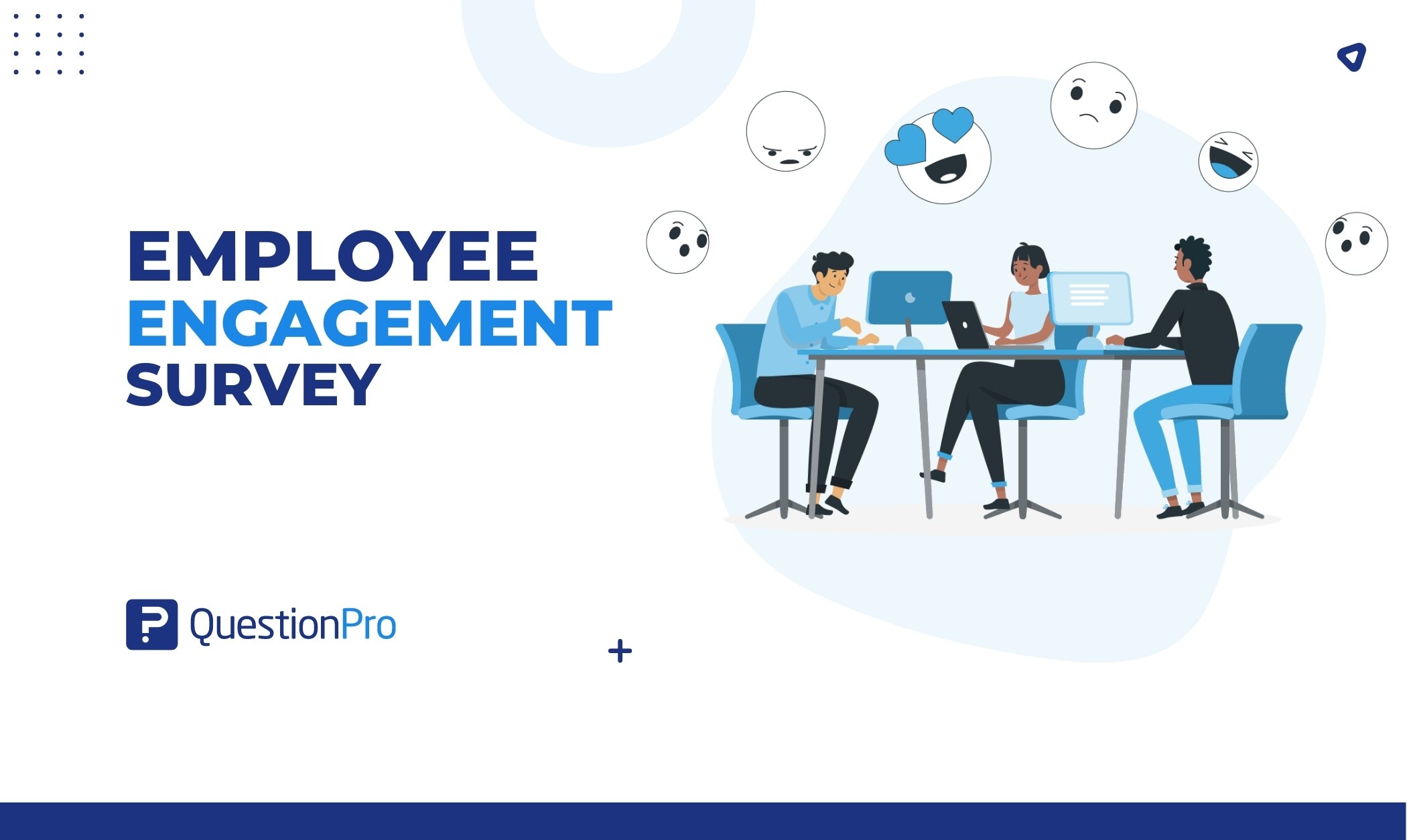 Let's talk about the perks of an employee engagement survey. The questions in an engagement survey are directed toward an organization's employees to understand their level of engagement because happy customers result from happy employees.
Engaged employees will help you get more customers, while your disengaged employees will cost you customers: this is the main reason why all world-class winning companies value their work culture.
Your top performers are your engaged employees. They put forth a lot of effort, convey your brand and corporate values to customers in a positive way, and work hard. They draw the attention of other employees. However, a disengaged or unsatisfied workforce has an impact on your company as well.
Employee engagement surveys are a good way for companies to collect regular feedback from their workforce. Let's examine what an employee engagement survey is, what questions to ask in a staff engagement survey, and how to question them effectively in your own work culture survey.
Learn more: employee engagement survey examples
What is an employee engagement survey?
Employee engagement surveys measure the degree to which employees feel valued at your company. Tracking staff engagement is vital in determining whether or not your employees are happy and how long they'll stay with your company.
Online survey softwares, like QuestionPro's Employee Engagement surveys and portal, are the best way to send engagement surveys to employees.
Usually, the best questions for employee engagement surveys revolve around the following five key metrics:
Your employee's motivation levels
The alignment of your employee's understanding with your overall organizational goals
Questions that help you understand your employee mood and morale
Insights on how to improve employee productivity
Analysis of team-level survey responses for cross-team benchmarking
Employee engagement surveys and analytics are essential in creating a work culture that positively cultivates your employees' moods and morale while increasing workforce productivity to sustain an overall winning and happy workplace.
Learn more: Organizational Commitment.
Why conduct employee engagement surveys?
Now that we've considered the different ways to collect employee feedback from employees about their level of engagement, we'll take a closer look at the value of conducting employee engagement surveys.
Measure employee engagement

The primary reason organizations measure employee engagement is to see what it is about your workplace that drives your employees.

Are your employees engaged or disengaged? It's important for management to have perspective on exactly what employees value about their workplace, whether it's career advancement, recognition, employment benefits, work-life balance, appreciation survey, salary survey, employee satisfaction survey, etc. Employee surveys make it easy to get clear results.
Help your employees feel heard

Give your employees a voice by offering them an avenue to share feedback. Open-ended questions are a great opportunity to establish two-way communication and involve your employees in the development process. Actively engaging employees in your planning and execution gives them a sense of responsibility.
Benchmark your results

Conducting employee engagement surveys on a regular basis helps you collect data that you can compare on a year-on-year basis. Not only do these surveys help you measure employee growth, but you can get a better understanding of where your company stands when compared to the industry's best standards.

For example, if your data shows that only 10% of your employees are satisfied with your development opportunities, you can compare this data with other employers to see if this is a typical finding or if your company needs improvement.
Experience organization growth

An employee engagement survey speaks volumes about direct organizational growth. When companies assess their staff engagement, they're able to identify areas of development. Your survey findings may show that specific departments in your workplace have high levels of engagement while other departments do not, helping to point your focus in the right direction.
Employee engagement survey types
QuestionPro Workforce is the leader in employee engagement survey vendors. With QuestionPro's help, organizations across the globe create, send, and analyze an employee engagement survey that enables insightful workforce intelligence.
You can use employee opinion survey questions. Those questions provide valuable insights into employee morale, enabling organizations to make informed improvements and foster an engaged workforce.
The platform has six distinctive employee engagement survey types that allow you to create a variety of surveys within minutes. Surveys include sets of recommended employee survey questions to make it easy for your Human Resources team to deploy the survey with a single click.
HelloXO

Best is used to collect levels of engagement and experience during the recruitment process, HelloXO helps give your company clarity on your employees' initial impression of what works well and what doesn't. It's essential to track levels of employee engagement throughout all stages of the employee lifecycle to track any shifts or trends in engagement.
GoXO

GoXO collects engagement experiences during the onboarding survey process. An organization must conduct a work culture survey within a couple of weeks of onboarding employees. If there's a delay of more than a few months, new recruits may have difficulty recalling details from their onboarding.
BeXO

Also is known as the well-being experience survey. Employee well-being is one of the most spoken topics worldwide. Organizations are paying close attention to employee well-being by focusing on helping them maintain a good work-life balance.

Our survey enables you to collect responses to understand the levels of engagement your employees have regarding managing their work and personal life.
PulseXO

As the name suggests, PulseXO helps measure the pulse of your organization or your Organizational Health Index (OHI). Short and straightforward yet powerful questions that measure the level of employee engagement, morale, and mood with quick analytics.
GrowXO

An integral part of the survey cycle, this Performance Experience survey is a breakthrough in assessing the levels of employee engagement within your organization. This survey analyzes engagement levels and should ideally develop at least once a year.
CiaoXO

This survey design is for exiting employees and aims to understand their levels of engagement throughout their journey with the organization. This understanding hugely determines current employees' level of engagement and helps organizations reduce attrition.

Exiting employees don't have anything to hide or mislead, so they are the most genuine source for employee feedback.
What do employee engagement survey questions mean?
Staff engagement survey questions are a set of questions designed to measure how engaged, committed, and contented employees are with their jobs and organizations.
The goal of the questions is to determine how much a worker's feeling of purpose, connection to the company, and determination to contribute to the organization's success are. The outcomes of these employee survey questions can assist organizations in identifying areas for development and taking action to improve the employee experience.
The responses to these question types provide you with the information you need to respond to issues you may not even be aware of, thereby promoting a healthy, happy work environment.
Obtaining employee engagement survey results from across your workforce allows you to identify issues specific to specific roles, teams, or management groups and those unique to your organization.
You can also examine how key metrics change due to your actions by comparing responses to the same questions over time. Problems can be identified and addressed before they affect your business using a combination of relatively brief but frequent pulse surveys and more in-depth questionnaires.
How to design employee survey questions correctly?
Employee Survey questions need to be framed and aligned, keeping employee perception and sensitivities in mind. Here are some tips to keep in mind: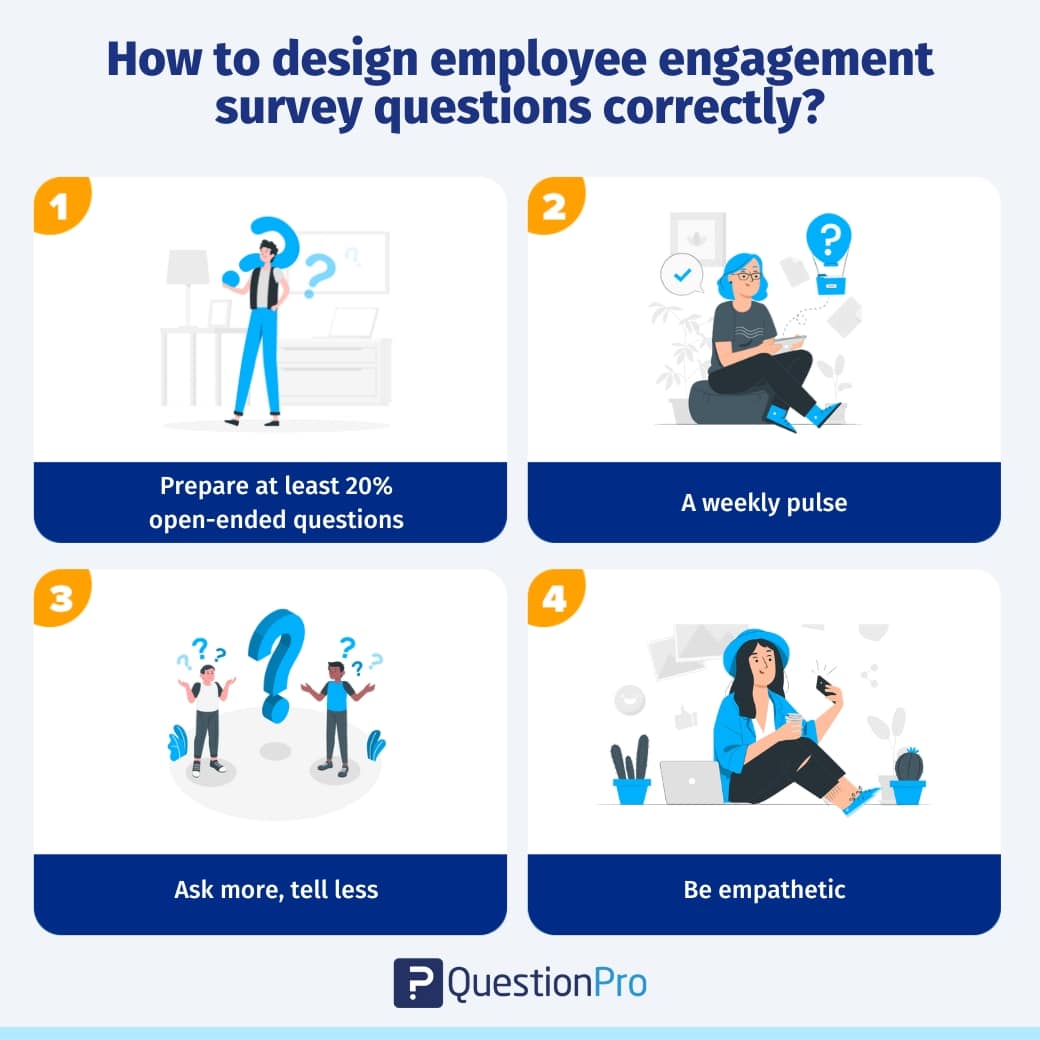 Prepare at least 20% open-ended question

So suppose you have 10 questions; you need to have at least 2 questions that can be open-ended. While it is not the best practice for consumer or market research surveys where the response rate tends to decrease with more open-ended questions, the survey response rate is not an issue to be worried about.

Why? Because they are within the organization and can be made mandatory. In turn, open-ended questions showcase an open mind in this case and also allow employees to express their happiness or concern – openly!
A weekly pulse

You should send out a single employee engagement survey question every week with the simple purpose of keeping tabs on workforce mood and morale. "How was your week?" – This question can give powerful insights into your employees' sentiments and motivation levels. It is simple and quick to answer, and it yields insightful results.
Ask more, tell less

One of the most common flaws in staff engagement surveys is the use of suggestive questions which contain too much premise. Suppose you ask your question on the 3 lines, and the previous 2 lines are dedicated to simply setting the premise, justification, or in a suggestive tone. In that case, it might easily come across as "opinion containment."
Be empathetic

While you may not have to be suggestive, you can be empathetic in your approach. Do not fear away from sentiments; your employees are human first! If you can strike an emotional cord that resonates with your employees throughout the survey, it is an achievement, and your employee morale and motivation are already boosted!
20 Employee engagement survey questions
The secret to successful employee engagement surveys are asking the proper questions. Important engagement factors, including employee happiness, goal alignment, and future objectives, should be included in a survey.
You'll need to include questions in various areas to do a survey with employee engagement questions that meet your company's requirements. You should conduct employee engagement surveys with your team using the following questions.
How satisfied are you with your job on a scale of 1 to 10?
Do you feel valued and appreciated for your efforts?
Do you like working with your team?
Organizations can learn a lot about their employees' feelings toward their jobs and how to better serve their employees by analyzing the responses to these questions.
Alignment questions

An employee engagement survey's alignment questions apply the first section's personal feelings to the workplace. These questions examine employees' connection to the company's mission and vision and discover discrepancies that may affect engagement and motivation. Some common employee alignment questions include:
Do you find your work meaningful?
Do you find inspiration in the organization's vision and values?
Can you connect your role to the company's goals?
These engagement survey questions can help organizations understand how connected employees are to the company and its vision. They can also inform initiatives to improve the employee experience and develop a sense of purpose and meaning at work.
Future-oriented staff engagement survey questions

These questions focus on employees' aspirations, professional development, and views on the company's long-term goals. They gather data on employee motivation and happiness and identify ways the company can improve employee support and development. Some examples of future-oriented employee engagement questions include:
In 3-5 years, how do you anticipate your role changing?
How can the company help you grow professionally?
Do you have all you need to succeed here?

These kinds of questions aim to increase employee engagement and motivation by encouraging a sense of ownership and investment in the future of the business.
Communication and resources questions

The survey's questions center on the following topics: teamwork, employee performance reviews, communication, resources, support, professional growth, recognition, work-life balance, diversity, and inclusion. These questions are intended to assess an employee's viewpoint and assist the business in identifying areas that require a change to increase employee engagement and satisfaction.
How satisfied are you with your job support and resources?
How satisfied are you with the company's reward and recognition initiatives?
Is your work-life balance satisfactory?
How likely would you recommend this company as a great workplace?

Tools and information affect your employees' daily lives. Employee success depends on knowing what resources they have. These survey questions can help you assess employees' communication and resource access.
Manager effectiveness questions

These survey questions assess an employee's level of satisfaction with their direct manager. The main topics of the survey questions are the manager's leadership, communication, support, feedback, delegating, and general management style. Some examples are:
How satisfied are you with the communication style of your manager?
Are you satisfied with your manager's goal-setting and planning?
How often do you receive performance comments from your management?
How likely are you to recommend your manager as an effective leader to others?

The responses to these survey questions can assist the business in pinpointing areas where manager-employee interactions need work to increase overall employee engagement and motivation.
Open-ended staff engagement survey questions

Open-ended questions allow employees to express themselves in their own words about what's really on their minds. These questions inspire employees to think about their job experiences and impressions and reveal ways the organization might boost employee engagement. Examples of employee engagement open-ended questions include:
What motivates you at work?
Have any recent changes or initiatives affected employee engagement?
Is there anything else that's important to your employee experience here?

Open-ended survey questions are often used and can offer a more thorough and individualized understanding of employees' experiences and viewpoints. Including a text field for optional comments on some other questions is also a good practice.
How QuestionPro helps in creating an employee engagement survey?
QuestionPro is one of the best employee engagement survey software that provides a number of tools and features to assist businesses in creating effective employee engagement surveys. QuestionPro can assist in the following ways:
Customizable templates

QuestionPro provides a wide variety of customizable survey templates, including templates designed specifically for employee engagement surveys. You can use these templates as they are or change them to fit your needs.
Question types

Multiple choice, Likert scales, and open-ended questions are among the question types available on the platform. This enables you to design a survey that accurately measures employee engagement.
Branching logic

Using branching logic, you can create customized survey paths based on a respondent's previous responses. This can make the survey more interesting and relevant to the respondent.
Analytics

QuestionPro provides powerful analytics tools that allow you to analyze and visualize survey data in real-time. This can assist you in identifying trends and areas where employee engagement may be lacking.
Action planning

QuestionPro provides tools for creating action plans based on survey results once the survey is completed. This can assist you in addressing issues and increasing overall employee engagement levels.
After reviewing a range of employee engagement survey questions, use QuestionPro Workforce to construct your next survey. Using this simple, customizable solution, you can conduct employee engagement surveys with QuestionPro Workforce and gather insightful data from your workforce.
QuestionPro Workforce enables you to create employee engagement surveys, easily segment results to focus on specific problem areas, and highlight and track key performance indicators (KPIs) and progress over time.
If this helps you, there is a lot more from where this came – Check out the QuestionPro Workforce employee engagement surveys and start building your winning work culture today.
Frequently Asking Questions (FAQ)
1. How can an organization improve employee engagement?
Professional development, competitive remuneration and benefits, a nice work environment, work-life balance, recognition and reward, and open and effective communication can boost employee engagement.
2. How long should an employee engagement survey be?
The length of an employee engagement survey depends on the organization's needs and goals. To increase response rates and reduce respondent fatigue, surveys should be brief and targeted.

3. How can organizations ensure high response rates for engagement surveys?
Companies can increase engagement survey response rates by clarifying the survey's purpose and value to employees, setting a deadline, offering incentives or rewards for participation, and reminding non-responders.

4. How often should organizations conduct employee engagement surveys?
The frequency of employee engagement surveys depends on the organization's demands. Surveys are conducted annually, six months, or quarterly by some organizations.

5. Why should organizations conduct employee engagement surveys?
Employee engagement surveys can help companies improve retention and productivity by revealing employee attitudes and opinions.