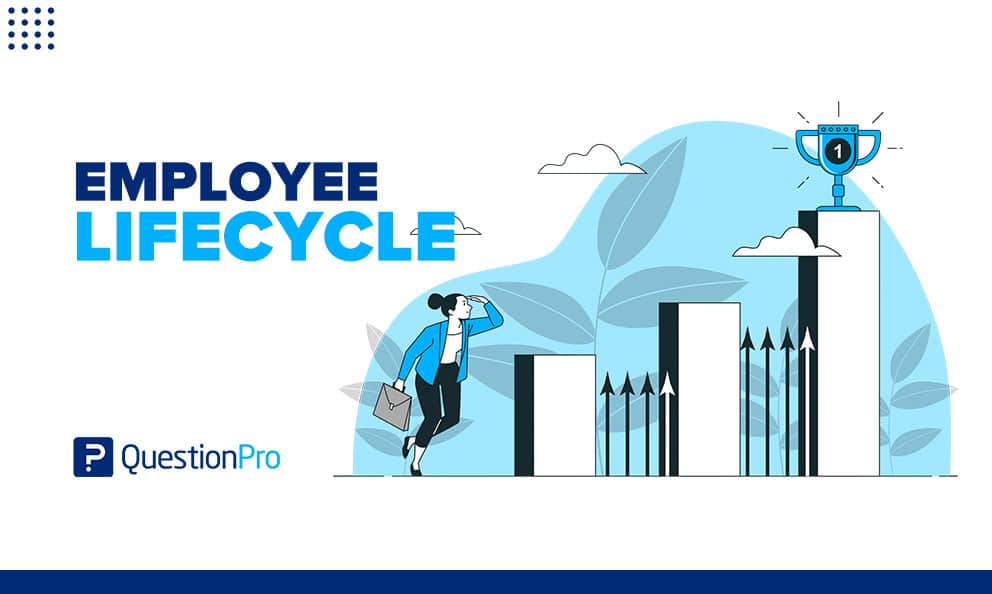 Employee engagement has become particularly important in the wake of the pandemic. Over the past 2 years, many employees have considered switching jobs while many have been forced to leave. Companies must keep the Employee Lifecycle at the forefront of their priorities to survive an exodus of employees.
Top employers understand that people are their most important asset and that companies with dynamic and engaged employees are the ones most likely to succeed. A company's chances of attaining its goals are higher if employees are engaged and satisfied.
Therefore, smart companies develop their employee lifecycle strategy within their organization goals themselves.
What is the employee lifecycle?
An employee undergoes multiple phases while they are part of a company. This is more commonly referred to as the Employee Lifecycle. From a company's standpoint, it requires a strategy designed to attract hires, recruit, onboard the right people, maintain engagement, improve efficiency, and manage employee turnover.
This continuous and complex process warrants careful thought, analysis, and implementation. This is why more and more companies are turning toward online employee lifecycle tools to make their life easier.
What is the employee life cycle model?
The Employee Lifecycle Model encompasses distinct phases that guide an employee's journey within an organization. These employee life cycle phases include the recruitment process, onboarding, development and training, performance management, compensation and benefits, employee engagement, career growth, workplace relations, work-life balance, employee honest feedback, and transitions.
This model acknowledges that employees are active members and former employees. The phases extend from attracting potential candidates through recruitment to facilitating their smooth exit during transitions or departures. It underscores the significance of each stage in shaping an employee's experience and relationship with the company.
LEARN ABOUT: Employee Experience Strategy
Importance of the employee lifecycle
The employee lifecycle is a vital framework underpinning modern businesses' success.
This concept encapsulates the entirety of an employee's journey within an organization, from the moment they step in as new members to the point they bid their farewells. Its importance lies not merely in its stages but in its profound impact on the employee experience, company culture, and overall organizational performance.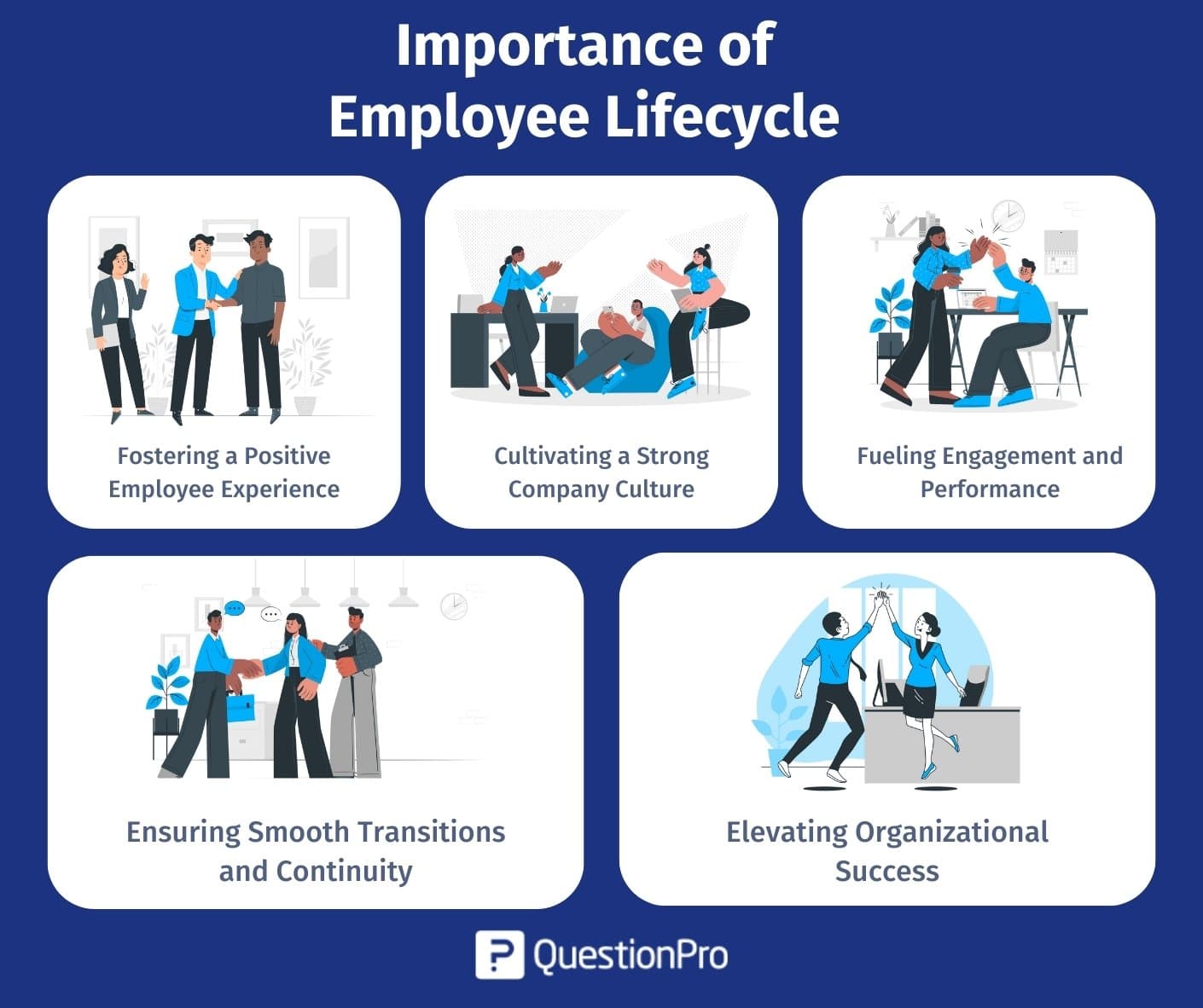 Fostering a positive employee experience
At the heart of the employee lifecycle is the creation of a positive and enriching employee experience. Recognizing that employees are not just cogs in a machine but integral contributors to the company's progress is fundamental.
When new employees are welcomed with warmth and integrated seamlessly into the company culture, they feel valued from the outset. This feeling of value extends through their journey, leading to increased job satisfaction, enhanced motivation, and a higher level of commitment.
Cultivating a strong company culture
The employee lifecycle acts as a canvas on which a company's culture is painted. Right from the induction of new employees, the organization's values, beliefs, and practices are communicated and reinforced.
A well-defined company culture guides employees in their daily tasks and shapes their behavior, decisions, and interactions. When the culture is aligned with employee values, it fosters a sense of belonging and unity, boosting morale and collaboration.
Fueling engagement and performance
Employee engagement is the linchpin that drives productivity and innovation. Through the employee lifecycle, organizations have the opportunity to continually engage their workforce.
Regular employee feedback mechanisms allow employees to voice their opinions, contributing to an environment where their ideas are valued and acted upon. This sense of involvement leads to increased job satisfaction, a higher level of creativity, and improved overall employee performance.
Ensuring smooth transitions and continuity
The employee lifecycle extends even to the point of departure. When an employee leaves the organization, how their exit is managed can significantly impact the company's reputation and even future talent acquisition efforts.
By conducting exit interviews and providing support during the transition, organizations show their commitment to their employees' well-being, leaving a positive lasting impression.
Elevating organizational success
In the grand tapestry of business success, the employee lifecycle weaves a thread that binds every aspect together. It serves as a reminder that an organization is not just a collection of roles and responsibilities but a community of individuals with unique talents and aspirations.
Nurturing this journey demonstrates a company's dedication to its employees' growth, well-being, and overall success. When employees feel valued, supported, and engaged throughout their lifecycles, they drive the company's achievements.
How to measure KPIs in the employee lifecycle
Effective management of the employee lifecycle requires a data-driven approach. Key Performance Indicators (KPIs) serve as valuable metrics to assess the success and impact of various stages within the employee journey.
By measuring these KPIs, organizations gain insights that guide decision-making, improve processes, and enhance overall employee engagement. Here's a breakdown of how to measure KPIs in different stages of the employee lifecycle:
KPI: Applicant quality: Measure the quality of candidates applying for positions. This can include the number of qualified applicants per job opening and the ratio of qualified candidates to total applicants.
KPI: Source of the hiring process: Track the sources (e.g., job boards, employee referrals, social media) from which successful hires originate. This helps in optimizing recruitment channels.
KPI: Time to fill: Calculate the average time it takes to fill a job vacancy it's opened to the day the candidate is hired.
KPI: Cost per hire: Analyze the total cost incurred to hire a new employee, including recruitment advertising, agency fees, and internal HR department expenses.
KPI: Time to productivity: Measure how long it takes for new hires to become fully productive in their roles. This can be assessed through manager evaluations or by tracking specific tasks completed.
KPI: First-year of retention stage: Evaluate the percentage of employees who stay with the organization for at least one year after being onboarded. A low percentage may indicate onboarding process issues.
KPI: training participation: Monitor the percentage of employees who participate in training and development programs. This shows engagement with growth opportunities.
KPI: Skill improvement: Assess the growth in employees' skills and competencies over time, potentially through skill assessments or post-training evaluations.
KPI: Turnover rate: Calculate the percentage of employees who leave the organization within a given period. High turnover may indicate dissatisfaction or other issues.
KPI: Engagement surveys: Conduct regular employee engagement surveys to measure job satisfaction, alignment with company values, and overall engagement levels.
KPI: Exit interviews: Gather data from exit interviews to identify patterns in reasons for departure. This can provide insights into areas for improvement.
KPI: Succession readiness: Evaluate the organization's readiness to fill key roles when employees leave. This can involve identifying potential successors and assessing their preparedness.
Overall employee experience
KPI: Employee net promoter score (eNPS): Measure employee satisfaction and loyalty by asking if employees would recommend the organization as a place to work.
KPI: Employee satisfaction index: Conduct regular surveys to gauge employee satisfaction with various aspects of their work experience.
Company performance impact
KPI: Employee contribution to goals: Assess how well employees' individual goals align with the company's overall objectives and track their progress.
KPI: Productivity and performance metrics: Analyze metrics related to individual and team performance to evaluate the impact of employees' contributions on the company's success.
Employee lifecycle's 6 stages
The employee lifecycle consists of six distinct stages:
Stage 01: Attraction stage
This stage involves establishing your employer's brand, identifying the talent pool, and stopping at nothing to attract your model hire. Additionally, employers understand that their employer brand' must reflect their core values.
Along with these, rewards and employee benefits are equally important for attracting younger employees.
Stage 02: Recruitment planning stage
Behind every successful new hire is a strong recruitment strategy. This will set out your employee recruitment roadmap over time, including:
Vacancy review process
Job profiling
Skills analysis
Budgeting
Screening and interview
Employee feedback mechanisms
Stage 03: Onboarding stage
A good first impression goes a long way.
Once you have the right people in place, the next step in the Employee Lifecycle would be to create "WOW" moments by exceeding your new employee hires' expectations, like sending them a welcome pack, inviting them out to lunch, etc.
Below is a list of important steps in the employee Onboarding
Induction
Health and Wellbeing
HR Documentation
Learning and Development
Stage 04: Employee development stage
Investing in employee development will significantly impact productivity and motivation and help create a dynamic workforce.
Career Development Plans
Coaching
Succession Planning
Organization Change and Development stage
Stage 05: Employee retention stage
Every employee is an investment for the company, and a high employee turnover can eventually result in devastating financial costs for businesses and, more importantly, have a negative impact on productivity.
Stage 06: Employee separation stage
A smooth exit process is important to protect your employer's brand. Past employees can be good advocates or the biggest detractors of your company.
Conclusions
QuestionPro Workforce will be your partner in managing all stages of the Employee Lifecycle, including attraction, recruitment, onboarding, development, retention, and separation.
Workforce features help in analyzing your organization's culture. It helps you strengthen employee experience, increase employee engagement and develop your people, and improve business results.
Frequently Asking Questions (FAQ)
What is the employee lifecycle?
The employee lifecycle encompasses the stages an employee goes through during their tenure in an organization, from attraction and recruitment to separation.
Why is understanding the employee lifecycle important for organizations?
Understanding the employee lifecycle enables organizations to create tailored strategies that enhance recruitment, engagement, and retention, ultimately leading to a more productive workforce.

How does employee lifecycle management benefit organizations?
Employee lifecycle management enhances engagement, retention, and overall organizational success.