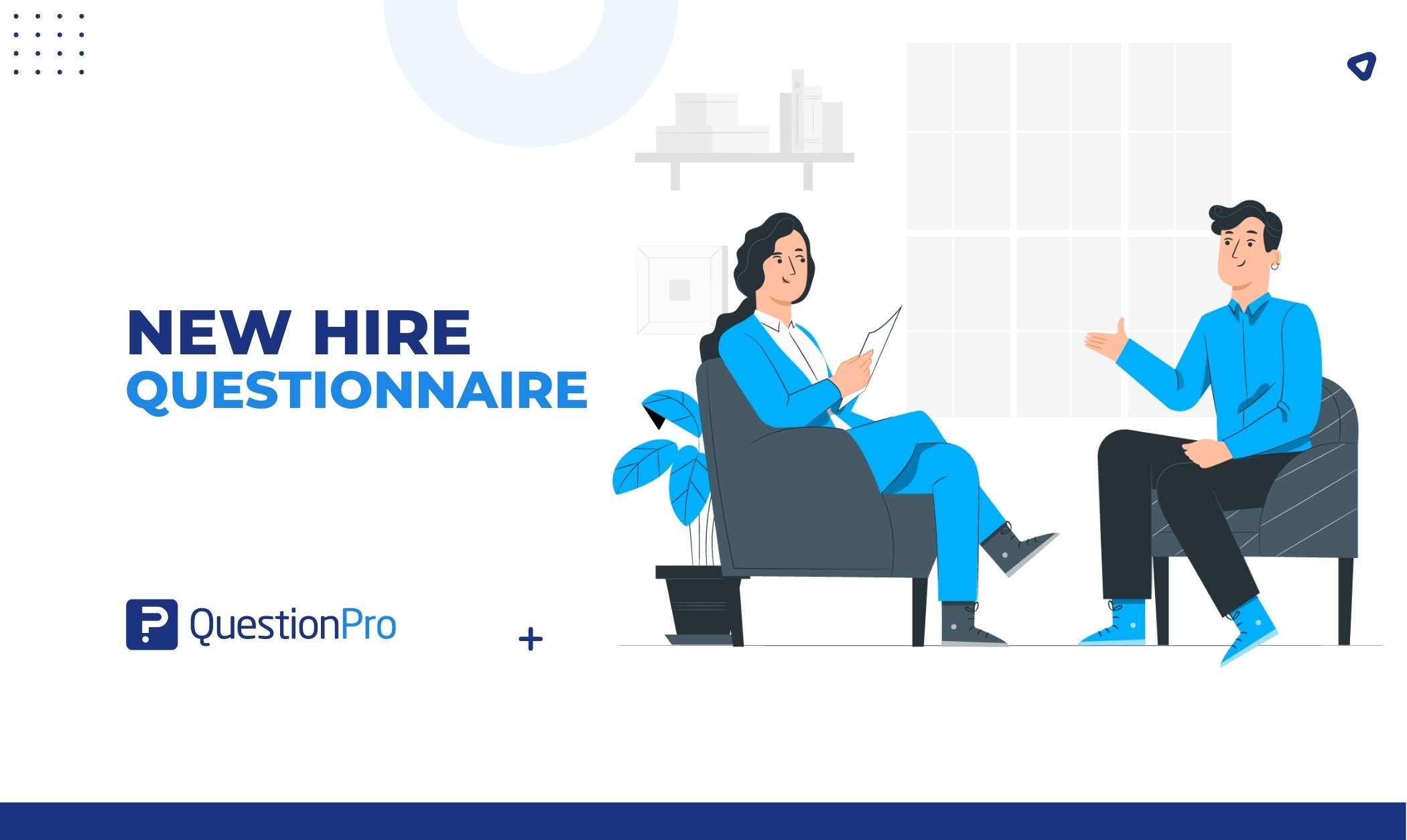 Employers use a new hire questionnaire as a key way to get important information from new employees. It usually consists of questions designed to find important information about the applicant's background, skills, and work history.
Most of the time, the questionnaire is filled out during the hiring process. The employer uses the information gathered to help the new employee make a smooth transition and make sure they fit in well with the company.
The new hire questionnaire can also help employers figure out where more training may be needed and learn more about what their employees want.
In this way, the new hire questionnaire is an important part of the onboarding process. It helps both the employer and the employee get off to a good start.
Finding and recruiting the right kind of talent for your company takes a certain skill set. You will tend to agree if you read this article as the Human Resources Manager.
Perfect matches made in heaven may hold true for marriages, but when it comes to finding the perfect match for your organization, you cannot just rely on the heaven above. It takes time and effort to find the right candidates.
LEARN ABOUT: Candidate Experience Survey
What is a new hire questionnaire?
A new hire questionnaire refers to a set of questions that are asked during/after the employee onboarding procedure of new employees in the organization.
New hire onboarding is an extremely important process and should not be taken lightly. This is the first step of welcoming new hires into the organization, and you better make it the best experience for your employees.
There are startling statistics given in the U.S data regarding employee onboarding:
Nearly 33% of new hires look for better opportunities in the first 6 months of their current job
23% left even before they completed 2 years
Turnover costs range from a whopping 100% to 300% to replace the employees
New hire takes on an average of 8 months to reach their full potential to perform well at work.
Don't panic! There is good news here. Employees who go through a structured onboarding process are 58% likely to remain in the organization for up to 3+ years.
A new hire questionnaire can be deployed monthly, quarterly, or half-yearly (whatever suits your business style). Asking new joiners for employee feedback, especially in their early weeks or months of employment, reinforces gratitude.
New employees can feel a bit overwhelmed as everything around them is new. If you are in upper-level management, you need to make sure your managers are technically sound and proficient in soft skills.
The bottom line here is organizational benefit lies in employee retention, reduced time to productivity, and constant improving your onboarding process. To do so, you will need a good new hire questionnaire to collect feedback and responses.
Start conducting employee experience (EX) surveys to track and measure your company's staff productivity, workforce engagement, work culture, etc.
Importance of new employee survey
A survey of new employees is a great way for companies to find out how well their onboarding process works and learn about new workers' needs and experiences. Here are a few reasons why it is important to survey new employees: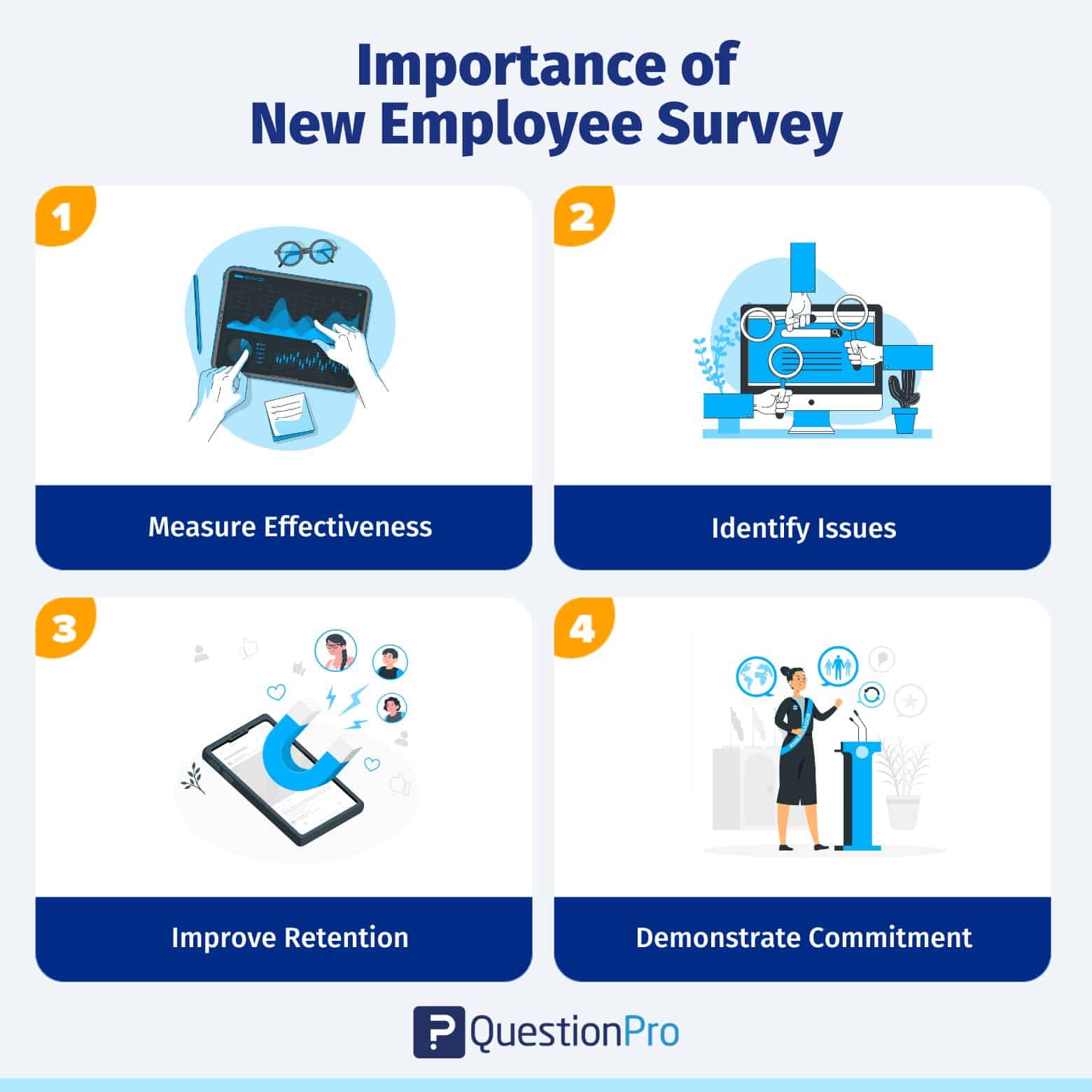 1. Measure the effectiveness
An organization can use a survey to determine how well its onboarding process works. By asking new hires about their past work, employers can find out where they are strong and where they need to improve.
2. Identify issues
A survey can show any problems or difficulties that new employees may have had during the onboarding process. This information can be used to improve the process and make changes so that new employees feel supported and valued.
3. Improve retention
A good onboarding experience can make employees more engaged, happy at work, and likely to stay with the company. A survey can tell employers what parts of the onboarding program are most important to new employees and help them make the process more interesting and helpful.
4. Demonstrate commitment
When you do a survey, you show new employees that you care about their thoughts and experiences. It shows that the company cares about making the workplace a good place to work and wants to hear what employees have to say.
Employers can learn a lot about how well their onboarding process works and what needs and experiences new employees have by asking them to fill out a survey. It can help organizations make changes, increase employee engagement and retention, and show that they care about making the workplace a good place to work.
LEARN ABOUT: Employee Care
Top 15 questions for new hire questionnaire
If you want to make your hiring and onboarding process seamless and robust, here are the top 15 employee onboarding survey questions for your new hire questionnaire:
Questions to ask after week one
Your employee(s) are still adjusting to the organization's culture, and it is still pretty much new for them, try and collect their feedback by asking them the following questions:
1. What are the three things you liked about the onboarding process?
2. What attributes of your job excite you the most?
3. What aspects of your job are you worried about?
4. Are you satisfied with the information shared with you at the time of onboarding?
5. Have you finished with the documentation procedure?
Questions to ask after week two
Your new employee(s) are starting to settle down, and now is a good time to ask how well the onboarding process is working out for them.
6. Do you feel prepared to take on challenges?
7. Would you say you understand your KRAs effectively?
8. Are you receiving enough assistance to understand your assigned work?
9. Are your queries being answered to your satisfaction?
10. Are you getting along with your manager and teammates?
Questions to ask after three months
11. What do you think about the organization's culture?
12. Do you have a fair understanding of how your work will be evaluated?
13. Do you feel your ideas and opinions are welcomed by your teammates?
14. Do you understand the organization's goals?
15. Do you understand how your role contributes to the organization's development?
LEARN ABOUT: Structured Question & Structured Questionnaire
What are the benefits of a new hire questionnaire?
Onboarding experience significantly varies from one organization to the other. Onboarding starts when a candidate accepts the offer of employment and becomes an employee of your organization. It is important that this process is taken seriously. Most organizations across the globe miss this first important step.
Once the new hire is on board, you will need to deploy a questionnaire at regular intervals to collect their feedback and responses related to the entire process. Here are a few benefits of a new hire questionnaire:
1. Increase in employee lifetime value:
You can increase an employee's lifetime value by successfully deploying a new hire questionnaire. When a new hire joins your organization, their net output is negative towards the beginning, as he/she is yet to understand the complete work atmosphere and what is expected out of him/her.
However, with an effective new hire questionnaire, you can achieve two things: first, you decrease the overall time it takes for the employee to contribute to the team fully. Second, you make the employee speed up socializing.
2. Identify the gaps:
You cannot effectively improve your recruiting or onboarding process without actually knowing what needs to be changed. Getting feedback from new hires will help you identify gaps in terms of knowledge, training and development needs, and much more. While you may already have a standardized program, it is important to keep working on customizing the program to remove any possible inconsistencies.
3. Improves the feedback process:
You essentially improve the employee feedback process by deploying a new hire questionnaire. Thereby improving new employees' engagement levels. New hires must feel they are being heard, and the changes they have mentioned, if applicable, should be implemented to improve the organization's bottom line, so employee feedback is important.
4. Valuable data:
You are sitting on a goldmine- employee data. This is the most powerful attribute of the questionnaire. Keep your questionnaire consistent year after year and compare the data thus obtained and pay close attention to the analytics. You, as an organization, may even be able to find answers to the questions you have been long struggling with.
5 Best practices for new hire questionnaire
When deploying the new hire questionnaire, you must understand you are going to receive a lot of data, and you better put that into action, without which the entire purpose of deploying the questionnaire will be defeated. As you begin to deploy the survey to your new hires, here are the 5 best practices to keep in mind.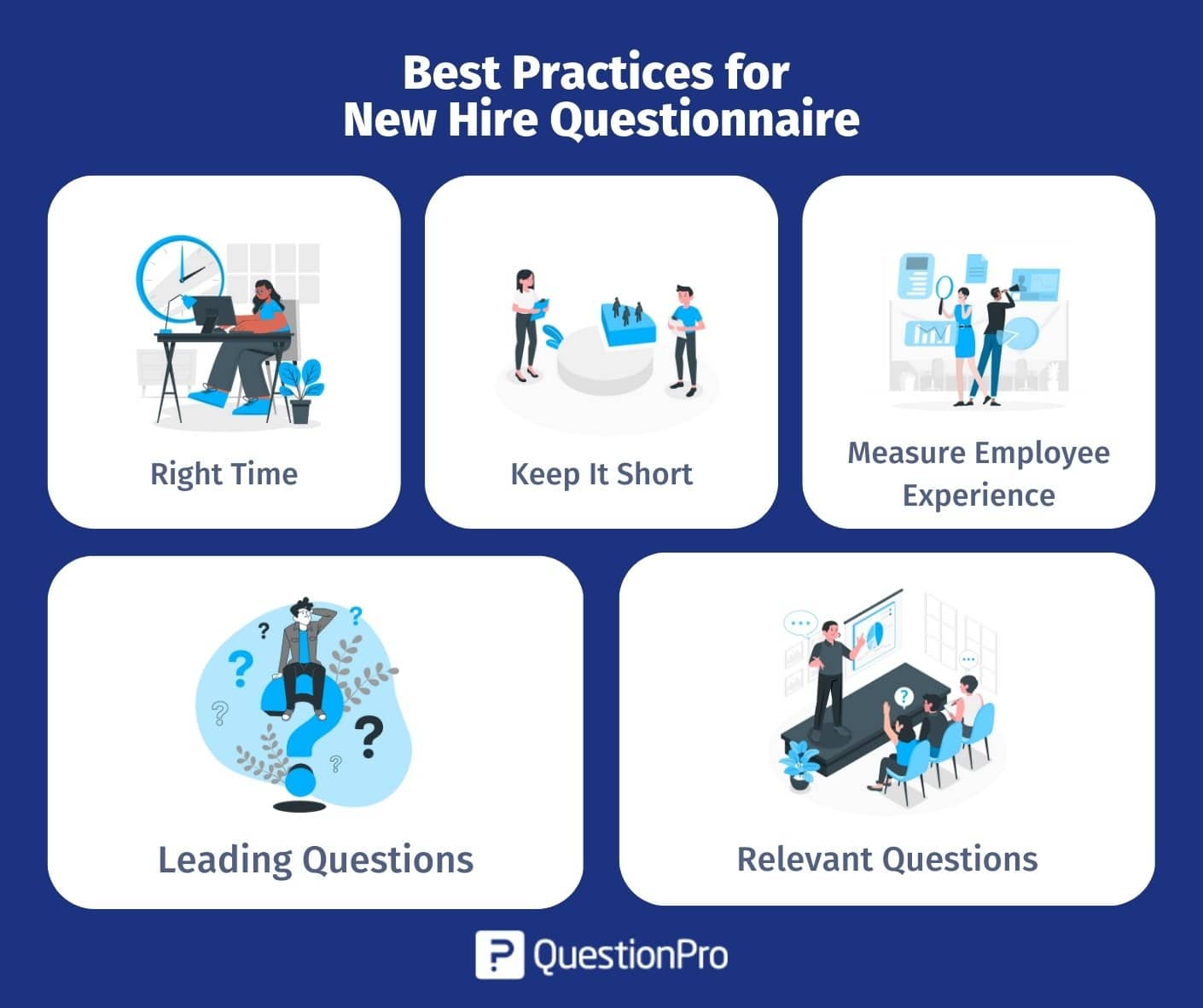 1. Right time:
There is always the right time to send a survey. So when is the right time? After a week, a month, quarterly, or yearly? Regardless of when you decide to deploy the questionnaire, just don't let it be too late.
2. Keep it short:
Survey fatigue is often considered one of the primary reasons for survey dropouts. It is important you keep the length just right so your employees are not bored while filling it. Maximum participation is needed for good-quality data.
3. Measure employee experience:
Don't forget why you are deploying the questionnaire in the first place to register employee experience. You need to ensure your new hires fit into the organization quickly. Ultimately design your questionnaire keeping in mind the end result.
4. Don't ask leading questions:
Don't ask questions that will lead your employees to respond in a certain manner. These types of questions are called leading questions. These questions may alter the employee's response, and the data collected may have biases.
5. Ask only relevant questions:
Customizing your survey questions to suit your organizational needs will evoke a better response. Please don't blindly copy questions with very little worth to the organization. Ask the right questions to get the right kind of response.
Benefits of using a new hire questionnaire software and tool
With QuestionPro Workforce, you can take a significant step towards conducting and improving your new hire questionnaire and onboarding processes with employee survey questions.
You can use the online survey tool and platform to conduct online HR surveys, gather employee data, and analyze it to make informed employee-centric decisions through employee surveys. Here are the four key benefits of using an online new hire questionnaire, survey tool, or software.
LEARN ABOUT: Employee Centricity
It is super easy and fast: The tool comes with readymade employee survey templates that you can use as they are for conducting surveys. You can either customize to include your questions or create entirely new ones from scratch. Both methods are quick and extremely user-friendly.
Let you customize your portal: The online HR survey tool lets you customize your surveys and the portal to resonate with your brand themes and colors. This comes in handy in branding and lending credibility to your employee questionnaires. Branded portals report a much higher response rate on their online surveys. You can benefit from having branded survey portals in our recently published blog.
You can assign role-based access: When it comes to online human resource surveys, maintaining anonymity and privacy is extremely crucial. Limiting access to data for some managers is necessary to protect sensitive data. QuestionPro Workforce lets you assign role-based access to your managers and employees. Our recent people analytics blog details why this is crucial and how it's done.
It provides detailed analytics: Collating important organizational and HR-related data straight from the employees is the primary reason for conducting HR surveys. The information is genuine, candid, and honest. Online employee experience and workplace culture survey platforms provide real-time data with in-depth analytics, enabling you to make informed decisions and improve your employee processes.
QuestionPro is a great program and tool for making and giving out new employee questionnaires. It is a reliable and effective solution for employers who want to bring on new employees because it can be customized successfully, is easy to use, is accessible, has analytics and reporting, and has security features.