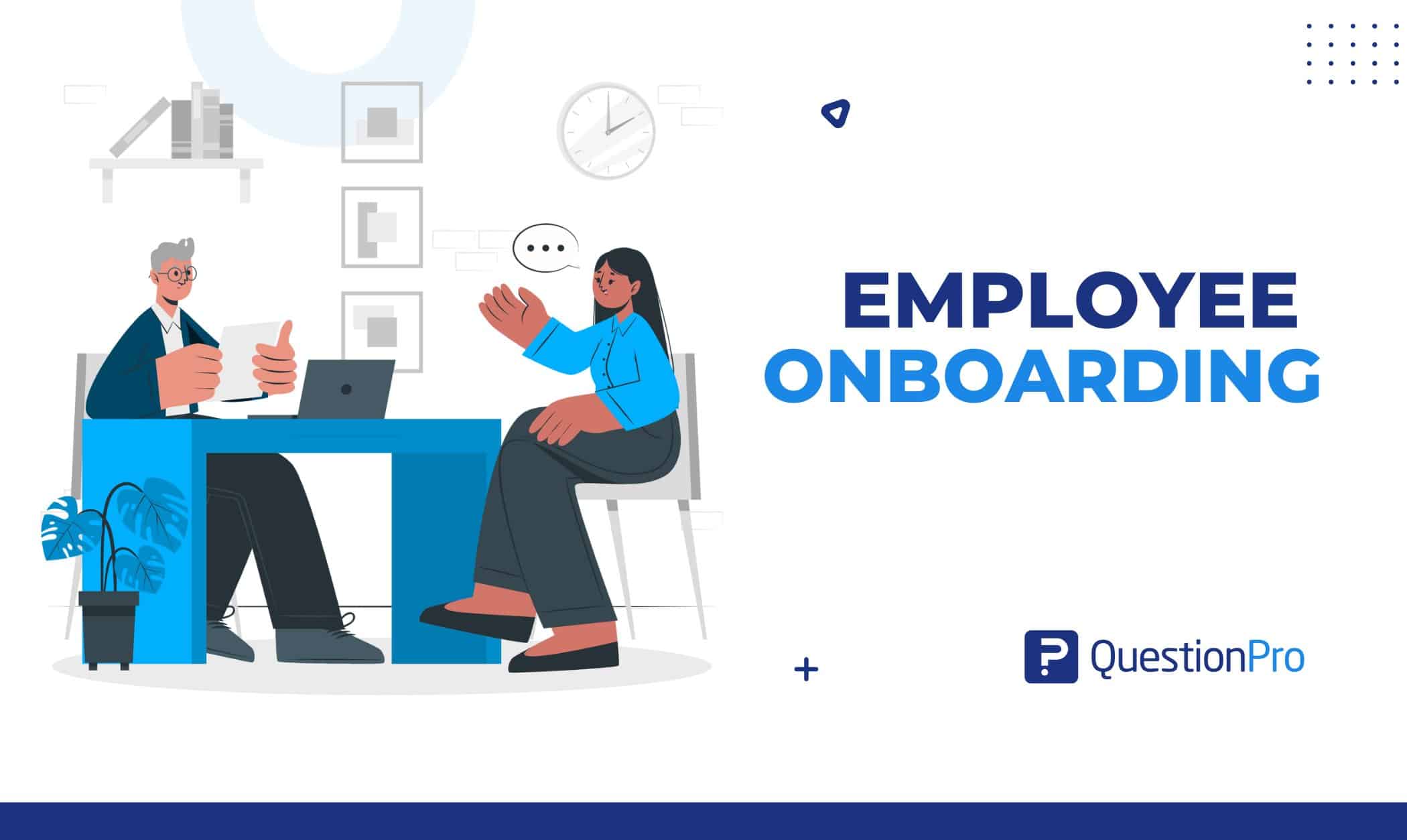 Daily, HR Managers face numerous challenges, none more intense than recruitment and employee onboarding. The demand is insatiable, but the talent pool is steadily shrinking.
Despite the talent shortage, finding the right candidate has become more important than ever. However, an even greater challenge begins once the right person is found.
After countless hours searching for, identifying, interviewing, and recruiting the right talent, if the new hire leaves for a greener pasture, all of your efforts will be for naught, and you will be back at square one.
What if a candidate accepts an offer, confirms the notice period, and agrees to a start date but then cancels at the last minute?
Can a more structured employee onboarding process based on a defined employee onboarding process truly prevent something like this? Does it truly increase employee engagement, instill loyalty in new hires, and thus improve employee retention?
As a result, the onboarding period is where the employer-employee relationship is built.
In this blog, we'll look at employee onboarding in greater detail. We'll teach you everything you need to know. This will give you all the secret ingredients necessary to create an extraordinary onboarding process and lay the groundwork for a happy, long-term relationship with your new hires.

Content Index
What is Employee Onboarding?
Employee onboarding is a process of helping new employees adjust to the social and performance aspect of the organization they have been recently hired into.
This process helps new employees adjust to their new job quickly and also learn the attitudes, knowledge, skills, etc., required to function efficiently within the organization.
You may have experienced some form of employee onboarding if you have been employed. From the moment you walk into the organization, there are many new faces to meet and greet, several processes to get accustomed to, technology doesn't give you peace, and a mountain of paperwork.
All this can be overwhelming, especially if this is your first job. So, to ease all the tension around this, the onboarding process ensures that new joiners start on the right foot.
Employee onboarding survey questions are designed to gather feedback from new hires about their experiences during the onboarding process.
The employee onboarding survey is a systematic survey used for employees who an organization has recently employed. This survey measures the recruits' job satisfaction with the onboarding process, overall experience, and related feedback.
Free resource: Recruitment Satisfaction Survey Questions + Sample Questionnaire Template
Types of employee onboarding
Employee onboarding can be broken down into two categories:
Formal employee onboarding: This process involves an organized task and procedures that effectively help new employees adjust to their position. It is called a legal process because, in this process, the new employees are systematically segregated from the existing employees to undergo an orientation process similar to in-classroom training.
Informal employee onboarding: This process is a semi-organized activity by which a new employee learns from his more experienced colleagues within the organization. This usually involves shadowing them, impromptu one-on-one coaching, similar processes, and completing all the HR processes.
It's dependent on an organization's work culture and what onboarding process they would like to follow: formal or informal.
According to studies, companies spend up to 30% of a new hire's salary on onboarding. However, a process must be implemented to help new employees feel comfortable on their first day at work. My concern here is if you are investing so much, let the outcome speak positively.
Learn more: FREE Employee Evaluation and HR Survey Templates
Why is an Employee Onboarding Survey Used?
The right onboarding process can cause an exponential increase in the productivity of a team and, in turn, an organization because it takes the best aspects of a new employee and matches them with that of the organization and create a recipe for success.
This makes the feedback for this process paramount for further success and ironing out any kinks the program may have. Some of the biggest reasons why the employee onboarding survey is to be conducted are:
Understand what the employee thinks about the onboarding process and the company.

Gauge if the new employee understands their role well and is well equipped to fulfill their primary responsibility.

Make the new employee abreast of what the individual's expectations are and what are the organization's expectations of the employee.

To map if further information or training is required so that the employee can perform well in the role.

It can also be used to troubleshoot any issues the employee faces.
The employee onboarding survey is also one of the most powerful tools to collect feedback on the onboarding process and fill in any gaps.
Learn more: Top 15 Employee Engagement Survey Questions for Your Next Questionnaire
Key Employee Onboarding Survey Questions
In this section, it is important to ask new employees about the quality of information shared during recruitment to understand their perception of the organization and their feedback on the recruitment process.
These employee survey questions should be asked during week one to the employees, and feedback collected through their responses should be considered.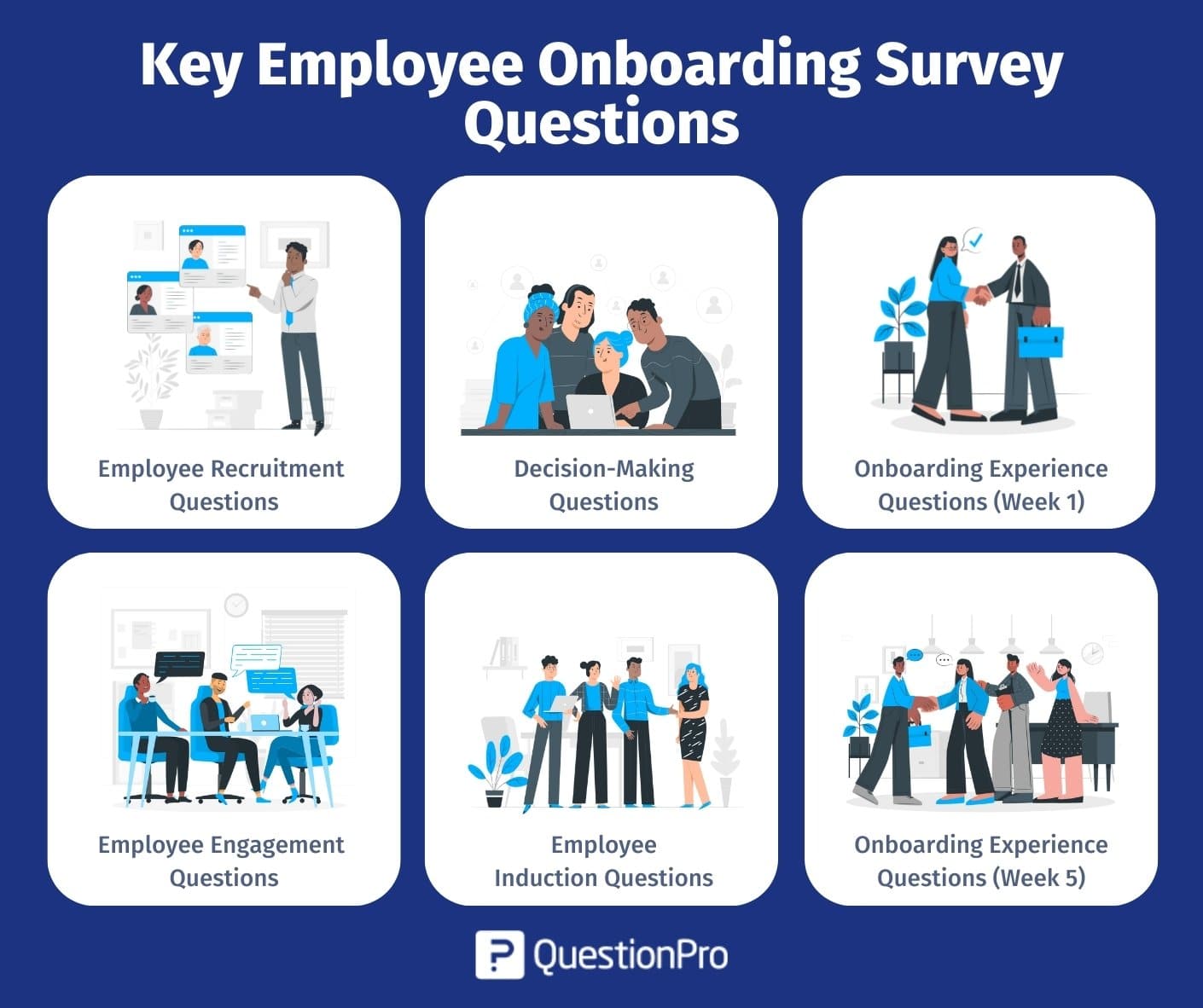 Employee Recruitment Questions
1. During the recruitment process, I was provided with the right amount of information about [Organization name].
This is an important question to ask the employees to know whether the recruitment process is robust. The process shouldn't be overwhelming for the employees. The information provided during the process should be optimum, not less, not more. By asking this question, you will be aware of the situation.
2. What three things could we have done differently to improve the recruitment process?
This

open-ended question

will help you collect a good amount of feedback and information about improving the

employee recruitment process

. Remember, feedback is a cyclic process and not a linear process. Therefore, it is good to improve and evolve constantly. Based on the feedback provided by organizations can evolve too.
Employee Decision-Making Questions
3. Please tell us the three reasons for joining [Organization name].
By asking this question, you will know what the positive traits of your organization attract people to be employees of the organization. This is an essential question that should be a part of your

survey

.
4. Where were you employed before joining this organization?
Understanding a new employee's perspective on joining your organization can give you a good amount of information about your marketing initiatives, organization value, market reputation, and where you dedicate your recruitment efforts.
Employee Onboarding Experience Questions (Week 1)
5. I feel welcome in [Organization name].
It is a positive start when an employee feels that he/she is welcome in the organization. Asking this question will give clarity to the organization from an employee's perspective.
6. I am extremely happy to be associated with [Organization name]
Suppose an employee is happy to be a part of the organization. In that case, chances are the employee will show higher levels of employee engagement in the coming months, so it's important to know how an employee feels.
Employee Engagement Questions
After the new employees have had a chance to settle in and a few weeks into the routine, now is a good time to deploy another survey that can collect their feedback and experience working with the organization so far. Questions in week 5 should focus on understanding the levels of employee engagement, sense of belonging in the organization, etc.
7. On a scale of 0-10, how likely are you to recommend [Organization name] to your family or friends?
8. Since the time I joined [Organization name], I rarely think about joining any other organization.
A happy employee will not be constantly looking for options to move on. If an employee is happy about joining your organization and sees a promising future for the organization, he/she wants to stay longer in the organization.
9. I see myself in the [Organization name] five years down the lane.
Finances to carry out the process of recruitment. It's not a lesser-known fact that employee recruitment is an extensive process that requires many resources and dedication. It can be excruciatingly painful if an organization has to keep battling

employee attrition

. It is good to know what the long-term employee plans are.
10. The team motivates me to go above and beyond what is expected of me to deliver.
If the team members are supportive and help a new employee understand the

organizational culture

and work immediately, the employee is likely to settle in quickly and perform better. This is a good question to collect information.
11. I regularly receive feedback from my manager on the tasks assigned to me.
Constructive feedback is always appreciated, whether it's from a seasoned employee or a new employee. Ensure that a new employee gets timely feedback from his/her manager. This will help them improve their skills and adapt better to the new environment.
12. I can manage my work-life balance extremely well.
It is important that, as an organization, you ask your employees

survey questions

that help them determine if they are doing well both at the workplace and in their personal life. A new job can be overwhelming and sometimes demanding too. This question must be part of your survey to help your employees manage this balance.
Employee Induction Questions
13. I am confident in using the software/tools/systems I am required to use in this role.
It's important to be honest with the new employees while onboarding, explain their roles and responsibilities to help them analyze their role, and make sure they have the essential skill set to suit the role. This is an important question and should be a part of your employee onboarding survey.
14. I have been given enough training to get accustomed to my job.
If it's a new technology or software that you expect your new employee to work with, provide his/her with the required training to use the technology without any hesitation. The response to this question will determine whether your training program for new employees is effective.
15. I received helpful information regarding products/services and organization history at the induction.
The induction process is meant to share all the necessary information with the new employee. At the orientation, ensure you equip the employee with all the information to help him/her settle into the organization.
Employee Onboarding Experience Questions (Week 5)
16. I feel welcome and valued by the team.
For a new employee, it is important to be and feel a part of the team. It depends a lot on his/her team members and co-workers to make him/her feel at ease in the workplace. By asking this question in your survey, you can know the employees' thought processes while they are on a team.
17. I feel productive working in [Organization name]
An employee feeling confident and productive is good for him/her and the organization. Human resource is an asset to an organization; hard work and well-performing employees are what an organization always aims to employ.
18. The job description and responsibilities explained to me were accurate.
It's important to be honest to the new employees while onboarding, explain to them clearly their roles and responsibilities to help them analyze their role, and make sure they have the essential skill set to suit the role. This is an important question and should be a part of your employee onboarding survey.
19. I have been given an overview of my career path and progress in this organization.
It's good to explain to your new employees their career path before they join the organization, this will ensure employee engagement, and if their career path is in tandem with the organization's goals, it will be mutually beneficial for both parties.
20. What is the one thing we could have done differently to improve your overall onboarding experience?
The next set of

survey questions

should be asked during week five/week six. Week five and week six should be more detailed and cover questions related to employee engagement, role perception, and onboarding experience. By this time, the new employee settles in and will have any further feedback about their overall experience within the organization.
Learn more: 30 Employee Satisfaction Questions You Can't Afford to Miss
Best Practices for New Employee Onboarding Process
When deploying an employee onboarding survey, utmost care should be taken to ensure that the resulting data is actionable, that the employees feel comfortable giving honest and unbiased feedback, and that the employee feedback is collected timely and is relevant.
As you begin onboarding and deploying the surveys to your new employees, here are some of the best practices that will help you yield better results.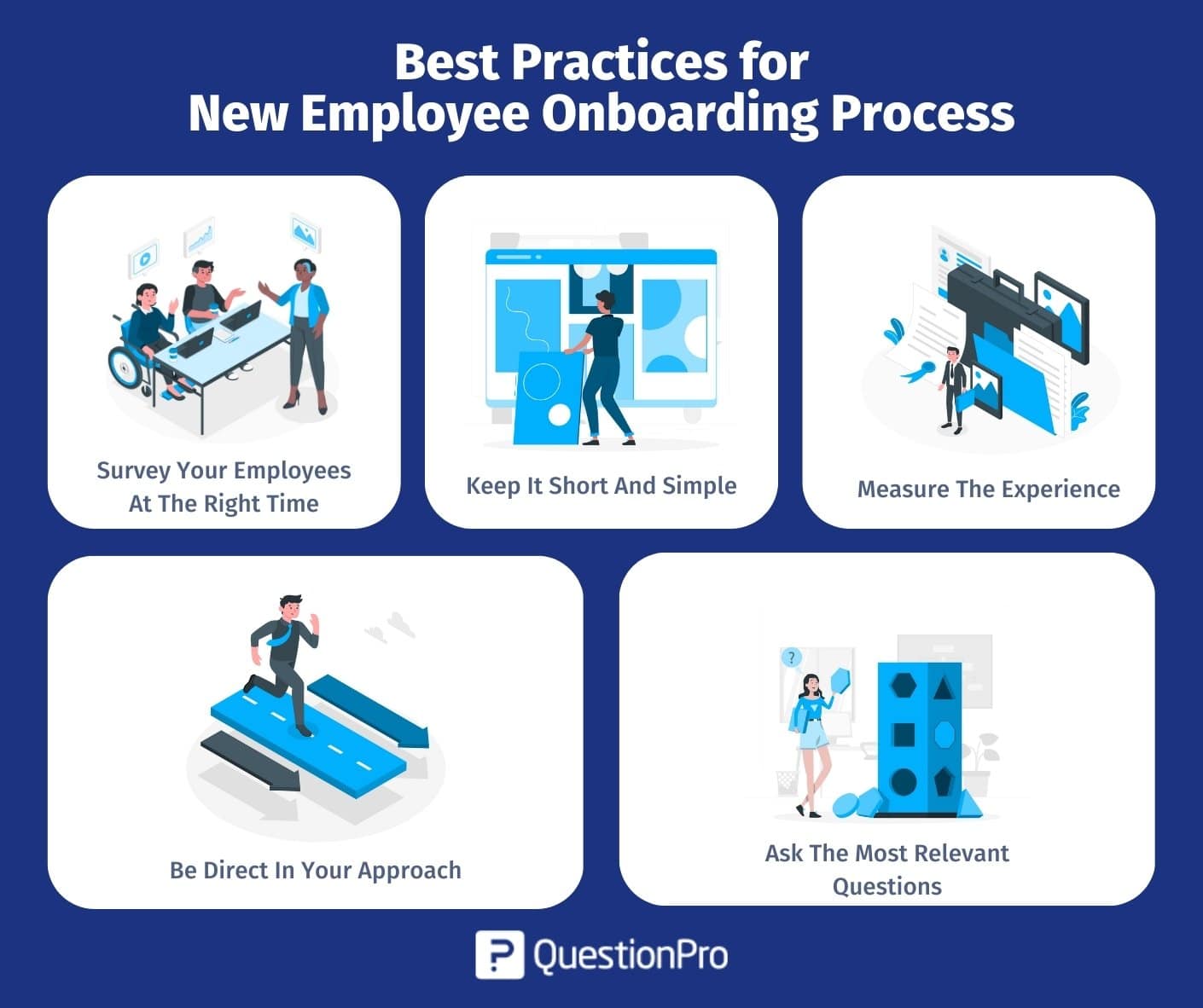 Survey your employees at the right time:

Right

survey

should be sent at the right time. The same goes for the employee onboarding survey. When is the right time to send the survey- after their first day, their first week at work, the first month, or three months after they join?

Regardless of when you decide to send the survey, just be sure it's not too late to send the onboarding survey, or else the very purpose of sending the survey will be defeated. Waiting for too long to send a survey means losing valuable insights.

Discussing and automating the process is advisable to stay in the system. Sending the survey promptly will help employees recollect and note the feedback.

Keep it short and simple:

Completing these surveys should not feel like doing the daily chores, which can be cumbersome. Keep these surveys short and absolutely to the point.

The surveys should have a maximum of 10 most relevant questions. Most of them should be closed-ended with appropriate answer options and at most 3 open-ended questions. Remember, it's not a college essay they are working on.
Measure the experience:

Don't lose sight of why you are asking these onboarding questions to your new employees. You need to make sure that the new employees fit into the system fast and efficiently. Ultimately, your survey should be designed keeping the end result in mind.

Be direct in your approach:

Ask direct questions, and give employees the ability to rate their experience and shape their career path in the organization. By beating around the bush, this purpose will surely not be solved. Instead, ask questions that can help them evaluate their own performance and think ahead of themselves.

Ask the most relevant questions: Customizing or tailoring your questions to suit the needs of the survey will evoke better responses. While a generic question set can give a good starting point, it is advisable to jump to the point soon enough to avoid high survey drop-out. The theme and questions of the survey must be restricted to employee onboarding at all times.
Learn more: Employee Survey Software
Conclusion
Employee onboarding will expand beyond compliance and cultural integration in the future of work. It's when you establish a solid employer-employee bond. A poorly organized onboarding process has serious cost consequences.
There are several factors to consider when creating an effective onboarding program. Of course, there's the practical side, like ensuring your new hires have all the hardware and software they need on their first day.
Onboarding's other side is just as important. The one that involves engaging with new hires from the minute they sign, setting expectations, introducing them to your company culture and values, and helping them get to know their coworkers.
If your budget allows, you can automate and streamline employee onboarding. Doing so saves time and ensures that your new hires get off to a good start. And increase the likelihood of a happy ending.
QuestionPro Workforce offers a platform for developing and managing onboarding procedures, which includes customizing and automating many duties like orientation programs, paperwork, documentation, employee training, and assessment.
This can standardize and streamline the onboarding procedure, making it simpler and more effective for HR teams while guaranteeing that new recruits get complete and consistent training and support throughout their first few weeks on the job.