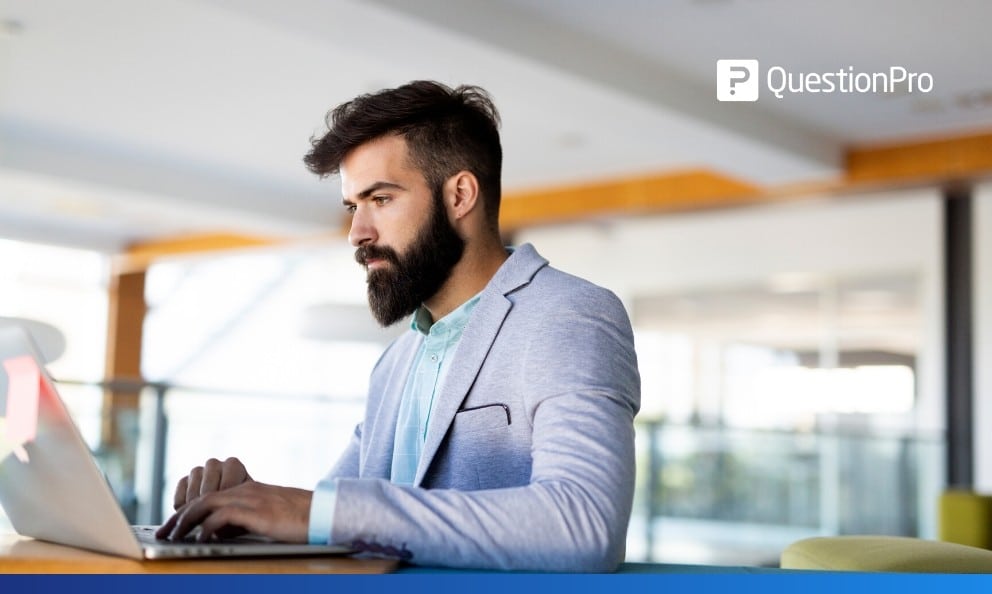 Company success depends on employee satisfaction. That is not news to you, but how you obtain those insights may appear to be more difficult. You can't just approach employees and ask them if they like their boss, can you? However, simply sending out an employee opinion survey is insufficient. Asking the right employee survey questions is the key to gaining valuable insights from your team.
In this post, we'll look at the details of well-designed employee survey questions and advice on how to frame questions that will grab your employees' interest and generate honest and insightful responses.
LEARN ABOUT: Testimonial Questions
What are Employee Survey Questions?
Employee survey questions are a collection of questions designed to collect employees' feedback about their workplace, job responsibilities, colleagues, managers, and overall job satisfaction.
LEARN ABOUT: Workplace Employee Experience Examples
These questions are commonly included in an employee satisfaction or engagement survey that organizations use to assess employee engagement levels, identify areas for improvement, and create a better work environment for their employees.
LEARN ABOUT: Lead Generation Survey
Benefits of asking appropriate employee survey questions
The appropriate questions in employee surveys are essential for accurate and useful employee feedback culture. It can increase employee satisfaction, actionable insights, and decision-making. The right survey questions have several benefits, including: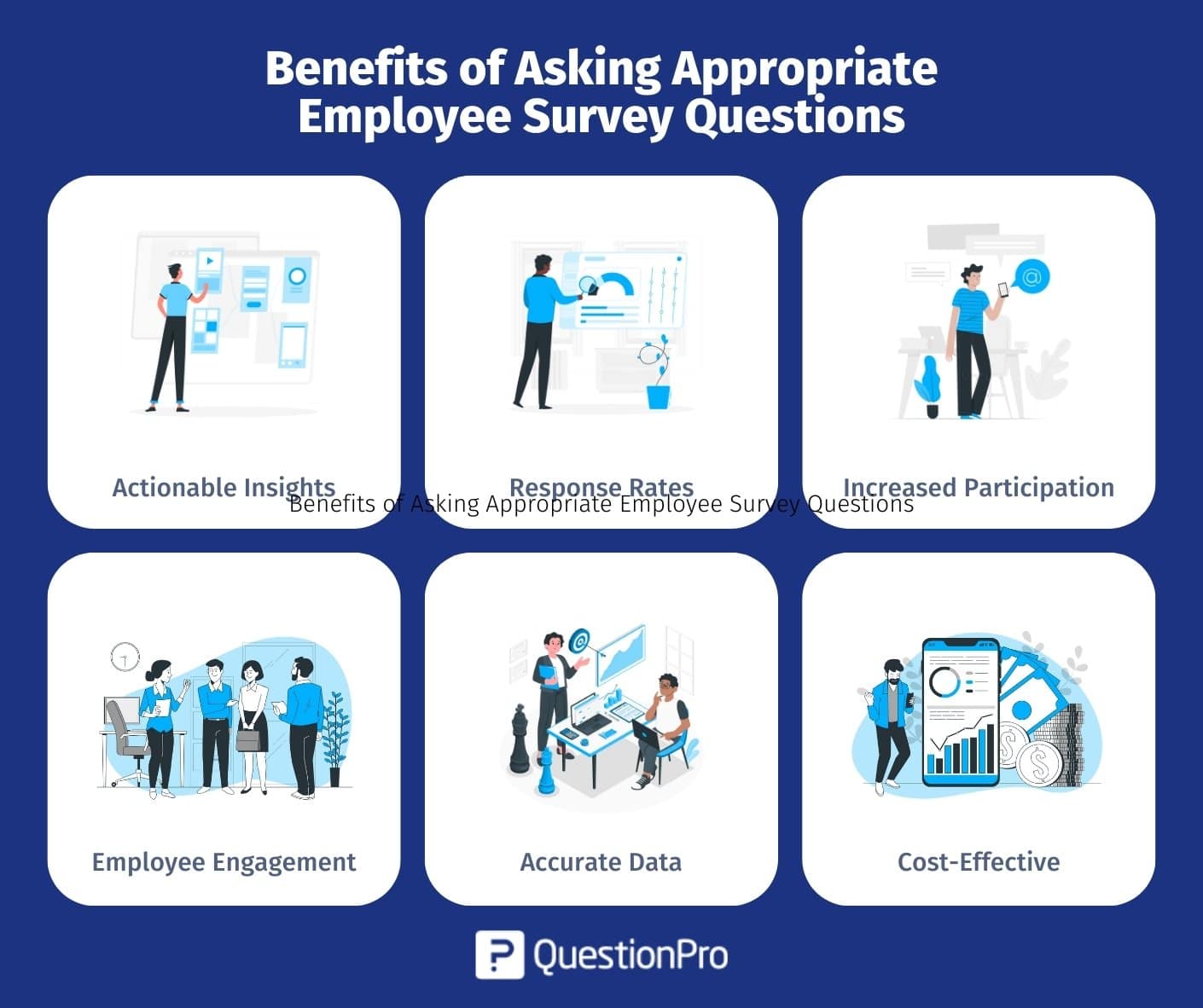 More actionable insights:

Relevant and targeted questions can help businesses address specific challenges and improve the employee experience.

Better response rates:

Employees are more likely to respond to surveys that are relevant to their experiences and issues.

Increased participation:

Employees feel valued and acted upon when asked the right survey questions.

Improved employee engagement:

Employees who believe their opinion is heard and acted upon are more engaged and invested in the company's success.

More accurate data:

Employers can gain more accurate data about employee feedback and experience by asking targeted and detailed questions.

Cost-effective:

Organizations can save time and resources by using the right survey questions to help them avoid asking pointless or repeated questions.
20 Top employee survey questions you should be asking
Thoughtful employee feedback allows you to optimize every area of employee life. As you plan your next employee survey, consider the best questions for creating a results-driven action plan. We'll cover the top 20 questions to ask your employees across these categories:
Employee satisfaction survey questions

Employee engagement survey questions

Employee evaluation survey questions

Company

culture survey

questions
Learn more: employee engagement survey examples
A recent survey says that a staggering 96% of employees want to receive feedback regularly. Using the QuestionPro Workforce platform, you can create all the above types of surveys and more.
LEARN ABOUT: Employee Satisfaction Survey Template
Ready to craft a great survey for your team? We break down the top questions in each category and explain how they can start essential conversations across your company.
Employee satisfaction survey questions
When you think about
employee surveys
, questions related to job satisfaction are probably the first that comes to mind. Measuring employee satisfaction starts with understanding how employees evaluate their workplace, job, compensation, and other day-to-day factors.
While it is crucial to gauge what your employees think of their salary and benefits, be sure to dig deeper. Check out these examples:
01. Are you satisfied with the opportunities to grow your career at this company, and is there a clear plan available for you to do so?
Identifying career development satisfaction should be a top priority in your employee survey. Millennial professionals — now in their mid-20s through the late 30s — make up the majority of today's workforce.
LEARN ABOUT: Salary Survey
When asked what they want most from an employer, this generation consistently ranks career development opportunities among their top three workplace must-haves. Use answers to this question to optimize career mapping for higher retention.
02. Does your manager communicate expectations and feedback clearly and professionally?
A communication breakdown at any level of your company creates unnecessary obstacles to productivity, camaraderie, and overall job satisfaction. Employees who don't feel like their manager relays realistic expectations or constructive feedback often report a sense of "flying blind." They may even need to redo their work because their tasks were not clearly established.
Use this feedback to ensure everyone uses similar language to set expectations and create processes for offering constructive feedback.
03. Do you have all the necessary tools you need to do your best work?
Having the technology, information, and resources necessary to deliver high-quality work is a significant factor in satisfaction. Simple details like reliable internet and appropriate supplies can make a huge difference.
Employees equipped with the right tools work more efficiently and run into fewer frustrations. Try a branching question that splits off from whether they report feeling satisfied with the tools they have at work. This question can ask participants which tools they don't have or which tools they use the most.
04. If you encounter a problem or unusual situation, do you know where to go for a solution?
This question has to do with the people and resources your employees can turn to in a pinch. When they have go-to resources to help them solve problems, they can feel more confident in their day-to-day routine.
Follow up by asking whether employees feel comfortable going to this individual or source for help so that you can fine-tune your chain of response.
Want more ideas for your employee satisfaction survey?
We have more employee satisfaction questions for you to explore. When you put yourself in your employees' shoes, writing a survey that your HR team can use to help retain great talent is not hard.
Try the employee satisfaction survey template
Employee engagement survey questions
Your first question might be, "What is employee engagement?" Essentially, employee engagement has to do with an individual's investment and sense of commitment to their work and whether they feel valued as an employee.
Employee engagement survey questions focus on employees' emotional and mental connections to their jobs, coworkers, and the organization as a whole. This could include how likely they are to exceed expectations, whether they feel confident speaking up in employee meetings, and how motivated they are when they come to work each day. Read these question examples for more clarification:
05. How comfortable are you contributing to meetings, projects, and problem-solving with your supervisor and peers?
Employees may be uncomfortable collaborating with others because they feel their contributions are not welcomed or because a particular colleague dominates group interactions. On the other hand, participants who feel comfortable working as a team can take more innovative ownership of their work. This could even involve harassment or bullying.
Ask about this type of engagement explicitly in your survey, as individuals might not feel confident bringing it up themselves.
06. Does your team/department support and encourage your best work?
Solid teamwork doesn't stop at collaboration. Employees should feel like their team supports reaching their shared goals, even when working on individual tasks.
When employees know they have a support system and a group of colleagues cheering them on, they are certainly more motivated to invest in their work and the department's culture.
07. What do you think about the company's approach to work/life balance?
For some employees, work/life balance means a flexible schedule to pick up their kids from school or go to doctor appointments. For others, it's clear boundaries between when they are expected to be available for work and when they can focus on their personal lives.
An open-ended or multiple-choice question that allows participants to select more than one answer is ideal for nuanced employee survey questions like this.
08. Do you feel valued as an employee of this organization?
The best talent management adds value to their company, and to boost retention, their employer needs to show them that they are valued in return.
Consider using a slider scale question to gather this feedback. Include separate sliders for employees to evaluate compensation, employee benefits, affirmation from leadership, bonuses, and other incentives your company uses or could use to show appreciation survey.
This will touch on salaries, but most of all, it will show you opportunities to invest more in your team.
Want to build out your employee engagement survey?
Motivation and values can be measured with many employee engagement survey questions. User-friendly templates of employee engagement surveys will help you curate the most effective questions for your team.
Try the employee engagement survey template
Employee training survey questions
Training is inevitable, whether you're onboarding new team members or implementing new processes.
Deploying an employee survey during or after the training can help you identify areas lacking clarity and successful training tactics you'll want to repeat. Consider these general training survey questions for any process:
09. How would you rate the clarity of instruction?
The feedback you receive from this simple question can have significant implications. Several issues can be due to a lack of clarity.
For example, the instructional material may be incorrect or poorly written and frustrating to trainees. Another reason may be that the person communicating the training lacks public speaking skills to present the training material adequately. These issues aren't hard to fix when you are aware of the problem.
10. Is the training directly relevant to your work?
Training sessions aren't always going to be fun, but they should serve a purpose. If participants in your survey don't see a practical application of this training, improvements are in order. Perhaps the relevance is just unclear — you can fix that with better communication.
If the training isn't actually applicable to its participants, consider revising its content or including other employees who will find it more beneficial. To gain a big-picture perspective, consider a multiple-choice: single answer question with options such as:
No, but I can see how it could be relevant to other colleagues.

No, and I don't think it's applicable to our company.

Yes, this is relevant to my role.

Yes, and I can see how it could be relevant to other colleagues.
11. How confident were you in the instructor's knowledge and professionalism during training?
If your employee training is conducted by a live instructor, selecting the right person to lead your team is essential.
Be specific with any questions regarding internal or external instructors. You want participants to focus on this person's skill and knowledge as a trainer, not on traits that can introduce personal bias, such as appearance.
12. Please rate the quality of the facilities and equipment used during this training.
There's more to career training than the content of each session. If you're facilitating your training with technology, it's vitally important that you know how well the tools work in normal circumstances.
Phone or video training sessions succeed when the facilities are outfitted with the right communication devices (and instructors have practiced dialing in and troubleshooting). And while it might seem unrelated, you'll want to know how participants feel about the climate control, restroom facilities, and break area, as those are all part of the training experience.
Want to learn more from your training survey?
As your team develops new skills, you can measure the success of training sessions with these and other focused questions.
Try the training evaluation survey template
Company culture survey questions
A strong company culture is what every business leader hopes for. At its best, your company culture boosts employee engagement, satisfaction, and achievement. To check the health of your company culture, take its pulse with a survey.
You can build an action plan that benefits the whole organization with the right questions. Use these as inspiration:
13. Is the company's mission statement clear, and does it inspire you to contribute your best work?
A successful mission statement is built on shared values and motivates employees to work toward the same goal. It brings purpose to the work you do and fosters a community mindset as your whole team invests in making the mission a reality.
If that mission is unclear or underdeveloped, your company culture can suffer.
14. Do you feel the company fosters inclusion and protects employees from discrimination and harassment?
Your HR department can have all the best policies in place. Still, if inclusion and diversity are not embraced as part of the culture, it can be challenging to protect your team from discrimination and harassment.
Employee expectations surveys are an excellent opportunity to check on this critical element of company culture from everyone's point of view.
15. Does this company take the time to celebrate your success?
Celebrating wins boosts morale and makes people want to keep working hard. You don't need to throw a big company blowout every time someone meets a professional goal, but mark achievements with positive feedback and recognition of some kind. A party now and then doesn't hurt, either.
16. How likely would you say you would recommend this company to a friend?
The responses you get for this survey question say it all. End of the day, you want employees to love working for your company so much that they want to share it with their friends.
Include a follow-up to this query, asking each participant to explain their answer. If they are highly unlikely to recommend your workplace or have any reservations, you need to know how to solve the problem.
And when employees offer positive feedback, use this data to measure your employee Net Promoter Score (eNPS) and prioritize the best parts of your company culture.
Ready to elevate your company culture?
Learn how to build a positive company culture in your workplace, and check out our list of even more company culture questions to inspire your next employee survey.
Try the work culture survey template
Employee evaluation survey questions
Employee evaluation surveys are very different from other types of employee surveys because individuals are tasked with assessing and critiquing each other's professional performance. This usually entails supervisors evaluating their reports, but that's not always the case.
Craft these questions carefully to remove personal bias and promote professionalism. Try including these questions in your employee survey:
17. How does this individual respond to feedback?
Taking and applying feedback is crucial to meeting expectations and growing professionally. How an employee responds to feedback — whether it's an affirmation or constructive criticism — notably impacts how well they work with others.
After all, supervisors aren't the only people who will assess and respond to their work.
18. Can you count on this person to work well under pressure?
Stressful and urgent situations are inevitable. You need to know precisely how confident you can be in employees when circumstances are not ideal. No employee survey is complete without this question.
Ask for examples of how each individual has responded to high-pressure situations when possible.
19. Select the answer that best describes this person's approach to teamwork:
They take the lead and make sure each team member can contribute their strengths.

They tend to follow another person's lead and support the overall goals.

They take ownership of their expertise and defer to others when appropriate.

They tend to work alone or alongside other colleagues, but they always align goals.

They work as part of a team grudgingly and show little engagement when asked to collaborate.
Everyone's working style is different, so it's not necessarily a problem if a person doesn't naturally gravitate toward collaboration. The key to this employee survey question is identifying how people contribute to a team and correcting negative behaviors.
20. Rate this individual on the following qualities:
Proactiveness and the ability to anticipate problems and solutions.

Accountability to meet deadlines and deliver high-quality work.

Innovation and creative thinking with follow-through.
These three qualities can be used to gauge an employee's overall success and overall approach to work. Include the traits you value most in staff members.
Want to improve employee evaluations?
Evaluations don't have to be intimidating. Your survey can be a great conversation starter and open the door for embracing employees' strengths.
LEARN ABOUT: User Interface Survey Questions
Try the employee evaluation survey templates
Tips for designing employee survey questions
These tips will assist you in designing employee survey questions that reflect your company's employee satisfaction, engagement, and performance.
Use clear and concise language

Use straightforward, simple language that is easy to understand. Avoid using technical jargon or industry-specific terms that your employees may not understand.
Avoid leading questions

Questions that may bias or influence the employee's response should be avoided. Use neutral language that does not appear to suggest an answer.
Use specific and measurable questions

Use specific and measurable questions. This will aid in ensuring that the responses are correct and meaningful.
Include a mix of positive and negative questions

To provide a balanced view of employee satisfaction and engagement, include a mix of positive and negative questions. This will aid in avoiding bias in survey results.
Use a variety of question types

To gather more comprehensive feedback, use a variety of question types, such as multiple-choice, rating scales, and open-ended questions. Each type of question provides distinct advantages, such as simplified analysis or more detailed feedback.
Be respectful of employee privacy

Respect employee privacy by refraining from asking personal or sensitive questions that employees may feel awkward answering. Make certain that the survey is completely confidential and that the responses cannot be traced back to specific employees.
Test the questions

Before finalizing the questions, run them by a small group of employees to ensure that they are clear, easy to understand, and provide the information you seek.
How QuestionPro helps to create an employee survey
QuestionPro Workforce is online survey software for employers that helps to generate and manage employee happiness, engagement, and performance surveys.
QuestionPro Workforce lets you build personalized surveys or choose from pre-built templates like employee engagement, job satisfaction, performance appraisal, and more. The platform lets you construct customized surveys using multiple-choice, rating scales, and open-ended employee survey questions.
LEARN ABOUT: Performance Appraisal Survey
Pre-built survey templates

QuestionPro offers a number of pre-built survey templates on themes like employee engagement, satisfaction, performance appraisal, and more. These templates feature pre-designed questions that have been proven useful.
Customized Employee surveys

Choose from pre-built templates or create your own questions to customize your survey. Multiple-choice, rating scale, and open-ended questions are available in QuestionPro.
Smart logic and branching

With QuestionPro, you can set up smart logic and branching in your survey to guarantee that respondents only see relevant questions. This tool improves the data quality and engages employees during surveys.
Survey distribution

Email, social media, or website embeds can be used to distribute your survey to employees.
Reports and analytics

QuestionPro lets you evaluate survey results. You can monitor findings in real time, create custom reports, and export data to Excel or other formats for analysis.
Survey distribution

Email, social media, or website embeds can be used to distribute your survey to employees.
There are many types of employee surveys, as you can clearly see. Each one can gather useful feedback to boost employee satisfaction and build a stronger, more engaged team. You just need the right questions and intuitive tools from QuestionPro.
LEARN ABOUT: Social Communication Questionnaire
Well-designed employee survey questions help you understand employee happiness, engagement, and performance. QuestionPro Workforce lets you simply design customized surveys for your organization's goals.
QuestionPro Workforce's user-friendly interface and extensive capabilities can speed the survey process, analyze the results, and inform actions to boost employee engagement and satisfaction.
Create successful employee surveys to increase your company's success. See the benefits of a comprehensive survey platform with a QuestionPro Workforce demo today.