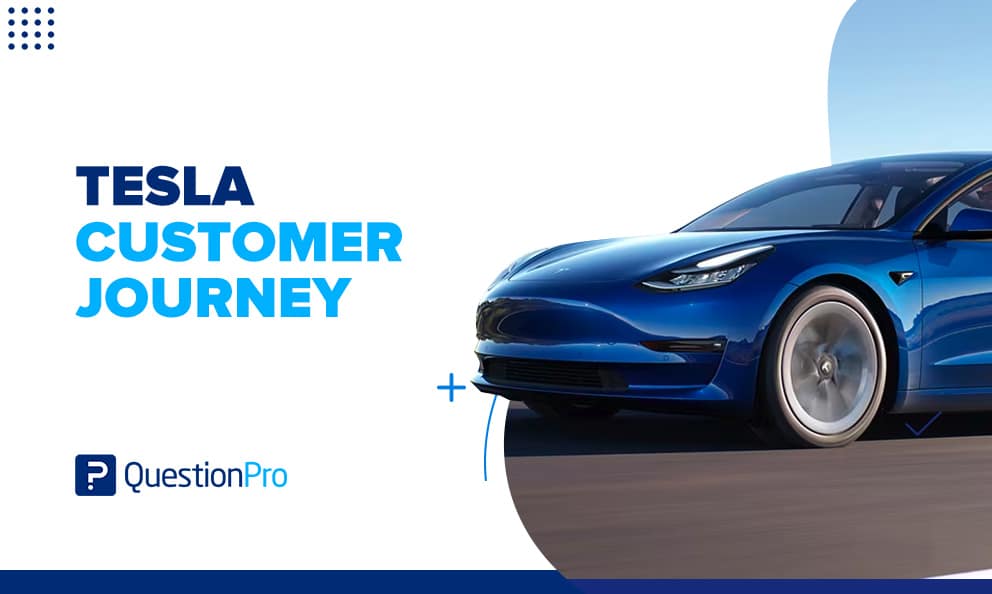 Tesla is a company that embodies innovation in every aspect, and customer experience is undoubtedly a key focus of its strategy. This approach has yielded significant benefits, as reflected in the loyalty customers have towards the brand. Studies, such as the one conducted by Prenzler Digital Media in 2016, showed that 92% of surveyed owners stated they would purchase another Tesla vehicle in the future.
This positions Tesla uniquely in the automotive market, where they have gained a substantial foothold despite competing with more experienced and established players. Alongside their incredible products, innovation, distinctive marketing, and attention to detail, Tesla's future appears promising. They have undoubtedly taught us several valuable lessons on how to treat our customers.
Tesla Customer Journey Example
We have created a basic example of what the Tesla customer journey map could look like. It includes some of their most innovative initiatives, such as Tesla Driver Profiles, their referral program, and the customization and upgrade options they offer to customers and prospects.
AWARENESS
| | | | |
| --- | --- | --- | --- |
| Touchpoint | Customer Activity | Pain Point | Solution |
| Social Media Advertising | Seeing Tesla ads on social media platforms | Ad saturation and banner blindness | Use captivating visuals and targeted ad placements |
| Online Content | Watching Tesla videos and reading articles | Information overload and biased opinions | Provide accurate and unbiased information about Tesla |
| Influencer Endorsements | Following influencers who endorse Tesla | Oversaturation of sponsored content | Collaborate with authentic influencers for a genuine promotion |
| Public Events | Attending Tesla events and roadshows | Limited access to certain events or locations | Organize more regional events and virtual experiences |
| Word of Mouth | Recommendations from friends and family | Limited awareness among potential customers | Encourage word-of-mouth referrals and incentivize recommendations |
CONSIDERATION
| | | | |
| --- | --- | --- | --- |
| Touchpoint | Customer Activity | Pain Point | Solution |
| Tesla Website | Exploring Tesla's website and vehicle options | Difficulty finding specific information | Improve website navigation and provide detailed vehicle details |
| Test Drive | Scheduling and taking a Tesla test drive | Limited availability or difficulty scheduling | Streamline test drive booking process and expand availability |
| Driver Profiles | Learning about different Tesla driver profiles | Lack of knowledge about different driving experiences | Provide detailed information about each driver's profile |
| Personalization | Customizing Tesla vehicle features and options | Limited options or difficulty in personalizing | Expand vehicle customization options and improve user interface |
| Active Listening in Social Media | Engaging with customers on social media platforms | Lack of response or acknowledgment | Actively listen to customer feedback and respond promptly |
CONVERSION
| | | | |
| --- | --- | --- | --- |
| Touchpoint | Customer Activity | Pain Point | Solution |
| Online Ordering | Placing an order for a Tesla vehicle | Complex order process and technical issues | Simplify the online ordering process and ensure system reliability |
| Purchase Experience | Interacting with Tesla staff during purchase | Long wait times and lack of personalized service | Enhance staff training and prioritize personalized service |
| Financing and Lease Options | Exploring financing and lease plans for Tesla | Lack of transparency in pricing and terms | Provide clear and detailed pricing information and terms |
| Excellent Customer Service | Seeking assistance and support after purchase | Unresponsive or unsatisfactory customer service | Train staff to provide excellent service and prioritize support |
LOYALTY
| | | | |
| --- | --- | --- | --- |
| Touchpoint | Customer Activity | Pain Point | Solution |
| Tesla Community | Engaging with the Tesla community | Limited access to exclusive community events | Expand community events and create inclusive online groups |
| Software Updates | Receiving and installing Tesla software updates | Unclear benefits or concerns about software changes | Clearly communicate the benefits of software updates and address concerns |
| Personalized Communication | Receiving personalized emails and notifications | Irrelevant or excessive communication | Use customer data for targeted and meaningful communication |
| Loyalty Programs | Participating in Tesla's loyalty programs | Unclear program benefits or rewards | Clearly communicate program benefits and improve rewards |
| Referral Program | Referring friends and family to Tesla | Lack of awareness about referral program | Promote the referral program and offer incentives |
ADVOCACY
| | | | |
| --- | --- | --- | --- |
| Touchpoint | Customer Activity | Pain Point | Solution |
| Social Media Sharing | Sharing Tesla experiences on social media | Concerns about privacy and negative feedback | Provide social media guidelines and monitor brand mentions |
| Customer Testimonials | Sharing positive experiences and testimonials | Reluctance to publicly share experiences | Encourage customers to share testimonials and reviews |
| Owner Events | Participating in exclusive Tesla owner events | Limited access to events or lack of event opportunities | Organize more owner-exclusive events and experiences |
| Customer Surveys | Providing feedback and participating in surveys | Lack of follow-up or action based on feedback | Actively respond to customer feedback and make improvements |
| Tesla Support Channels | Contacting Tesla support for assistance | Unresponsive or unsatisfactory support experiences | Improve response times and enhance customer support channels |
Innovative Ideas from Tesla to Improve Customer Experience
As you have surely noticed, Tesla is a company that stands out in everything it does, thanks to its meticulous attention to detail. Let's take a closer look at some of their most remarkable ideas to explain them in detail and provide you with inspiration. You will find ideas and inspiration to improve your own customer journey and deliver a memorable experience to your clients.
Driver Profiles
The Tesla customer journey has brought an unprecedented level of technology to the game, not only in terms of mechanics and engineering but also by incorporating sophisticated software. One clear example of this is the popular feature called Driver Profiles. Users can personalize various aspects of their vehicle according to their needs and preferences, such as the steering wheel position, driver seat height and position, and the location of the side mirrors. This makes the driving experience unique and tailored to each user, which Tesla owners greatly appreciate.
Referral Programs
We mentioned earlier the Tesla users' strong loyalty towards the brand and its products. This loyalty has been effectively capitalized through their referral program, where users can recommend Tesla to potential customers and receive benefits in return. This program extends beyond just cars and includes upgrades and other products offered by Tesla, such as solar panels. It incentivizes customers to become brand advocates and contributes to a sense of community among Tesla enthusiasts.
Learn more about the Car Buyer Journey. 
Tesla App
Technology plays a crucial role in the experiences Tesla provides, and their mobile app is a clear example of this. The app offers users a wide range of control options and other features related to the user experience. It includes a referral program, technical support, purchasing options, and a comprehensive ecosystem of features that put a variety of options at users' fingertips (quite literally). The Tesla app enhances convenience and enables users to have a seamless and connected experience with their Tesla vehicles. This is crucial for the Tesla customer journey.
Website
Undoubtedly, Tesla's website is a prime example of user-centric UX/UI design tailored to a specific market. The Tesla website incorporates several interesting options that reduce friction for curious users who want to learn more about their products. Its interface is simple, well-organized, and easy to navigate, providing all the necessary information for making a purchasing decision. Moreover, the website offers various customization options, allowing users to visually and attractively explore the different upgrades available.
Improve Your Customer Experience with QuestionPro's Suite CX
Put into action what you've learned in your own business or entrepreneurship!
We hope all this information has inspired you to implement similar ideas in your projects. We are confident that your customers will appreciate it, and you will see the impact reflected in your profits and effectiveness.
At QuestionPro, we specialize in helping companies improve the experience they provide to their customers through our measurement tools and software with adaptable features to meet any need.
If you're looking to implement your first customer journey and evaluate every touchpoint in your business, we offer Suite CX, a flexible tool that allows you to visualize all the opportunities and areas to work on to delight your customers.
Learn more about our platforms right now and start taking your customer experience to new levels.