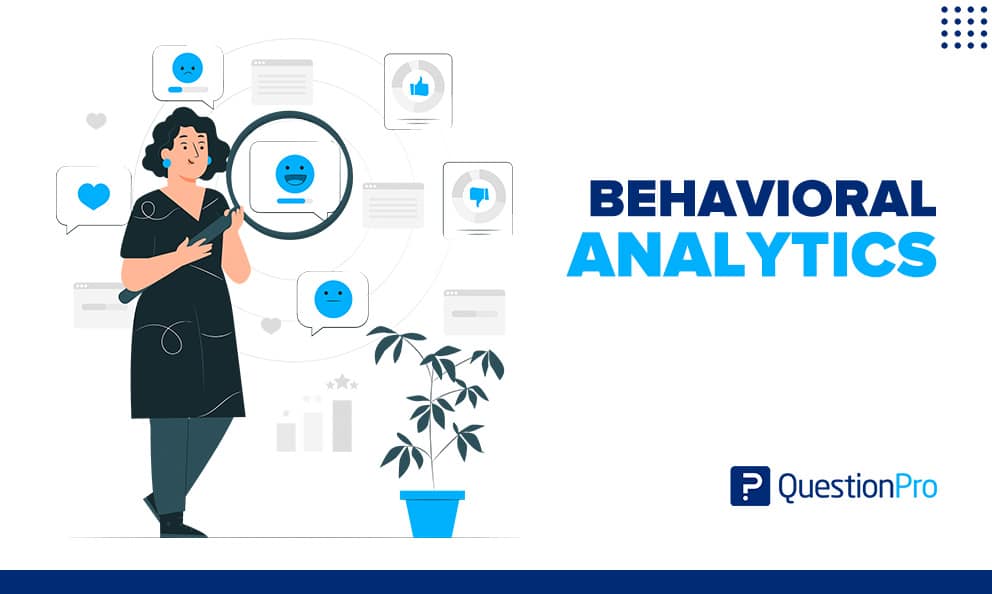 Behavioral analytics lets you learn precisely how your consumers interact with your product. You can use this knowledge to develop, adapt, and shape your services into the experiences your consumers want.
Understanding your clients on a deeper level should be a primary focus for any company. This involves gathering basic information on them, understanding what they are doing, and why they do it. A brand manager's most crucial duty is comprehending their clients and concerns. Once a feature is launched, the vital question is, "How are people utilizing it?" 
After all, you wouldn't design a product that no one uses and wouldn't spend time, money, and effort on a feature with no demonstrable demand. Finding out what drives your audience toward a purchase is essential—and conducting a customer behavioral analysis is one of the best ways to get started.
LEARN ABOUT: Test Market Demand
What is Behavioral Analytics?
Customer behavior analysis helps acquire, analyze, and effectively use consumer data. Understanding what motivates and inspires customers is an integral part of this process.
Users of digital products, such as apps or websites, engage in such analytics and reports, which collects and analyzes data from their behaviors. Using this data, firms can see precisely how their customers engage with the virtual experience and judge how to enhance their digital offerings in the future.
When creating industry-leading solutions, behavioral data analysis is a must-have. Data analytics and data analysis are closely related processes that involve extracting insights from data to make informed decisions. A thorough behavioral study extends beyond page visits and active users. It helps businesses trace the buyer's journey and understand what drives consumer purchase choices.
Who might benefit from behavioral analytics?
Once your team utilizes analytics to inform customer profiles, everyone in your business can profit from the data. While everyone in your company may use these statistics, particular jobs benefit most:
Marketers may utilize behavioral analytics to develop cohort data to improve advertising, customer recruitment, retention, and conversions. Behavioral, transactional, and demographic data may be combined to develop deeper consumer profiles. Insights and forecasts about your clients may help you customize interactions.

Behavioral analytics helps marketers and sales teams strategize. A marketing team that uses behavioral data to develop effective marketing campaigns helps the sales team show ROI while establishing a broader, more qualified funnel. Following users' browsing behavior and responses, upsell and cross-sell possibilities are exposed, resulting in additional sales and volume.

Data analysts assist in comprehending the customer journey by comparing user interest to reality. The data may also assist in identifying clients in danger of churning versus loyal customers. Complex data may be analyzed to provide meaningful insights. Marketers may utilize these insights to streamline processes so that teams concentrate on high-value tasks.
Sometimes people miss the target despite your predictions. Users will tell you online—via social media, chat, or email—if they don't like your marketing initiatives. Your customer service staff receives this information first. Behavioral analytics may assist frontline employees in being ready with the proper responses and conveying crucial customer information to sales and marketing.
How to Do Behavioral Analysis
Behavioral analysis is a continuous process. Repeating stages and reviewing outcomes helps you modify your approach to changing consumer ideas and actions.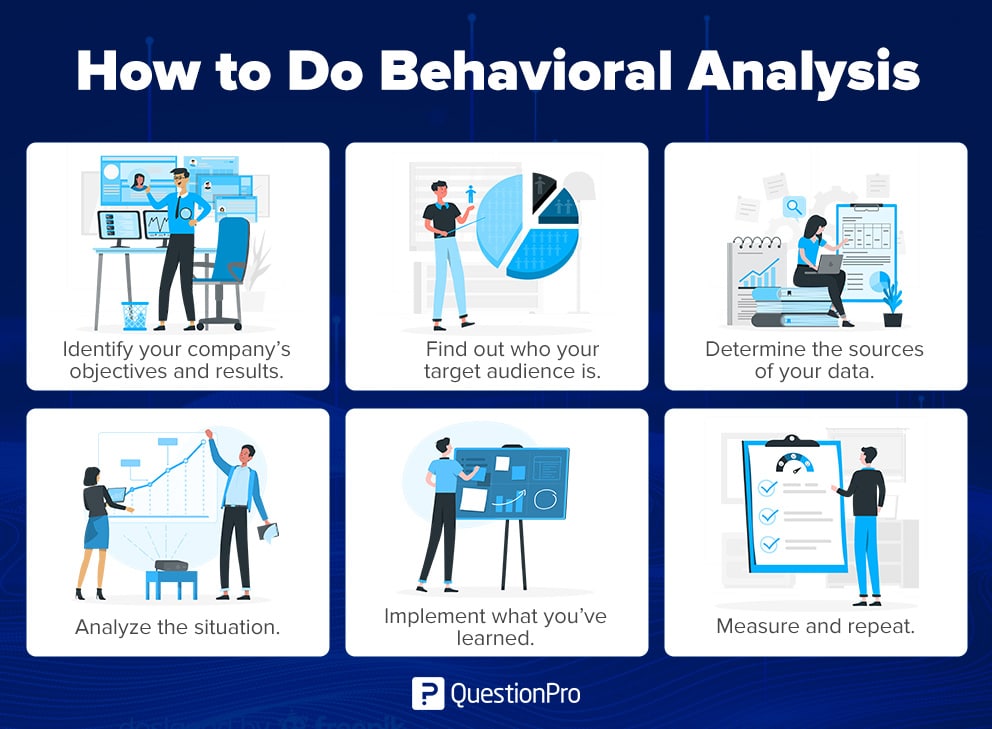 Identify your company's objectives and results.
Like every strategic process, behavioral analysis begins with corporate goals. What do you want? What do you want to know about your clients, and what behaviors do you want to see?
Choose your KPIs based on your aims.
If client happiness is your objective, track:
Find out who your target audience is.
How important are your customers to your business? How many of your regular customers can you convert to weekly (or even daily) customers, brand ambassadors, or evangelists? Identifying these major divisions helps you concentrate on optimizing your return on investment (ROI).
Remember that behavioral analytics systems with continual intelligence capabilities enable you to go deeper than typical demographic qualities such as geography, gender, and income. Segmenting by essential behaviors, such as product use, reasons for purchase, time of purchase, and the buyer's journey stage, may help you provide context.
The consumer's journey should be mapped out in detail.
You must spend some time getting to know your customers and their interactions with your brand across various platforms, devices, and touchpoints, both online and off. 
Decide which of your chosen routes is essential to achieving your desired results. An end goal is reached when a user follows a particular set of steps known as the "critical routes to success". Onboarding, conversion, and customer retention may all benefit from these procedures.
Determine the sources of your data.
You are almost ready to begin data collection. However, you must first discover the source of your data. Since the buyer's journey spans numerous platforms (mobile, online, app, in-store, etc.), you will need to determine how you will connect all the data. If you need a unified view of customer experience analytics, only a solution for cross-platform behavioral analytics will suffice.
You can only see one side of the story without qualitative and quantitative data (such as staff surveys and client focus groups). Visibility from all angles is vital for assessing the present status and innovating for the future.
Analyze the situation.
It's time to begin analyzing your data after you've gathered it. In the context of your ongoing intelligence solution, consider the following question:

Is there a common entry point for those who want to buy a product?

What motivates individuals to make the purchases they do?

Which characteristics of your product are most effective in increasing sales?

To what extent do your clients value the following features?

Do discounts and incentives influence client retention?

How and why are we losing customers?
Qualitative and quantitative data should be compared. You may identify places for improvement, regions of friction, or accomplishments that you can build on by analyzing your monitored events and essential routes to success.
Implement what you've learned.
This is an excellent opportunity for you to put your newfound understanding to the test. Implement your results by launching a new advertising campaign, releasing a new product, or altering how services are provided. Before commencing any new initiative, be clear about what you're testing and want.
Measure and repeat.
Make predictions about how your clients will react to new initiatives based on your behavioral research as you implement them. Use the measures you put up in step 1 to evaluate the success of the modifications you made to compare their responses to your forecasts.
Conclusion on Behavioral Analytics
Don't quit if the first round of testing doesn't get the desired results! Test, test, test! Try out a new method or a different variant of your current strategy. As was discussed previously, behavioral analysis is a process that never ends; as you go along, you will continue to gain knowledge and become more skilled. 
Behavioral analytics enables you to make incremental adjustments to current processes and maintain a grasp on ever-changing customer demands, market trends, and how external variables may impact consumer beliefs, motives, and actions.
QuestionPro is an advanced question library with text comments that enable users to express their opinions/feedback in their own words and super sentiment analysis, which allows for more freedom in categorizing input.
Different scaling questions, such as NPS, NPS+, and smiley, provide excellent versatility for the study.