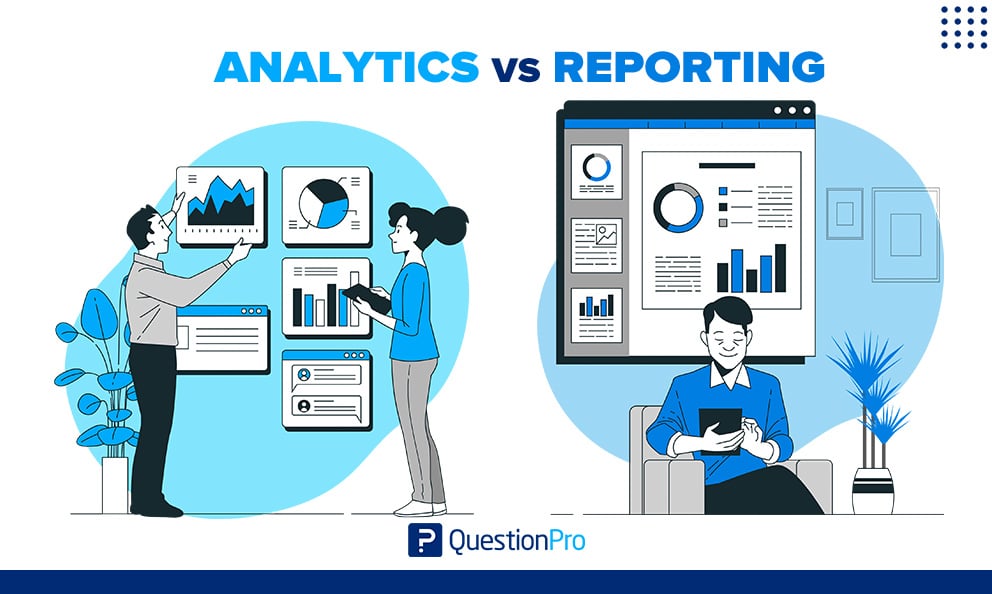 Analytics and reporting can help a business improve operational efficiency and production in several ways. Analytics is the process of making decisions based on the data presented, while reporting is used to make complicated information easier to understand. Let's discuss analytics vs reporting.
Analytics and reporting are often referred to as the same. Although both take in data as input and present it in charts, graphs, or dashboards, they have several key differences. This post will cover analytics and reporting, key differences, and its importance in business.
What is analytics vs reporting?
Analytics is the technique of examining data and reports to obtain actionable insights that can be used to comprehend and improve business performance. Business users may gain insights from data, recognize trends, and make better decisions with workforce analytics.
On the one hand, analytics is about finding value or making new data to help you decide. This can be performed either manually or mechanically. Next-generation analytics uses new technologies like AI or machine learning to make predictions about the future based on past and present data.
The steps involved in data analytics are as follows:
Developing a data hypothesis

Data collection and transformation

Creating analytical research models to analyze and provide insights
Utilization of data visualization, trend analysis, deep dives, and other tools.

Making decisions based on data and insights
On the other hand, reporting is the process of presenting data from numerous sources clearly and simply. The procedure is always carefully set out to report correct data and avoid misunderstandings.
Today's reporting applications offer cutting-edge dashboards with advanced data visualization features. Companies produce a variety of reports, such as financial reports, accounting reports, operational reports, market studies, and more. This makes it easier to see how each function is operating quickly.
In general, the procedures needed to create a report are as follows:
Determining the business requirement

Obtaining and compiling essential data

Technical data translation

Recognizing the data context

Building dashboards for reporting

Providing real-time reporting

Allowing users to dive down into reports
Key differences between analytics vs reporting
Differences between analytics and reporting can significantly benefit your business. If you want to use both to their full potential and not miss out on essential parts of either one knowing the difference between the two is important. Some key differences are:
| | |
| --- | --- |
| Analytics | Reporting |
| Analytics is the method of examining and analyzing summarized data to make business decisions. | Reporting is an action that includes all the needed information and data and is put together in an organized way. |
| Questioning the data, understanding it, investigating it, and presenting it to the end users are all part of analytics. | Identifying business events, gathering the required information, organizing, summarizing, and presenting existing data are all part of reporting. |
| The purpose of analytics is to draw conclusions based on data. | The purpose of reporting is to organize the data into meaningful information. |
| Analytics is used by data analysts, scientists, and business people to make effective decisions. | Reporting is provided to the appropriate business leaders to perform effectively and efficiently within a firm. |
Analytics and reporting can be used to reach a number of different goals. Both of these can be very helpful to a business if they are used correctly.
Importance of analytics vs reporting
A business needs to understand the differences between analytics and reporting. Better data knowledge through analytics and reporting helps businesses in decision-making and action inside the organization. It results in higher value and performance.
Analytics is not really possible without advanced reporting, but analytics is more than just reporting. Both tools are made for sharing important information that will help business people make better decisions
Transforming data into insights
Analytics assists businesses in converting information into insights, whereas reporting transforms data into information. Analytics aims to take the data and figure out what it means.
Analytics examines report data to determine why and how to fix data organizational problems. Analysts begin by asking questions that may arise as they examine how the data in the reports has been structured. A qualified analyst can make recommendations to improve business performance once the data analysis is complete.
Data Analytics and Data Analysis are related yet distinct processes within data interpretation. Data Analysis focuses on dissecting information from raw data, identifying trends, patterns, and relationships. It involves cleaning, organizing, and summarizing data to extract insights. On the other hand, Data Analytics goes beyond surface-level exploration. It uses advanced techniques to model, predict, and prescribe outcomes based on historical data, enabling businesses to make informed decisions for the future.
Analytics and reporting go hand in hand, and you can't have one without the other. The raw data are the first step in the whole process. The data then needs to be put together to make it look like accurate information. Reports can be comprehensive and employ a range of technologies. Still, their main objective is always to make it simpler for analysts to understand what is actually happening within the organization.
Conclusion
Reporting and analytics have distinct differences. Reporting focuses on arranging and presenting facts, while analytics provides actionable insights. However, both are important and connected. Your implementation plans will stay on track if everyone on your team agrees on what they mean when they talk about analytics or reporting.
Organizations all around the world are utilizing knowledge management systems and solutions such as InsightsHub to manage data better, reduce the time it takes to obtain insights, and increase the utilization of historical data while cutting costs and increasing ROI.
QuestionPro is much more than just survey software; we have solutions for every problem and industry. We also have platforms like our InsightsHub research library for managing data.