"With the past, we can see trajectories into the future - both catastrophic and creative projections"- John Ralston Saul
What is a Trend Analysis?
Trend Analysis gives you the ability to take a look at data over time for a long-running survey. This can be useful for comparing quiz or test scores (see increase in knowledge over the course if you administer the same survey multiple times over the matter of a few weeks or months), or identifying trends for a satisfaction survey that is distributed regularly.
The Trend Analysis module allows you to plot aggregated response data over time. This is especially valuable, if you are conducting a long running survey and would like to measure differences in perception and responses over time.
Trend Analysis can be extremely valuable as an early warning indicator of potential problems and issues with product line and service level changes that impact customers. If you see a dip in the "mean" for a Continuous Variable satisfaction question after a particular "marketing event" you can immediately start investigating the dip and explore causes of the decrease in satisfaction levels. It can also be used to gauge response rates over time.
Marketing events can be anything from product or service enhancements and upgrades to general communications to your customers. A good example is a "website usability upgrade" - many organizations go to great lengths to make their website more usable, but fail to assess impacts before and after the upgrades. A "Customer Pulse" survey that asks visitors to rate the website on a 7pt scale should have a mean that is flat before the upgrade. After the upgrade, Trend Analysis can reveal the "jump" or "decline" in satisfaction levels of your customers. This can also be used to simulate, by using focus groups or a representative sample, the potential increase or decrease in satisfaction levels. This data can be further used for various cost/benefit analyses.
Trend Analysis can only be performed on "Quantitative" question types like Multiple Choice, Rank order and Constant Sum. Questions that have textual input (Qualitative) cannot be used for trend analysis.
The Trend Analysis data can be accessed real time by going to the "Trend Analysis" section in the "View Results" tab. Load up the question you would like to perform the analysis on and choose the "Frequency" or the "Time Factor" you would like the analysis on. The output would be real-time graphs as well as the data set for the graphs in a CSV format for you to cut and paste into Excel.
The graph below explains trend analysis over a period of time for channel sales per country. Channels are based on four categories: Coupon, display ads, SEM, SEO. This graph is an example of sales pattern can be analyzed on a month on month basis. The table shows the calculation of the mean to show prediction of the trend for the coming months. The table is based on the sales figure for the last four months.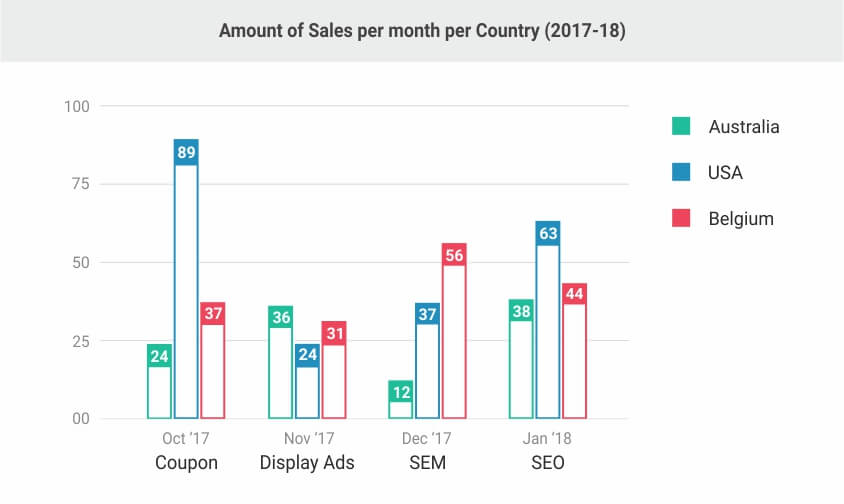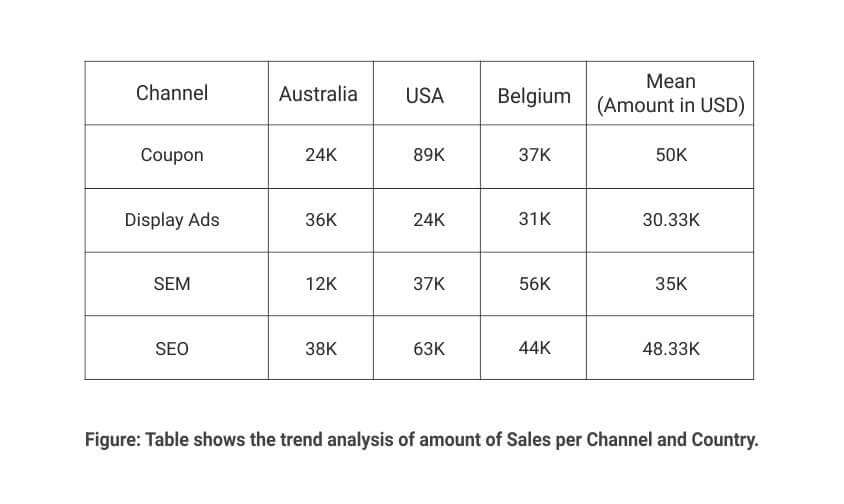 Review the Basic Objectives of the Study.
The Trend Analysis data can be accessed real time by going to the "Trend Analysis" section in the "View Results" tab. Load up the question you would like to perform the analysis on and choose the "Frequency" or the "Time Factor" you would like the analysis on. The output would be real-time graphs as well as the data set for the graphs in a CSV format for you to cut and paste into Excel.

Now, basic frequency analysis gives us information about the "mean" responses that most of our users are looking for. But what we want is to analyze how that mean changes and varies over time. We use the Trend Analysis module for this.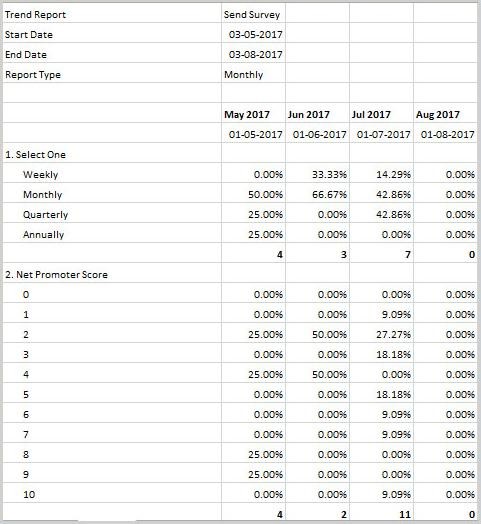 From here we can find out that the mean remained consistent between January and June except for in June where it moved down to - (1.65) whereas otherwise it was between 1.9 and 2.0 for the other months. This merits some investigation into why the mean changed in June! We investigated this "dip" further and co-related it to a "Marketing Event" - Our advertisements, on Search Engine Sites like Google and Yahoo, were not running at their optimized settings in June!
Pro-Active data analysis can help your organization be "in touch" with your customers and business partners. Trend Analysis provides you with an easy mechanism to monitor the aggregate response data filtering out the noise, for you to make informed decisions.
How to set up trend analysis: Example
Login » Surveys » Reports » Advanced » Trend Analysis
Select the Data Set Filter. If you have set up report data filters already, they will be available in this drop-down.
Select the Filter Result, which is the type of filter to apply to the results (completed, started but not completed, terminated via branching).

Completed: anyone who completed the entire survey is included in this set.
Started but Not Completed: anyone who started but did not actually complete the survey is included in this set.
Terminated via Branching: anyone who was terminated due to branching (where the option "Terminate Survey" was selected) is included in this set.

Include the Start Date and End Date for the time span you want to trend.
Select the Frequency you want the trend calculated (weekly, monthly, quarterly, or annual).
Select the Output/Report Data type desired.
Click Download Trend Report. A report will be generated and delivered to the email address associated with your account.
Trend Analysis : QuestionPro Walkthrough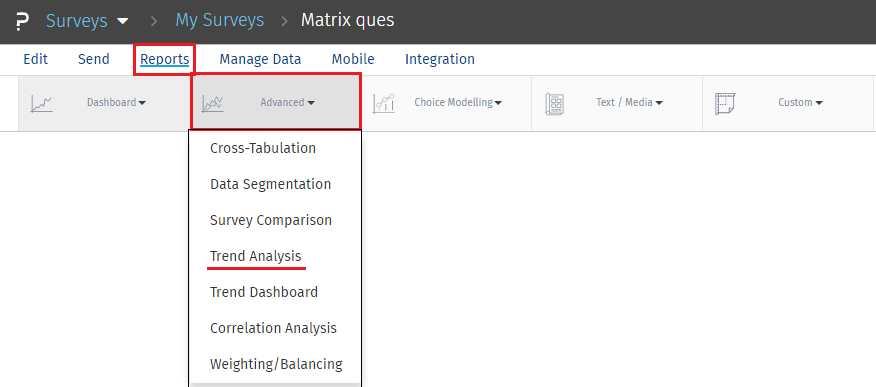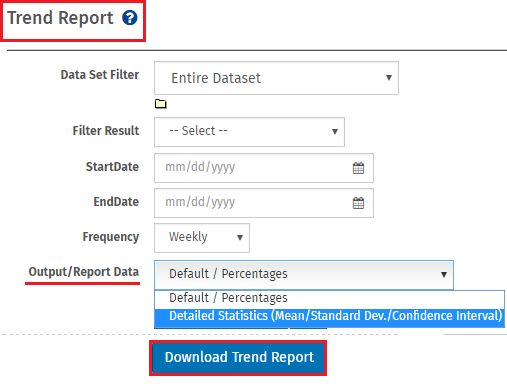 Benefits
It helps in predicting new business entrants, and allows the business to develop strategies to uphold their industrial position.
It facilitates businesses and organization to take strategic decisions to further expand their business.
It is extremely useful as an indicator to analyze changes that needs to be brought in with respect to services provided by the business.
It helps in identifying the areas in which the business is performing well and duplicate the strategies for business expansion.
Application of Trend Analysis
When you need to understand the consumer behavior
This analysis method helps analyze the consumer behavior. For any product or service based business, consumer behavior plays a vital role. With this analysis, business understands what the consumers need and what gets outrightly rejected. This helps them make timely changes in the products and then push it out in the market.

To identify shift in consumer realization
Consumer perception with respect to the product or service can be quite volatile. Trend analysis involves analysis of consumer needs and how they perceive a product or a service. The value of a product can be diminished if the competition replicates it. Remember consumers are easily bored and as a business, you ought to understand what the consumers will like.

To understand the cost drivers
Businesses need to understand the cost drivers affecting their products or services. They need to innovate and come up with best possible products at a lower price than their competitors. Companies that are able to find better alternatives at a competitive cost and with better features are able to achieve higher objectives. Trend analysis helps understand the market price trend thereby helping organization come up with a price that pleases their consumers.
To conclude, the definition of trend analysis helps us understand market trend by literally defining aspects related to market growth and to gauge future market potential. Since this analysis is about what market activities have been in the past to predict the future, collecting relevant data is the key to getting the right trend analysis.