What is trend analysis?
Trend Analysis gives you the ability to take a look at data over time for a long-running survey. It can be useful for comparing quiz or test scores (see an increase in knowledge over the course if you administer the same survey multiple times over the matter of a few weeks or months) or identifying trends from data sets for a regularly distributed satisfaction survey.
This module allows you to plot aggregated response data over time. It is especially valuable if you are conducting a long-running survey and would like to measure differences in perception and responses over time or prepare for trend reversals in the market.
Such an analysis can be precious as an early warning indicator of potential problems and issues with product line and service level changes that impact customers.
Example of trend analysis of survey data
The graph below explains trend analysis over a period for channel sales per country. Channels are based on four categories: Coupon, display ads, SEM, SEO. This graph is an example of a sales pattern that is analyzed on a month on month basis. The table shows the calculation of the mean to show the prediction of the trend for the coming months. The table is based on the sales figure for the last four months.
Example: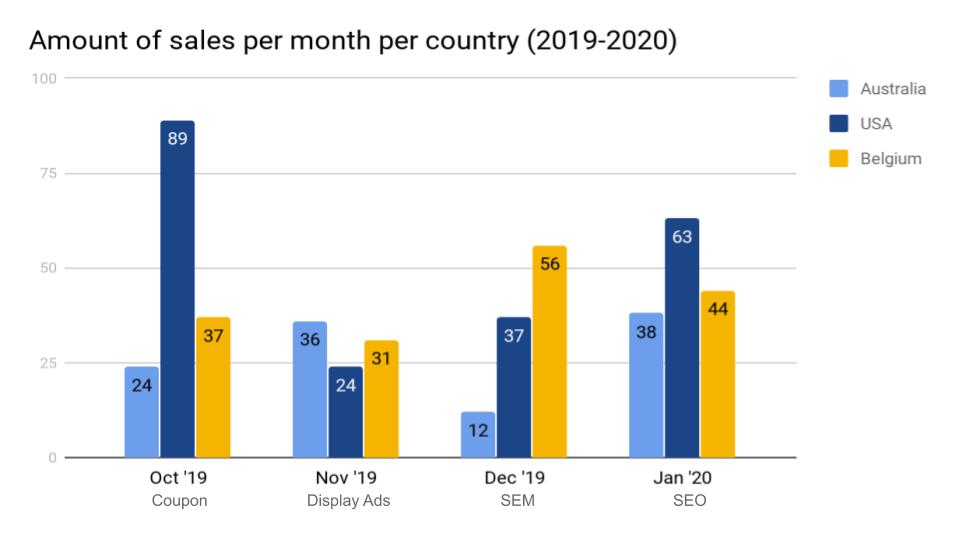 Trend Analysis in surveys
Trend analysis helps to display a summary of long term data. Use it to investigate variability at different time points and capture how the customers and markets respond over time. Use trend analysis to identify the best time for demand in the market and also identify low-demand phases to take actions accordingly.

Uses of trend analysis in surveys
Researchers and businesses run a trend analysis in most cases for the following:
To understand consumer behavior: Based on historical data, it helps companies understand what the consumers need and what gets outrightly rejected. It helps them make timely changes in the products and then push it out in the market. E.g., It helps identify and target customers and make informed decisions in a bear market situation.
To identify a shift in consumer realization: Consumer perception concerning the product or service can be quite volatile Short term planning won't lead you too far.. Customer satisfaction levels can change due to even minor changes in the business style or product. Trend analysis involves the technical analysis of consumer needs and how they perceive a product or a service.
To understand the cost drivers: Businesses need to study the financial aspects of their business like the stock price and cost drivers affecting their products or services over time periods. They need to innovate and come up with the best possible products at a lower price than their competitors. Analyzing the trend helps identify these drivers. Trend analysis is a handy tool to gauge the profit for an investor.
Advantages of analyzing trends in survey data
Here are the business benefits of running a trend analysis:
Strategy building: Trend analysis helps in predicting new business entrants, and allows the company to develop strategies to uphold their industrial position.
Business expansion: It facilitates businesses and organizations to make strategic decisions to expand their business further.
Change-analysis indicator: It is instrumental as an indicator to identify the underperforming areas of the business.
Business feedback: It helps in identifying the areas in which the business is performing well and duplicate the strategies for business expansion.
How to use trend analysis in surveys?
Explore our help file on trend analysis of survey datato learn how to use this survey feature.