Workforce analytics describes a set of software tools and methodologies that are applied to the sophisticated worker-related data; it helps in optimizing the company's human resource management and present detailed information about the worker performance and on improving business process.
Workforce analytics provides a valuable, decision making, and productive information of a company. To achieve the business goals the HR leaders must strap up technology and business insights in which workforce analytics plays a vital role. This data analysis tool gives you workforce performance and improvement report, analyze staffing, recruitment, training, development and other benefits
Every company looks for cost savings and productivity gains, but how can they achieve within the budget? Here is the solution where they have to perform and look into it. Measure and analyze the workforce data from workforce analytics and look over the performance, productivity, cost, overtime and other factors of employees. It doesn't require any human input it's an actionable tool for sound business.
The workforce analytics is presented in other forms which include predictive analytics and prescriptive analytics which helps in giving detail information about the workforce.
Predictive Workforce Analytics: By this data, the company focuses on future operations like which workers having the greatest potential of success within the organization and which weren't. The predictive analytics data also gives you information about the employees who are likely to leave the organization in the future.
Prescriptive Workforce Analytics: This analytics data provides a plan for a company which helps to develop and retain key workers of the workforce which uncovered from the predictive workforce analytics.
Nowadays most of the companies are using workforce analytics tools to examine and measure the performance of the workers in the workplace and taking actionable decisions for business growth and changing the HR game.
It's not one-time: Workforce Analytics is not just a one-time project. Most of these projects start as a one-time consultation. However, just with a few reports and analytics, you cannot fathom how your workforce is feeling. Don't get me wrong, one-time effort is nice, but have you ever thought it might be better to develop ways to gather more frequent employee feedback. Survey practice is changing and so should your approach towards analytics. The more common approaches used by organizations are as follows:

The classic surveys are being replaced by frequently used 360-degree feedback survey, bi-annual employee performance surveys.
Weekly, monthly or quarterly pulse review survey to gather frequent and more feedback.
Continuous real-time employee morale and organizational mood measurement.

Transparency is the key: The overview of workforce data collection cannot be complete without the mention of GDPR. Here transparency is the key. GDPR is fuelling a lot of positive developments, about what kind of data needs to be collected, how to judiciously use this data and how algorithms and analytics are used to make decisions for your workforce. Again all that glitters is not gold, there is the downside to GDPR. It has created a lot of uncertainty about what kind of data processing is acceptable. Employees can ask companies to erase their data and they have to comply with it. The maximum fines that are imposed on not being able to follow the process induce restraints to take the next step forward in terms of analytics.
Focus on employee productivity: Most of the traditional problems in an organization are solved by recruiting new people. However, most organizations forget this leads to several problems. First, you are losing your well-experienced employees, second, your new workforce is yet to adjust to the organization's culture and working process. These new people will take a while to come to speed. Here you hamper the overall productivity. Using workforce analytics, you can pinpoint the characteristics of top-performing employees and the conditions that facilitate top performance. These finding can essentially be used to improve productivity and also hire new candidates with similar characteristics.
Analytics should be employee centric: A sincere lack of trust can affect workforce analytics in many organizations. How do you rise above this? Stop asking what is in it for me? Rather, start making it more employee-centric. Focus your concentration on how my employees are going to benefit from the data we have collected. Your analytics dashboard should reflect meaningful data that will help you take excellent decisions for your workforce. Remember employees are your assets, treat them likewise.
Change your approach: A tendency is top-down approach and most traditional organization believe this is the right approach and is most common. HR finds it difficult to approach issues in a different manner. Performance management is a very good example. To change the performance management process is considered a challenge organization-wide. Employees are now playing a more active role and taking initiatives to register their timely feedback, whether about organization culture, managers or overall workplace concerns. If you as an organization can gather timely data and make use of the analytics your employees will benefit from the changed approach.
Analytics XO is your one-stop shop for understanding what exactly your employees are experiencing at the workplace and most importantly how these experiences are affecting the employees.
With Analytics XO you can now gauge overall employee Net Promoter Score, employee engagement, employee retention and willingness to put in efforts to improve themselves at work. The most effective workplace analytics are those that not only talk about "what", but also "why".
It is more than numbers on a page. It's your culture, your organization and it's people!
Here is how your dashboard looks like, once you receive your data from the employee surveys you have deployed.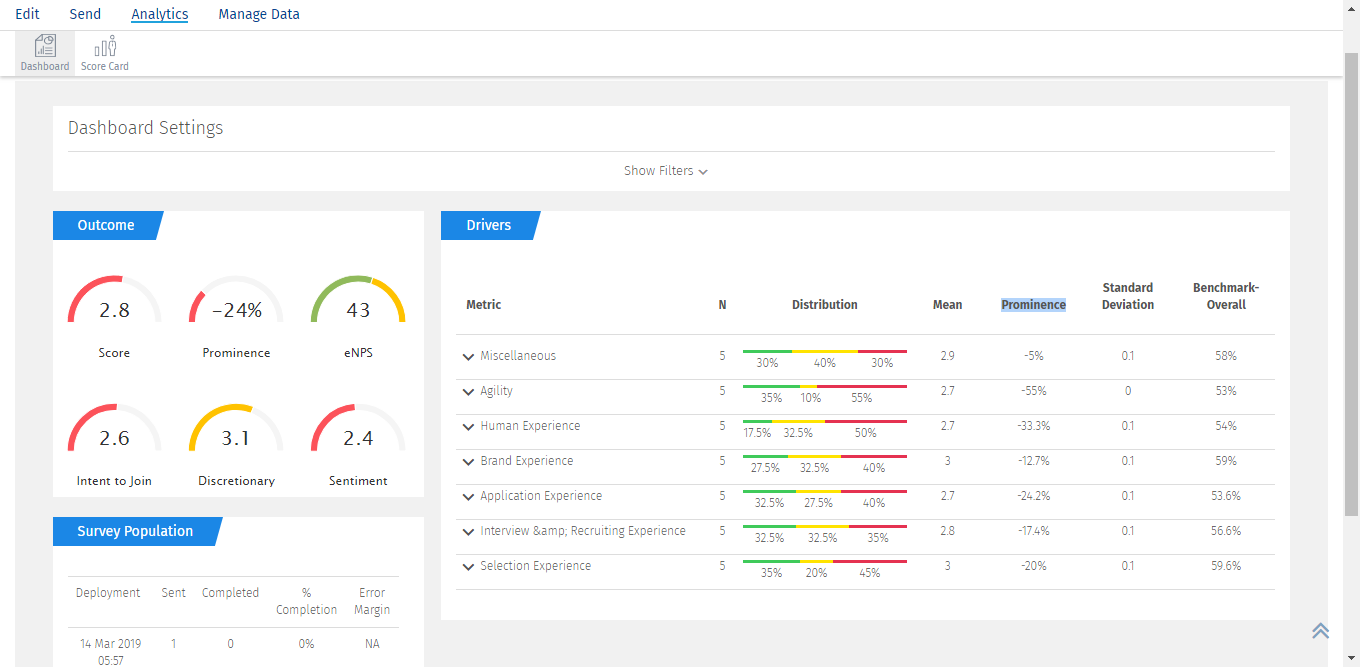 Every company's success is built on its people; workforce analytics presents hardcore data which helps in predicting retention and offers extensive capabilities for workforce planning.
Identifying the best performing talent: Workforce analytics helps to identify characteristics of top performing employees. If an organization is planning on hiring new employees they should look for similar characteristics as their top performers.
Work productively: Analytics certainly helps improve employee productivity, the timely feedback taken and given helps pin-point areas that need improvement and also in suggesting a solution to speed up the process.
Improved employee engagement: Think and behave like 21st-century organizations and change your approach towards your employee engagement survey. With QuestionPro Workforce, you can deploy pre-designed surveys or we also help you customize them to suit your business, for unified data and analytics year on year.
Better employee retention: With your force being more engaged employee retention rates tend to improve. Attrition is one of the pain points of almost all organization.
There are various challenges the organizations need to overcome, some of them are…
Knowing what data is more important: Only collecting data is not going to solve the purpose. You need to know what to keep and what to overlook. Data is divisive.
Data privacy and security- With the GDPR regulation, it is extremely important organizations follow the process or be heavily fined for any breach in the process of data collection. Any objection from employees regarding collecting and storing their data needs to addressed immediately.
Data quality and cleansing- Your end game depends on the quality of data you collect. The data should be clean and precise. Spend on good software that will help you collect and analyze quality data.
How to use data for the decision-making process- Data is gold and organizations must understand for a fact they are sitting on a gold mine. Now what they do with all this information is up to the organizations to decide. Use the data judiciously, use it to benefit your workforce.
Workforce analytics always helps an organization to enhance overall productivity, performance and time and hence achieve desired results by managing to organization-specific KPI's.