Employee review software is designed to improve the overall process of employee review and evaluation, in turn, to increase business performance by improving employee productivity. Employee review is crucial since it lets managers track employee performance, suggest improvements wherever necessary, and elevate the employee's productivity levels. While reviews are typically done yearly, continuous performance management is necessary for timely goals management and performance improvement. Meetings or one-on-ones can be scheduled weekly, fortnightly, monthly, whichever works best.
Employee review tool works well with individual employees and teams to align their engagement with organizational goals. It is imperative that individual and team goals are aligned with company goals for effectively achieving them. This software helps replace the traditional employee review process that is generally carried out once a year. The manager can set and adjust the frequency of meetings based on needs and requirements.
As a next-generation human resources software, employee review system helps organizations address the organizational goals of constantly monitoring better performance by a robust review process.
QuestionPro Workforce is a platform that offers, end-to-end employee review software solutions. It is your one-stop-shop for all employee survey and people analytics and reporting. It is easy to use and is comprehensive, it lets you track and monitor measures over a period of time, helping you spot trends that affect your organization, positively or otherwise. You can start just by the click of a button. Here are the steps:
Step 1: Login to Questions >> Workforce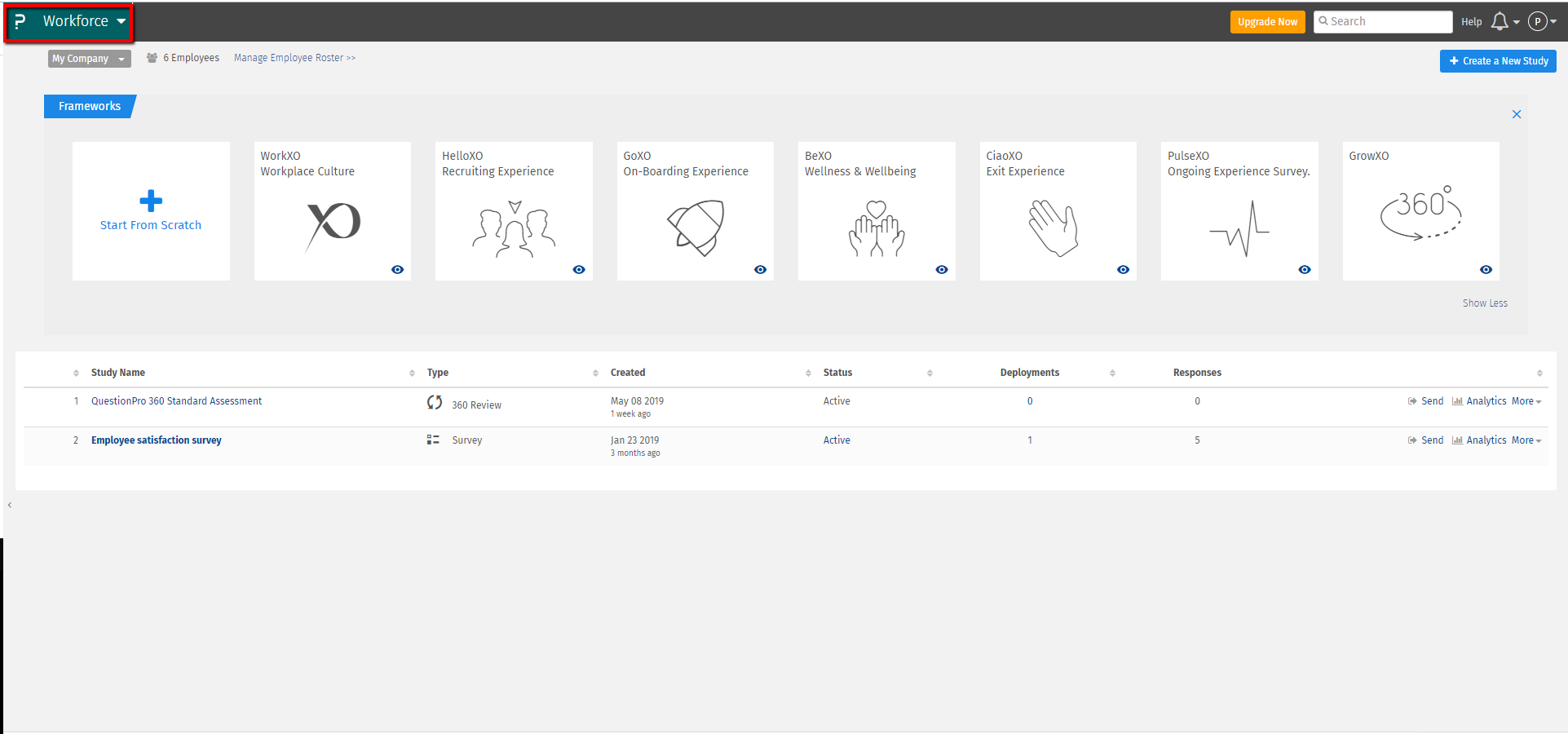 Step 2: Choose from a range of pre-designed employee surveys

Step 3: Select from a wide range of survey question to best suit review process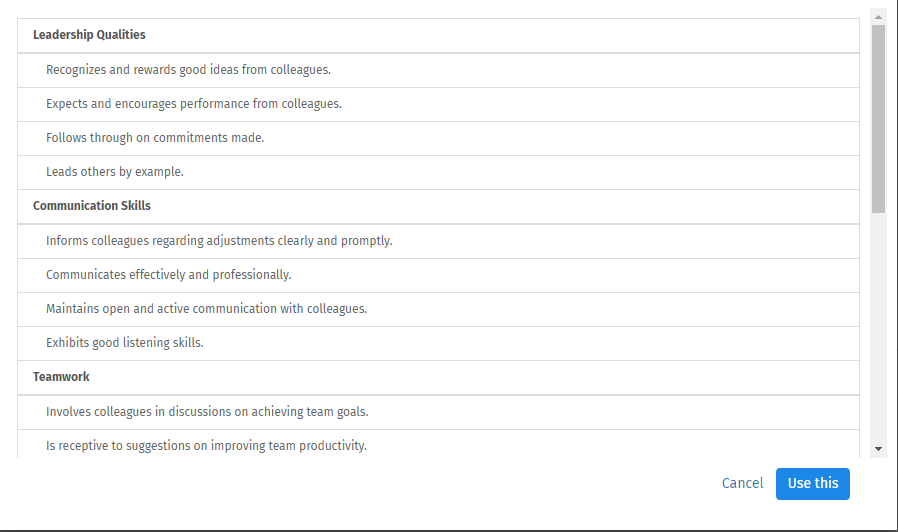 Step 4: Deploy the survey at the click of a button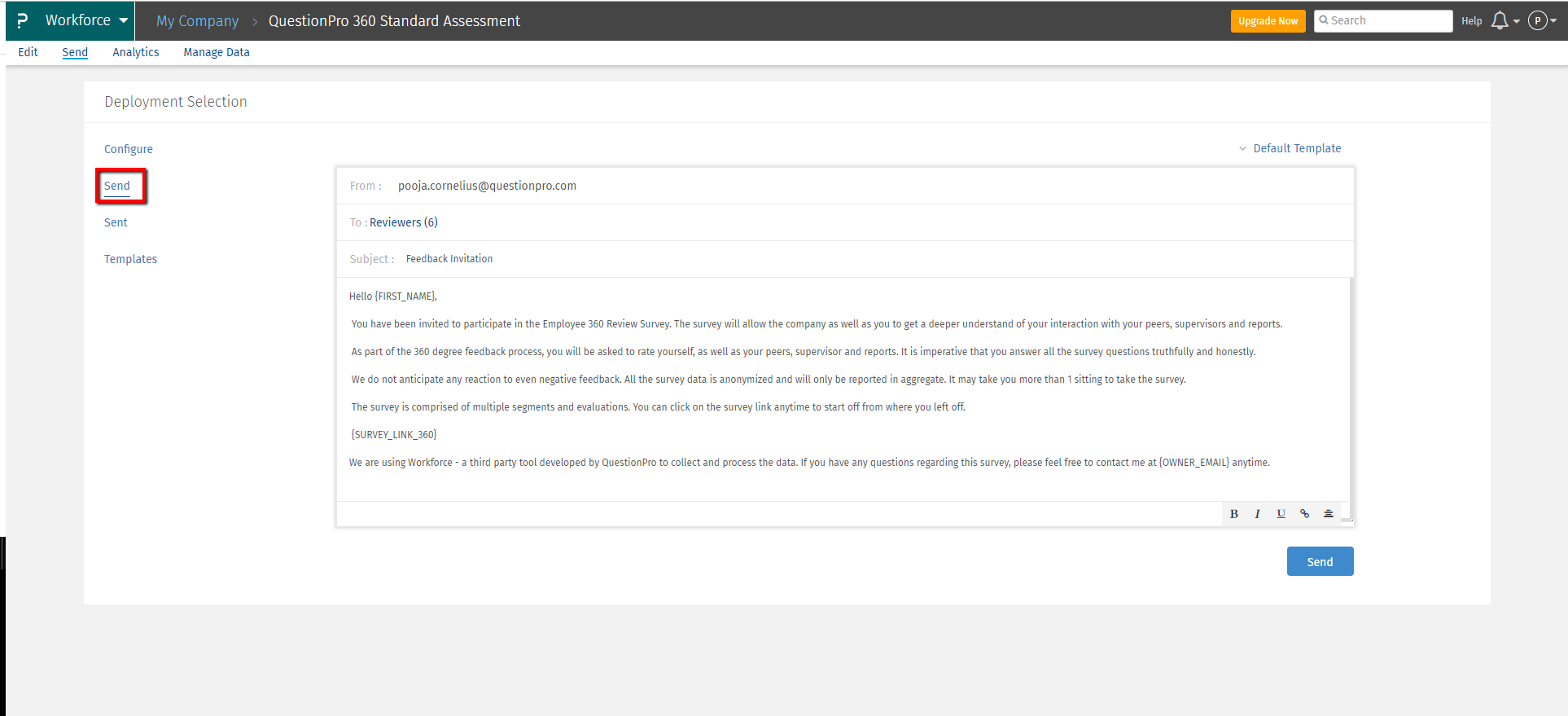 Step 5: Collect responses and compare the analytics year on year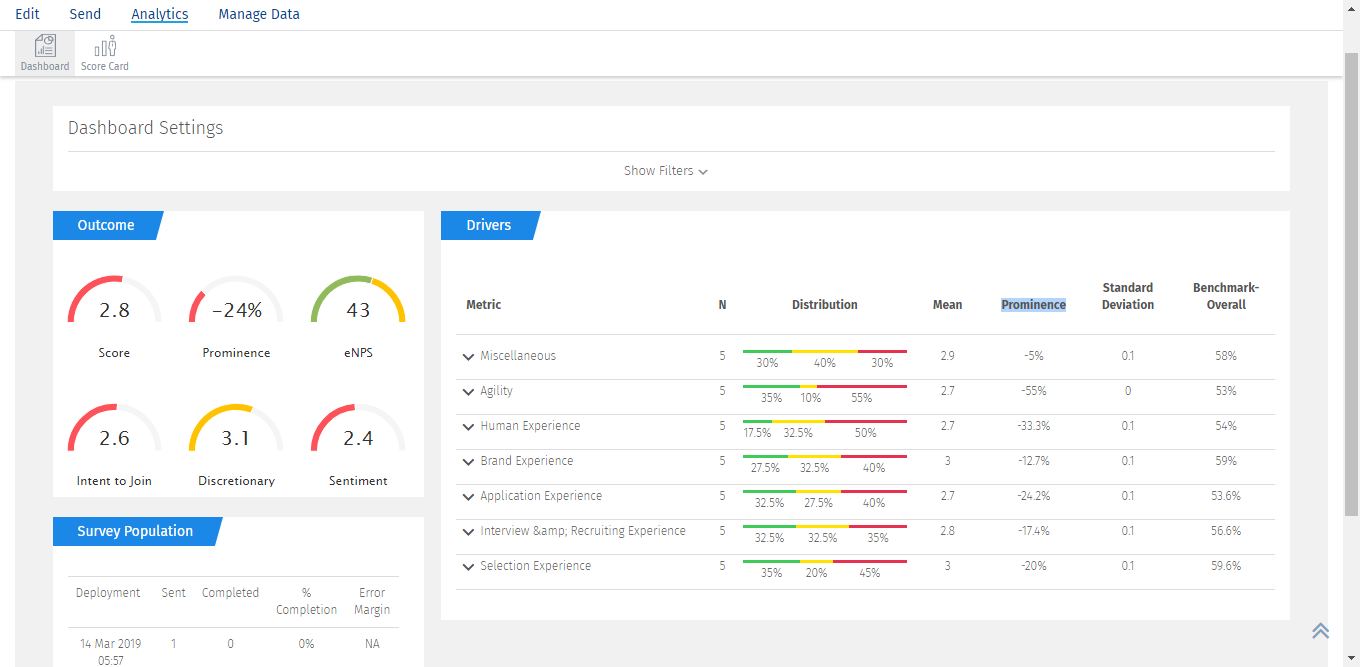 Create, send, and analyze employee surveys: QuestionPro Workforce is a comprehensive platform that enables creation and analysis of employee review surveys with the utmost ease. Deploy surveys at the click of a button using multiple methods like email, SMS, website embed, and more. With over 20+ advanced and basic question types, choose from a pre-designed set of questions so you don't have to spend time thinking about them. The uniformity in the question set enables you to compare analytics year-on-year. All your survey results are centrally stored and displayed on the dashboard. You can apply various types of filters to view this data, compare metrics to make informed decisions.
Advanced survey logic: Survey logic is used to describe the particular features that change the survey behavior based on the responses entered by the respondents. With QuestionPro's employee review platform, you get advanced logic like branching, extraction, piping, custom scripting, and much more. Apply the correct survey logic and collect meaningful data. Survey logic lets you build on previous questions/responses branching out on the choices made. The logic lets you understand what the respondents are thinking, which lets you make conclusions of your own.
Customized dashboard and reporting: A customized dashboard is a virtual response to the employee surveys deployed. An advanced dashboard enables you to filter the data and show only what is essentially important and based on responses. Reporting is as important. With Workforce you get advanced reporting options, real-time survey reports, GAP analysis, etc. You can also download the reports in a CSV, PDF, Raw Data formats. You can retrieve and view data in various forms such as sentiment analysis, text analysis, to name a few.
Survey-based analytics: Now you can gather meaningful data on overall Employee Experience (EX) through our employee review software platform. Start with our well-researched survey templates that have been designed by experts who have 25 years of human resources expertise. Leverage the powerful algorithm and identify the key drivers for measuring employee engagement and satisfaction. Use the analytics to drive new programs or initiatives in your organization and revamp old ones, if necessary, to boost overall workforce engagement, employee experience, workplace culture, and workforce retention.
Employee Net Promoter Score (eNPS): Calculate eNPS and analyze the sentiment, morale, connect and affiliation of your employees. Help your organization measure employee loyalty. It is an important attribute as it is essential for an organization to know if its employees are happy at the workplace or not. Employees that are not engaged or satisfied are not as productive as their counterparts, they bring revenue, employee morale down and increase attrition.
Customizable employee portal: Centralized access to company news, business intelligence, employee review and much more! The customized look of the portal will complement your brand. Share data directly with your employees and create innovative solutions for employee success. The portal also lets you assign access to select people for select measures, ensuring data privacy and flow of information to relevant managers. This arms the managers with data to improve upon work culture, processes, and employee experience.
Mobile ready Pulse Review: Conduct pulse review to track employee sentiments, to know the mood of the organization. Employee review greatly depends on employee performance and organizational health index depends on employee sentiments. Employees receive a survey on their mobile phones and you can collect responses on the go. It's fast, easy and can be accessed anywhere, anytime, and even offline.
Employee review plays an important role in the success of any organization big or small, employee review software provides valuable feedback about your workforce which can, in turn, shape their performance. Employee review software can help to drastically improve the efficiency and accuracy of the employee review process within the organization. Following are the advantages of employee review software:
Employee recognition: For a very long time employee reviews have played a crucial role in determining organizational success. Studies have shown employees prefer negative reviews to no reviews at all. This software makes it quicker for the managers to register their feedback and deliver periodic reviews. Timely reviews help managers identify and acknowledge employee achievements, no matter how big or small. This contributes significantly toward employee satisfaction and employee engagement.
360-degree feedback: Conduct 360-degree feedback using employee review software. This review allows to gather feedback from the manager, peers, colleagues and also the employee being reviewed can register their feedback about self. It gives flexibility which promotes more and frequent reviews. 360 degree feedback gives the employee a holistic view of their performance for an employee reacts with several colleagues and teams across several functions. With such reviews, it's easier to track assignments, achievements, shortcomings, etc.
Reduces the negation around reviews: In the last decade or so there was a constant stigma associated with the employee review process. They were often tagged as "unfair". This was mainly due to a lack of transparency. Employee review software removes the stigma from the process by allowing employees to review the feedback purely on a one-on-one basis.
Identifies training needs: This software acts as a SWOT analysis tool. With a more rounded view of employee strengths and weaknesses, employers are able to quickly identify training and development needs. Employers may even be able to identify the potential of an employee to perform better in another department. This certainly helps improve employee retention Using the tool, it's easier to identify what sort of training needs the employee has and acting on it. The employee can themselves let the managers know of any training needs they might have during their feedback sessions.
Improved Performance Tracking: When employee reviews are filled on spot, there is a possibility of biases. Well, this may not be true for all organizations or every employer, but this cannot be neglected. Employee review software helps accumulate running logs of notes and responses. This lets you compare notes and various measures over time for detailed and consistent reports.