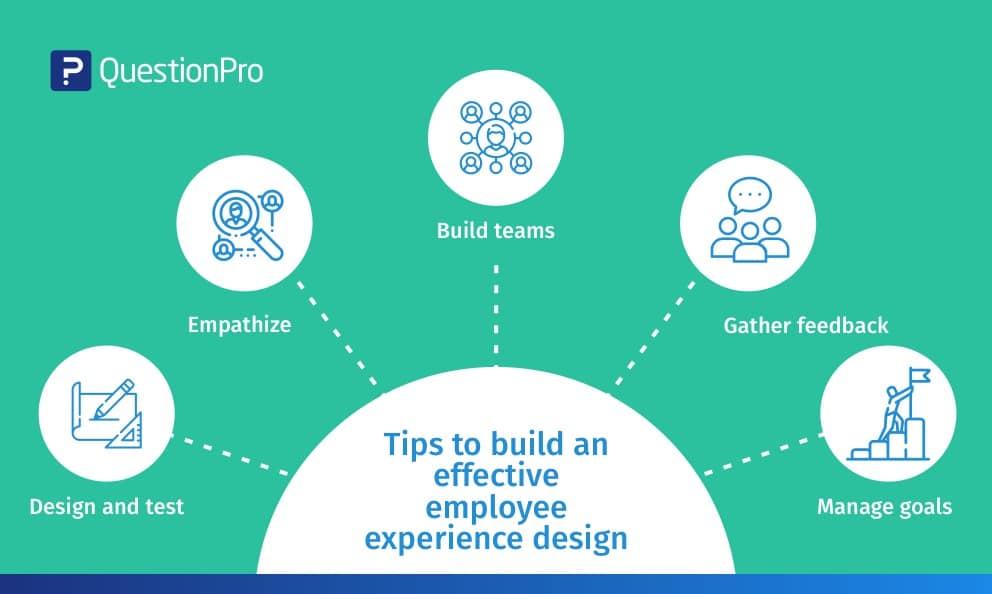 An employee essentially goes through three stages in their employment lifecycle – preboarding, onboarding, and exit. The employee experience is nothing but the sum of all these experiences in their journey. Employee experience is crucial to organizations since it is what influences the decisions of the employees, to stay or to leave. Needless to say, it also affects employee engagement, productivity and most importantly – the work culture. A positive experience is therefore imperative for business success and organizational employee growth.
LEARN ABOUT: Candidate Experience Survey
Why do workplaces need an employee experience design?
Designing a positive employee experience should be a high priority for organizations. Many of them are guilty of not having one, but its never too late to start working on designing one. It, after all, is a process that takes a long time perfecting, possibly years. The workforce today is more dynamic than ever, you have employees across the globe, some on payroll while some on contract, different age groups, and the list just goes on. With such a diverse workforce, how does one come up with an employee experience design that works for all in the organization?
Tips for creating an effective employee experience design
The key here is to start by making one and then revamping it as you go. This is a process that needs constant updating, what works today may not work tomorrow. The reverse is also equally true, we have seen so many trends come back, HR needs to always be on their toes. Here are some strategies and tips that you can utilize to make your employee experience design effective.
Design, develop, test, modify
Very crucial in creating an employee experience that sticks. You need to test the elements, keep ones that work and get rid of ones that do not. This can be as simple or small as a step in your onboarding survey process. Get rid of it, reduce the turnaround, let the candidates know you care about them and their time.
Simplicity is key
Employee experience design may sound very fancy and tough, but it's just as simple. End of the day, all you have to do is create a system that works and makes your employees happy and content. What else is there?
LEARN ABOUT: Employee Lifecycle
Put yourself in their shoes
No matter what your role is, what your function is, you have been through numerous HR processes, if not all. Some you remember for being efficient, some for not. Recollect those experiences, use them to bring about positive enhancements. Experience is the best teacher!
Don't walk it alone
An effective employee experience design can't be and shouldn't be the responsibility of HR alone. Employees interact with colleagues across a ton of functions and roles, this is a huge chunk of their employee journey and experience. Get inputs, ideas, and buy-ins from all departments, that will guarantee a higher rate of success.
Team power
Collaborating with different teams is good, but we suggest going further and putting a team together that comprises members from various functions. Set up a team, explain the goals, define a process, and meet regularly. If you are not meeting regularly you may overlook some key and pressing issues/bottlenecks, put something on their calendars. Make a to-do list for all and do status updates accordingly.
Regular employee evaluations
Continuous performance management helps managers and employees alike monitor performance. This way all current issues, achievements get highlighted and recorded. This may not necessarily during year-end appraisals. Regular employee evaluations help build trust in the organization and improve or elevate employee productivity.
Open communication
Your employees deserve to know anything that happens in the organization, be it with respect to customers, new products or services, or management changes among other things. Transparency helps build faith in management and the organization.
This also holds true for any new ideas employees may have, any grievances or challenges that need to be addressed. Create a forum where employees can voice their feedback and ideas.
Gather feedback
Surveys are a very handy tool to gauge how your employees feel in the organization. They don't have to be conducted during or for employee reviews. Do it for new initiatives, any new programs that you may want to run, or where your next outing should be. You will get a ton of ideas this way. Plus, the type of analytics that survey tools now provide is very detailed and helpful.
Goals management
Employees need to and should align themselves with organizational goals. Communicating organizational goals to employees is important, especially if there are changes to the business approach, new territories being reached, new product or service is being launched, etc. Micro goals should be set and monitored by managers, keep tabs on the performance and provide feedback for improving it further. This gives employees direction, builds confidence, and assures them they are on the right track and their efforts will be recognized.
LEARN ABOUT: Employee Trust
These are just some points that you should keep in mind before starting. We recommend forming a team with vivid members to bring more ideas to the table. This will ensure better employee engagement across the organization, a crucial aspect of employee experience. Reach out to your peers, attend conferences, see what other organizations are doing and how it's working for them. Meet employees as often as you can, ask them about their experiences and inquire about how you can improve their experience. You can start by opening up a channel that lets you directly with employees. Tell us about your employee experience design, what's working best for you.
LEARN ABOUT: Workplace Employee Experience Examples