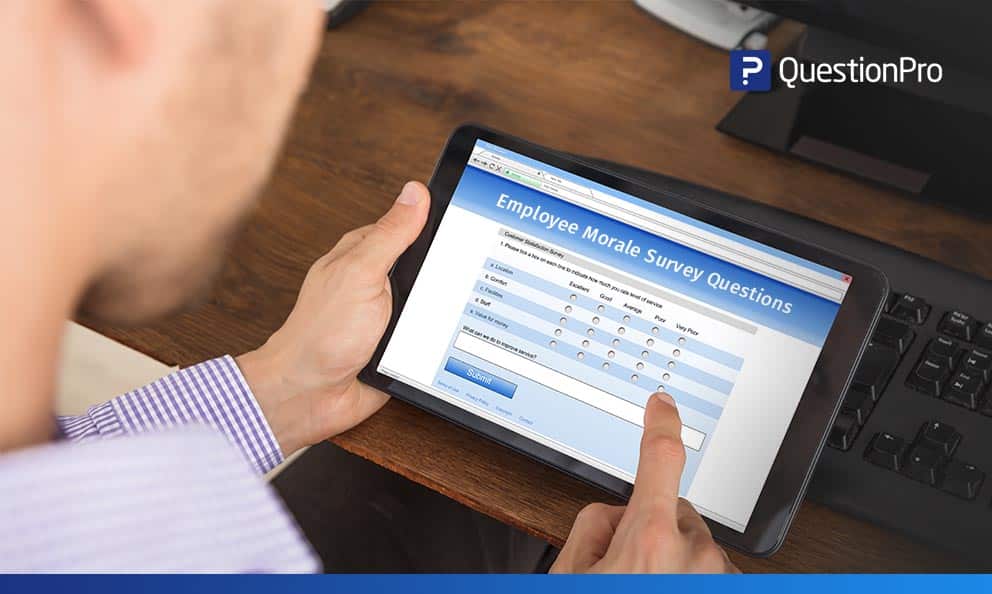 Low morale can affect a company's bottom line, leading to workplace conflicts, poor performance, and harm productivity and employee growth. Running employee surveys can be one of the best ways to monitor employee engagement and job satisfaction.
What is an employee morale survey?
Employee morale survey is a powerful survey that Human Resources Managers can use to understand and measure the attitude of individuals and groups which determines their willingness to cooperate at their workplace.

It's an attitude of the members of an organization towards the general environment which is reflected through their behavior of well-being, satisfaction, and happiness quotient. Morale in a general sense is the willingness to work. Having high morale at work is a result of high levels of employee satisfaction and employee engagement.
Learn more: employee engagement survey examples
15 Employee morale survey questions you need to ask
In a recent study conducted by Gallup which included more than 150,000 U.S. respondents, a meager 30% of American workers are reported being engaged at work while a whopping 52% were "not engaged" and more than 18% were "actively disengaged". No matter how you slice it, it is more than half the population is unhappy with their jobs.

It is essential for organizations to know why their workforce is disengaged or not happy. A smart way of doing that is to understand the concerns of the employees and be open to receiving feedback from them. Deploying an employee morale survey is a good way of channelizing your efforts to improve communication with employees and collect their feedback.
You can use employee opinion survey questions. Those questions provide valuable insights into employee morale, enabling organizations to make informed improvements and foster an engaged workforce.

Following employee morale survey questions should be added to your survey to receive maximum responses from your employees:

1. Based on your overall experience regarding employee morale on a scale of 0-10, how likely are you to recommend this organization to your friends and colleagues?
This is an Employee Net Promoter Score question that helps in understanding the willingness of an employee to recommend the organization to his colleagues of friends. This is the most powerful question and should be a part of the employee satisfaction survey template by default. Based on the responses received employees can then be categorized into three categories:

1. Detractors- Employees who have responded with a score between 0-6. These employees are absolutely unwilling to recommend the organization to any of their acquaintances. They are the ones who are extremely unhappy because of one or the other reason and that resentment translates into their scores.
2. Passives- Employees who have responded with a score between 7-8. These employees are the ones who are neither happy nor unhappy with the organization. They maintain a neutral stance.
3. Promoters- Employees who have responded with a score between 9-10. These employees are loyal employees. These employees will promote your organization and will encourage their friends and colleagues to join the organization. One of the reasons why they would do so is because they are highly satisfied and engaged and extremely morally high.

One thing noteworthy here is, your detractors will give you honest feedback. These are the employees who are extremely unhappy being a part of the organization for one or the other reasons. It is true you cannot make everyone happy, but if you act on the genuine feedback received from these employees there are fair chances you will be able to increase their morale and help them excel at the workplace.

2. Do you feel you get recognition for your work?
Depending on what your employee responds, "Yes or No", you will be able to understand if he/she feels they are duly recognized or not in the organization. If the answer is yes, all is well. But, if the answer is no, it is the responsibility of the manager to go to the root cause of the issue and find out what is not working for the employee(s).

3. How do you perceive the morale in the company?
This is an important survey question to ask your employees to know their opinion about what they feel about the morale level of the organization. Based on the responses received you as an organization should be able to find out better ways to engage your workforce to help them be more satisfied at the workplace.

4. Is stress in your workplace affecting your life outside the organization?
This is another important question that should be a part of your employee morale survey. The response to this question can help organizations determine the work-life balance of an employee. Stress is considered to be one of the factors that lead to dissatisfaction in employees. If work stress is the factor then the organization should look for corrective measures that will help employees balance their life inside and outside the organization.
5. Are you able to manage your workload effectively?
It is essential to ask this question to your employees to understand what is the amount of workload an employee is assigned. Distribution of workload should be done judiciously, each member of the team should be aware of their roles and responsibilities along with the nature of work.

6. Do you feel respected in your workplace?
Respect is one of the most important factors in the workplace. If your employees don't feel respected in the workplace, their morale will surely be dwindling. It is important organizations treat their employees with utmost dignity. Through this employee morale survey, organizations can know if their employees feel the same way.

7. What is the relationship you share with your supervisor or manager?
A health care survey relation with supervisors or managers is a sign of high morale. If your employees respond positively to this question, there is little to worry about, but if the response to this question is negative then the organization needs to pull up their socks and think of bringing a paradigm shift to the workplace culture.

8. Do you feel your organization cares about you?
Keeping your employees happy is one way of showing concern. If for some reason your employees feel they are not taken care of by the organization they will not reciprocate the feeling of belonging to the organization. If you want your employees to be concerned about the goals of the organization, take the first step by caring for your employees.

9. How do you define your communication with top-level management?
Top-level management in many organizations has started implementing an open-door policy, where employees can go and speak the truth and still be confident that it won't lead to anything drastic, like the employee losing his/her job. Communication needs to be transparent, without biases and fear.

10. Do you feel secure in this job?
This should be a follow-up question for the above question. Today one of the most important issues that an employee comes across is job security. If an employee makes a mistake, the organization first should look to correct it and then find the root cause of the mistake. Not simply jump to the conclusion of terminating the employee. This will surely send a negative message across the entire workforce.

11. How satisfied are you with the salary and other compensations provided in this organization?
Monetary compensation is an important factor. If employees are unhappy with the compensation offered to them you need to understand where that is coming from. Either they are overworked and underpaid or they simply are demanding an increase in wage. Ask for the reasons of their discontentment and act accordingly.  

12.  In the last 6 months has someone at the workplace spoken to you about the progress you have made?
If you want your workforce to excel help them first by giving them genuine 100% authentic feedback that will help them improve employee strategies and mindset at work. This will develop a culture of improved communication. As managers and team leaders, it is your responsibility to uplift your team members.

13. Do you think your opinion matters to your team?
If an employee is left unvalued and feeling unworthy he/she is surely going to have low morale. This can negatively affect their progress as well as the progress of their organization.

14. How often do you receive recognition or praise at your workplace?
Appreciate the good your employees do for the organization but don't rebuke, if they haven't been able to perform. Enable them to do their best and come out of all the challenging situations positively. Encourage them to give their best shot and experience the change.  

15. Do you know the organization's expectations of you?
An organization should clear the employee expectation they have from the employees and this should be put on the table for discussion. If an employee is going to spend 8-10 hours, 52 weeks, and year after year in an organization, the organization is liable to clear all expectations.
Learn more: Employee Survey Software & Anonymous Surveys
Benefits of asking employee morale survey questions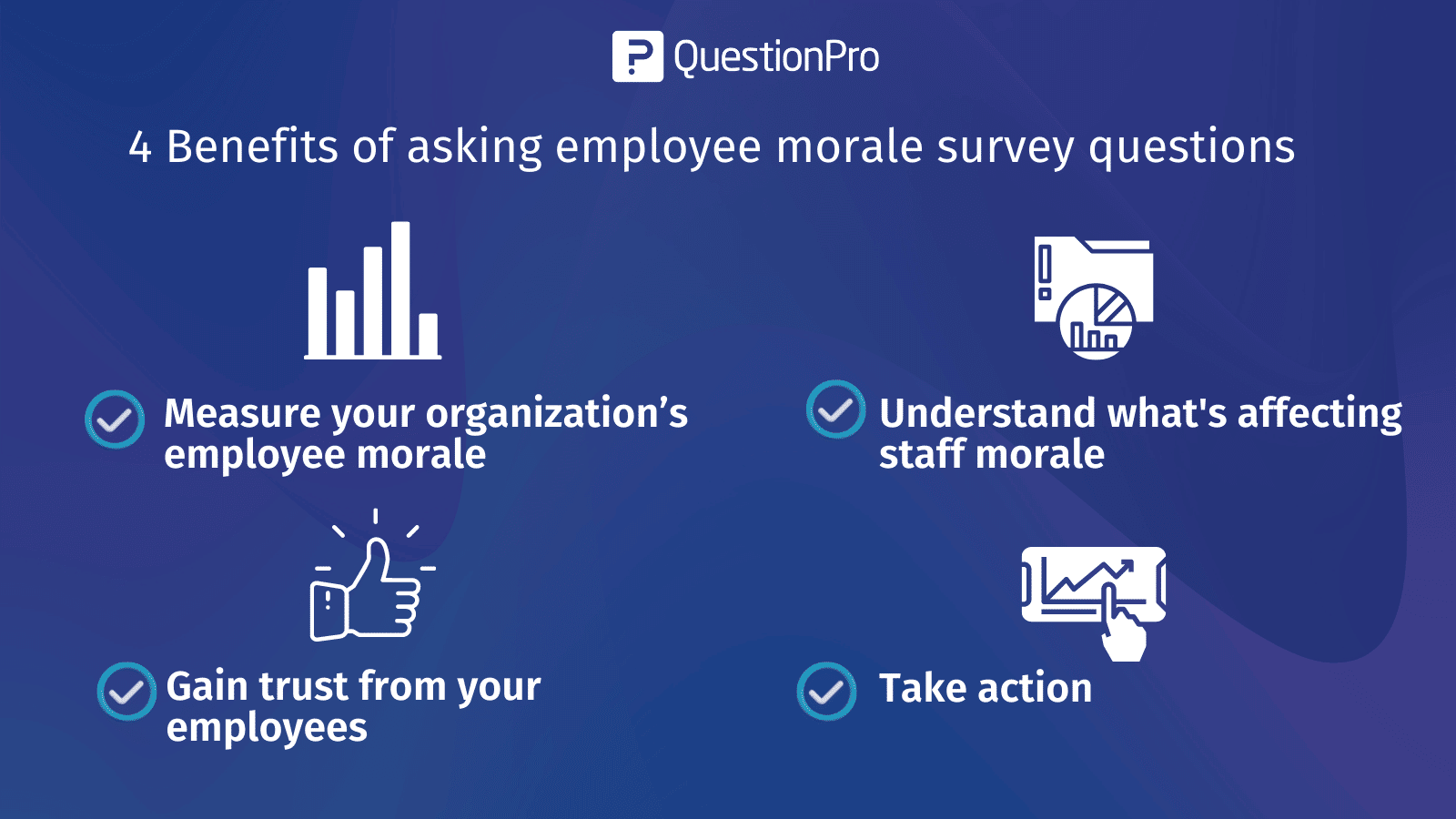 Now that we know which questions you should be asking your employees let us first understand the advantages. Here are some key employee benefits of employee morale survey questions:
1) Gauge your organization's employee morale
While you may have employee-friendly policies in your organization, there could be several things that may dampen your workforce morale. These could be an employee's job role, their manager, team members, etc. Unless you pose questions to your staff, you may never know their morale.
2) Unearth the reasons affecting staff morale
As mentioned before, it could be one or many things that bring your staff morale down. Ask your employees to give honest feedback so that you can uncover the reason behind low morale. These reasons could be affecting the team as a whole too. Fixing that may improve team performance also.
3) Invite suggestions from employees
Not only should you seek the reasons for low employee morale from your staff but also changes that they would want to see to boost it. This would help in improving morale much faster and gaining the trust of your employees.
LEARN ABOUT: Event Surveys
4) Take necessary measures
Once you have uncovered the reasons, have suggestions from employees, and ideas to improve staff morale, it's time for necessary actions. Asking the right questions will get you so far. Failing to act on the feedback may lower morale even more, and you will lose your employees' trust.
LEARN ABOUT: Employee Care
Employee morale survey design
It is essential your employee morale survey process begins with designing a survey or a questionnaire that consists of the right employee survey questions. A survey is a powerful tool that helps collect feedback. This feedback is acted upon in the right manner and with the correct approach can help an organization improve its working environment drastically, thereby improving employee morale. There are three ways of achieving this:

1. Design your survey with the right questions. What questions you ask your employees will determine the kind of information you will receive from them. Use absolutely essential questions. Ask a mix of open-ended and close-ended questions to strike a balance.

2. Keep your survey simple. As humans, we have a tendency of over complicating things. It is advisable to keep your survey simple by not including too many jargon or technical terms that will not be understood easily. What your respondents won't understand they won't respond to, in this way you are missing out on critical information.
LEARN ABOUT: Employee Trust

3. Test your survey before you deploy it. It is important you proofread your survey and test it for any possible errors or mistakes before you send it to your employees. Something as valuable as feedback should be taken on an error-free platform.
Finally, it is easier said than done! If you want results, you need to invest your time and efforts and be ready for some kickback. Merely talking about improving employee morale is not going to improve it. As an organization employees will come to you time and again with their concerns. Address their concerns with the right attitude, provide them with employee training and other workshops to help them sharpen their skills, work towards improving their levels of satisfaction and engagement, and the workplace and see your employee morale rise high!
Learn more: 30 Employee Satisfaction Questions You Can't Afford to Miss

Compose and deploy employee experience (EX) and work culture surveys using the QuestionPro Workforce tool. Gather staff data, analyze it, and make informed workforce decisions.