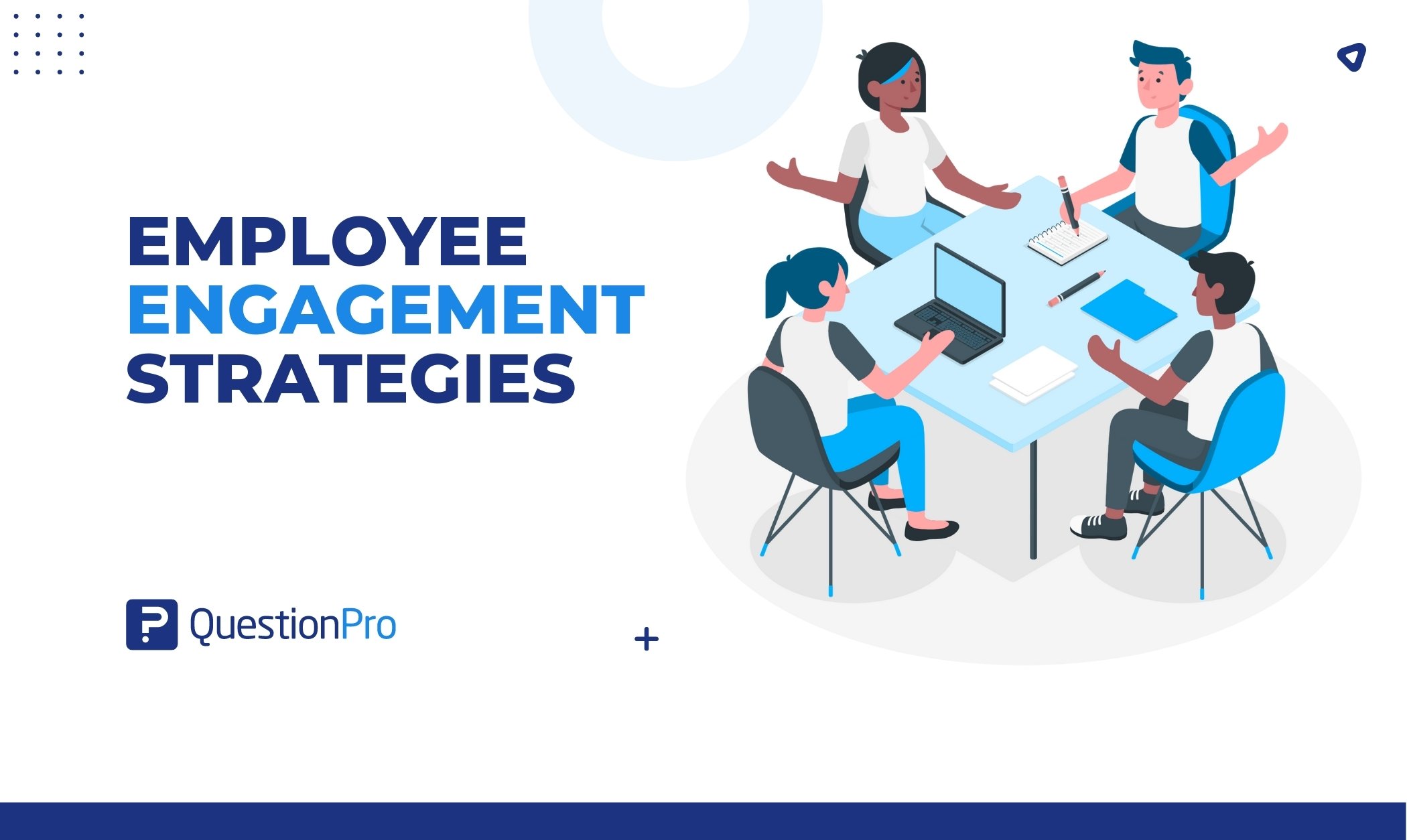 Keeping employees motivated and engaged may benefit businesses, employees, and customers. Engaged employees tend to perform better, and the organization may have lower rates of employee turnover. As a manager or H.R. professional, you can apply a range of employee engagement strategies to build a healthy relationship between employees and the organization.
LEARN ABOUT: Workforce Planning Model
In this post, we will look at several effective staff engagement strategies as well as why employee engagement is so crucial.
What is Employee Engagement?
Employee engagement is the level of emotional commitment and involvement that employees have in their work, their employer, and their team. It is the amount to which people are driven, enthusiastic, and dedicated to their jobs and are willing to go above and beyond to achieve corporate goals.
Engaged employees are enthusiastic about their work, feel valued, and see a purpose in their position. They are more likely to be productive, creative, and innovative, with less likelihood of burnout or turnover. Engaged employees also have a favorable impact on team morale and are more likely to stay with the organization in the long run.
What are Employee Engagement Strategies?
Employee engagement strategies are proactive plans, policies, and actions implemented by an organization to increase employee engagement and commitment. These employee strategies seek to foster a company culture in which employees are more invested in their work and have an emotional connection to the organization's goals and values.
Keeping employees engaged means making them feel like they're a valued part of not just a company but also a community. Communication initiatives, recognition and reward programs, professional development opportunities, work-life balance policies, and employee feedback mechanisms are all examples of an employee engagement strategy.
LEARN ABOUT: Employee Experience Strategy
Its ultimate goal is to increase productivity, motivation, and job satisfaction, which leads to higher levels of employee retention and organizational success.
Good employee engagement strategies are not and cannot be driven solely by H.R., and all departments need to partake for it to bear fruits. Employee engagement ideas and activities may be more successful if they come directly from the employees. Open and frequent communication can do wonders for your employee engagement initiatives.
In a perfect world, an employee engagement strategy means increasing the likelihood of an employee establishing a positive connection with the organization. When an employee feels that they are emotionally attached to an organization, they tend to stay longer. That is the real engagement I am talking about. But can you force them to do it?
Learn more: employee engagement survey examples
The answer is, No! Well, you can't force them to do anything without their will, but you can certainly create an environment for them to stay.
In the following section, I will discuss 4 most important employee engagement strategies.
4 Effective Employee Engagement Strategies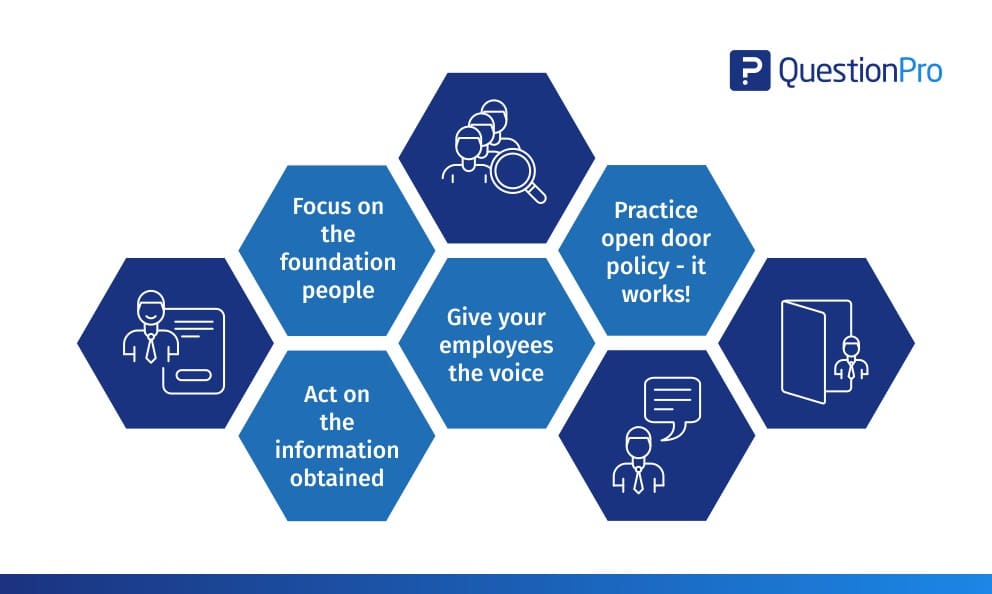 Focus on the foundation – People

Many organizations fail to understand an organization is built by its people. The workforce is an integral part of the organization, period.

After all, the people are the bedrock upon which the organization is founded, and if you don't understand what makes them unhappy or uncomfortable, you will soon run into trouble. It is important for you to know how to help your workforce if they are disengaged.

The easiest way is to deploy an employee engagement survey and gather data to know what's really happening. Most people find that clichéd, but you will see that a survey ensures success. It's fast, easy, anonymous, and can be taken anywhere, anytime.

Collect data, analyze it, and take necessary actions. You can start off today. Here are a few employee engagement survey templates for you that are deploy-ready.
Act on the information obtained

Don't just sit with all that data. Remember, it is a goldmine. Use it wisely. If you have identified what leads to disengagement amongst the employees, act upon it.

You may use this data to create your own employee involvement strategies and best practices rather than relying on others' models. If, as an organization, you fail to acknowledge your employees, then there is fundamentally something wrong with you.

Knowing that one's opinion is not given any importance, they stop responding. Use a platform to make sure their questions are answered, and explain why those actions you took were needed.
Give your employees a voice

Running a survey once a year is not the most amazing thing that you can do. You also need to have parallel channels where employees can raise their concerns, knowing it won't have an adverse effect. For this, consider using internal communication chat channels or a similar platform where employees can communicate on a one-to-one basis with their managers or peers.
Practice open door policy – It works!

Many top-level executives have changed their modus operandi and have introduced a free culture within the organization. An open-door policy not only helps you collect feedback first-hand but also encourages employees to put forth their opinions freely.
LEARN ABOUT: Employee Lifecycle
How to Implement Employee Engagement Strategies?
Over the last decade, a lot has changed in terms of employee engagement strategy and best practices. Employers' focus has slightly moved from people who are satisfied with their work to people who are actively engaged in their work.
Employee engagement can be directly related to employee performance. In an organization, if the employee performs, this is directly related to financial gains. So, it's a circle of performance. If an individual is engaged and is performing better than expected, then it makes sense for the team, department, division, and organization to perform better together.
However, improving employee engagement requires a more strategic approach. Therefore, we need to first put in place an employee engagement strategy and best practices and then work on efficiently implementing them. These strategies can be implemented in stages, as mentioned:
Stage 1- Know your people first

It is important to first understand what your employees think about employee engagement. To know this, you can send a questionnaire to your employees and ask for their feedback. An employee engagement survey is a quantitative method that helps an organization understand where they stand in current times and how they want to look in terms of employee engagement in the future.

This should be the very first step of your employee engagement best practice. Information is key, and this will help shape your employee engagement campaign better.
Stage 2- Choose your approach wisely

Surveys are easy to distribute, and one can easily get feedback and tabulate the conclusions. However, there will be certain employees in an organization who would not tell the complete truth and would just fill out the survey for the heck of it.

Using a quantitative approach can also generate responses that might help to get a better insight. An organization should choose its options wisely. Using an existing survey template is a good way to start.
Stage 3- Develop a plan of action

A central plan of action needs to be developed at the organizational level, as well as a local plan of action that should be sorted at the team level. One needs to remember everything cannot be fixed overnight. The changes need to be communicated to the employees in an effective manner that increases their awareness of them.

Encourage managers to engage in local meetings to plan tasks effectively. Remember, it's not just one person's task to equip your managers and support them to come up with employee involvement strategies and best practices. Your managers are the people who spend the maximum time with the staff and are the best source of feedback for any plan of action.
Stage 4- Implement the plan

Implementation of any plan is the most difficult and tricky stage. This stage determines whether or not all the hard work that you as an organization have put in will work or not. This is because employees have adapted themselves to certain workplace cultures, behaviors, and competencies. Accepting changes is not an easy process for everyone.

Implementing the strategies and best practices may need facilitation from external sources. It is a best practice to keep your staff in the loop of all changes that are planned. The least they want is "unwanted surprises."
Stage 5- Evaluate

Finally, it is important to understand whether employee engagement strategies and best practices have been successful or not. To evaluate and understand, revisit your employee data. What is the percentage of turnover, absence, and reports of workplace stress from the time the changes have been implemented?

Have these improved or become worse? Have the changes led to financial improvement in the organization? Are the targets being achieved? Talk to your managers, and ask them if the employees are happy about these changes.

Evaluation of an ongoing process not only helps in understanding if that plan has worked or not but also in understanding future references.

Lastly, staff involvement strategies and best practices directly influence the employees. To implement these practices, it's always good to understand the employee's point of view to generate better ideas that work. Ultimately, it's the employees whose hard work and determination determine the financial progress of an organization.
Learn more: Top 15 Employee Engagement Questions for your Employee Engagement Questionnaire
Effective Employee Engagement Strategies
Now that we know how to implement engagement strategies, let's look at some that have proven successful for many organizations:
Clarity of roles and responsibilities

Employees care about their current responsibilities and are also interested in knowing what the future holds for them. Will their contributions be valued? Will they be promoted? Will there be a different, more responsible role for them? Such clarity helps contain attrition, especially with newer generations who are not shy of periodically switching companies.
Rewards and recognition

Organizations hold annual awards ceremonies to recognize top and distinguished performers. This is great and absolutely necessary. However, even small victories/achievements should be celebrated. It can be on a daily, weekly, or monthly basis and can be non-financial.

You may reward employees with items that are useful to them. For example, a gardening set for someone who likes gardening. This builds trust and ensures employees that even their slightest efforts and wins are being recognized.
LEARN ABOUT: Employee Trust
Fair and transparent processes

Be open and transparent about your processes, be it for appraisals, business management, etc. Employees that trust organizations tend to stay for longer durations and are highly engaged.
Be receptive

Communication cannot and should not be one-way. It is imperative that employees feel their opinions and concerns will be heard. They need to feel they can contribute new ideas that will help the organization's business, improve processes, and boost productivity.
Employee Engagement Best Practices
According to research conducted in the U.S. by The Engagement Institute in 2016, disengaged employees cost $450 to $550 billion every year to lose productivity.
Very often, we hear organizations and businesses emphasize employee engagement and workplace happiness. Time and again, studies say engaged employees are more productive and happier than the ones disengaged in their roles.
Creating robust employee involvement strategies should be on the cards for any business if it already doesn't exist. While as a business you might get discouraged by poor employee performances, it's never too late to implement employee engagement best practices.
As per Gallup's 2013 State of the Global Workplace study, about 30% of employees in the U.S. are engaged at their workplace, while 52% are disengaged, and 18% are "actively disengaged."
LEARN ABOUT: Workplace Employee Experience Examples
Worse, this "actively- disengaged" population overshadows the engaged population and is considered to be hostile and speak out their unhappiness out loud, which in turn increases the number of disengaged employees through sheer employee-to-employee thought induction.
Although employee engagement varies widely by region, culture, and economic conditions, at a macro (large-scale) level, an organization tends to face losses that are irreparable and irreversible. Therefore to avoid such a situation at any time during the business life cycle, the management needs to ensure that they have employee engagement best practices put in place.
LEARN ABOUT: Employee Rewards Ideas for Employee Engagement
In today's competitive business world, the benefits of positive employee engagement can not only be neglected but need to be actively promoted.
According to a study, nearly 1.4 million employees in about 50,000 businesses across the U.S. have been said to positively connect with their work culture. As a result of this, these businesses have been able to rank much higher in business performance metrics such as higher profitability, better productivity, efficient ROI per employee, low attrition rate, and improved ability to attract new talent.
These compelling studies also indicate that high employee engagement organizations:
Outperform their competitors by 20%.

Have an increase in share prices by 16% versus the 6% industrial norms.

Have better creativity and innovation at work.

Have a whopping 368% return to their shareholders in comparison to their industrial competitors.
Given these positive outcomes of higher employee engagement, organizations are heading towards implementing employee engagement best practices to effectively increase their employee skill, talent, and productivity.
Low employee engagement is certainly a global problem. Right now, seven out of ten employees are disengaged. This attitude severely affects the organization's growth and success and also the morale of the other members who work there.
Employee engagement strategy and best practices are a must for any organization today as they facilitate a harmonious work environment. A group of clockwatchers is fatal to the employee growth of an organization.
On the contrary, the organizations or businesses that excel in their employee engagement strategies and best practices outperform their competitors in terms of profitability and productivity, and that is all that matters in this competitive atmosphere.
So, what's the secret recipe to beat the odds? How does one come up with an employee engagement strategy and best practices? It's not rocket science. Here are some that any organization must promote: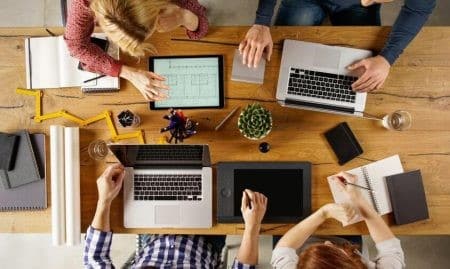 On the contrary, the organizations or businesses that excel in their employee involvement strategies and best practices outperform their competitors in terms of profitability and productivity, and that is all that matters in this competitive atmosphere.
So, what's the secret recipe to beat the odds? How does one come up with employee engagement strategies and best practices? It's not rocket science, here are some that any organization must promote: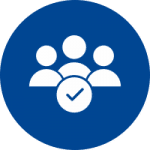 Best Practice #1: Hire the right people
In an organization, there is a lot of discussion about shaping workplace culture. But the truth is you'll have to do less work in this regard if you have your recruitment strategies in place.
Before the face-to-face interview with the candidate, it is important that a thorough screening should be done. This will result in bringing on board such employees who, from the very beginning, have similar visions and passion for the organization, thus proving your employee engagement strategy right!
Best Practice #2: Recognize the efforts
It might sound obvious, but companies need to show employee appreciation for the good work done by their employees. Recognition is one of the top three motivators, according to a study. Organizations that recognize the employees' efforts are most likely to have less attrition.
Saying "thank you" doesn't really require any investment. A simple, humane gesture can engage the employees in the organization to perform better.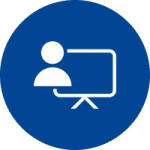 Best Practice #3: Invest in your people
Working in a fast-paced environment can exhaust the employees. An organization that prioritizes its employees is most likely to perform better. Invest in your people, organize training (internal and external) like better communication skills, how to work better in a group, etc., to facilitate enthusiasm and better understanding amongst the employees.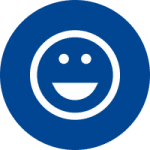 Best Practice #4: Add some fun
Generating interest in what your employees do is one of the best employee engagement strategies. If your employees don't show interest in the work they do and are just performing the mundane activity, there are lesser chances that they will be engaged in the work they do.
It's easy to say that one should enhance interest in the tasks assigned to them, but adding a little fun to the daily tasks never kills anyone. It's a good practice to make your employees' jobs a little more enjoyable.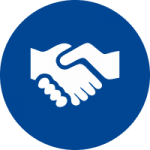 Best Practice #5: "Engaged or Happy"?
These two words might sound very similar. However, as an employer, you need to know the difference. Your employees might be happy, but they might not necessarily be engaged in the work they do. Engagement can be seen in productivity, and happiness improves efficiency, which is an added advantage.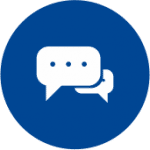 Best Practice #6: Communicate better
Communication is the key! One of the biggest hindrances to employee engagement is communication. In an organization, if an employee feels they can't communicate freely or ask questions directly, there is a likelihood of decreased engagement levels, which in turn hampers the growth of an organization.
How QuestionPro helps in creating employee engagement strategies?
QuestionPro can assist organizations in developing employee engagement strategies by providing insights and data-driven recommendations based on an employee survey and feedback results. Here are some examples of how the software can be used to develop effective engagement strategies:
Customizable surveys

Conduct a survey to analyze employee satisfaction. Before you can work on improving employee engagement, you must first establish your baseline. QuestionPro has survey features that can be customized to create employee engagement surveys. The software includes a variety of question types and survey templates that can be customized to meet the needs of the organization.

Adding company logos, changing survey colors, and creating personalized messages for employees are all customization options.
Benchmarking

Understanding how the organization's engagement levels compare to industry benchmarks is critical for developing an effective employee engagement strategy. Benchmarking features in QuestionPro allow organizations to compare their engagement scores to industry standards and identify areas for improvement.
Data analysis

Once the survey data has been collected, QuestionPro offers powerful data analysis tools to assist in identifying trends and patterns in the data.

The software can generate charts, graphs, and other visual aids to make the survey results easier to understand. This can assist organizations in identifying specific areas of low engagement and developing targeted strategies to address those issues.
Action planning

QuestionPro offers tools to assist organizations in developing actionable plans to boost employee engagement.

The software can generate reports that highlight specific areas for improvement, which organizations can use to develop targeted action plans to address those issues. QuestionPro also has a collaboration feature that can assist teams in creating and implementing these action plans.
Do you want to improve your company's staff engagement strategies? Take a look at QuestionPro! Our survey features, benchmarking capabilities, and data analysis tools make it simple to collect insights and develop targeted action plans.
You can use QuestionPro to measure employee engagement, identify areas for improvement, and collaborate with your team to develop effective strategies to increase staff satisfaction and retention. Start using QuestionPro today to improve employee engagement and create a happier, more productive workforce.