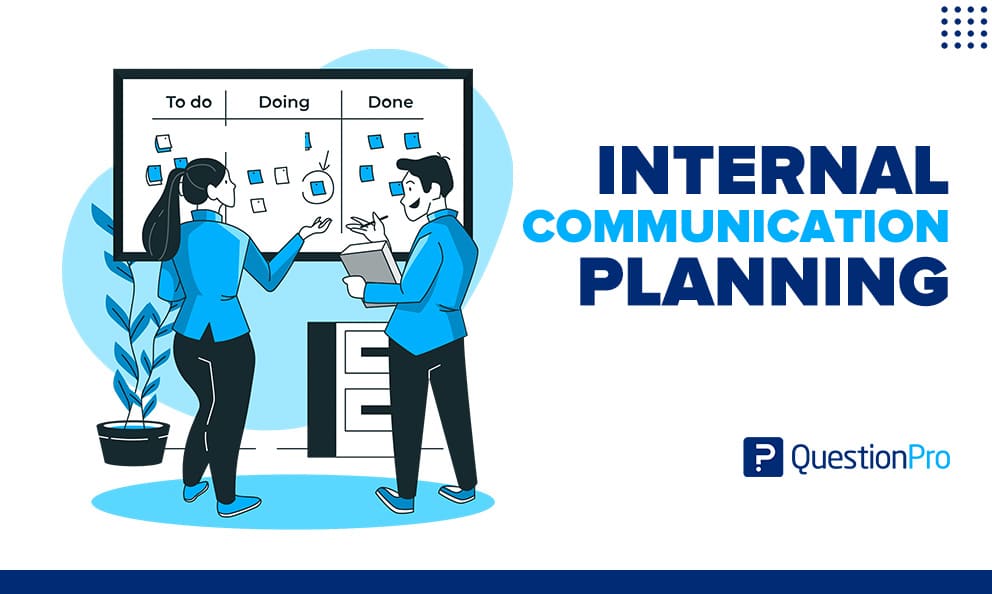 A robust internal communication plan is an integral part of daily operations. An effective internal communication strategy is a core part of every organization. You need to understand how to communicate with everyone in the company to fulfill business goals.
In most companies, clients and employees connect through carefully planned techniques. You'll notice a significant increase in employee engagement if you apply the same standard of care in your internal communication plan. That is why you need an effective internal communication plan.
Here in this blog, we'll discuss:
The definition of an internal communication plan

The advantages of an Internal Communication Plan

Best ways to develop an Internal Communication Plan
What is an internal communication plan?
An internal communication plan is a strategy that addresses the business goals for employee engagement and interaction and displays the required actions to reach them. Your internal communications strategy serves as a road map for success in internal communications. The following are essential components of an efficient internal communication plan:
Mission, goals, and values of the company

Important business messages

Channels of Communication

Responsibilities and processes for employees

Marketing and communication strategies
This is all about how your employees get the information they require to carry out their responsibilities. This is why collecting and analyzing employee feedback should be an important part of your strategy.
The advantages of an Internal Communication Plan
A workplace is significantly more productive when it is engaged with active communication. Your employees will be more involved in their job if you plan well for internal communications. There are multiple advantages to having an effective internal communication strategy that contributes to your company's overall success. These are some of them:
Helps to boost productivity:

When the employees connect, they effectively understand their responsibilities and priorities. This increases the productivity of the organizations, and the workforce becomes more productive.
Reduces errors and mistakes:

Employee errors are frequently caused by a lack of communication. Your business could lose money if you make a mistake. If you develop effective communication in your organization, this could prevent those mistakes and errors.
Helps to increase employee engagement: Internal communication is a successful method of increasing employee engagement. Employees get engaged and motivated when an organization provides constant updates.
Improves workplace culture:

Employee interaction improves when departments and teams communicate. It allows employees to access all the information they require at any time.
Helps to understand the business goals:

Internal communication ensures that your entire company is on the same page. It helps to realize the business goal, vision, and strategy.

Increases leadership outcomes:

An internal communication strategy assists managers and leaders in improving leadership outcomes. It helps to understand how and when they should communicate with their staff.
An internal communication strategy shows how everyone in an organization fits and contributes to the overall strategy. It keeps them up to date on current projects, activities, and future goals.
Best ways to develop an Internal Communication Plan
Internal communications plans are required for a variety of reasons. It explains how to communicate with one another in order to assist and realize the company's goals. You can use a communication plan if you need to deliver a message to a group of people or an entire company. Let's look at a step-by-step guide to developing an effective internal communication strategy that will improve employee communication.
Analyzing the current state of internal communication
Before creating an internal communication plan, it's essential to know how successful your current internal communications are. Analyze it and see where you can make improvements. This can be achieved using a variety of tracking ways, including:
How many of your internal communication goals have been met?
Make a note of your previous plan's strengths and limitations. Figure out what you want to accomplish in the future.
Design and conduct a survey for your company.
Conducting a survey is a simple and efficient technique to get your employee's feedback. Before making any adjustments, analyze what is actually working and what is not.
With an extensive collection of questions, QuestionPro takes a unique approach to surveying employee experience. You'll receive a 360-degree view of your company this way. This is a great way to collect their feedback.
Check the results over different periods.
A time frame will help you analyze the current situation. Create a chart of information over different time periods and check the result.
Defining goals
The next step is to choose the appropriate goals. The SMART strategy is one of the most influential and simple methods:
Specific:

Set your goals specifically. For example, it could be "What are the goals of your business?" or "Who is working to achieve them?"
Measure:

The goal must be measurable. To boost revenue, production, and teamwork, for example.
Achieve:

The goal should be achievable. It should be practical and based on your ability to grow your business.
Relevant:

Will the goals impact the company's overall performance? You should avoid irrelevant goals unrelated to developing your effective plan.
Time:

What are the timelines for achieving each objective? Without a timescale, it will not affect the plan properly.
The audience you want to reach
Knowing whom you're trying to reach is essential. It ensures that only those who need to see it receive relevant content. 
It would be best if you addressed your company's different types of teams and departments for your plan. You can't use the same language when speaking to all of them. When establishing the plan, all departments, teams, supervisors, and juniors should be taken into account.
Selecting the appropriate Internal Communication Tool
It's essential to choose the appropriate communication tool for your target audience. An intranet is one of the most widely used technologies for internal communication. The intranet is the ideal way to communicate to reach everyone in a business across many locations. Modern intranets can serve as your company's digital hub. It integrates and combines multiple communication technologies such as:
Instant messaging tool (Slack)

Email (Gmail, Outlook Emails, and Calendar)

Project management (Trello)

Video Conference & Meeting (Zoom, Google Meet, Microsoft Teams)

Workspace Management (Google Drive)
Understanding and utilizing the communication tools successfully for internal communication is essential. Now might be a good time to start if you don't already have an intranet yet.
Internal communication plan measurement
After you've implemented your plan, it's time to measure the results. It's important to collect quantifiable data to determine the effectiveness of your internal communications. Analytics software will assist you in collecting quantifiable data.
There are different techniques to evaluate internal communication performance. Let's take a look at some examples:
Check your productivity. Is there any improvement?

Are revenues increasing?

Are errors and mistakes being made less frequently?

Has employee retention continued to improve?

Have you noticed any improvement in employee engagement?

Were you successful in achieving a particular goal?
If you observe that your plan is not effective, then you have to determine what went wrong in your plan and what necessary actions you need to take to improve your internal communication plan.
Conclusion
An internal communications plan is required to achieve the successful growth of the company. It must maintain regular communication with its employees. Determine which method best suits your goals. Testing frequently is the best way to accomplish this.
This requires the proper technologies. Employee experience surveys will provide insights that will help you develop an internal communication plan and a better business.
Learn more about QuestionPro Workforce and how to collect continuous employee feedback to create a better impact in your organization.