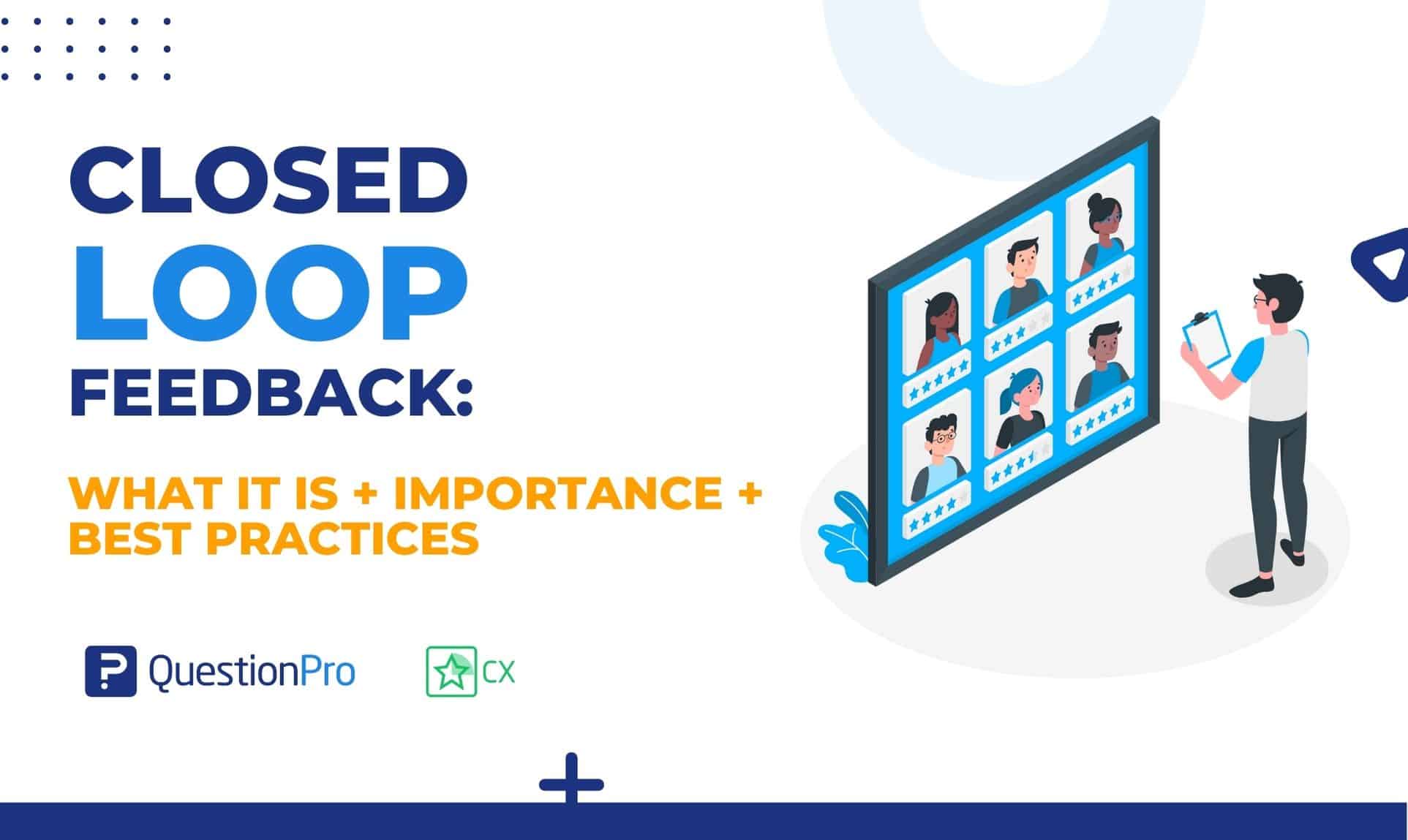 Today, more and more businesses are using online and offline surveys to find out what their customers think. Customers today want personalized experiences and more customized products and services. Let's talk about the closed-loop feedback.
Because of this, feedback has become a key part of giving customers a great experience that beats competitors.
After gathering and analyzing survey data, what should you do next? A practical, structured, and open closed-loop feedback system is essential to tying up loose ends with your customers because they will be waiting for acknowledgment or an update from your business.
Many businesses say they have a feedback program but don't act on the feedback they get or use it to keep customers coming back. This is called "closing the loop."
Well, this blog explains some of the best practices to close the feedback loop, but first, let's talk about what closed loop feedback is and why it's important.
What is closed loop feedback?
Closed loop feedback is when a business responds to or acts on customer feedback through an online or offline survey.
By "closing the loop," businesses manage feedback promptly and effectively, directly or indirectly addressing customer complaints or compliments to ensure they have a good experience.
A common misconception about closed loop feedback is that it has to be dealt with in person, one-on-one with the customer. Even though talking to someone in person has its benefits, you can close the loop by simply fixing a problem or taking advantage of an opportunity, whether online or in person.
As a process, closed loop feedback begins with a business surveying with the customer in mind. Once the survey is made and sent to customers, they give their feedback, and the business collects and looks at the data.
Closing the loop is when you find problems or opportunities in the feedback and take the right steps to get or keep the customer.
You may also check out this guide to learn how to build your own Customer Journey Map to learn where are the touchpoints that may need a closed-loop feedback system.
Importance of closed loop feedback
Closed loop feedback is important because it lets a system change how it works based on how its previous actions turned out. This kind of feedback can help a system stabilize, improve accuracy or precision, or reach a goal faster.
Let's look at some more reasons why every organization should make a closed loop feedback system a priority:
Customer churn can happen for many reasons. If the cause is a bad customer experience, follow up with customer feedback to mend the relationship.
You can email or contact your customer to remedy their issue and let them know their comments will be considered for future service or product improvements.
Closed loop feedback helps resolve issues at the source, makes customers feel heard, and provides vital information to improve the customer experience and reduce churn.
Learn more about why understanding your Customer Journey transforms your CX program and helps you close the loop.
A better reputation overall
Online reviews matter. Why? Because public-facing evaluations provide buyers with an instant image of your brand and influence their buying decision.
Following up on comments can prevent unhappy customers from leaving online reviews. Your response to a bad customer experience review can boost your brand. 45% of buyers visit businesses that respond favorably to unfavorable reviews on Yelp, Google My Business (GMB), or WebRetailer.
The data demonstrate that customers are more inclined to recommend a product or service after positive feedback or complaint experience. Customers appreciate a brand that goes above and beyond to address a problem.
Closed loop feedback makes the whole customer experience better. When customers are happy and their ideas are considered, they are more likely to recommend your business to others and talk positively about their experience with you.
Customers would pay more for the brand that provides the best customer experience and can prove it. Customer experience differentiates your brand in a competitive industry and can boost income.
Best practices of closed loop feedback
Learn how these best practices can improve Customer Satisfaction by facilitating customer closed loop feedback.
Choose the suitable mechanism
The most effective technique to learn more about a problem and close the loop is typically by phone call. But doing this can take some time. If you have limited resources, consider responding via email feedback.
It is advised that you email customers about your intentions and progress so they can participate at their convenience.
Engage as many customers as possible
The most important thing to do is close the loop with your detractors but remember your passives and promoters. They are important customer groups that, if ignored, could turn against the business.
Various levels of the loop should be closed
Although it would seem like the wisest course of action to assign your frontline or customer service staff sole accountability for your closed loop feedback systems, it's not.
You're only leaving the door open for more needless churn if you don't involve all levels of your business.
Different issues call for various solutions.
A manager or even an executive must be involved in some situations.
Ensuring everyone in your organization can close the loop enhances internal competencies and can significantly affect your NPS.

Describe the quarterly business reviews
Talking about customer feedback with key decision-makers in B2B during quarterly review sessions lets you shut the loop. It's a terrific conversation starter to give them their corporate scores back and say, "This is how your corporation sees your investment in us."
Use it to show how your return on investment is increasing and to pinpoint areas for future improvement.
QuestionPro closed loop feedback
Closed loop feedback (CLF) is a feature of QuestionPro CX that enables businesses to monitor and react in real-time to consumer feedback. With the aid of this tool, businesses will be better able to answer client complaints, fix problems, and enhance their goods and services.
With closed loop feedback from QuesionPro CX, businesses can do the following:
Customer identification
Collecting information for action
Your follow-ups can be automated.
Case management that is efficient
Identification of internal problems

QuestionPro CX's closed loop feedback function aims to streamline the gathering process and act on customer feedback. To assist businesses in tracking key performance indicators (KPIs) and making data-driven choices, the platform offers a variety of analytics and reporting capabilities.
Organizations can also set up automated workflows and notifications on the platform, which can be used to start follow-up processes or escalate problems to the right team or department. By doing this, businesses can enhance their customer care and support procedures.
Conclusion
Without taking any action, insights are simply words and figures. Setting up a productive closed-loop feedback process is important to immediately respond to your customers and implement change after discovering new data insights.
Use surveys to get information from customers that will help you plan your company's course and identify any areas that need improvement to provide the best customer experience. With QuestionPro CX, getting client feedback at the ideal moment and location is simpler than ever.
QuestionPro CX is the only CX solution in the market to have all 3 components of the CX ecosystem, including the customer journey mapping, journey measurement and all-the-loops systems:
Experience and Journey Mapping
CX Consulting
NPS+
Voice of the Customer
Change Management/Implementation
Reputation
AutoX
With QuestionPro CX, closed-loop feedback uses a ticketing system. You can make a ticket for each person who doesn't like your product, send it to the right person, and fix the problem. A system like this can lower the number of people who leave your site and eventually turn your critics into your biggest fans.
Start using QuestionPro CX today!