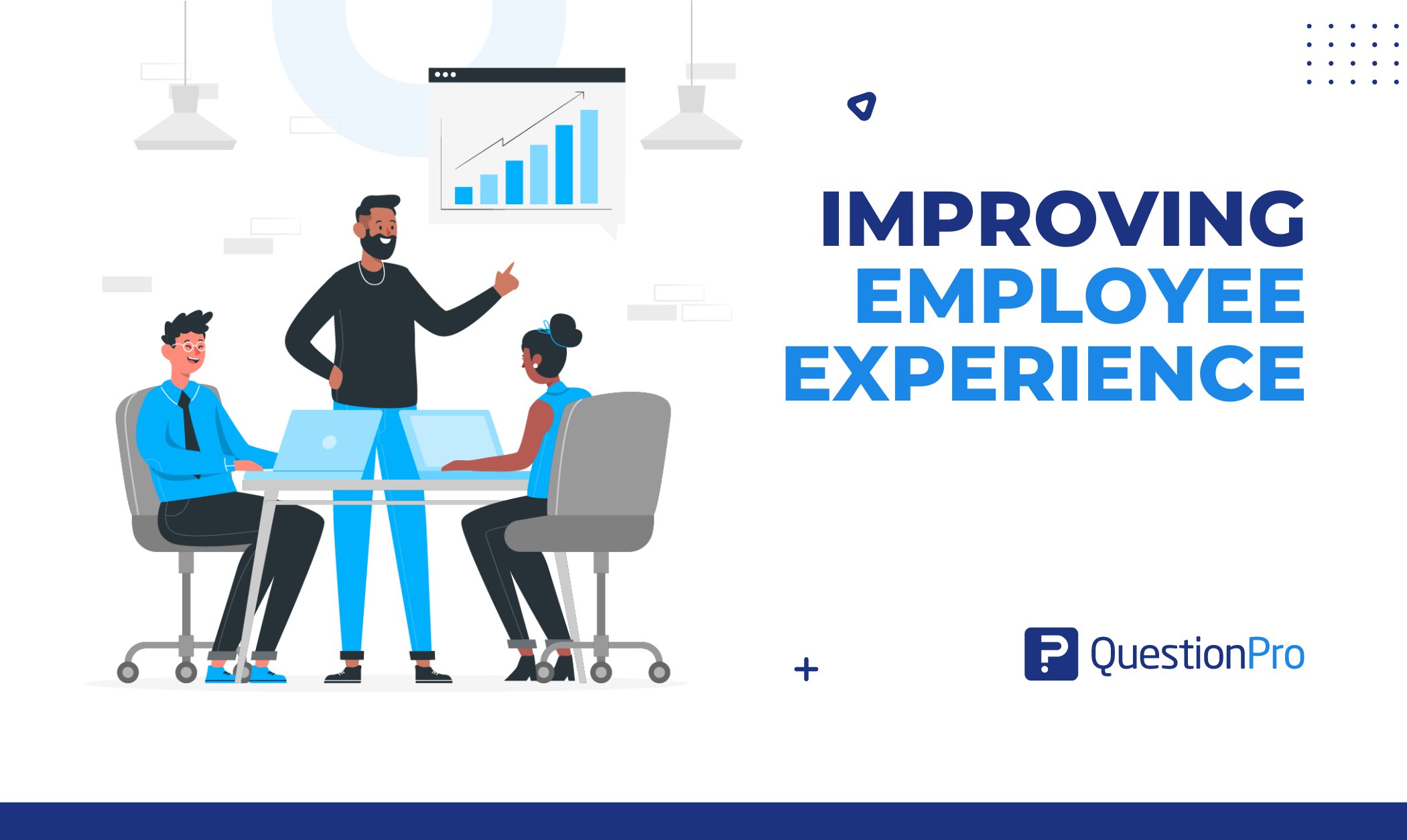 Organizations understand that improving employee experience is essential in today's competitive business environment. No longer are employees just parts of the business machine. Currently, corporations realize that a better employee experience boosts productivity, customer satisfaction, and profits.
Employee journey takes them through a variety of behaviors and experiences from hire to exit. Many of them could be positive, but you can't always expect all to be that. You can, however, learn from these for improving employee experience.
LEARN ABOUT: Candidate Experience Survey
What is employee experience?
Employee experience refers to the whole of an employee's interactions, observations, and feelings throughout the period of their employment with the company.
It shows the employee's professional relationship with the organization from when they applied for a job until the employee exits. Today's executives and HR professionals in organizations are putting a lot of emphasis on increasing employee experience levels.
LEARN ABOUT: Employee Lifecycle
For instance, after a couple of months of a new employee's employment, the human resource team, their direct manager, supervisor, etc., contact the employee to assess their induction experience.
The employee journey experience is broad, ranging from the hiring process and onboarding to training and development to employee termination. The employee experience differs daily depending on an employee's career achievements and defining moments.
What is employee engagement?
Employee engagement measures how enthusiastic and emotionally connected an employee is to their company. It shows how committed employees are to stay with an organization and how motivated they are to do their jobs.
Many companies would want to encourage higher levels of employee engagement to improve employee performance, employee retention, and other similar things. Using an employee engagement survey is an excellent way to find out how engaged employees are in the organization and help drive action over time.
What are the 5 stages of employee experience?
Now you have an overview of employee experience. Let's discuss the details. There are five crucial stages throughout the employee life cycle. They are: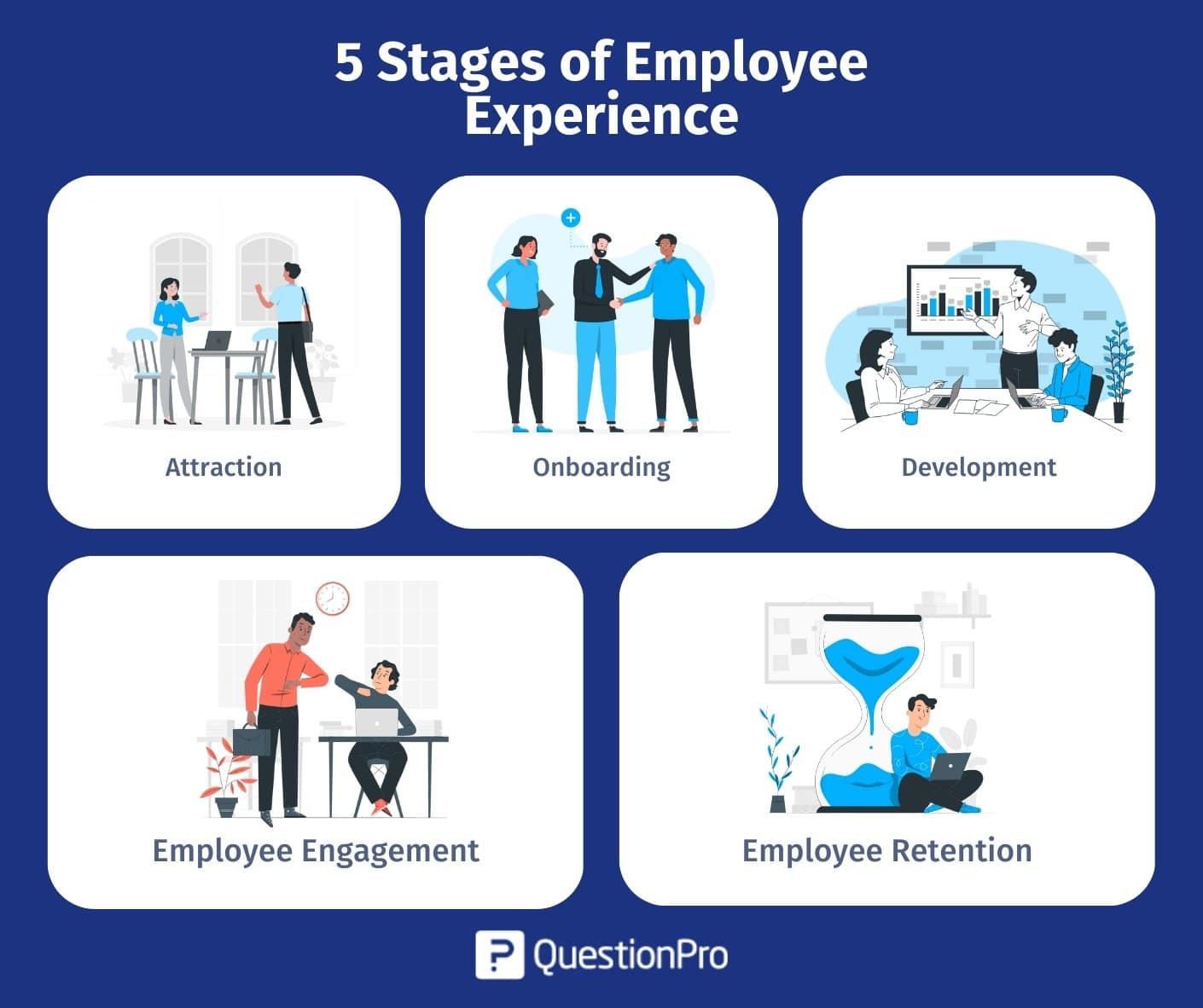 Attraction

Attracting new employees to your company is the first step. This entails developing a strong employer brand that highlights your workplace culture, values, and perks.
Onboarding

Onboarding new employees is the second stage, which entails all the procedures and actions necessary to help new hires fit into the company. This entails introducing them to the company's culture and principles as well as equipping them with the resources and tools they will need to succeed in their positions.
Development

The third stage is employee development, which entails giving staff members chances to advance in their positions. This covers professional development strategies, mentoring opportunities, and training programs.
Employee Engagement

Employee engagement, the fourth step, entails building a welcoming workplace that encourages employee motivation, output, and job satisfaction. This offers possibilities for collaboration, regular feedback, and recognition.
Retention

The last step is employee retention, which entails fostering an atmosphere where workers are inspired to stick around the organization for the long haul. This involves providing competitive pay and benefits, chances for promotion, and a positive workplace environment.
Why is an effective employee experience important?
Positive employee experience is crucial, for it determines not only the intent of an employee to stay with the organization but also their productivity and engagement. Organizations are now focusing on employee engagement because they know that companies with engaged employees will make twice as much revenue as those with disengaged employees.
Let's explore why an effective employee experience is important.
Desirable Workplace

Focusing on employee experience first makes the workplace more desirable. People have a better day if they wake up thinking work will be fun. Make the atmosphere appealing to reduce workplace stress and worry, which lowers employee performance. Flexible schedules and cutting-edge tech can boost engagement and productivity.
Productivity rises

Another thing to think about is the strength and slickness of your company's procedures. Your team wastes valuable time if you do not streamline processes governing vacation requests, training, or workflows. Simplify processes so that employees can be productive. People work better when they don't complain and feel heard and valued.
Increased employee retention

Retaining employees is one of the best ways to boost earnings. You can survive the challenges of Resignation if your corporate culture prioritizes people.

Engaged and satisfied employees stay at their jobs longer, while unhappy workers leave or be absent more often. This affects employee morale, productivity, costs, and the way people think of the brand.
LEARN ABOUT: Work culture
Key ideas for improving the employee experience at work
This is a continuous process, and organizations need to keep their eyes and ears open to better deliver on the employee experience strategy. Here are a few ideas to improve employee experience in your organization.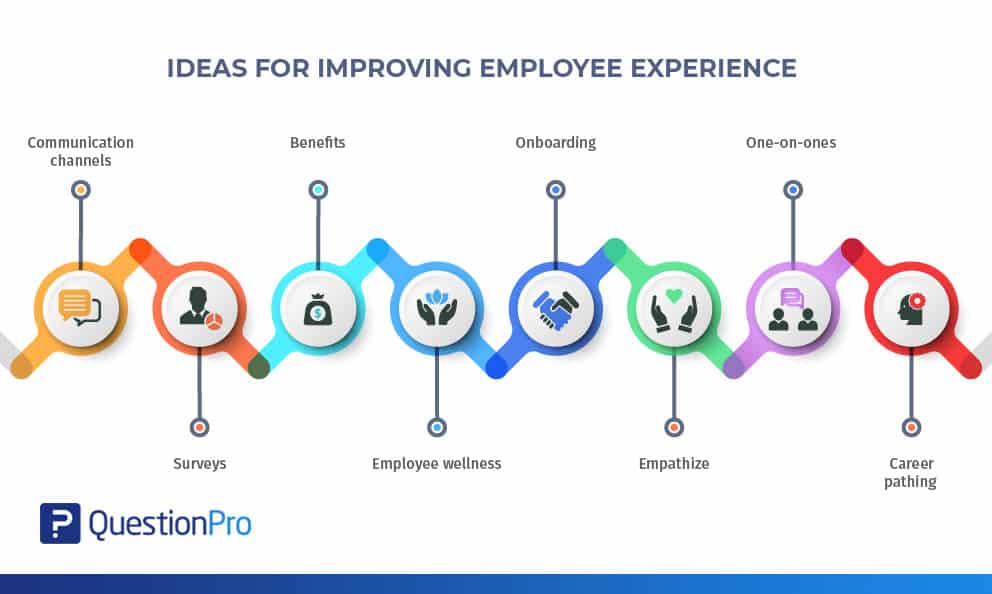 Improve your communication channels

Employees need to feel safe about communicating what they think to their managers, HR reps, and management. It is important to establish proper communication channels and monitor them, improve them, and open new ones if need be. There should be ways to address all employee concerns and let them know about the resolutions.
Career pathing

Employees need to know clearly where their efforts will take them, what phase in the employee journey, and what's next. Employees feel confident about their future, which is crucial because it determines their intent to stay.
Wow them at onboarding

Onboarding employee experience for employees has to be spot on, for it's their first impression of the organization. According to a study, 33% of candidates with new jobs switch in the first six months.

While it may not all be about onboarding, it's safe to say a majority of that could be about that. When they join, employees can be highly nervous; all you have to do is make them feel welcome and like a part of the family.
Conduct one-on-ones

Managers must have regular meetings with their subordinates on a frequent basis. Regular check-ups help avoid any bottlenecks and address issues at the right time. Regular one-on-ones help build trust in employees, a key reason why employees stay back with organizations.
LEARN ABOUT: Employee Trust
Employee wellness. Health and finance

With organizations having global offices and various teams, it's hard to keep your standard working hours. Maintaining a healthy employee life cycle is imperative, and it affects the individual and the company.

Financial wellness is equally important; managing finances is not easy, and certainly, not everyone is good at it. You can start by inviting health experts to deliver talks, conduct sessions, and run programs on Fridays. An initiative like this can work wonders, be sure to involve everybody.

Do sessions on managing your student loans better, and make them vigilant of their expenses and savings. A financial guide at the workplace is a dream come true for employees.
Conduct surveys

We can't stress this enough, conduct regular surveys! This is a powerful tool; it gives you insights into what the employees feel and thinks and data that can help you make decisions and improve or elevate employee-related processes.

A survey doesn't have to be long and does not need to have 100 questions; keep it simple. Try and connect with your employees. You will get honest replies and data that will help you improve the employee experience.
Salary and other benefits

Not all employees care about only salary, for some benefits hold an equal amount of importance. This could be training, employee wellness programs, health insurance, or flexibility, among other things. Whatever it may be, you have to be and stay current. Speaking directly to employees about this is a good idea, and managers should make notes of these during meetings.
Empathize

Whatever your employees experience in their tenure, you, too, have gone through some of them, if not all. Bank on these experiences to improve the employee experience, and make changes that you think would make the employee experience better. Talk to employees directly, ask for their honest opinion, and let them know about the positive changes they can bring about. They will be more than happy to share.
LEARN ABOUT: Employee Wellness
Impact of Improving employee experience on customer experience
Customer experience dominates 80% of the world's businesses. Businesses prioritize customer experiences solely to increase their return on investment. Furthermore, they ignore issues in the workplace and do not do enough to ensure employee satisfaction.
LEARN ABOUT: Workplace Employee Experience Examples
People who care about their employees care about their customers. The best customer service will not be possible until employees' experiences are improved. A bad employee's job has an impact on his customer—this primarily causes business outcomes in revenue loss.
LEARN ABOUT: Employee Care
Employees with a positive work experience are more likely to provide excellent customer service, leading to satisfied customers and increased customer loyalty.
Here are some examples of how employee experience can influence customer experience:
Employee Engagement

Employees who are engaged are more likely to be dedicated to their work, and those employees feel responsible for their duties. They are driven to give customers outstanding service, which may lead to customer satisfaction.
Training and Development

When given a chance for training and development, employees improve their abilities and self-assurance in their jobs. As a result, customers may have a better overall experience since employees are better prepared to respond to questions and address problems.
Company Culture and Environment

A supportive physical work environment can foster employees' sense of belonging and community. Employees have a greater willingness to offer customers quality service when employees feel valued and supported.
Empowerment

Employees that are empowered have the freedom to decide for themselves and find solutions to issues. A more personalized customer experience and quicker resolution times may arise from this.
Communication

Good communication is essential for a satisfying customer experience between employees and customers. Employees are better equipped to serve customers and develop closer bonds with them when they have a pleasant experience speaking with them.
Employee experience measurement
Employee experience measurement involves gathering and evaluating data to understand employee experiences. It gathers feedback on company culture, engagement, communication, training & development, and overall satisfaction.
For example, an employee engagement survey template is a simple but accurate way to measure employee engagement. The following are some common techniques for measuring employee experience:
Employee surveys

Employee feedback is frequently gathered through surveys. It is possible to conduct surveys in an anonymous manner to promote honest responses. Aspects of the employee experience that might be covered through questions include job satisfaction, company culture, communication, and training and development.
Focus Groups

Focus groups involve bringing together a small group of workers to discuss particular issues about the employee experience. This approach enables more in-depth discussions and can offer insightful information about the experiences of employees.
One-on-One Interviews

Individual discussions with employees are conducted during one-on-one interviews to get their opinions on their experiences. This technique enables more individualized input and can reveal details about particular problems or potential areas for development.
Exit Interviews

Exit interviews are conducted with employees who are leaving the company. This approach might reveal why employees quit and highlight organizational chart improvement opportunities.
Performance Metrics

Employee experience can be obtained from key performance indicators, including absenteeism, productivity, and employee turnover rate. For instance, a high turnover rate may be a sign of problems with the employee experience.
QuestionPro Workforce to improving employee experience
QuestionPro Workforce is a platform that helps businesses measure and improve the employee experience. Here are some steps that can be taken to improve the employee experience by utilizing the platform:
Conduct Employee Surveys

Create and deliver employee surveys using QuestionPro Workforce to get input on a variety of areas of the employee experience, including company culture, communication, and training and development. To design surveys that are tailored to your unique requirements, the platform provides a variety of survey templates and customization possibilities.
Analyze Survey Results

Use the reporting and analytics tools on the platform to analyze survey findings and pinpoint areas for development. The platform provides a variety of graphs, charts, and visuals to aid in your understanding of the data.
Take Action to improve the employee experience

Implement changes to the employee experience based on the insights you learned from the survey findings. For instance, if survey results show that employees need support in their positions, take action to offer more possibilities for training and development.
Monitor Progress

Make use of the platform to stay updated on your progress over time and the effects of any adjustments you make. Using the platform's reporting capabilities, you can compare survey results over time to evaluate how the employee experience has changed.
Engage Employees

Use the platform's engagement options to keep employees informed and involved in the process of enhancing the employee experience. For instance, use the platform to discuss survey results and the actions being done to improve the employee experience.
Improving employee experience is critical for businesses looking to attract and retain top talent, boost productivity, and foster a positive workplace culture. Organizations can gather valuable feedback from employees, identify areas for improvement, and take action to create a positive employee experience by utilizing platforms such as QuestionPro Workforce.
Businesses must focus on improving employee experience by creating a work environment that fosters engagement, motivation, and productivity to achieve long-term success. Employees with a positive work experience are more likely to provide excellent customer service, leading to satisfied customers and increased customer loyalty.
Book a demo today to learn more about how QuestionPro Workforce can benefit your organization.