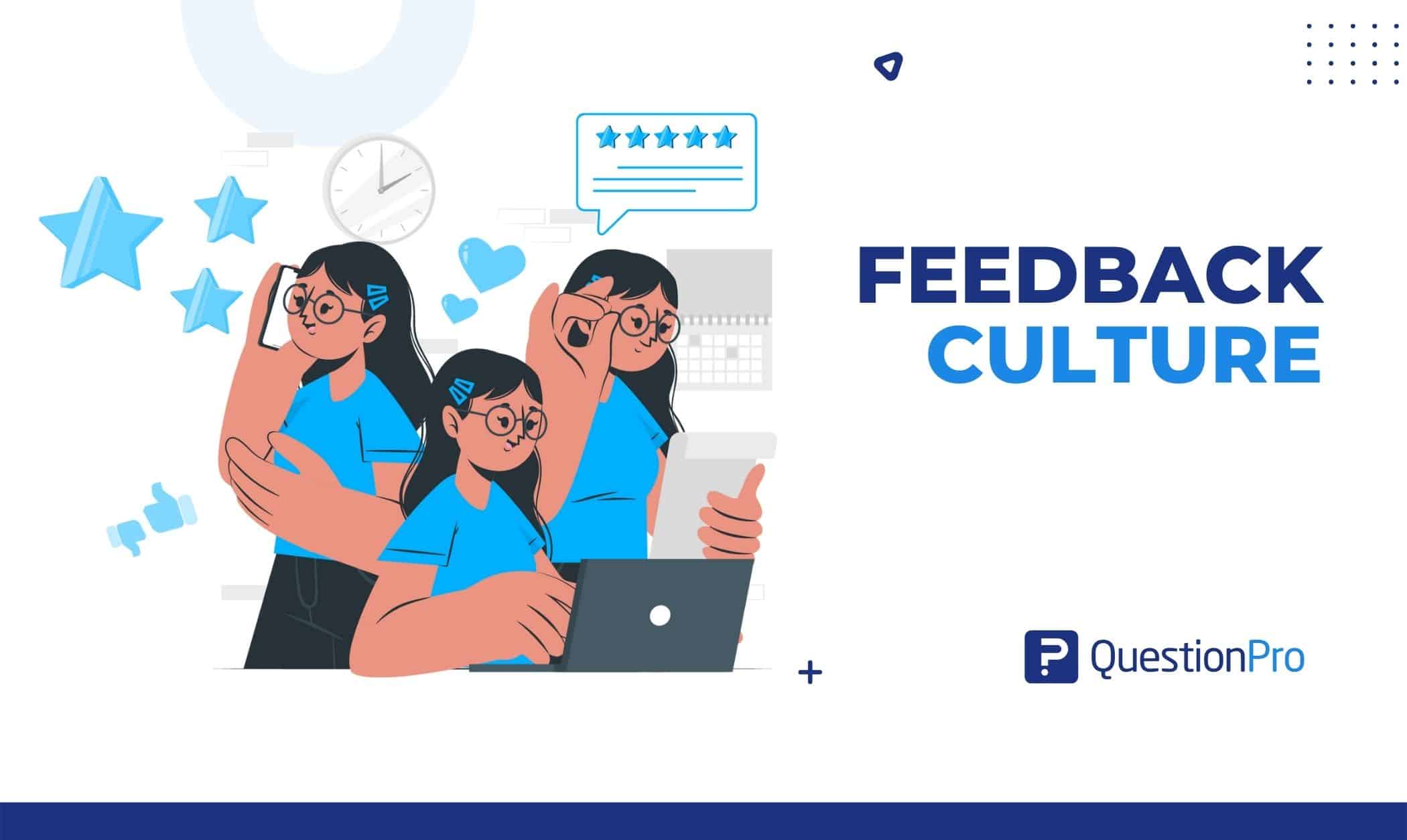 Any successful workplace must include feedback as a critical element. It provides both managers and staff with the chance to continue learning. Each team member's ability to provide input is increased so that everyone feels comfortable and is encouraged to do so. Let's talk about feedback culture.
Consistency, initiative, time, and the appropriate mindset are necessary to create a positive feedback culture. Building a solid feedback foundation is crucial to improve corporate communication, increasing productivity overall, and decreasing attrition while enhancing employee engagement.
In this blog, we will explain feedback culture and 10 techniques for developing a feedback culture in the workplace.
What is feedback culture?
A feedback culture in workplace is one in which management and employees regularly exchange continuous feedback and respond to it by taking appropriate action. 
Everyone should be subject to the feedback culture, whether they are managers or entry-level employees.A feedback culture is a workplace that heavily focuses on candid and open communication among leaders, managers, and employees.
Positive, negative, constructive, etc., feedback is included in this culture. Here, everyone in the company, from the newest hires to the top executives, can give and get feedback.
A growth attitude is developed in the workplace by regularly sharing candid comments. It motivates workers to advance their knowledge, grow, and look for new challenges.
A positive feedback culture is crucial for the following reasons as well:
Creates a positive work environment

Improves employee communication skills

Essential performance data and business insights are provided.

Provides possibilities for professional growth

Improves employee engagement
10 Techniques for Developing a Feedback Culture at Work
Building a solid feedback culture at work takes time and commitment, but the results are worthwhile. Prioritize ongoing feedback conversations with your team as a leader to demonstrate your concern for the individuals doing the task. It indicates that they are valued by the boss and team members.
Although there are no shortcuts to changing business culture, following these tips can help the process go more smoothly.
Give consistent, constructive feedback
Giving honest and trustworthy feedback is necessary to kick off the process. Even though there are areas that need improvement, if you can provide direct feedback that does not make the other person feel bad, you are well on your way to creating a culture that values input.
Consistent, targeted feedback is essential to the employee growth of a supportive feedback culture. Try to give coworkers and colleagues feedback more frequently as well. 
For example, instead of the customary "annual performance review," think of project-based feedback meetings instead.
Develop A Growth-Oriented Mindset
If an individual has a growth mentality, they are much more likely to accept feedback well, whether favorable or focused on areas where an employee may develop.
This is because having a growth mindset enables employees to recognize their areas of professional and personal success and their areas for improvement.
A growth-minded employee knows there's always space for development and that they're on the right track as long as they endeavor to do so.
Teach staff members how to provide and receive feedback
Employees frequently provide feedback in various methods, which is one difficulty with feedback.
One project manager might, for instance, concentrate on providing only positive feedback and avoid making any unfavorable remarks. 
However, a different project manager might concentrate nearly entirely on areas where staff members can improve.
Because staff members are unsure what to anticipate from their supervisors or one another, this separation breeds a sense of fear and dread about criticism. Because of this, it's crucial to teach staff members how to provide and accept feedback. Communication is a lot simpler if everyone is on the same page.
Initially, work your way down.
Every change always begins at the top. Your C-suite executives, vice presidents, and key managers must be serious about promoting change if you genuinely desire a positive feedback culture. Up and down the organizational hierarchy, they should provide feedback and solicit it from one another.
As workers become aware of this, they will feel more at ease providing feedback to their managers and coworkers, fostering an environment at work that is open and honest.
Encourage employees to be honest, so they feel safe.
Employees must believe they can be honest for a feedback culture to succeed. Additionally, your feedback culture is flawed if workers think they may face the consequences for offering their sincere ideas.
Encourage a "feedback-safe" environment and encourage employees to be open and honest about their emotions. Remind them that providing you or your coworkers with frank comments won't have any adverse effects.
Additionally, you should be aware that everyone has a varied level of emotional intelligence and that some people will be more (or less) at ease providing feedback. Respect these folks and avoid pressuring them to provide comments.
Set up reasonable, clear guidelines for feedback and abide by them.
The process can be standardized and more pleasant for staff members by establishing feedback criteria. Consider outlining the following:
Who offers each person feedback?

When should you provide feedback?

How can we offer criticism? There is a formal procedure, right?

What do the feedback sessions' objectives each time?



Put your words into action.
Practice always makes perfect. Only by working hard every day can a feedback culture be developed. Thus, your efforts will be ineffective until you "practice what you preach" and endeavor to make a positive feedback culture a reality.
Include feedback in meetings, daily activities, and other areas. Consult with your staff to learn ways to improve the flow of feedback and how they feel it should be incorporated into everyday tasks.
Yes, asking for employee input is the greatest method to create a feedback culture. Though paradoxical, this is the case.
Use a variety of feedback channels
Employees should be able to provide feedback to one another in more than one formal system. People have diverse communication preferences; for instance, one employee could feel comfortable providing feedback in person, but another would prefer to do so online.
Combining online and in-person input is best to get the most accurate results. Online feedback gives the recipient time to consider the context. If you deliver it face-to-face later, you can go into further detail.
Maintaining variety and diversity enables individuals to discover their "voice" and determine their desired feedback format.
Balance feedback is beneficial, but don't be negative
Not all feedbacks are "sunshine and rainbows." Employees are flawed and will only be able to progress if they recognize their mistakes or blunders. You'll need to offer some constructive criticism and corrective feedback at some point.
However, this does not imply that you should be unkind or harsh in your corrections. When providing corrective feedback, start by highlighting the positive actions that an employee or colleague is taking.
Draw attention to their successes, then discuss what needs improvement.
Positive thinking is crucial. Your entire feedback culture collapses when staff members feel uncomfortable giving and accepting feedback. Make careful to point out areas for improvement, but be gentle with your comments.
Show how feedback was used to make decisions
The feedback that doesn't affect company decisions appears meaningless and useless, and that much is true. Therefore, you should inform them if you decide based on their input.
Don't only concentrate on explaining the modification, also explain why you made it in light of their comments. They feel that what they have to say counts because of this, which encourages further employee feedback.
You will only be able to develop a positive feedback culture if you bother explaining why you make business changes or, worse, if you make adjustments based on feedback.  People will give up on giving you feedback if they feel neglected or their efforts are wasted.
Conclusion
It's important to remember that developing a feedback culture calls for more than occasional staff surveys and quarterly performance assessments. You must include it in everything you do and test various techniques for providing and receiving feedback to see which works best for you.
Your workplace will be more fun, satisfying, and productive if it has a healthy feedback culture. Building a great company takes complex (and sometimes dull) work, like making the processes and dealing with the inevitable problems that come up along the way.
You can get more feedback with QuestionPro Workforce on how to meet employee expectations and get started taking action to impact your company positively.