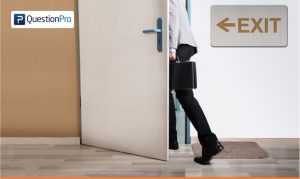 What is an exit interview?
An exit interview is a process to conduct a discussion between a representative from the Human Resource department and an employee that is exiting or quitting an organization voluntarily or is terminated.
Exit interviews are a well-defined process in corporate organizations and have become an integral part of the HR activity when employees decide to move out of an organization. The reason for conducting the interview is to gather useful feedback that can help guide future practices and improve recruiting and retention.
The interview is conducted in person, over the phone, emails and through sending a questionnaire to the employee to register their response. As a practice, an interactive method is usually implemented to conduct the exit interviews.
Exit interview questions
Exit interview questions may be different for different organizations, but these questions are most effective when they are a mixture of both open ended questions and closed ended questions. These questions invite the employees to express their opinions about the time they spent in the organization and helps the organization collect insights.
Even though organizations are expected to be well prepared for such interviews, at the same time the exit interviews shouldn't appear scripted. Therefore, it is very important to structure the exit interviews questions in such a manner that it doesn't evoke any legal hassles and is able to extract candid responses from the employees.
As much as it is important to ask the right exit interview questions, it is equally important what not to ask. It is in the best interest of the organization not to ask questions related to any personal issues or any other problems that the employee doesn't want to discuss.
If specifically, the employee brings it up, then address the issue but in cases like these make sure to discuss the privacy policy with the employee. There may be certain instances where the employee may bring the harassment issue to the table, make sure to address the concern but not encourage any negativity around it.  
Never feed into office gossip, don't say anything that can be construed as slander, don't get into personal issues, don't try to convince the employee to stay with your company, and always keep the conversation professional and work-related.
Free ready-made employee exit interview questions template
When to conduct an exit interview?
Some organization conduct the exit interviews immediately after the employee yields their resignation, but it is always a good practice to wait until the last few days of their employment. It is always advisable that the employee has a complete knowledge of the entire process and transparency is maintained in the process.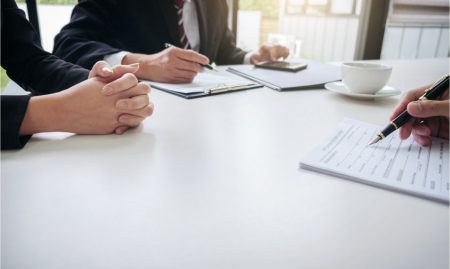 It is true that the organization would expect a candid response from the employee but if they are not walked through the process before the actual interview, the employee might feel overwhelmed about the entire process and not respond with utmost honesty. Therefore, organizations need to extensively plan such interviews to get maximum insights from the same.
Why should an organization conduct exit interviews?
1.The first and foremost reason for conducting such interview is to understand why an employee is leaving their position in a certain organization.
The reason may be different for different employees, some may feel they are not given enough responsibilities at work, some feel their work isn't recognized or rewarded or there may be some external issues that the organization may not be aware of.
2. Secondly, most of the employees usually are afraid of an honest feedback to the management.Employees who have decided to quit the organization have nothing to lose or fear. These are the employees who will give an honest feedback once they are ready to walk out of the organization.
Conducting an exit interview will help management to collect the right information of any dysfunctionality within the organization that they would usually not come to know through an existing employee.
3. Another very important reason why an organization needs to consider such interviews with sincerity is it helps to retain employees.
Employee retention is a plight! If organizations act promptly on the data gathered while conducting the exit interview then they would know "what not to do" at the workplace, to make sure attrition rate drops down and the employees are happy working for the organization.
As mentioned earlier exit interviews should be a communicative process.Therefore while planning these interviews, right exit interview questions are the key to obtaining the right feedback or data.