Having to let go of your employees is never easy. Some employees leave organizations in pursuit of greener pastures, while others may be let go by organizations on account of poor performance. Staff churn is of two types essentially – voluntary and involuntary. When employees leave on their own accord, it is considered voluntary. Involuntary churn is when employees are fired are let go for reasons such as performance, discipline, etc. Voluntary or involuntary, it is essential to note all organizations lose efforts, time, and money on employee exits.
9 Essential Exit Interview Survey Templates
1. Google Hire


Source: https://hire.google.com/
Hire, an AI recruiting app was made by Google to make the talent acquisition process simpler and quicker. Recruiters can sync with Google Calendar, Gmail, and other G Suite integrations to streamline administrative processes, interview and hire people quicker.
The reason this template works is because it contains very clearly mapped out aspects. This provides a clear understanding of the reason behind an employee's exit. This helps teams better prepare themselves and try and reduce employee exits.
2. Indeed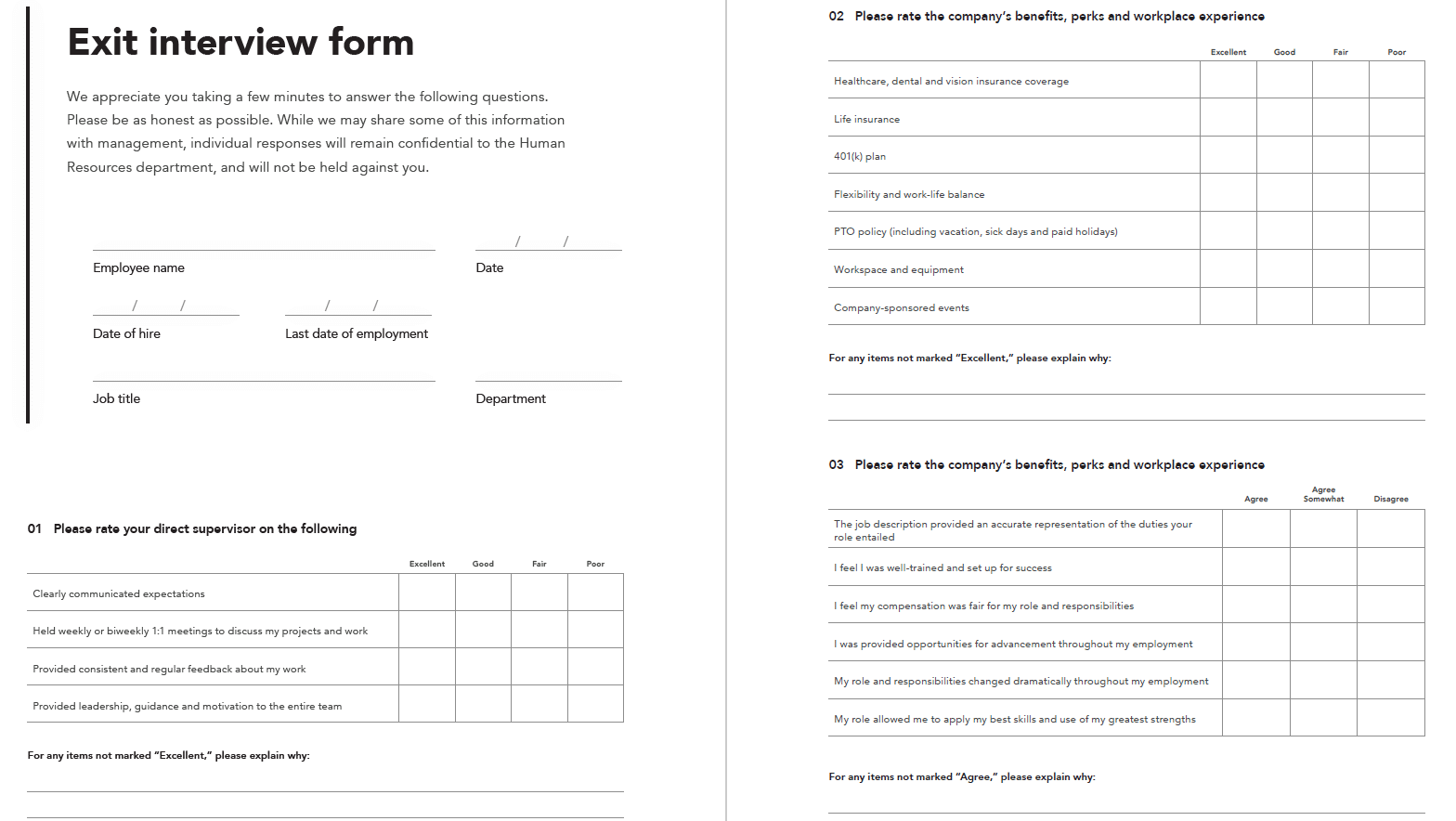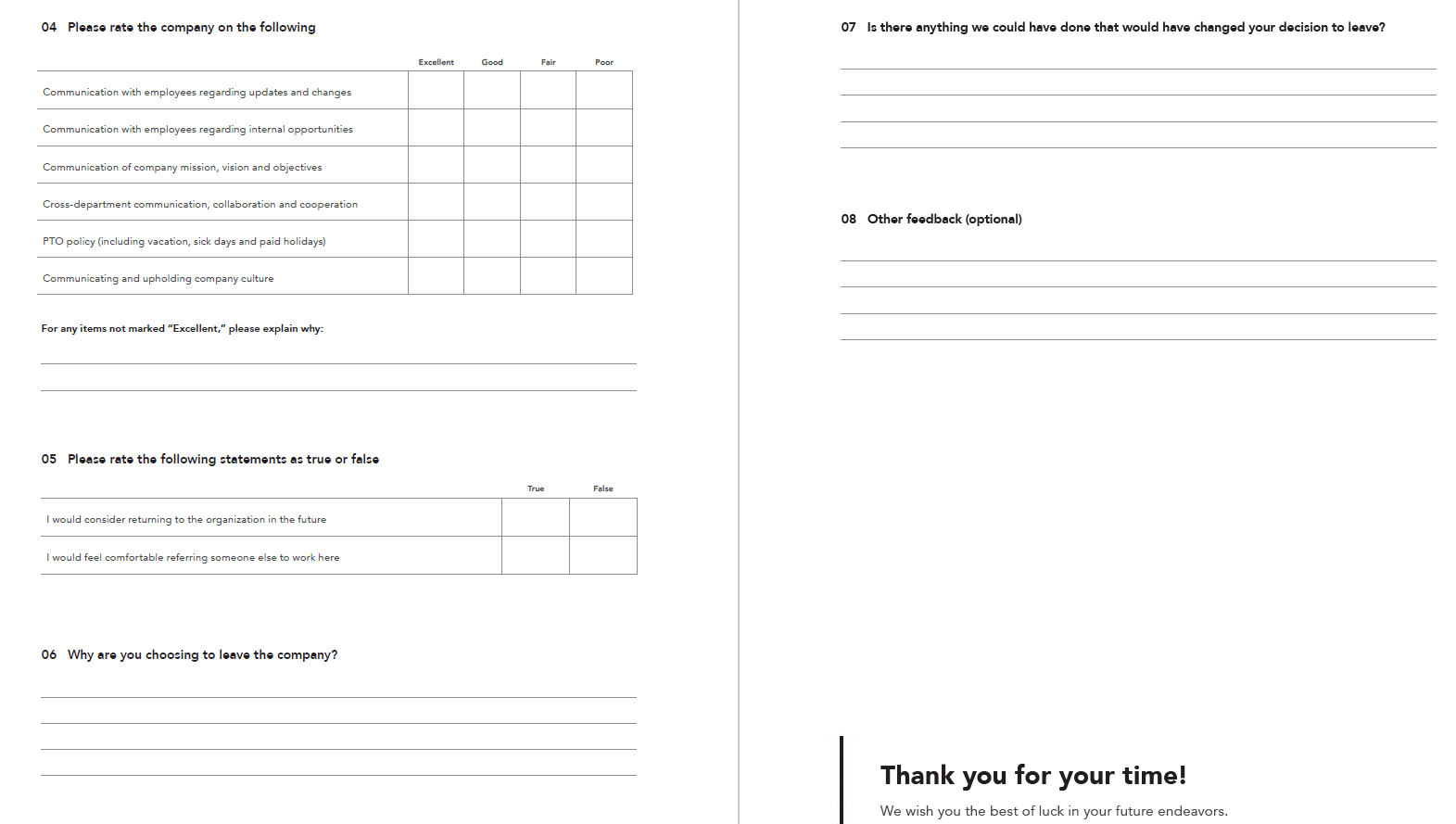 Source: https://www.indeed.com/
Indeed, launched in November 2004, is a global search engine for job listings. With offices around the globe, Indeed is co-headquartered in Stamford, Connecticut and Austin, Texas. It is a subsidiary of Japan's Recruit Co. Ltd.
The template stands out because it is extremely detailed and really gets to the bottom of why an employee would exit an organization. It takes into consideration, supervisor's role, organizational benefits, perks etc. It also has an open-ended question in the end for employees to put in any additional points they may have.
3. The Employers' Choice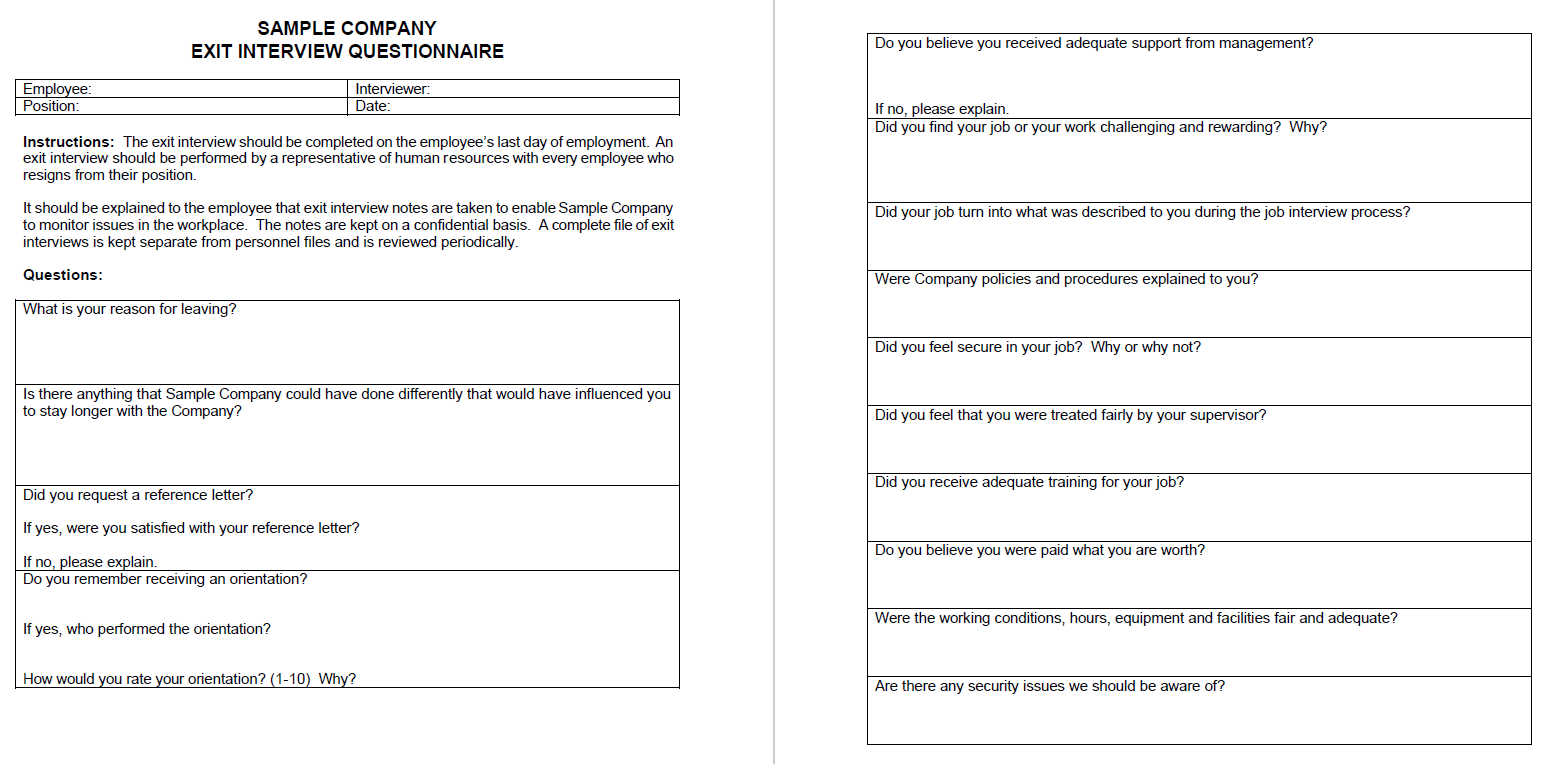 Source: http://www.theemployerschoice.com/
The Employers' Choice Inc. is a consulting firm for Human Resources (HR) that employs highly qualified and experienced HR professionals.
This template stands out due to their fine balance of open-ended and close-ended questions. A balance like this is crucial to find the root cause of a problem and how it can be fixed. It also considers all aspects of the employee lifecycle, i.e., onboarding, training, to the actual exit.
4. Vanderbilt University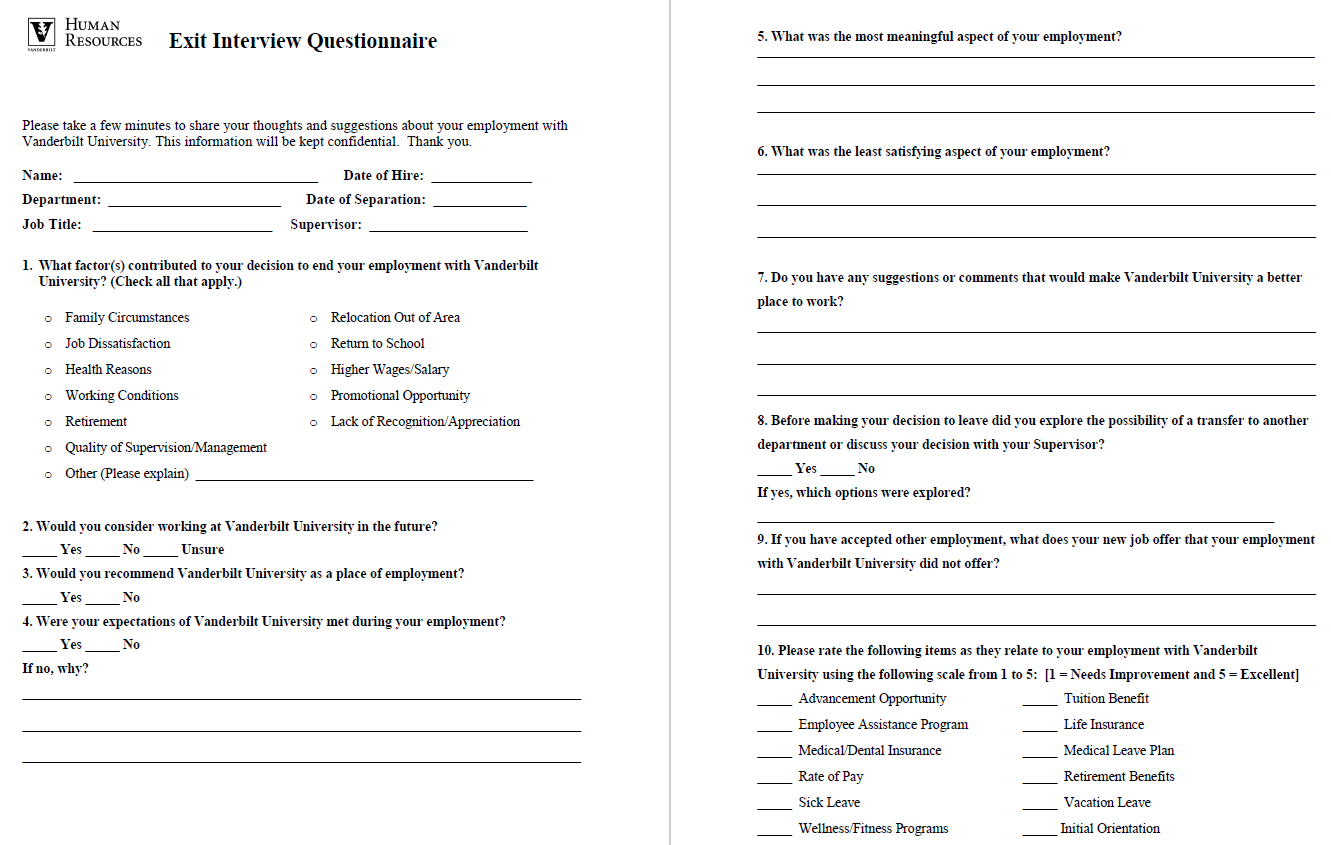 Source: https://hr.vanderbilt.edu/
Vanderbilt University is located in Nashville, Tennessee. It is a private research university and offers a wide range of undergraduate, graduate and professional degrees.
Their exit interview template has a considerable amount of open-ended questions. These are especially effective since employees can be clear about what they felt, what their concerns were, and how these could have been either avoided or fixed. Organizations can run a keyword analysis on the open-ended texts to highlight key concerns.
5. University of Pennsylvania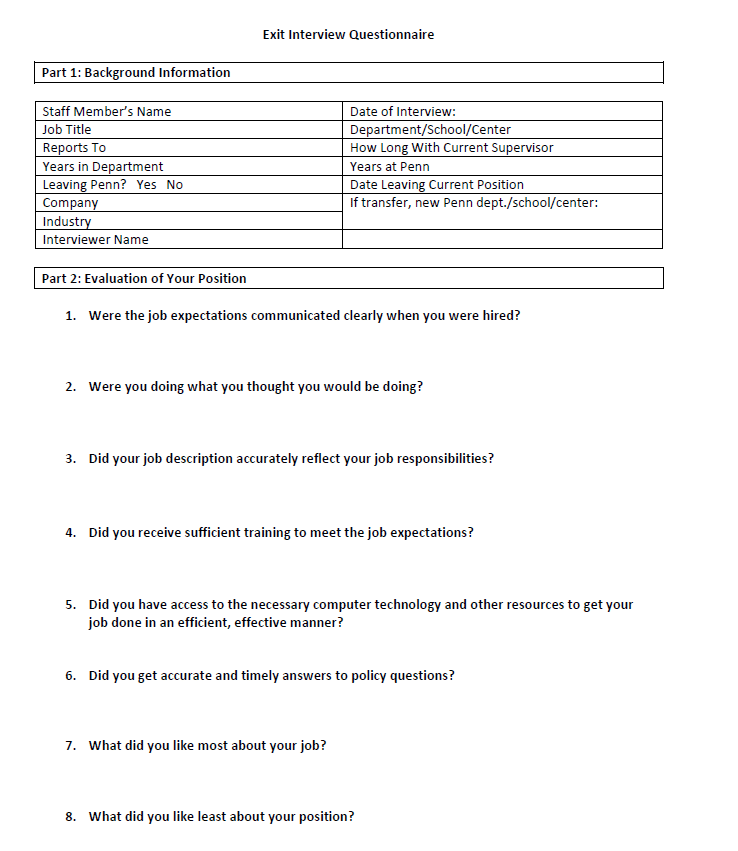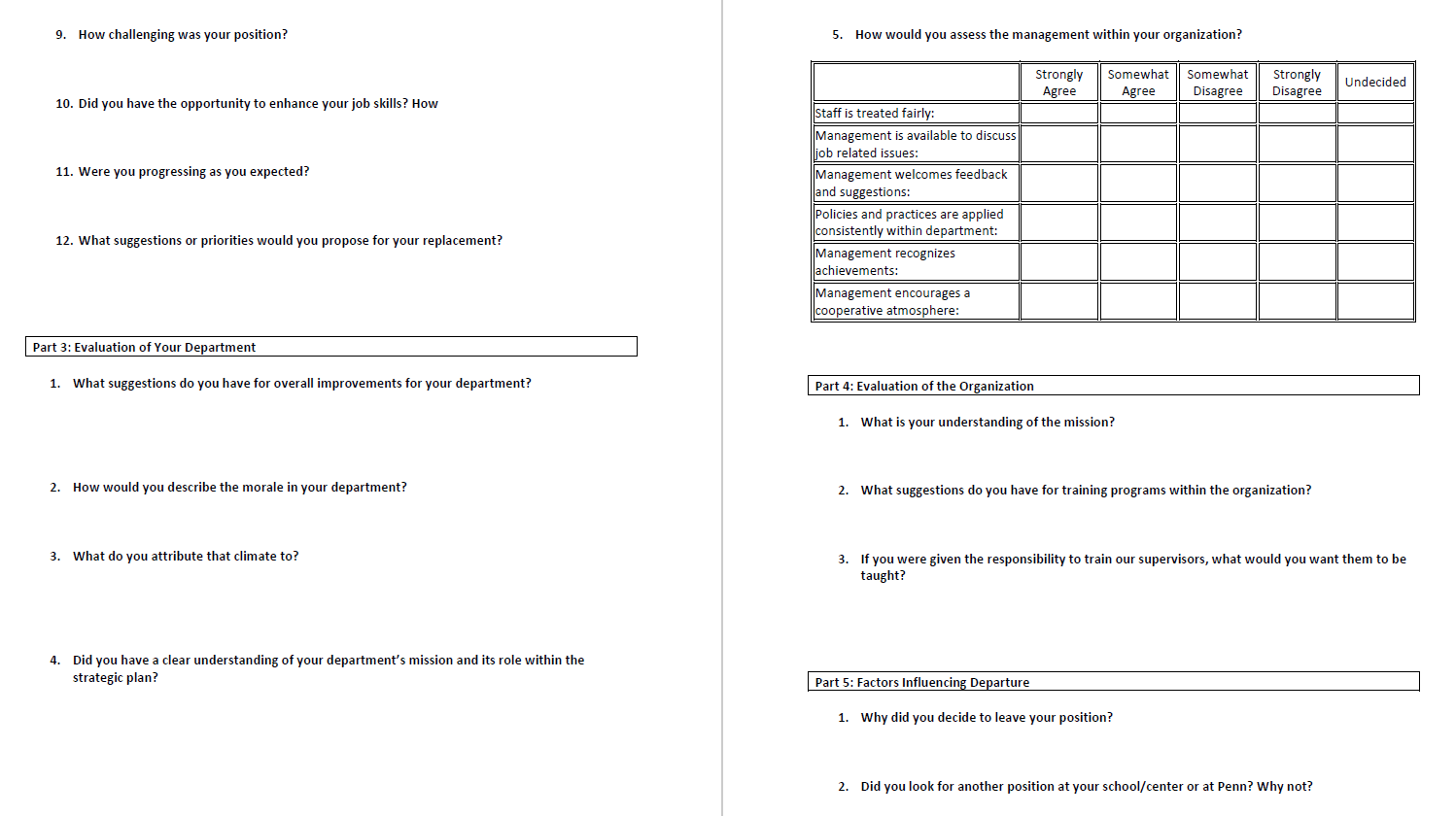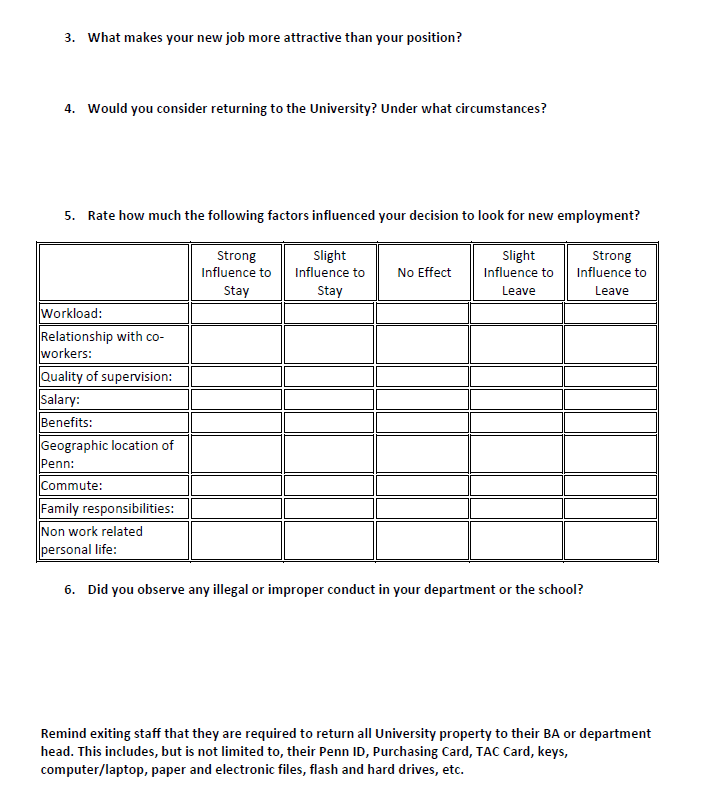 Source: https://www.hr.upenn.edu/
The University of Pennsylvania, also known as UPenn is a private Ivy League research university situated in Philadelphia, Pennsylvania. The university has 4 undergraduate schools and 12 graduate and professional schools.
The template is very effective; it has a lot of question types. There are rating questions, open-ended, and close-ended questions. The template also has sections, which are very handy when it comes to isolating or uncovering problems.
6. Roger Williams University


Source: https://www.rwu.edu/
Roger Williams University, located in Bristol, Rhode Island, and founded in 1956, is a private liberal arts university. It is named after Roger Williams, theologian, and Rhode Island cofounder. The university has an academic staff of over 480 and enrolls over 5,000 students.
This template is effective on account of its fine balance of close-ended and open-ended questions. This balance plays a pivotal role in finding problem areas and coming up with solutions to fix future occurrences.
7. Lead Quizzes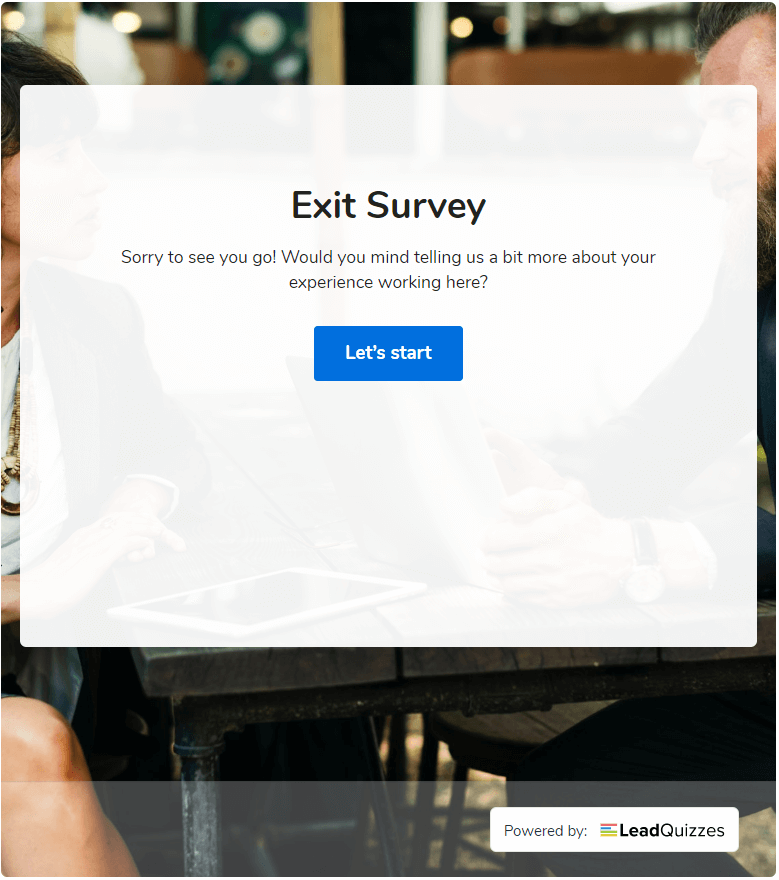 Source: https://www.leadquizzes.com/
LeadQuizzes lets marketing professionals create quizzes, hire questionnaires, and surveys to increase their lead flow and learn more about their audience.
The friendly tone at the beginning of the template sets the mood. Many organizations fail to make or sustain that connection. Employees can always come back to the organization, and not every ex-employee left because something was wrong. It is best not to be upset and assume the worst.
8. California Institute of Technology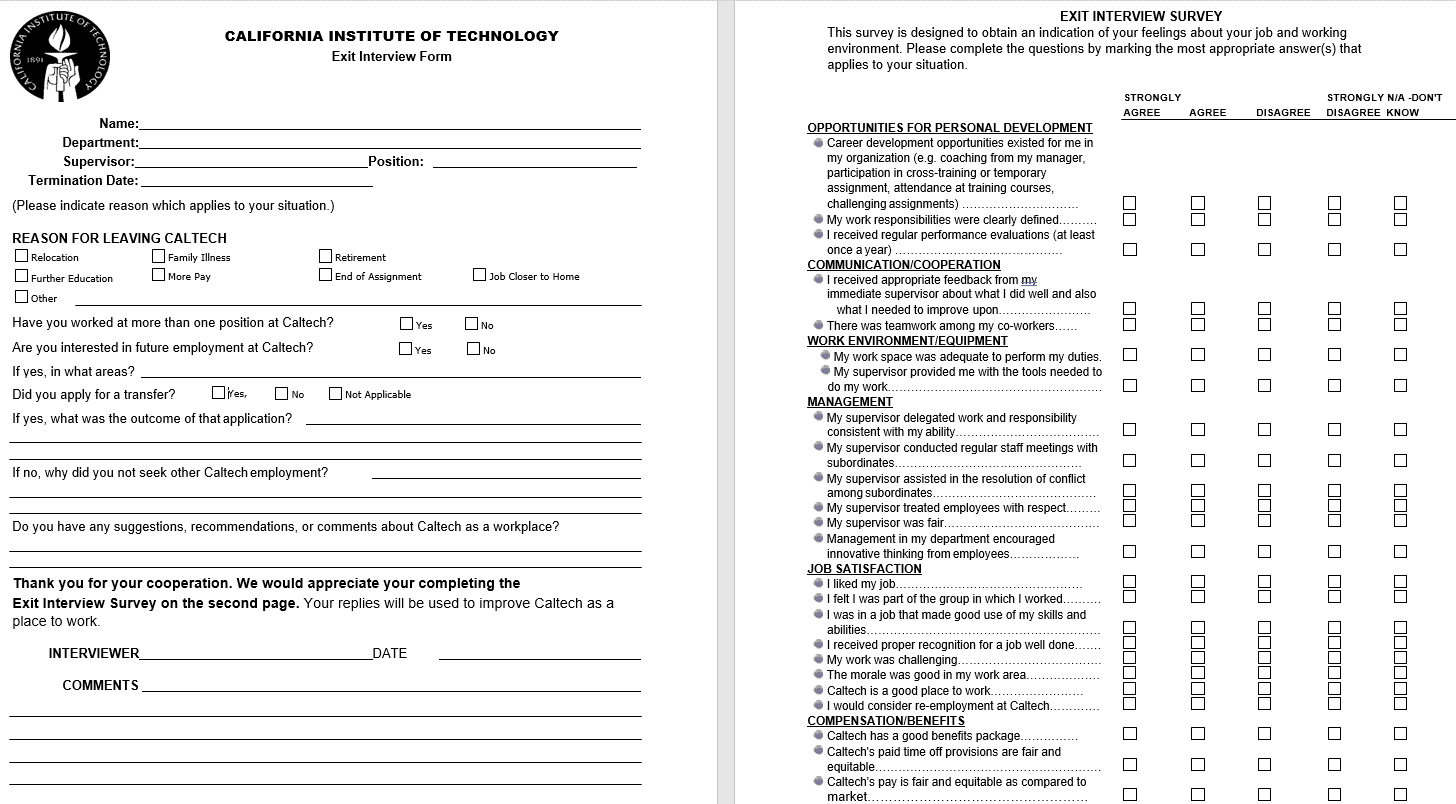 Source: https://www.caltech.edu/
The California Institute of Technology, which is also known as Caltech, was founded by Amos G. Throop in 1891. It is a private research university in Pasadena, California.
The survey follows an intensive rating set of questions that are designed, keeping in mind various aspects of the job role such as job satisfaction, compensation, and benefits, work environment, personal development, etc.
9. The University of Limerick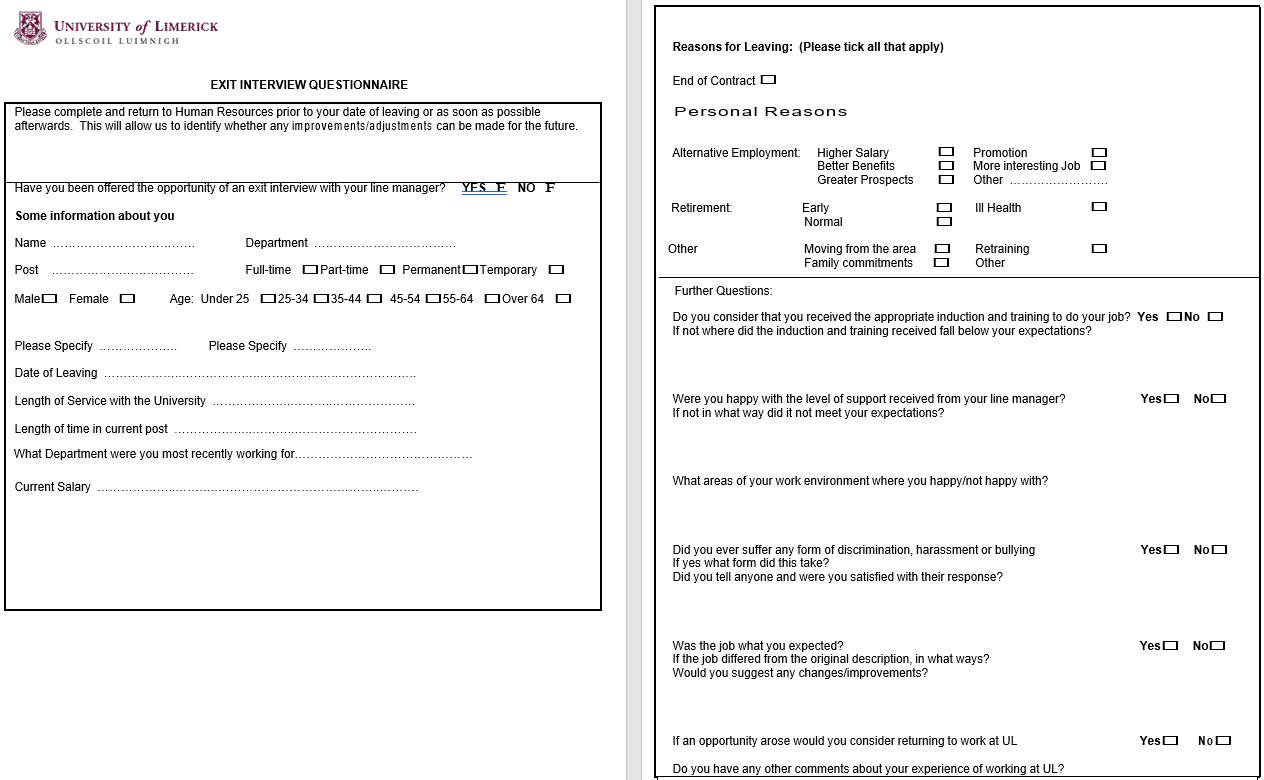 Source: https://www.ul.ie/
The University of Limerick (UL) is situated on the west coast of Ireland has state-of-the-art teaching and research facilities. The university has been awarded prestigious 5-star rankings by QS Stars independent assessors. The rankings were for innovation and knowledge transfer, graduate employability, teaching, internationalization, and infrastructure.
The exit interview template used by them is very concise and clearly enquires about the reasons for leaving. It also seeks info about the job role and satisfaction, key elements for reducing attrition.
It is believed over 50% of all global organizations face difficulty retaining their highly-valued employees.
This brings us to the big question:
How do we contain staff attrition?
Containing staff attrition is quite important for organizations. It's easier said than done, but here are some tips to limit your employee attrition.
Hire wisely
Organizations hire for skill sets, overlooking the most important aspect that needs due consideration – whether the candidate is a good fit for the organization's culture or not. A combination of the two is a must, a strong skillset + right cultural fit. During recruitment, you can ask them organizational behavioral questions to gauge their reactions and understand their mindset. This will not only help in knowing the employee but also help in building an effective career path.
A recent survey of over 1,000 workers found out that 31% quit their job within the first six months of joining.
Recognize milestones and achievements
Your staff needs recognition and encouragement. Make sure you notice their efforts, hard work, and achievements and reward them when they go above and beyond their core responsibilities. Promote them for their good work, assign more responsibilities. This not only creates a positive impact on the employees' minds but also on the employees' experience.
A study suggests 70% of employees believe they'll need to quit their organization for advancing their careers.
Provide commensurate compensation
All employees desire to be compensated well, and that is one of the biggest reasons for job switches for most of them. While it is not possible to please and satisfy all employees, what organizations can do, however, is provide commensurate compensation. Make sure it meets industry standards and has incentives and rewards for excellent performers. Organizations tend to save money by offering packages that may not be competitive, but end up losing more money when an employee leaves and that void needs to be filled.
Studies suggest the cost of replacing a trained employee is upwards of 200% of their annual pay.
Provide benefits
Its imperative for organizations to offer employee perks and benefits that meet industry standards. Today's workforce has their own expectations when it comes to benefits and perks. Some of your employees may be traveling long distances to get to work, while some may be juggling a ton of responsibilities. You should be mindful of these and offer benefits such as work from home, flexible hours to make employees happy. Financial wellness and health benefits such as college loan management, dental care coverage, and health insurance plans, go a long way in arresting employee attrition in organizations.
Organizations with remote work facilities record 25% lesser staff turnover than organizations that do not.
We now understand some of the key reasons behind employee exits. This is crucial if organizations wish to contain the number of employee exits. Employees will still leave organizations to pursue other opportunities, and that's alright. You can, however, ask each of the departing employees their reason for leaving, and use that information to make incremental positive changes in your people processes.
Conducting exit interviews is an excellent way to get that information. Not all organizations do it, but we say it is a must.
Exit interview survey software and tool
Using QuestionPro Workforce to conduct exit interviews can be a good start. HR managers can use the survey tool and platform to conduct exit interviews, gather crucial employee data, and analyze it to make informed changes in the people processes. Key four uses or utilities of using an exit interview software or platform are as follows:
Saves time

: The tool comes with pre-set templates that you can send to your employees. You may modify the templates or create an entirely new one; both the options are quick. The platform is user-friendly and saves a lot of time.

Access control

: When conducting employee exit surveys, HR managers need to be mindful of privacy and anonymity. This means you may have to limit interview access for some people. These tools come with the settings and options to access to certain people, thereby ensuring privacy and security.

Insights

: Collecting information is only stage one. Gathering insights and using that information for positive changes in your HR processes is the next step. These tools provide trend analysis, sentiment analysis, etc. to go deep into finding the root causes of issues.

Customization: Exit interview portals can be customized to match your organization's branding, which lends credibility and improves the response rate of your interviews.
Why should organizations conduct exit interviews?
Meeting with employees is always a good idea, even if they have decided to move on. It's all the more opportunity to know the reason and get to the bottom of it. Here are some reasons and benefits for conducting exit interviews.
Information to make changes
Employees during their exit interviews provide candid feedback. This may bring to the fore issues that you might not be aware of. You can use this information to better your employee processes and make an effort to reduce at least one element that contributed to the employee's exit.
Many organizations have certain clauses and riders in employee contracts such as a non-compete clause. It is always better to discuss obligations, dos and don'ts with the employee during their exit interviews; this helps reduce ambiguity and liability for both parties. You can also go over important aspects such as data storage, sharing, and security.
Employees may give information or pointers that their seniors may not be privy to. You can always take these to the managers; this will help in addressing concerns or bridging any necessary gaps. This can prevent further exits from a specific team or department.
Employees may leave due to bad managers or conflicts with seniors, peers, or subordinates. An exit interview can bring to the fore these issues or fights, inciting a blame game and disrupting the peace. The interview can be a good avenue to resolve such issues and make sure the employee leaves on a positive note.
Even if your staff members leave, if they love the organization and the people, they can always refer their friends and family to the organization. Use the interview as an opportunity to get references and add a hiring channel. Many employees who have quit return to their former workplaces after some months or years.
Why use an exit interview platform or software?
Online employee survey tools such as QuestionPro Workforce help HR managers connect effectively with the employees. This helps them gain information which they would otherwise not have or receive. Online survey platforms are being embraced by organizations globally to conduct workplace culture and employee experience surveys. Some of the benefits that online survey software offer are as below:
The platform or software is extremely user-friendly, requires little to no training to start conducting surveys. It comes with an existing set of human resource templates; you can use these and start conducting your studies. This ensures that you send surveys from day one of using the tool.
Constant updates and customization
Organizations prefer using online survey tools as they come with a host of features and new features are frequently added. Not only that, but many of these tools can also be customized to meet the specific needs and requirements of organizations. You can customize your employee portal to reflect your brand themes and colors.
These software are equipped with robust analytics that let you track and measure your organization's exit trends. You can use the tool to also track elements such as staff productivity, workforce engagement, employee morale, etc.
It goes without saying that you need data to evaluate and improve your people processes. Conducting surveys helps gather that data and act on it to make informed decisions.