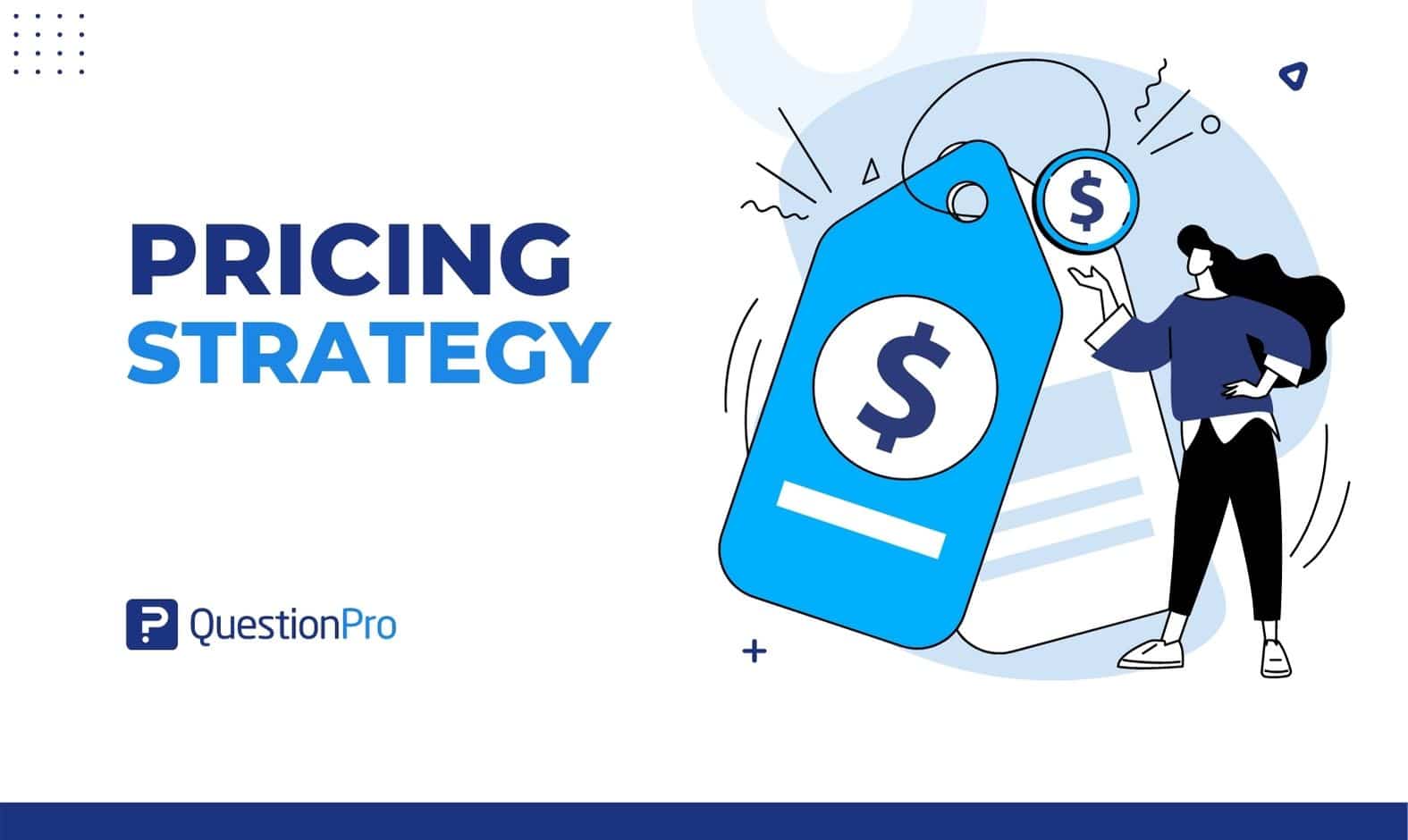 The price you set for your product or service, no matter what it is, can make or break your company's financial goals. Of course, you won't find the right price in a day. You need a well-thought-out pricing strategy if you want customers to buy your products but don't want to give up a significant profit margin.
You will need to determine exactly how much your profit margin should be. Some companies make millions by charging just a few dollars, while others may do well by charging a lot more than they should. In the end, people will only buy products or services whose prices match how much they think they are worth.
With the right pricing strategy, you'll be able to consider everything that affects a customer's buying decision. This blog will discuss pricing strategy and its types with examples.
What is a pricing strategy?
A pricing strategy is a way to determine the best price for your product or service using an analytical model.
It is how a business owner decides how much to charge for a product or service. Most of the time, you'll need to do some math, do market research, or talk to customers before implementing a good plan.
Of course, only some strategies for setting prices are complete. You already have a pricing strategy if you use a consistent method to set your prices. Some business owners like to keep things simple using set markups or manufacturer-suggested retail prices (MSRPs). 
But if you make a plan that considers market conditions and other things that affect how people act, you'll be able to beat your competitors in your industry.
7 types of pricing strategy that you should know
Different pricing strategies can help your business grow, make more sales, and make as much money as possible. Here are some common types of pricing strategies to think about as part of your overall marketing plan:
Skimming pricing
A price skimming strategy is used by businesses that charge the most for new products and then slowly lower the price over time. In this pricing strategy, prices go down as products end their useful life and become less important. Price skimming is usually done by businesses that sell high-tech or unusual items.
Example
A store that sells home entertainment starts selling the newest, most advanced TV for a price much higher than the market price. Then, as the year goes on and more products come out, prices slowly go down.
Pros: You can increase new product sales and recover production expenses.
Cons: Customers may get upset if they buy a higher price and then see the price slowly decrease.
Penetration pricing
When a business enters a new market, it's hard to get market share immediately, but penetration pricing can help. The penetration pricing strategy is to set prices much lower than competitors' prices to get initial sales. These low prices can bring in new customers and steal sales from competitors.
This plan is meant to get sales going but will only help you grow quickly. At first, you'll probably lose money in exchange for more sales and a better name. When you raise pricing to match the market, expect some customers to leave as they hunt for the cheapest choice.
Example
A new cafe in town sells 30% cheaper coffee than other cafes. They also focus on good customer service and have a loyalty program that gives away every tenth coffee for free. When client demand rises, the cafe gradually raises the coffee price. This gives customers a chance to establish a taste for the coffee and other items while enjoying exceptional service.
Pros: It's much easier to get into a low market than an average price, and you can get new customers quickly.
Cons: It won't work in the long run, so it should only be used for short-term pricing.
Competitive pricing
The competitive pricing strategy has you set the price of your products or services at the current market rate. You can price your products above or below the market rate as long as it's competitive. All other products establish your pricing in your market, which helps you stay competitive if your industry is crowded.
With the rise of online shopping, it's now easy to compare prices before making a purchase, which 96% of people do. This gives you a chance to win over customers by charging a little less than the average price on the market.
Example
A landscaper compares pricing with local competitors. To attract price-sensitive consumers, it prices its most popular service, lawn maintenance, below the market average.
Pros: You can maintain market share in a competitive market by offering slightly lower prices.
Cons: You need to keep a close eye on average market prices to keep a competitive edge with customers who care about prices.
Premium pricing
Premium pricing is when prices are set higher than the rest of the market to create a sense of value, quality, or luxury. If your company has a good reputation and a loyal customer base, you can often charge a higher price for your high-quality, branded products.
This pricing strategy works especially well if your target audience is made up of early adopters who like to be the first to try new things. Companies that sell luxury, high-tech, or exclusive products, especially in the fashion or tech industries, often use a premium pricing strategy.
Example
A restaurant gains trust in its market through word-of-mouth or online reviews, which charges 50% more than its competitors for the same services.
Pros: Profit margins are higher because you can charge much more than your production costs.
Cons: This pricing strategy only works if customers think your product is high-quality.
Loss leader pricing
Loss leader pricing gets people into your store to buy a very cheap product. While they're there, they might buy other full-price items they didn't plan to, which should more than makeup for the loss of the original product.
Example
On Sundays, a grocery store sells bread for a very low price, which draws people who may do all their weekly shopping.
Pros: This pricing strategy attracts customers who might not otherwise go to your store and exposes them to your entire line of products.
Cons: Some customers will only buy the product that costs you money, which could be many of them. It means you need to keep an eye on your profit and stock levels.
Psychological pricing
Psychological pricing strategies play on how people think by making small changes to a product's price, placement, or packaging. Offer a buy-two-get-one deal or set the price at $49.99 instead of $50. Well, it's cheaper than $50. Some stores have one-day sales or sales that only last for a certain amount of time to get customers in quickly.
Almost any business can use this method, but stores and restaurants use it the most because it makes people think they are getting a deal.
Example
A restaurant sets the price of a set meal at $14.95 to get people to buy it for what they think is lower than $15.
Pros: By making small changes to your sales methods, you can sell more products without losing money.
Cons: Some customers may see it as a trick, which could hurt your reputation or cause you to lose sales.
Freemium pricing
Freemium pricing gives customers a free version of a primary product or service, then encourages them to pay for a premium version with more features or options. Customers can see what the product or service can do for them and learn more about your business.
It is a common strategy for software companies and organizations with memberships.
Example
A software company gives away basic virus protection for free, with the option to upgrade to higher levels of online security.
Pros: You're getting people to trust you and teaching them about your product. You also get their contact information so you can use email marketing to stay in touch.
Cons: You don't immediately profit from every customer, and many people might decide not to upgrade.
LEARN ABOUT: Pricing Research
Conclusion
We discussed pricing strategy and its types in our above discussion. There are many different pricing strategies, and it's important to find the right one for your business. Start by making a list of your business goals. Then choose the pricing method to help you reach your goals:
Make the most money.

Get a more significant market share.

Sell all your stock.

Combine these.
Once you have your pricing strategy, you can focus on how to grow your business even more.
QuestionPro CX helps you manage customer feedback. It lets you find and look at the essential data and insights. With QuestionPro CX, you'll find out what your customers think about your prices.
So, reach out to us! We are eager to help you create a better pricing strategy for your customers and your business by giving you feedback from your customers.