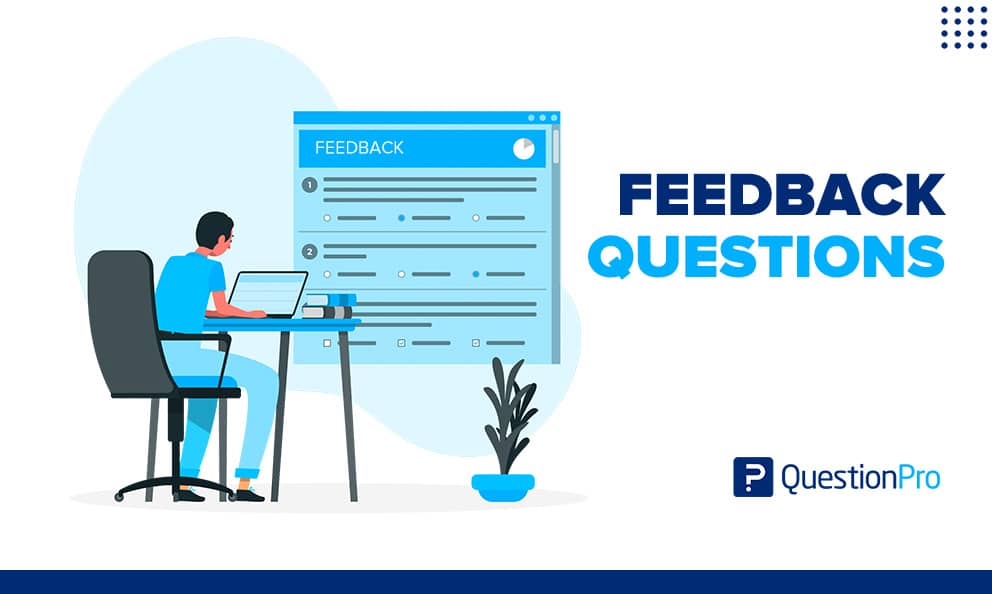 Customer surveys can help businesses to identify how customers are feeling about their products and services. It also helps to improve customer service in an organization. In your survey, you must ask the necessary customer feedback questions. Asking the correct questions in the right way will help you get the most out of your customer feedback surveys.
LEARN ABOUT: Testimonial Questions
Feedback questions for your satisfaction survey are used to better understand the organization's situation. This list of 27 feedback questions is appropriate for your company. To obtain responses, take a survey.
LEARN ABOUT: Survey Mistakes And How to Avoid
The top 27 feedback questions
The top 27 most essential customer feedback questions to include in your satisfaction survey are listed below. These questions will provide you with vital information on the most important aspects of your business.
General Satisfaction Questionnaire
What attracted your interest in us?

What part of your experience did you find the most enjoyable?

How would you rank our company's overall satisfaction?
LEARN ABOUT: Structured Questionnaire
Feedback Questionnaire to Enhance Customer Service
Did you find our employees to be kind and helpful?

What can we do to improve your experience?

How would you describe your overall experience with this individual?

Is your problem being resolved as soon as possible?

Is there anything you didn't get that you expected?
Feedback Questions to Display Your Abilities
Have you visited or utilized our website before?

Was the website simple to navigate?

How would you rank your web portal experience with us?

What attracted you to the website of our company?

What features of our product or service do you enjoy the most?

What influence has our product/service had on you, your business, or your way of life?

What would you say about us to your friends or coworkers?

On a scale of one to ten, how confident are you that our business is acting in your best interests?
To Recognize the Needs of Your Clients
What problem or obstacle does our company solve for you?

How could we improve the efficacy of this solution for you?

Would you like to be notified when new goods or special deals become available?

Do you receive our company's email newsletter?

Do you read the blog of our company?
Improving the Marketing Message
What method did you use to locate us?

What made you want to give us a shot?

Do you use our product/service on a regular basis?
Understanding the Purchasing Experience
Were you able to identify the information you were looking for?

How difficult or easy was it for you to make your purchase?
To Keep in Touch
Would you be interested in taking part in this survey again?
Types of Feedback Questions
The various types of feedback question answers help you to determine their usefulness. Finding a balance between getting and processing responses quickly and receiving detailed information can be difficult. Here are some possible responses.
Dichotomous Question
A dichotomous question is one that has two alternative responses. Dichotomous questions are typically used in surveys that need Yes/No, True/False, Fair/Unfair, or Agree/Disagree responses. They are used to distinguish between different qualities, experiences, or respondent viewpoints. Customers are more likely to answer positively to this easy question, so you can ask it more frequently and in more places.
Open-ended feedback questions
This type of question does not have a straight answer like "yes" or "no". Open-ended questions are structured as a comment that needs a detailed reply. These can assist you to comprehend an interaction or a customer's opinion. Customers also choose to skip these responses because they require more attention to complete.
Multiple-choice questions
Multiple-choice questions typically feature multiple or single-select response possibilities. These are more precise questions than a yes or no. The responses are restricted to a specific list. This can provide you with greater detail while providing well-organized data.
Likert scale questions
This is one of the most common forms of survey questions. A Likert scale is a logical scale where respondents select the option that supports best their point of view. Respondents in a Likert scale survey do not select yes or no.
On a single survey question, there are specific options ranging from 'satisfied' to 'unsatisfied' or a numbered rating scale. This type of response can be made more obvious and enjoyable by using pictures, color coding, or emoticons.
Keep in mind these additional to create a good survey:
Place sensitive topics, such as religion or political affiliation, next to questions that are contextually relevant to them. This will help the participants comprehend why you're asking the question.

Make the first questions easy to answer, enjoyable, and engaging.

At the end of each question, add a question mark.

Make sure all of the questions are grammatically correct and free of errors.

Avoid using slang and instead utilize terms and concepts that everyone understands.
LEARN ABOUT: Product Survey Questions
Conclusion about Feedback Questions
You can use feedback questions to aid in the preparation of a survey. Important to know what you're searching for when you ask for feedback. Customize your questions to ensure a successful survey. Make sure you ask the right people the right questions and don't ask too soon. Prepare yourself to receive both positive and negative feedback.
Get started on creating your ideal survey right now. These 27 types of feedback questions can be used to create a survey for your satisfaction on the QuestionPro platform. Add in a variety of question types, and logic. Now is the time to try!