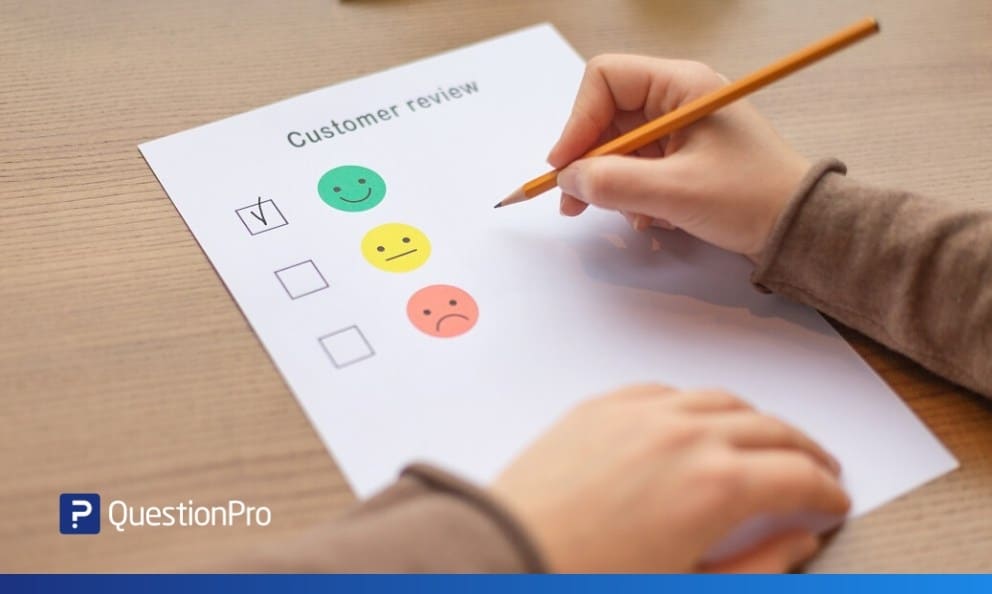 Understanding your customers is key to success in today's highly competitive business landscape. You want to provide an excellent customer experience, but how do you know whether you're succeeding? In this case, customer surveys play a pivotal role in understanding and improving the customer experience.
Businesses can use customer surveys to identify areas for improvement, address shortcomings, and tailor their products or services to meet customer needs effectively. These surveys are a great way to get straight feedback from customers and learn about their satisfaction levels, expectations, and preferences.
Whether it's measuring customer satisfaction, performing market research, or improving the development of new products, customer surveys are a valuable tool for businesses to get actionable insights and improve their overall customer-centric approach.
In this article, we will explore how customer surveys can be valuable in measuring customer engagement and ultimately enhancing the overall customer experience. So, let's dive in and uncover the secrets behind effective customer surveys!
LEARN ABOUT: Survey Mistakes And How to Avoid
What are customer surveys?
Customer surveys can be defined as a method of collecting customer feedback so organizations can measure customer satisfaction, understand their expectations, and conduct market research.
They help gather real and concrete information from customers as opposed to working off assumptions. This brings to the fore problems that you might not even know exist or are hampering your product or service.
Direct feedback from your customers lets you know of the actual performance of the product or service, any shortcomings that it may have, and improvements that can be made.
A customer satisfaction survey is the right way to understand customer satisfaction and expectations. An example of a customer survey would be a restaurant chain gathering customer satisfaction feedback from its customers. These would have questions that will help them gain insights into aspects that would help improve their customer experience.
LEARN ABOUT: Testimonial Questions
The survey would dive into areas such as restaurant ambiance, food quality, staff hospitality, waiting time, etc. This would help identify areas that need improvement.
Types of customer surveys
Depending on the focus of your customer study, you can deploy several types of customer surveys.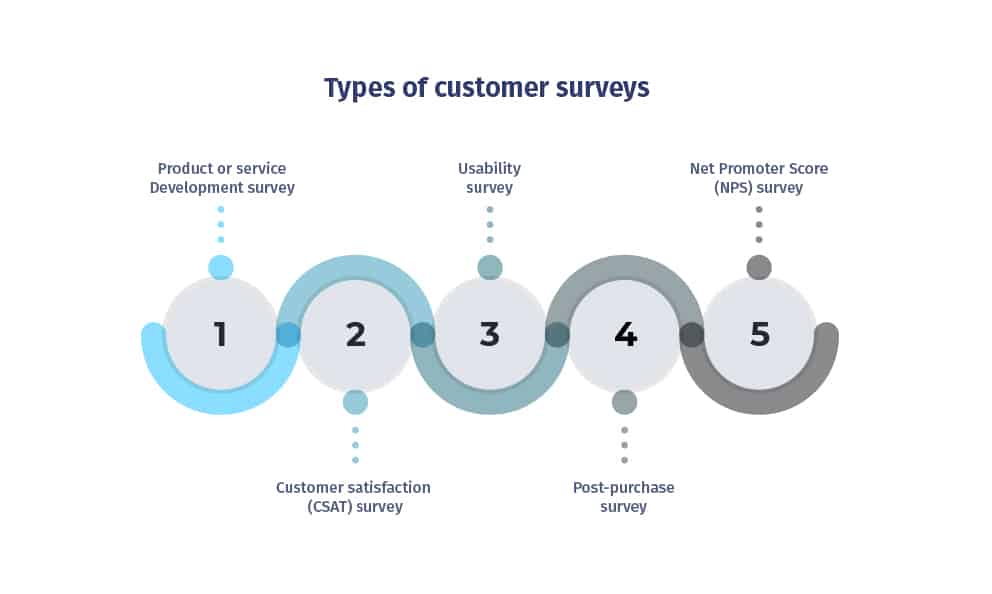 Product or service development survey
There are several stages to developing and deploying a product or service. Depending on the stages involved, the time to launch and the amount of resources put in varies.
With product or service development surveys, you can reach out to target customers and solicit their feedback to modify your product or service to meet their requirements while under customer development.
After the launch, making changes or modifications can be tough and quite costly. This helps in avoiding that and building a robust product or service from scratch.
Customer Satisfaction Surveys (CSAT)
Customer satisfaction surveys are crucial to understanding if customers are satisfied with your product or service. Customer and client retention and product repurchase are both strongly predicted by high levels of customer satisfaction. Many get confused between CSAT and NPS, thinking they are similar. CSAT measures customer satisfaction, whereas NPS measures customer loyalty to the brand.
The effectiveness of your customer satisfaction data is dependent on collecting honest and accurate survey responses from your customers. A customer satisfaction survey lets you understand the reasons and the drivers behind the score and what improvements can be made to the product or service.
Customer Effort Score (CES) survey
A type of customer satisfaction survey, the Customer Effort Score (CES) is that measures the ease of service experience for a brand. It pertains to questions that ask customers to rate the ease of using services or products. The scale has options from "very difficult" to "very easy."
Usability survey

Usability surveys or usability tests are real users testing a certain product. They use the product and, under the supervision of researchers, perform various tasks.

This is crucial in product development, as it brings to the fore its utility, versatility, and potential shortcomings or improvements. Usability testing typically serves the following three purposes.

Evaluate: The whole point of this experiment is to ensure a positive customer experience. This helps in understanding gap areas and what improvements need to be made.
Explore: Meeting user requirements is crucial for any product to be successful. This test helps in identifying which elements are missing in the product; these are then added to meet user requirements.
Compare: Using this test; researchers compare similar products or services to check for the best user experience. This helps in bridging any gaps that may exist.
Post-purchase survey
These studies gather feedback from individual consumers after they've purchased and consumed a product or service. This helps in understanding if customers got what they were looking for and expecting.
The key question here is if the product or service is meeting key customer expectations.
Net Promoter Score (NPS) survey
This is very important for organizations for a single-select question; it measures customer loyalty. An NPS survey lets you measure customer satisfaction, customer loyalty and helps you understand how happy customers are with your product or service.
An NPS score enables you to know where you stand in the market with respect to your competitors.
Tips for conducting customer surveys
Before starting out on creating and disseminating customer surveys, you need to be mindful of the below. Keep these tips in mind for effective customer surveys.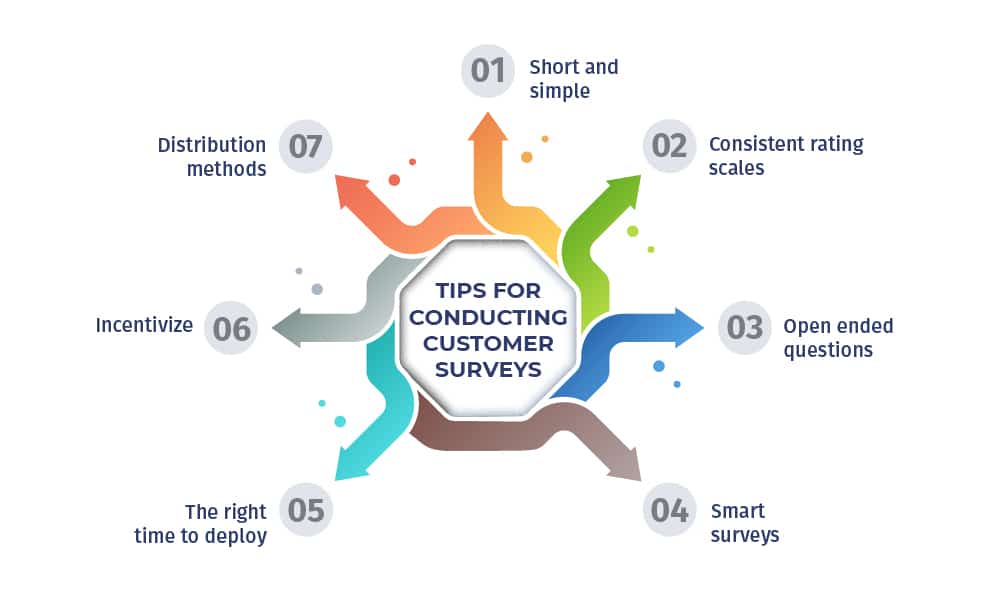 01. Short and simple
Remember to keep your surveys short and simple if you want to improve your survey response rates and survey completion rates and gather maximum and accurate consumer feedback.
People drop out of long surveys or do not even bother to attempt them. Also, remember to include demographic questions to know your audience better.
02. Consistent rating scales
There are a number of rating scales that you can use in online consumer surveys. While options are good to have, it is imperative to have consistent rating scales to maintain uniformity and data consistency in your consumer studies.
You can try various rating scales or scale questions in different surveys but stick to one standard scale per survey.
03. Open-ended questions
There are several survey question types, and they each have their purpose. Remember to have at least 1-2 open-ended questions for this where customers will voice their opinions. Close-ended types of questions do not give you insights on low or negative ratings.
04. Smart surveys
Depending on the focus of your survey, you may have different types of audiences. You may want to conduct a survey that is specific to a type of audience – (women above the age of 30, owning a car, etc.) – to refine your results.
Use skip logic or survey branching questions to gather accurate information.
05. The right time to deploy
Although online surveys can be taken at any time by survey respondents, it is crucial to send surveys at times that are favorable to garner survey responses. Certain times yield better results, note these, and deploy during those hours.
06. Incentivize
You are incorporating customer feedback. That feedback helps in improving your product or service.
Several studies have found that incentives can boost survey response rates. To make sure you get feedback from your consumers, small incentives can encourage survey responses among certain groups. It can be a discount coupon or a raffle draw, but make sure they have an incentive for investing time in your surveys.
07. Distribution methods
Use a variety of survey distribution methods to ensure you reach out to a much wider respondent base. Make use of various avenues such as emails, mobile apps, point of sale (POS), etc.
What are Customer service surveys

?
Your business will thrive and continue to excel if your customer service is good. Excellent customer service is key to retaining customers. Acquiring a new customer is said to be seven times more expensive than retaining existing customers.
A recent survey suggests that businesses in the U.S. report a loss of about $83 billion every year on account of poor customer service.
Customer service surveys are a good way to overcome this issue. You can conduct short online customer surveys, understand what's working, which areas need looking into, and how customer satisfaction and CX can be improved.
The feedback you receive is directly from the customers and hence lets you take necessary actions for improving customer satisfaction. A customer service survey need not be very long; in fact, specificity is key here. Ask specific and targeted questions to get insights and bring about necessary changes.
You can view and use our sample customer survey templates in your organization; they are ready to use.
Why should you survey your customers?
Now that you know customer surveys, let's look at why brands should survey their customers. Here are the top 7 reasons to conduct customer surveys.
01. Customer feedback matters to you
Asking your customers for their feedback about your products and services shows them they matter to you. It makes it evident you care about their feedback since you have built offerings for them and want to see them happy and content.
Do not worry even if they do not answer, it makes them special, and they will think highly of the brand. If you truly value your customers, you will conduct customer surveys and work on the feedback received from them.
02. Gather inputs for product development
If your brand is planning to develop a new product, you must ask your customers. It will give you an idea of the needs and requirements, but it will also act as a teaser.
Soliciting customer feedback in the product-development stage makes sure they are invested in the process. This is also an opportunity to rope in some advocates for your brand.
03. Avoid mistakes
Product development is tough, even for old and successful brands. There are so many moving parts, software, production, etc. This does not stop there; even after the product launch, there are aspects such as delivery, customer service, etc., to worry about.
The same holds true for services; there could be so many mistakes that you commit but can avoid. Asking your customers will not help uncover any blind spots but also fix them in a timely fashion.
04. Continually learn about your customers
One way to learn more about your customers is by asking them questions. This will give you insights into their needs, requirements, decision patterns, etc.
These are crucial to serve them right and keep your customer experience, customer satisfaction, and customer delight high. Learning about them will also help you in designing targeted marketing and promotional campaigns.
05. Develop and maintain relationships
Your customers are unique, and so will their needs and tastes. This will also reflect how they use your product; everyone will find a novel to use it. Knowing your customers more and developing relationships will help you deliver better and more personalized experiences.
06. Uncover problems and solve them
Many issues and challenges faced by your customers are not visible to you. If not brought to your attention by the customers, they may go unnoticed or unresolved. Proactively asking them about issues will help you better your product or service and improve your overall customer experience.
07. Identify new opportunities
When you conduct online customer surveys, you get to know what your customers need and want. This will help you develop new product ideas or better your existing products giving you a competitive edge.
Customer survey questions
Since there are types of customer surveys, you need to be mindful of the questions that you ask. It depends on the focus of your survey. Let's look at some customer survey questions based on the study that you are conducting.
01. Customer satisfaction survey
You can ask many customer satisfaction survey questions to collect feedback, but below are some of the questions that can be used in most customer surveys:
How would you rate your overall experience with our product?
This is one of the most common customer satisfaction survey questions and is almost always included in customer satisfaction surveys. This question is used to determine the Customer Satisfaction (CSAT) Score. The Customer Satisfaction (CSAT) Score is calculated using this question.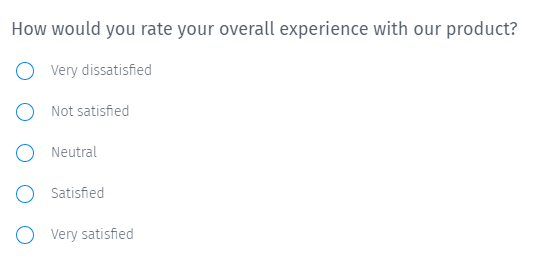 To what extent do our products and services meet your expectations?
This question determines whether the items and services fit the customers' needs. Again, this is a broad inquiry that can be utilized to gather useful information.

Considering your overall experience, how likely are you to recommend our products to your friends?
This is referred to as the Net Promoter Score (NPS) inquiry. It determines how satisfied your customers are and how likely they are to recommend your company to others.

Please rate our Products or Services for the following parameters

Quality
Speed
Cost-effectiveness
Value for money
Reliability

How often do you use our product/service?

Daily
Weekly
Bi-weekly
Monthly
You can utilize a ready-made customer satisfaction survey template if you are unsure of what questions to ask in a customer satisfaction survey. It is a set of questions created by research professionals that can be customized according to your specific requirements.
CUSTOMER SATISFACTION SURVEY TEMPLATES
02.

Product satisfaction survey
The product satisfaction survey question collects data about product usage from customers. It can be used to evaluate customer satisfaction and identify areas for product improvement. You can gain insights into their expectations and benchmarks based on the data obtained.
How satisfied are you with the product for the following criteria

Product Quality

Product Value

Purchase Experience

Usage Experience
03.

Product evaluation survey
Product evaluation survey questions are used to determine how customers feel about your product at various points of the customer journey. They assist the product manager in tracking changes in user sentiment, gathering feedback, and understanding customer demands.
How satisfied are you with this product's quality?

Were the features to your satisfaction as advertised and marketed?

What additions can be made to improve the product?

How would you rate the brand on a scale of 1 to 5, 5 being the highest?
Customer survey examples
Let's look at some customer survey examples and avenues where you can deploy and gather valuable feedback from customers.
Transportation or cab service
How was your last ride with us?
Did the cab arrive on time?
Did you reach your destination on time?
Messenger service provider
Are you satisfied with the new update to the app?
Are you satisfied with your customer support service?
What more could we add to the portal for a better user experience?
Video call service app
How would you describe our video call quality?
Do you have trouble connecting to other call participants?
Kindly rate the service provided by our support team.
Food delivery app
How often do you need to reach out to our support team for any queries?
Do you see your favorite restaurants on the app list?
How often do you use discount coupons to order food?
These are just some examples that we thought you could refer to when starting your customer surveys. Define a clear goal and an audience and start conducting online surveys. Use the feedback from your customers to improve your products, services, user experience, customer service, and customer experience.
Conclusion
Customer surveys are a successful way for businesses to collect genuine and concrete customer feedback. Organizations may make informed decisions to improve their products, services, and overall customer experience by analyzing customer satisfaction, expectations, and preferences through surveys.
From product development to post-purchase evaluations, various customer surveys provide important findings that allow businesses to customize their offerings and effectively satisfy customer expectations.
Companies may develop better connections with their customers, uncover areas for improvement, and stay ahead in a competitive market by following the tips for conducting successful surveys and using the feedback collected.
So, use the power of customer feedback surveys and continue on a journey of continuous development and customer-centricity to ensure long-term success and identify loyal customers.
At QuestionPro, we work on what we believe in. Schedule a demo and discover how to boost customer loyalty and collect valuable consumer insights through our CX survey and analytics management platform.