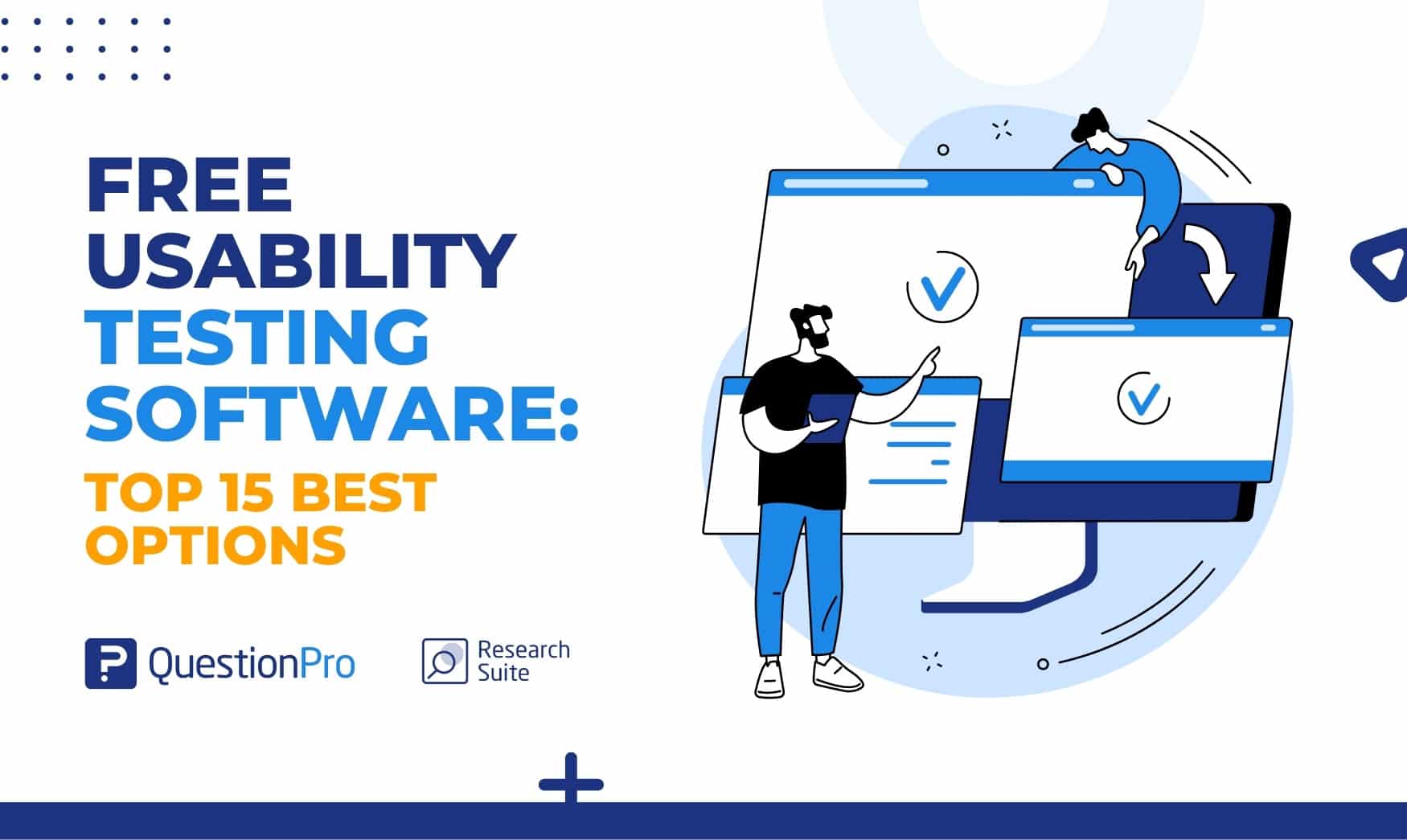 Are you searching for the ideal usability testing platform that fits your needs and budget? We know that it can be hard to choose from so many choices and keep costs down at the same time. But don't worry! This blog will show you how to find free usability testing software that is good and easy on your wallet.
This blog will help you get the most out of your user experience without breaking the bank. So, get ready to enhance your user experience without stretching your budget. Let's dive in!
What is usability testing software?
Usability testing software is a set of tools and platforms that make evaluating and improving the usability of websites, apps, or other digital products easier.
These software solutions come with a variety of features and functions that let businesses and UX workers run usability tests, get feedback from users, and look at how users act to find places to improve.
Usability testing platform often has tools like remote testing, screen recording, heatmaps, clickstream analysis, survey and feedback collection, task-based testing, and advanced analytics.
These tools help you understand how users interact, find usability problems, and make design choices based on data to improve the overall user experience.
Why and when to use free usability testing software?
Free usability testing software can be beneficial in certain situations. Here are some reasons why and when you might choose to use free usability testing software: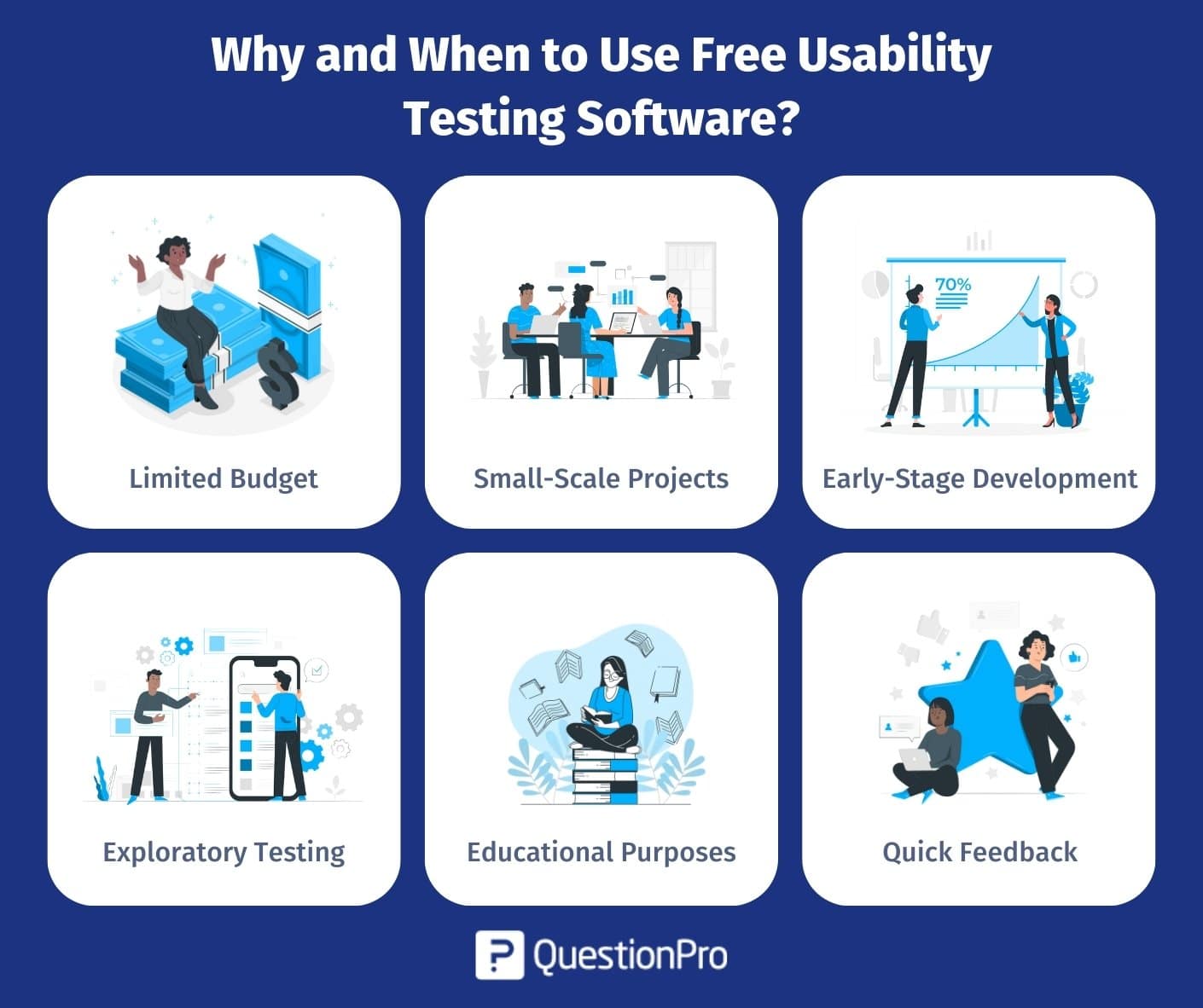 Free usability testing software is a great choice if you are on a tight budget or limited financial resources. It lets you do user testing without paying for tools, so small businesses and people on a budget can use it.
Free usability testing software is ideal for small-scale projects or solo efforts. Suppose you're working on a personal website, a small startup project, or a side project. In that case, free software can provide significant insights without requiring a huge user testing team or extensive resources.
Free usability testing tools can help gather early feedback and detect usability issues. It allows you to run basic tests and collect early data to assist in driving the adaptive design and development process.
Free tools can be a great place to start if you are new to usability testing or just want to try out different ways to test. It lets you get used to the idea and get some hands-on practice before you spend money on more complicated or specialized tools.
Free usability testing software is often used in educational settings, like universities or training programs, to teach students about usability testing concepts and techniques. It lets you learn by doing without the need to buy expensive program licenses.
Free usability testing software can be helpful if you need quick and instant feedback on a certain part of your website or application. You can set up tests quickly, get feedback, and make changes immediately without going through long budgeting or purchasing steps.
15 Free Usability Testing Software
In this section, we will explore 15 free best usability testing tools and highlight their best features, free features, and their pros and cons to assist you in making an informed choice.
01. Userbrain
Userbrain is a remote user testing tool that focuses on continuous testing. It lets you purchase and view videos of real people engaging with your website or prototype.
The software gives vital insights by allowing you to hear people's thoughts and monitor their actions. You may test live websites, websites in development, prototypes, apps, and even competitive websites.
Free features:
The first two tests are free.
Includes five sessions with users.
Userbrain also has more paid features like Unlimited testing with your participants and automated speech-to-text transcriptions included with all plans.
Pros:
Flexible pricing options.
Fast results with qualitative and quantitative insights.
Unlimited seats for your teammates and stakeholders.
Cons:
02. Lookback
Lookback is a feature-rich usability testing tool that allows you to run tests with your participants. It allows you to run live and face-to-face moderated user testing, as well as communicate directly with test participants.
The "Live" feature allows you to broadcast your research sessions to your team, allowing for greater collaboration and insight. Lookback provides a 60-day free trial, making it an excellent choice for investigating its possibilities. It does not, however, permit account sharing, and you must recruit your testers.
Free features:
Lookback also has more paid features like robust recording capabilities for in-depth analysis, remote moderated testing, and the ability to broadcast research to your team using the "Live" feature.
Pros:
Remote usability testing tools.
Interactive research collaboration.
Robust recording capabilities.
Cons:
No account sharing.
Need to recruit your own testers.
03. UsabilityHub
UsabilityHub is a platform that enables you to conduct summative studies like first-click and five-second tests, as well as design surveys and preference testing.
You can use UsabilityHub to collect written responses from participants, recruit your own testers, or use their integrated participant panel. The application provides free testing for all exams lasting less than two minutes, making it suitable for rapid assessments.
Free features:
Tests under 2 minutes are free.
Besides this, UsabilityHub also has more paid features like easy setup and usability testing, full CSV export for data analysis, and an Integrated participant panel for participant recruitment.
Pros:
Cost-effective for summative studies.
Full CSV export for data analysis.
Cons:
No screen or audio recording.
Limited prototype testing.
04. Userlytics
Userlytics stands out as a UX research solution that provides picture-in-picture webcam views, screen, and audio recording and skips logic for qualitative unmoderated usability testing.
It also includes advanced quantitative tools, such as card sorting and tree testing, to provide comprehensive insights. Userlytics offers multilingual and automatic transcriptions, as well as quantitative data such as time on task, SUS, NPS, and SUPR-Q.
Free features:
Paid features of Userlytics are Remote usability testing, video recordings with picture-in-picture and audio, task-based testing with guided instructions, surveys, questionnaires, and feedback collection, and advanced analytics and reporting features.
Pros:
Automated and multilingual transcriptions.
Cons:
Outdated user interface.
Clunky website.
Complicated pricing plans.
05. TryMata (Formerly TryMyUI)
TryMata, formerly TryMyUI, is regarded as a low-cost and effective SaaS usability testing software.
It offers footage of actual users visiting any website, providing vital insights into user interactions. You may target certain audiences and run surveys to obtain user feedback using TryMata. It provides an "Unlimited" plan for thorough testing.
Free features:
Paid features of TryMata are remote usability testing, video recordings of user sessions
and written responses and feedback from testers.
Pros:
Affordable and effective usability testing.
Audience targeting for specific demographics.
Surveys for gathering additional insights.
Cons:
Plans are billed annually.
Setting up a test can be complicated.
There is no option to save test scenarios as drafts.
No option for automated user testing.
Comparatively more expensive than some other tools.
06. Crazy Egg
Crazy Egg provides a set of usability testing tools, such as heatmaps, user recordings, and A/B testing. Heatmaps show how clients navigate, click, and interact visually with your website or application.
User recordings enable you to track unique user trips, while A/B testing and editing tools allow you to experiment and enhance UX. Crazy Egg offers a simple and quick setup, a terrific UX and UI, and simple visual reporting.
Free features:
30-day free trial available for all plans.
By availing of their paid plan, you can benefit from their advanced features like Heatmaps and scroll maps, snapshots and recordings, and A/B testing.
Pros:
Easy and fast setup process.
User-friendly interface with intuitive visual reporting.
Offers A/B testing capabilities.
Cons:
Limited heatmapping visualizations.
Pricing may be high for high-traffic websites.
Annual billing structure.
07. GetFeedback
GetFeedback, formerly known as Usabilla, enables brands to improve digital experiences by capturing their customers' voices.
It provides tailored surveys and embedded feedback options for collecting quantitative and qualitative data. GetFeedback has well-designed and clear reporting, a clean and simple layout, and a short and intuitive feedback collection process.
Free features:
Paid features of GetFeedback are mobile and web surveys, annotated screenshots and images to gather precise feedback, and collaboration and reporting.
Pros:
Well-designed and clear reporting.
Clean and user-friendly interface.
Intuitive feedback collection and supporting questions.
Cons:
There is no heat mapping functionality.
Pricing may be on the higher side.
08. UserZoomGO
UserZoomGO provides a complete user research solution, including a specialized testing platform, recruiting services, and automated reporting. It makes chatting with users easier and helps user researchers, UX designers, and product managers create products that customers love.
Free Feature:
A free trial is available for every plan.
Bring your own testers for free in all plans.
Advanced features of UserZoomGO are usability testing and user research,
metrics and task completion analysis, and surveys and feedback collection.
Pros:
Cons:
Confusing test setup process.
Limited researcher seats in plans.
09. Loop11
Loop11 is a user experience (UX) tool that concentrates on benchmarking a site's key performance indicators, identifying user issues, and collecting quantitative data on UX enhancements. It allows for an unlimited number of users and provides rapid report generation.
Free Feature:
A 14-day free trial is available for every plan.
They also have paid features such as metrics and task completion analysis
and Heatmaps and clickstream analysis.
Pros:
An unlimited number of users.
Quick report generation for efficient analysis.
Cons:
There is no tester pool; testers need to be recruited externally.
Inability to edit tests after publishing.
Price increases over the years.
10. Optimizely
Optimizely is a leading experience optimization tool that offers A/B testing, multivariate testing, website personalization, and feature toggle capabilities. It provides a free Rollouts plan that enables you to experiment and make quick changes. Optimizely gives API output for customization and a flexible approach to managing test volumes.
Free Feature:
Free Rollout plan available.
Pros:
API output for customization.
Easy adjustment of test volumes.
A/B testing and editing capabilities.
Cons:
The user interface may be poor.
Occasional long load times.
The pricing structure isn't transparent.
11. Maze
Maze is a user-testing software that makes usability testing easier without requiring coding. It has a number of capabilities, including the ability to create and launch tests, gather feedback, and generate actionable insights.
Free Feature:
Basic usability testing functionalities without coding requirements.
Advanced features of Maze are Heatmaps for visualizing user interactions
and survey and feedback collection.
Pros:
No coding knowledge is needed.
Heatmaps and click maps for visual analytics.
Collaboration features for team members.
Cons:
The free version offers limited features.
Some advanced features are paid for.
You may use Maze to test prototypes, websites, and mobile apps. It visualizes user behavior using elements like heatmaps, click maps, and conversion funnels.
12. Validately
Validately is a usability testing software with a variety of features for remote moderated and unmoderated testing. It provides integrated participant recruiting, allowing you to identify the best testers for your research. Validately also features automated reporting and analysis tools to assist you in drawing conclusions from your test findings.
Free Feature:
Basic usability testing functionalities with limited features.
The paid features are moderated and unmoderated usability testing, remote user testing, surveys, and feedback collection.
Pros:
User-friendly interface.
Video recordings and screen sharing.
Various usability testing methods.
Cons:
The free plan has limited features.
Advanced options require a paid plan.
13. ClickTale
ClickTale was a web analytics tool famous for its heatmap and session record features. But ClickTale has merged with Contentsquare, a top digital experience analytics platform. Contentsquare has many tools for tracking and improving the user experience. These include heatmaps, session replays, and behavioral insights.
Free Feature:
You will get so many advanced features if you avail their paid plans. Some of their advanced features are Heatmaps and session replays, conversion funnels, form analytics, and mobile and responsive testing.
Pros:
Heatmaps and session replays provide visual insights
Behavioral Insights for Optimizing User Experience
Cons:
Uncertainty about the availability of a free version
Need to explore current Content Square offerings
14. UXtweak
UXtweak is a complete tool for usability testing and user research. It allows you to run remote usability tests, collect feedback, and create heatmaps to visualize user interactions. You may use UXtweak to track user sessions, collect feedback on specific areas of your website, and analyze task completion stats.
Free features:
Free plan with limited features, including remote usability testing and feedback collection.
The free plan allows you to conduct up to five tests per month.
Some of their paid features include remote usability testing, feedback collection, Heatmaps, and task completion metrics.
Pros:
Offers a free plan with a decent number of tests and participants.
Provides visual feedback through heatmaps
Offers a user-friendly interface
Cons:
Integration options with other tools or platforms are limited.
15. UserBob
UserBob is a remote usability testing tool that provides significant insights into user behavior and website usability. You can select certain demographics for your user testers and establish tasks for them to accomplish while recording their sessions with UserBob.
The application delivers video recordings of the users' screens, voices, and facial expressions to provide an in-depth analysis of their experience.
Free features:
UserBob offers a free trial that includes one usability test.
The free trial allows you to gather feedback from one user and receive a video recording of their session.
They also have some paid features like remote usability testing, targeted demographics for testers, and recordings of user sessions.
Pros:
Easy to set up and use
Provides real user feedback through visual recordings
Offers demographic targeting to ensure your tests are performed by users who match your target audience.
Cons:
Limited free trial access, as only one usability test is available.
The free trial does not include features like heatmaps or advanced analytics.
Conclusion
Choosing the correct usability testing software is critical for improving website usability and overall user experience. The free usability testing software choices described above offer a variety of features and capabilities to assist you in optimizing your website.
When making your choice, consider your individual requirements as well as the limits of each product. With the correct software, you may acquire useful insights into user behavior and make informed decisions to improve your website's usability.
QuestionPro lets businesses do remote usability testing and collect user feedback for free. Businesses may build and distribute surveys to gather customer preferences and pain points with its survey and feedback-gathering features.
Task-based testing lets organizations build activities for users to complete and evaluate. QuestionPro's free edition helps businesses improve their website's usability through user testing and feedback.