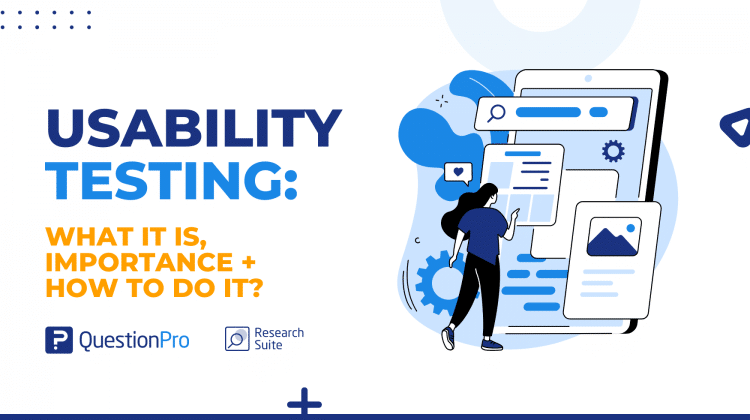 Usability testing is essential to the success of products and services by improving user experience. It is a key approach that enables businesses to evaluate the functionality and intuitiveness of their designs using real-world user interactions.
Usability testing provides significant insights that can lead to improvements and optimizations by observing how people move through interfaces, accomplish activities, and provide feedback.
In this post, we will go over the basics of usability testing, including its definition, objective, and importance in improving user experience. So let's get started and see how usability testing may be a game changer in developing user-centric products and systems.
LEARN ABOUT: User Experience Research
What is Usability Testing?
Usability testing is a research approach used to evaluate a product's or website's usability and user experience. It involves observing and collecting feedback from real users as they interact with the interface and complete certain activities.
Organizations can gain significant insights into how people perceive and interact with their products by performing usability testing. This allows them to make educated design decisions and improve the overall user experience.
Usability testing's primary purpose is to discover any usability issues, such as navigation difficulties, confusing instructions, or design faults, that may impede users' ability to fulfill their goals efficiently.
Its objectives can vary depending on the study's unique goals and the product being tested. However, some common objectives are as follows:
Identifying Usability Problems
Assessing User Satisfaction
Gathering User Feedback
Iterative Design Improvement
Validating Design Decisions
Usability testing helps businesses develop products and platforms that actually satisfy customer needs and increase customer satisfaction. If you're curious about how it may transform your design process and take your user experience to new heights, keep reading to explore its importance in more detail.
Importance of Usability Testing
It is important in the process of developing and enhancing products or websites. It provides several significant benefits that contribute to the overall effectiveness of a user-centered design approach. Here are some of the reasons why this testing is so important:
Usability testing is the most effective way for organizations to use in revealing the secrets of user interaction. Businesses can uncover pain points, confusing features, and design improvement opportunities by conducting usability tests. As a result, they will be able to provide a better user-friendly experience for their customers.
The testing ensures that the finished product meets users' needs, preferences, and expectations by actively engaging them in the testing process. It gives businesses insights into how people interact with the interface, allowing them to make informed design decisions and produce a smooth and intuitive user experience.
Drives Iterative Improvements
Usability testing is essential for developing an iterative design process in which user insights and feedback are seamlessly integrated into the structure of product upgrades. This technique ensures the finished result is visually appealing, highly functional, and user-friendly by actively integrating users into the development journey.
Increases User Satisfaction
A pleasant user experience is essential for increasing customer satisfaction and loyalty. Usability tests identify pain areas, streamline operations, and improve overall usability, increasing customer satisfaction. Users who are satisfied with the product are more likely to utilize it, suggest it to others, and become loyal customers.
Reduces Development Costs
Organizations save money by identifying usability concerns early in the design phase through usability tests. Organizations can prevent costly redesigns or changes by addressing usability difficulties during the usability testing session. Before a product is fully built, making changes based on user opinions is more efficient and cost-effective.
Enhances Business Performance
Usability tests improve company performance. This essential procedure improves customer satisfaction, engagement, and word-of-mouth referrals. A user-friendly product or website can raise conversion rates, client retention, and brand reputation, contributing to business success.
Key Elements of Usability Testing
Usability testing's effectiveness and success depend on several key elements. It typically chooses according to business tasks, user scenarios in the system, and the current stage of development, among other things. Based on this, usability tests are made up of three key elements:
The Facilitator: The facilitator guides user testing. They are responsible for administering tasks to the participant, providing instructions, and answering any questions or concerns that may arise.
Tasks: These are realistic activities or scenarios that users must complete while using the product or website under a usability test.
The Participant: The participant is a key element in a usability test. It represents the target user group and is vital in providing feedback and insights.
Effective usability test planning requires knowledge of these three key elements. A skilled facilitator, well-defined tasks, and representative participants can help businesses discover usability issues and make informed design decisions to improve their products or websites' user experience.
Types of Usability Testing
Several types of usability tests may be used to evaluate the user experience of a product or website. These tests help determine how people interact.
Understanding the different types of testing will help you achieve a reasonable conclusion and improve the overall usability of your offerings. Let's look at several types of usability testing you may implement.
Qualitative Usability Testing
Qualitative usability testing focuses on gathering insights, compelling anecdotes, and in-depth feedback about the user experience. This type of usability test helps to gain a deeper understanding of how users interact with a product and allows us to uncover hidden pain points, identify areas for improvement, and ultimately enhance the overall user experience.
There are numerous ways that can be used to delve into the complexities of usability. Techniques such as think-aloud protocols, interviews, and observation are essential in uncovering hidden usability concerns that may damage a product or service and helping collect rich qualitative data.
Quantitative Usability Testing
Quantitative usability testing focuses on collecting numerical data to measure and analyze user actions. This data collection form collects metrics such as task success rates, completion times, error rates, and satisfaction ratings.
Through the power of quantitative data, researchers can unlock a wealth of knowledge that ultimately enhances the overall user experience.
Moderated Usability Testing
A facilitator or moderator helps participants through the testing process in moderated usability testing. The facilitator gives directions, asks questions, and tracks participants' engagement with the product or interface.
These types of tests provide real-time feedback, more significant insights, and the ability to clarify any questions that arise during the usability test.
Unmoderated Usability Testing
Unmoderated usability testing takes place in the absence of a moderator. Participants complete tasks on their own, typically with the assistance of remote usability testing tools that provide instructions and record their interactions.
Unmoderated testing is inexpensive, scalable, and appropriate for large sample sizes. However, it may lack the ability to probe participants' thinking and demands specific instructions.
Remote usability testing allows participants to conduct a usability test from the ease of their own location. It can be moderated or unmoderated, and it can be done using online tools and communication software.
Remote usability testing allows for greater flexibility, eliminating geographical restrictions and a more varied pool of individuals. It's very effective for obtaining input from remote or international users.
In-Person Usability Testing
In-person usability testing happens physically, such as in a usability lab or research facility. The facilitator or research team observes participants as they interact with the product.
The advantages of in-person testing are close observation, fast follow-up questions, and a controlled atmosphere. It is appropriate for sophisticated or safety-critical items that require close monitoring or physical engagement.
Usability Testing Methods
Now that you understand what usability testing is, its importance, and the various types, we'll go over some of the methods that are commonly used to carry out it:
Guerrilla testing is a simple and cost-effective usability testing method. It involves approaching random people in public areas, such as coffee shops, and asking them to test a product or prototype quickly.
Participants are typically assigned particular tasks to accomplish, and their feedback is gathered on the spot. Guerrilla tests help get initial feedback during the early stages of product development since they provide immediate insights and comments from actual users in an informal environment.
Usability Tests in the Laboratory
Usability testing in the laboratory is often performed in controlled situations, such as a dedicated usability lab. A moderator leads participants through a series of activities while observing and recording their responses.
This strategy enables researchers to address users' questions and worries in real-time, allowing for more in-depth engagement. Laboratory usability testing provides a controlled environment for precise data collecting and insights into user behavior.
Contextual inquiry is a usability testing method that combines observation and interview techniques to learn about users' experiences and actions in their natural environment. Researchers visit users' homes or workplaces and observe them use a product or perform tasks connected to the research.
Participants in the tests are first asked a series of questions regarding their previous experiences with the product. Then they are observed and questioned while working in their own locations. Contextual inquiry assists researchers in gaining insights into the actual environment in which the product is used, revealing important information that would not have been discovered in a controlled lab setting.
Session recording refers to recording real-world user activities and interactions when they interact with a website or application. Using specialist tools or software, researchers can capture the participant's screen, clicks, and other activities, as well as audio or video of their facial expressions and spoken comments.
Session recording data helps identify which content or features appeal to users and their interaction challenges when dealing with your product.
When to Conduct Usability Testing
Usability testing is an important phase in product development since it helps ensure a positive user experience while identifying potential issues or areas for improvement.
While usability testing can be performed at various stages of the development lifecycle, there are times when it is especially beneficial. Here are four crucial moments to undertaking a usability test:
Before Designing
Insightful information that has the potential to influence the entire product development process can be gathered by doing this testing before the design phase. Involving users early on in a project can be really beneficial.
This gives you a thorough insight into their needs, expectations, and pain points. This early involvement allows you to benefit from their perspectives and viewpoints, which can eventually impact the direction and success of your project.
With Wireframes or Prototypes
Usability testing using wireframes or prototypes is crucial once the first design concepts have been developed. Using prototypes, usability testing enables you to compare several designs. Invite potential users who would use the prototype to try it out.
Users can interact visually and interactively with the product during testing, providing feedback on the design, usability, and overall user experience. It helps identify potential usability issues and validates design decisions before investing significant time and resources into development.
Before Launching the Product
This testing phase evaluates the product's usability, efficiency, and effectiveness in meeting its objectives. Developers can identify usability issues, confusing interfaces, or workflow bottlenecks by observing real users completing tasks and collecting feedback.
Addressing these issues before launching can improve the user experience, reduce negative comments, and improve customer happiness.
Regular Testing After Launch
Usability testing must continue after a product is released. After the launch, regular testing is essential for continuous improvement and maintaining high customer satisfaction.
Developers may collect feedback on new features, updates, or changes and ensure the product stays user-friendly by conducting regular usability testing. This is how businesses develop one-of-a-kind experiences that will endure the test of time as user behavior develops.
Conducting Usability Testing
People sometimes change their minds midway through usability testing. To avoid this, follow this usability testing plan to get genuine user opinions for successful user testing quickly.
Step 1: Develop a prototype
A prototype of the product or system is required before undertaking usability testing. A low-fidelity mock-up or a high-fidelity interactive representation can be used for this prototype. The prototype should reflect the final product's major functionalities and features.
Step 2: Create a test plan
It is essential to plan ahead of time for the test; otherwise, you will waste a lot of time. Determine your exact goals and the tasks participants will complete during the testing procedure. Determine the metrics or evaluation criteria that will be used to measure the product's usability.
Create a usability testing script or an outline of the plan, like:
What precisely is being evaluated? This can be tasks, features, functionalities, etc.
How is it going to be measured? This can be the percentage of people who pass or don't pass specific test parts.
Step 3: Recruit people
Recruit participants who fit the product's desired user profile. These participants should reflect the demographics and characteristics of the intended user community. To identify suitable participants, consider employing various recruitment strategies such as internet platforms, user research agencies, or customer databases.
Step 4: Find a suitable location
Select a suitable location for the usability testing sessions. Depending on the nature of the product, this could be a dedicated usability lab, a quiet conference space, or even a participant's natural surroundings.
Finding a suitable meeting location with the least amount of distraction or possibility for interruption is important. You must find an environment in which participants can concentrate on the testing.
Step 5: Run the test
Act as the moderator during the usability testing sessions, guiding participants through the tasks and observing their interactions with the product. Testing quality is greatly influenced by your ability to execute the test correctly and effectively communicate. This is also where your preparation and test plan comes into play. If you are doing remote testing, use tools to record it.
You'll be able to run your test more efficiently if you practice asking the types of questions you'll be asking. Make it a point to inform them that they are not being tested. It's all in the design.
Ask open-ended, non-leading questions to gain insight into your users' requirements, behaviors, goals, and frustrations.
Step 6: Document the test result
Systematically document the test results to capture the usability testing sessions' observations, feedback, and insights. This will allow you to concentrate on the issues causing the most problems for users.
This documentation should include a summary of the participant profiles, a description of the tasks completed, and thorough notes on the participants' interactions, challenges, and ideas. Use this documentation to evaluate the data and develop practical recommendations for enhancing the product's usability.
Conclusion
Usability testing can help you in developing user-centric solutions that provide great experiences. Understanding user behavior, preferences, and needs allows you to develop intuitive products that your customers will appreciate.
Correct usability testing can benefit your team in the following ways:
To recognize user issues and UX problems.
To come up with concepts for new product features and enhancements.
Prioritizing design choices based on data-supported insights.
To verify assumptions and understand the usage context of the users.
To create better products or solutions more quickly.
A user test is essential for the success of any product or website that seeks to provide a really satisfying experience for users while helping achieve organizational goals.
Remember that QuestionPro provides multiple ways for conducting tests on various scales, such as if you wish to begin with a simple program through web surveys.
Create a free account to explore our platform's features and schedule a free demo to discuss your unique requirements.