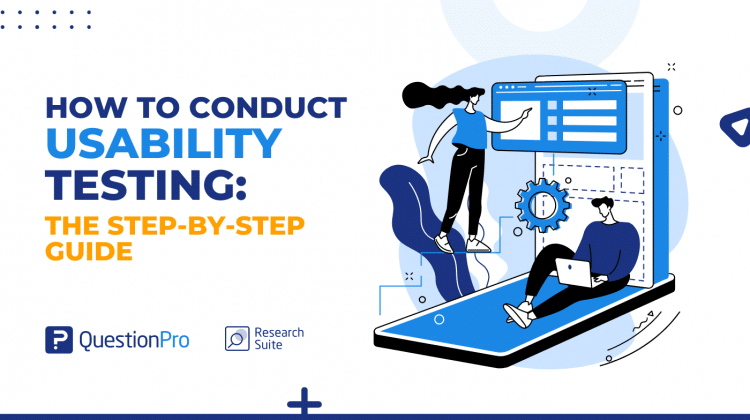 Are you determined to create a product that resonates with your users, providing them with a seamless and delightful experience? Then, you must know how to conduct usability testing.
Understanding how users interact with your product is essential, and usability tests can help. By delving into your users' minds, you'll gather the necessary knowledge that can help you find hidden usability issues, improve user experience, and launch your product successfully.
This comprehensive step-by-step guide will teach you the knowledge and strategies to conduct practical usability testing sessions. So, let's go on this journey together and learn how to conduct usability testing like an expert.
What is Usability Testing?
Usability testing is a technique to evaluate the usability of a product, system, or interface. It involves observing how real users interact with the product to detect usability concerns, collect feedback, and evaluate the overall effectiveness and efficiency of the UX design. The main goal of usability tests is to ensure that the product meets the needs and expectations of its target users.
During usability tests, participants are assigned specified tasks to complete while researchers monitor their behavior, listen to their feedback, and record any difficulties or problems they face. This testing method provides important insights into how real users use the product and indicates areas where usability and user satisfaction can be improved.
Importance of conducting usability testing
Usability testing is completely essential when it comes to creating a user-friendly experience. This technique plays a vital role in product development for several reasons. Let's take a closer look at these factors and understand why concluding usability tests is so important.
Usability tests ensure that a product or system is designed with the intended users' requirements, expectations, and capabilities in mind. Product designers can acquire significant insights into their users' habits, preferences, and pain areas by incorporating them into the testing process, which leads to user-centric design decisions.
Identifying Usability Issues
Usability tests help identify usability problems that may have gone undetected throughout the design and development phases. Researchers can find areas where users struggle, are confused, or are frustrated by investigating them as they interact with the product. Product designers can use these findings to develop informed modifications and remove usability barriers.
Enhancing the User Experience
Performing usability testing allows you to improve the user experience and make your product more intuitive, efficient, and enjoyable to use. Designers can find areas for improvement and implement modifications that address user needs and preferences by gathering feedback and analyzing user interactions.
Reducing Development Costs
After a product has been designed and deployed, addressing usability difficulties can be time-consuming and costly. Conducting usability tests in various stages of product development enables the early detection and resolution of usability difficulties, which reduces the need for major redesign and reconstruction. In the long term, this can save a lot of money.
Gaining a competitive advantage
User experience can be an important difference in today's competitive industry. Organizations may stay ahead of the competition by conducting usability testing and developing products that meet or exceed user expectations. Investing in a usability test shows a dedication to quality and customer satisfaction, providing you with a competitive advantage.
Types of Usability Testing
When learning how to conduct usability testing, choosing the appropriate usability testing methods for your goals and objectives is essential. Usability tests come in various types, and each focuses on one particular aspect of the user experience. Let's look at some common types of usability testing that can provide significant insights into your product's usability and efficacy.
How to conduct usability testing?
Now that we've established the need for usability tests, let's discuss how to conduct usability testing. A usability test involves planning, recruiting participants, performing the tests, evaluating data, and reporting results.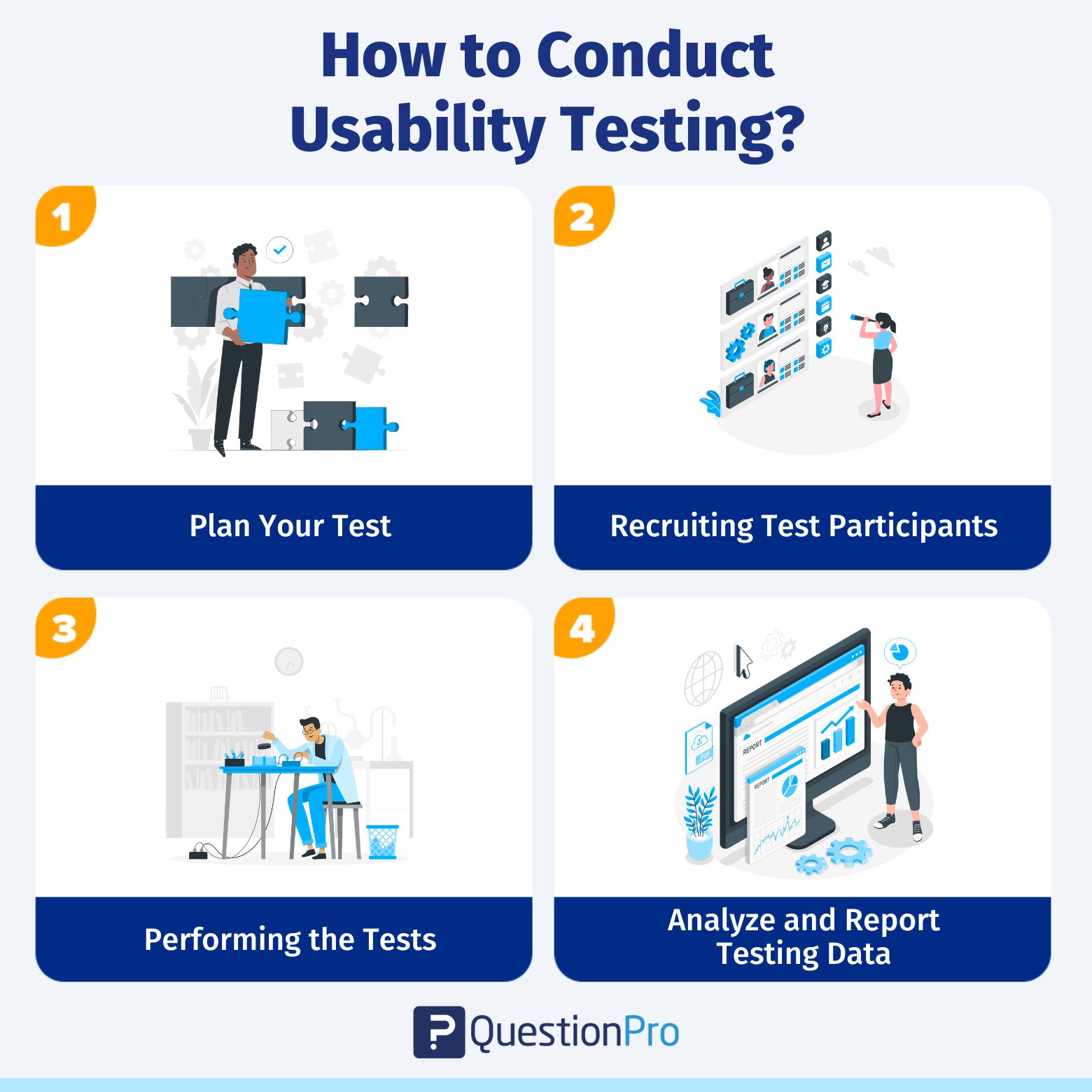 Step 1: Plan Your Test
When conducting usability testing, planning is crucial since it sets the foundations for a successful testing approach. You may ensure that the results provide meaningful insights by carefully considering and defining key aspects of your usability tests.
Here's how to plan a practical usability test:
01. Define Goals and Objectives
Start by clearly defining the goals and objectives of your usability test. Determine your goals, such as finding specific usability problems, analyzing user satisfaction, or reviewing overall user experience. Clearly defined objectives can guide the entire testing process.
02. Create Test Scenarios and Tasks
Create realistic test scenarios and tasks for participants to complete during the test. The usability testing scenario should be realistic and match the test objectives. Clearly describe the usability testing tasks and ensure they are specific and measurable.
03. Prepare Test Logistics
Determine practical aspects such as the testing location, necessary equipment, and the duration of each usability test session. Make sure the testing setting is pleasant and conducive to unbiased participant feedback. Set up the required equipment, such as recording devices or screen recording software, to record the actions and feedback of participants.
04. Prepare Test Materials
Prepare all resources needed for the usability test. A well-crafted usability testing script outlines the tasks to be performed, instructions to be given, and questions to be asked. Ensure that these materials are well-organized and easy to access throughout testing sessions.
Step 2: Recruiting Test Participants
After the goal setting, your test plan also needs a detailed strategy for how and when to recruit test participants. Recruiting appropriate test participants for your testing is essential to collect relevant insights and ensure the test represents your target audience.
Here are some steps for successfully recruiting the participants for the testing:
01. Define Participant Criteria
Define the criteria for choosing participants depending on your target audience and testing objectives. Consider demographics, experience levels, or other relevant traits to your product or system. This will ensure that the participants appropriately represent your desired user base.
02. Determine Sample Size
Determine the proper sample size for your usability testing. While there is no hard rule to determine a sample size, aim for one that allows you to acquire different viewpoints while remaining manageable within your available resources and time frame. A smaller sample size can still provide useful information, primarily if you conduct repeated testing.
03. Utilize Various Recruitment Methods
To reach out to potential test participants, use various recruiting methods. Online platforms, social media, user groups, professional networks, and specialized recruitment agencies are examples of these. Ensure your chosen methods are appropriate for your target demographic and reach people who are likely to use your products or services.
04. Screen the Participants
Conduct a screening process to determine the suitability of possible participants for the usability test. This may include a simple survey or an initial interview to determine whether they meet the criteria. The screening process helps in ensuring that participants have the necessary experience and background to provide meaningful feedback.
05. Schedule and Confirm Participation
Schedule the participation of the selected test participants in the usability testing sessions. Provide specific information about the goal of the usability test, the expected time commitment, any incentives offered (if appropriate), and any technological requirements for the session. Be flexible with scheduling to meet their availability. To assure attendance, send confirmation emails or reminders.
Step 3: Performing the Tests
Performing usability testing is a crucial stage where you observe participants in the activity and collect helpful insights about your product's usability.
To perform effective testing sessions, follow these steps:
01. Select Testing Methods
Choose the relevant approaches for your usability test. Determine whether you will perform in-person sessions, remote testing, or both. When making this selection, consider budget, time limits, and the nature of your product.
02. Establish Relationships with the Participant
Begin each testing session by building a pleasant and relaxed connection with the participant. Explain the test's purpose briefly, assuring them that their opinion is valuable and encouraging them to think actively throughout the session.
03. Explain the Tasks and Objectives
Explain the tasks and objectives to the participants in detail so that they understand what they are supposed to do. Allow them to explore the product independently without leading or biasing their actions.
04. Observe and Take Notes
Observe the participant's activities, behavior, and reactions as they interact with the product. Take note of any usability issues, areas of confusion, or points of frustration. Encourage participants to share their thoughts, impressions, and opinions during tasks. Prompt them with open-ended questions to collect more detail. Keep track of both qualitative and quantitative data, such as completion time, errors, and task success rates.
05. Record the Sessions
To record the usability testing sessions, use audio/video recording equipment. This enables additional review and analysis, ensuring no crucial information is overlooked. Inform participants about the recording and ask their permission in advance.
06. Maintain Objectivity
Maintain a neutral and objective approach during the testing sessions. Remember that you are observing the product's usability, not the participants' abilities. Make no conclusions or judgments based on their actions or preferences.
07. Keep a Record of Participant Feedback
Following each testing session, conduct a quick survey or interview to get additional feedback from the participant. Ask about their overall experience, level of satisfaction, and any specific issues they ran into. Record their feedback for future research.
Step 4: Analyze and Report Testing Data
After you've completed the testing sessions, it's time to analyze the data and report your findings. This step is crucial for gathering valuable information and informing design and development decisions.
To successfully analyze and report the test data, follow these steps:
01. Compile Data
Collect all recorded sessions, notes, and participant feedback from the usability testing. Methodically organize the data to make analysis more accessible and ensure nothing is overlooked.
02. Identify Patterns and Prioritize Issues
Examine the data for patterns, recurring problems, and expected trends. Prioritize the detected usability concerns depending on their effect and severity. Determine which issues must be handled immediately and which can wait for later iterations. Combine similar findings to uncover broad usability issues.
03. Generate Insights and Provide Recommendations
Extract insights from patterns and usability issues. Consider the causes of observed behaviors or issues. Based on the findings, make clear and practical product usability recommendations. Suggest design, feature, or workflow improvements to solve usability difficulties.
04. Visualize the Results
Present the test results and recommendations clearly and concisely. Use graphical tools such as charts, graphs, or diagrams to illustrate and simplify the facts. To ensure the findings are correctly interpreted, provide clear explanations and context.
05. Iterate and Refine
Use the findings and recommendations from the usability testing to refine and improve the design constantly. Ensure a user-centric approach is used throughout the development process by incorporating the suggested improvements into subsequent iterations.
Examples of Question Types of Usability Testing Surveys
Surveys for usability testing are useful for collecting participant feedback and insights. Surveys provide a quantitative and qualitative view of the user experience in addition to the observation-based data gathered during the testing sessions. The following are some common examples of question types of usability testing surveys:
Demographic Questions
What is your age range?

Under 18
18-24
25-34
35-44
45-54
55-64
65 or older

What is your level of experience with similar products?

Beginner
Intermediate
Advanced
Expert

What is your primary role or occupation?
Satisfaction Ratings
On a scale of 1 to 5, how satisfied were you with the overall usability of the product?
Rate your satisfaction with the ease of completing the tasks on a scale of 1 to 10.
How likely are you to recommend this product to others on a scale of 1 to 7?
Likert Scale Questions
Please indicate your level of agreement with the statement: "The product navigation was intuitive."

Strongly Disagree
Disagree
Neutral
Agree
Strongly Agree

How well did the product meet your expectations?

Not at all
Slightly
Moderately
Very
Extremely
Open-Ended Questions
What aspects of the product did you find particularly frustrating or confusing?
Please provide any additional feedback or suggestions to improve the usability of the product.
What were the most positive aspects of the user experience while using the product?
Task-specific Questions
Did you successfully complete the assigned tasks? If not, please specify the challenges you encountered.
How easy or difficult was it to accomplish Task X on a scale of 1 to 5?
Which task did you find the most challenging, and why?
Balancing quantitative and qualitative questions when creating usability testing surveys is important. Using a variety of rating scales, Likert scale questions, open-ended questions, and task-specific questions helps in the collection of numerical data as well as detailed insights from participants.
In addition, including demographic and background questions might provide context for analyzing data based on user characteristics.
Conducting Usability Testing with QuestionPro Research Suite
QuestionPro Research Suite is a complete survey and research platform with many features and functionalities to help with usability testing. Here's how QuestionPro Research Suite can assist with the testing:
QuestionPro is an easy-to-use interface for creating surveys. You can design surveys customized for your usability testing needs using a variety of question types and customized survey templates. You can use the platform's skip logic, branching, and randomization to provide participants with a seamless, personalized survey experience.
Question Types and Multimedia Support
QuestionPro offers various question types and features to design a usability testing survey according to specific needs and preferences. You can include Likert scale questions, rating scales, open-ended questions, and task-specific questions to gather quantitative and qualitative user feedback. The platform also supports multimedia elements, such as audio, images, and videos, to provide a realistic testing environment.
Real-Time Data Collection
QuestionPro collects data in real-time during testing. When survey respondents complete a survey, the data is immediately available for analysis. You can evaluate answers, track progress, and gain fast insights into your product's usability, allowing quick decisions and incremental adjustments.
The platform includes various analytical tools for successfully analyzing and interpreting testing data. You may uncover patterns, identify trends, and gain deeper insights into the user experience with tools like data segmentation, cross-tabulation, and sentiment analysis.
Visualization and Reporting
QuestionPro Research Suite provides complete reporting and visualization options to present usability testing data. You may create personalized reports, visual dashboards, and charts to explain the results better. The platform's reporting features make it simple to share significant findings with stakeholders and collaborate on action plans.
Data Security and Compliance
QuestionPro protects data through encryption, safe data storage, and adherence to privacy requirements such as GDPR and CCPA. The platform follows strict security measures, giving users peace of mind while testing.
QuestionPro Research Suite offers a wide range of features and functionalities to assist with conducting usability testing. Whether you're a researcher, designer, or product manager, QuestionPro's complete feature set enables you to collect valuable insights and make data-driven decisions to improve your product's usability.
Take advantage of QuestionPro's free trial to get an initial look at its capabilities and realize the full potential of your usability testing efforts.