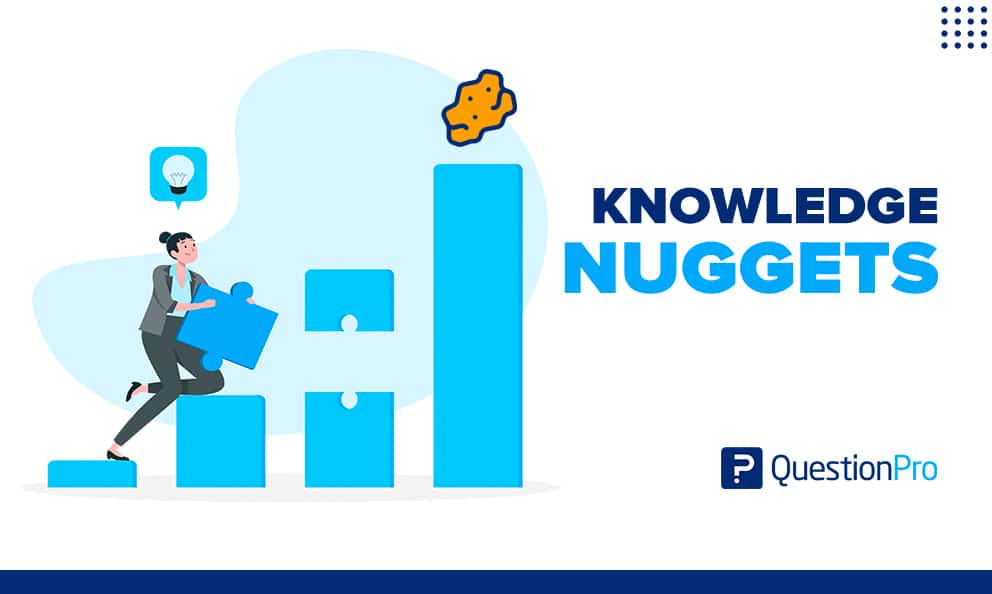 Has a nugget of information come to your attention? They cannot feed your stomach, but they can certainly fill your mind with new knowledge and abilities.
Do you still recall the era when finding vital information required checking a book? Thank god things have evolved since then, particularly regarding how we learn. Finding relevant information no longer necessitates a trip to the library. Nowadays, all the information we need is only a few clicks away.
The road to our knowledge has evolved, and so has the format. Instead of text-heavy material, so-called nuggets of information have emerged as one of the most significant learning trends.
In this blog, we will discuss nuggets of information and the importance of this during data analysis. So let's get started.
What is a nugget of information?
A nugget of information is a little piece of information that, taken as a whole, makes up a broader collection of knowledge. They are typically short (5 minutes, roughly). Because they are a component of the same research, they are related. The aim is to generate a notion that leads to another, and so on.
The word "nugget" may not necessarily imply worth. Nuggets of gold are only precious because they are made of gold. On the other hand, chicken nuggets—well, we wouldn't call them valuable. The term "nugget of information" suggests that the data is brief and self-contained. Understanding a nugget of information wouldn't take long or need more explanation.
The euphoria surrounding James Marshall's finding of gold in California in January 1848 was unparalleled in the records of human history. The renowned finding sparked one of the most significant migrations ever recorded. A poor miner called Mr. Strain came upon a 50-pound nugget in 1851, one of the most significant gold pieces found in the period.
It was located beside a small path that led up a hill to a well-known gold mine. A mine that only produced little finds for those who spent the time picking and sorting through the rocks. Despite hundreds of miners walking this trail, the nugget was located a few feet off the track.
And in the same way, a nugget of information is a brief bit or piece of practical knowledge in the subject area that the user finds attractive. It's not a general-purpose idiom; it's a "term for business trainers." I believe most individuals would claim to have a valuable tidbit for a short, straightforward, or intriguing piece of knowledge.
Nugget of information's importance in data analysis
Long training sessions and densely written content are being replaced by short, easy-to-understand bits of information. Here are seven important reasons why it's important to have information when analyzing data. Get interested?
Short pieces of information called "nuggets" provide answers to various issues. That allows creators of learning resources to concentrate on the key content. Compared to sophisticated e-learning modules, less preparation is needed, which saves the authors a ton of time.
This indicates that the information is more immediately accessible and may be absorbed. At the same time, the author is already able to make further learning cubes. So, creating new research materials is no longer hampered by a lack of time.
Faster, more sustainable information acquisition.
Data analysis takes less time when presented as quick bits of knowledge. The adaptability of microlearning materials also results in substantial time savings for researchers.
People may now learn something new or look for answers to pressing problems during the intervals between meetings or just before lunch. And you may keep yourself entertained during downtime on business travels by munching on the newest bit of knowledge!
Information is always accessible.
In a face-to-face training session, workers hear about an issue that doesn't (yet) touch them directly. When required, employees frequently can't recall crucial facts (we all know this).
How can workers access and work with knowledge material anytime? The straightforward approach is to preserve consumable content on a video platform, LMS, or intranet so any coworker may access it when needed. Your workers' learning habits, such as Googling a query or viewing a video instruction, might be translated to the workplace.
Information nuggets are easy to locate.
Corporate training may be done online, although long films have a clear drawback. Every query will have an answer if various topics are covered. Still, your staff will struggle to locate the information they need when they need it.
One way to deal with this is to use chapter titles that allow readers to hop back and forth between subjects. But suppose your team can work with neatly organized nuggets of information, each of which answers a typical query or resolves a particular issue. In that case, the search effort is significantly reduced.
Better informative outcomes.
When planning to analyze data, nuggets of knowledge give a whole new degree of flexibility. Your staff may learn more readily in this manner. Furthermore, they also know a great deal more effectively.
Information is best kept when it is closely tied to daily tasks and is taken in at the precise time when the learner is most open to new information, just before they need it. As a consequence, learning is improved due to increased attention.
Videos also satisfy the demands of many learning styles and appeal to numerous senses. Because of this, learning via streaming is ideal in today's digital culture.
Updates can be applied at any moment.
Although it is theoretically feasible to update a lengthy video course or a lengthy paper to reflect new advances, the procedure is time-consuming. Because longer material may be more challenging to handle, the writers may lose sight of what needs to be updated.
However, nuggets of information enable the author to swiftly replace old material with new content, allowing a single subject to be changed. In contrast, the rest of the current nuggets will stay unaffected.
Each employee can convey their expertise.
The structures of tools used to create information nuggets are often considerably more straightforward than project editing software and require less technology to produce.
Consequently, staff members may impart their expertise to peers without requiring in-depth technical training. This enables specialists and professionals to record and share their information, which is sometimes solely accessible. Colleagues can swiftly fix issues, share best practices, advice, and experiences, and your efficient workflow can continue.
Conclusion
Finding efficient transmission channels is crucial since most awards consider broader effects. Even though it is sometimes one of the most challenging tasks, sharing research results with the general public is an essential step in the scientific method. As an analyst, a nugget of knowledge allows you to communicate your findings and study to a large group of students, instructors, researchers, and colleagues.
We at QuestionPro noticed that our clients increasingly needed access to a consolidated user insights library for improved data management, faster insights, and cheaper research expenses. Join us on a journey to put research data to use while saving money and time.