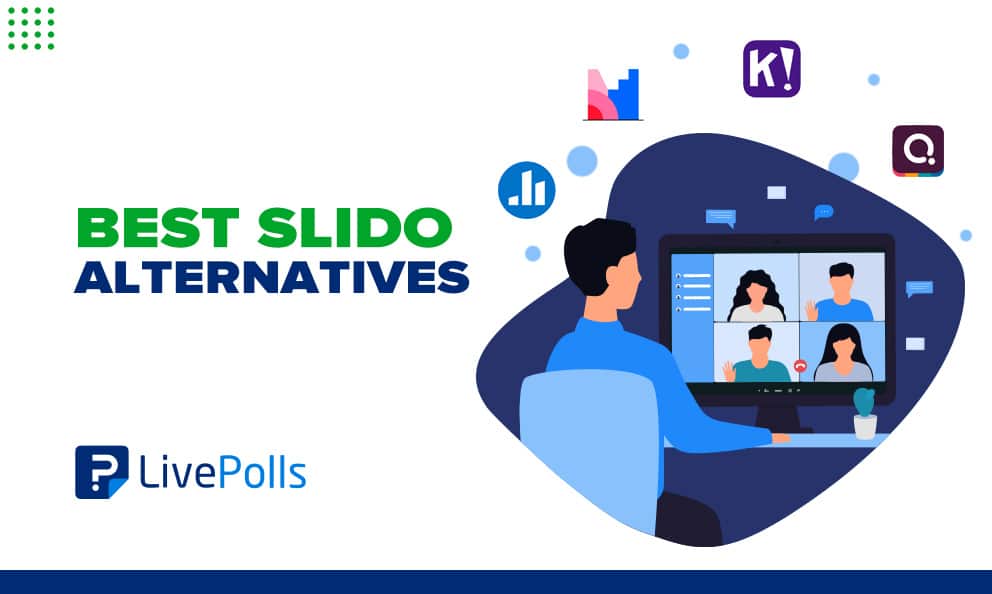 Slido is a well-known platform that allows the creation of Q&A and poll questions. It aims to support presenters in front of their audiences in live, remote, or hybrid meetings, events, classes, and webinars. Lately, however, its users are reporting to be missing some features, which has them searching for better Slido alternatives. Let's discuss them.
Platforms like Slido and its alternatives can be resourceful in presenting in front of an audience. From an icebreaker to a more complex live polling tool for evaluations or data collection, these tools will come in handy to anyone with an audience.
LEARN ABOUT: Audience Engagement Tools
What are Slido Alternatives?
Slido Alternatives are poll creation and meeting solution tools similar to Slido, currently available on the internet. The alternatives might offer different assets than Slido, prices, or cover different needs. However, these tools aim to offer resources for meetings, events, or classes.
Users report that Slido has been helpful for brand customizing, data analysis, and email distribution. However, it lacks some features that some customers need for their projects. From affordability to value, there is a comprehensive list of Slido alternatives that can be a better match. Some examples of Slido alternatives are QuestionPro's Livepolls, Kahoot, or Mentimeter.
Why opt for Slido Alternatives
Some users report a lack of integration for essential apps like Google Slides or Slack, which can be an issue if you work with a team. Some troubleshoots can be discouraging for the audience as some submitted answers won't be displayed on the screen, which could be problematic in an activity, especially while presenting live.
Other Slido users reported discomfort due to the lack of engaging graphics within the platform. It's imperative to promote audience engagement when making a presentation. For this reason, it's understandable to look for an alternative that allows more engaging and fun options. For instance, the need to add embed media can only be found in Slido alternatives, as the platform won't allow it.
Top 10 Best Slido Alternatives in 2022
Below, according to genuine user reviews and comments, we list the best-rated Slido alternatives in 2022.
#1 – QuestionPro's LivePolls
LivePolls is a fantastic tool for audience engagement, student engagement, and overall the best poll creation and meeting solution tool available on the internet for free. It is a user-friendly online polling tool that lets you conduct quick online quizzes and timed trivia, gather instant feedback, and show the results to participants in real time.
This software allows teachers to conduct quick online polls, quizzes, and general knowledge trivia to gather student feedback and showcase results in real-time. QuestionPro's Live Polls engage students in three easy steps:
Questions appear on the teachers' and students' screens.
Students answer the questions.
Everyone gets the results at the same time.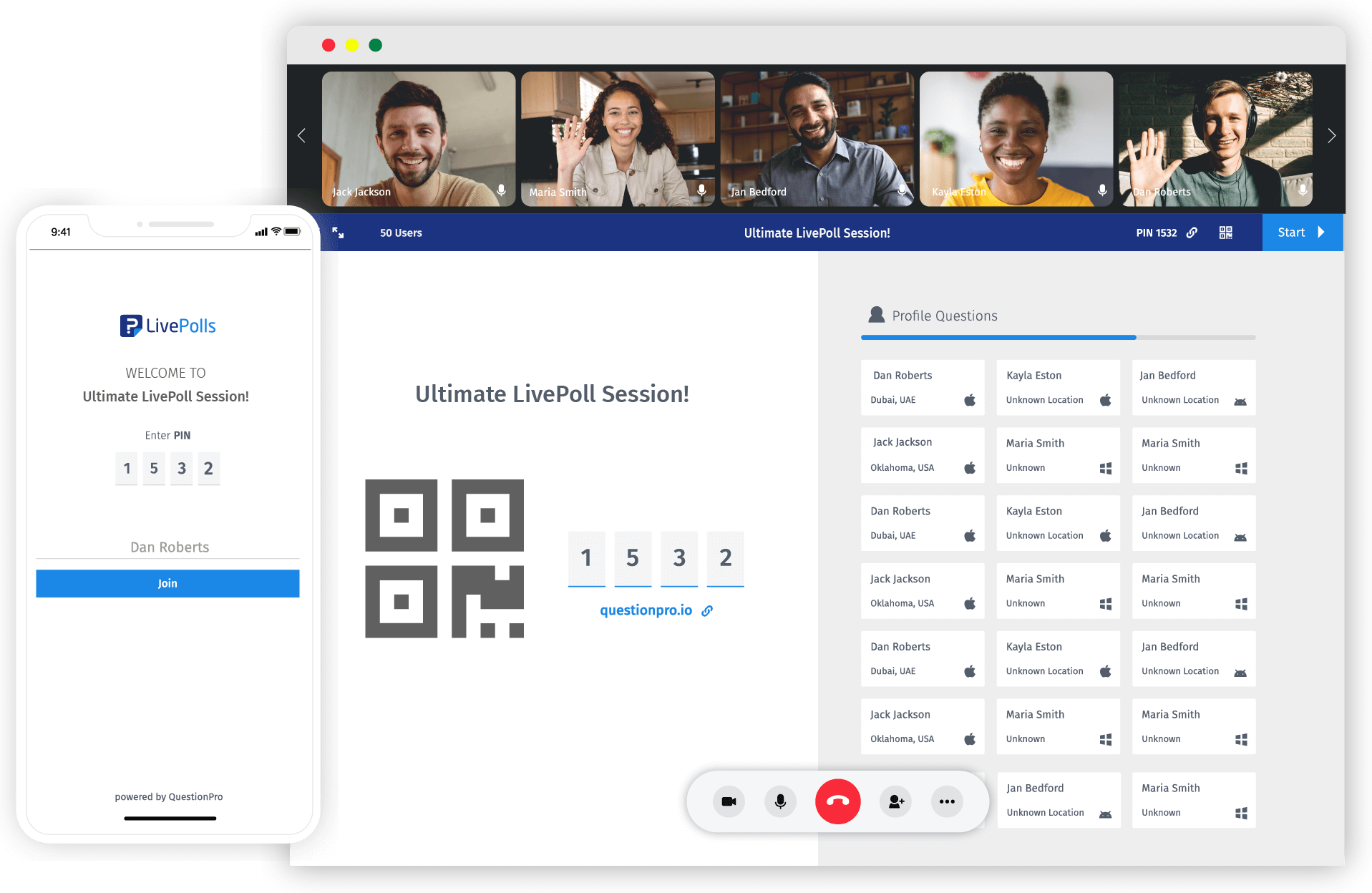 #2 – AhaSlides
Interactive presentation software lets your audience vote ask questions, play quizzes, and be engaged in real-time. We can say this is a fair Slido alternative. AhaSlides has been reported to allow its use as presentation software and not just for audience response, as it's the case with Slido.
Audiences like its poll function, especially the "image choice" function, which allows them to vote.
AhaSlides is reported to be faster and more affordable than Slido.
#3 – Mentimeter
Mentimeter is a cloud-based tool that lets you engage and interact with your audience in real time. You pose the questions, and your audience can give their input via a mobile phone or Internet-connected device.
#4 – Wooclap
The most complete, simple, and intuitive audience responses system that helps you engage your audience during a live conference, a corporate meeting or inside a classroom.
#5 – Beekast
Beekast is a collective intelligence tool that makes in-person or remote presentations more effective.
It's reported that Beekast has a better customer support and slide management than Slido.
#6 – MeetingPulse
Industry-leading audience interaction platform used globally by thousands of students to Fortune 100 companies for meetings and events. Features include real-time audience polling, Q&A, surveys, quizzes, and raffles, all available in anonymous mode.
It's reported that MeetingPulse provides more useful features and better support than Slido.
#7 – Pigeonhole Live
Audience engagement tool for crowdsourced Q&As, polls, and surveys. Built for mobile, works on all web-based interfaces. Perfect for enterprises and companies as a backchannel for their town halls, all-hands meetings, and conferences.
Users report that the Q&A interface for Audience is very complete and straightforward in comparison with Slido.
#8 – EngageNow
Engage your audience on Second Screen in real-time during conferences, events, radio programs, and TV shows. Use live Q&A, quizzes, and polls.
#9 – Glisser
Glisser makes presentations interactive – it takes regular PowerPoint or Keynote slide decks and pushes them out live to audience mobile devices, slide-by-slide, as they are presented.
#10 – Hypersay
Hypersay is a platform for interactive presentations that massively increase engagement. Keep your audience engaged with polls, questions, private notes, and live slide sharing. Store, enrich & deliver presentations from your cloud. Users like the feature that connects slides with quizzes, so no switching is required. Well suited for education and events scenarios.
Users say Hypersay can do practically everything Slido does, but for free.
Conclusion on the best Slido Alternatives
QuestionPro's LivePolls is one of the best Slido alternatives. LivePolls is free for all users of QuestionPro. This tool is especially relevant for today's educators, who need access to digital tools to keep their online students engaged, even when they are not in the classroom.
Most importantly, LivePolls by QuestionPro is a free, user-friendly online polling tool that lets you conduct quick online quizzes and timed trivia, gather instant feedback, and show the results to participants in real-time. Done well, student polls will effectively collect your students' insights, test their knowledge, or fire up a discussion.