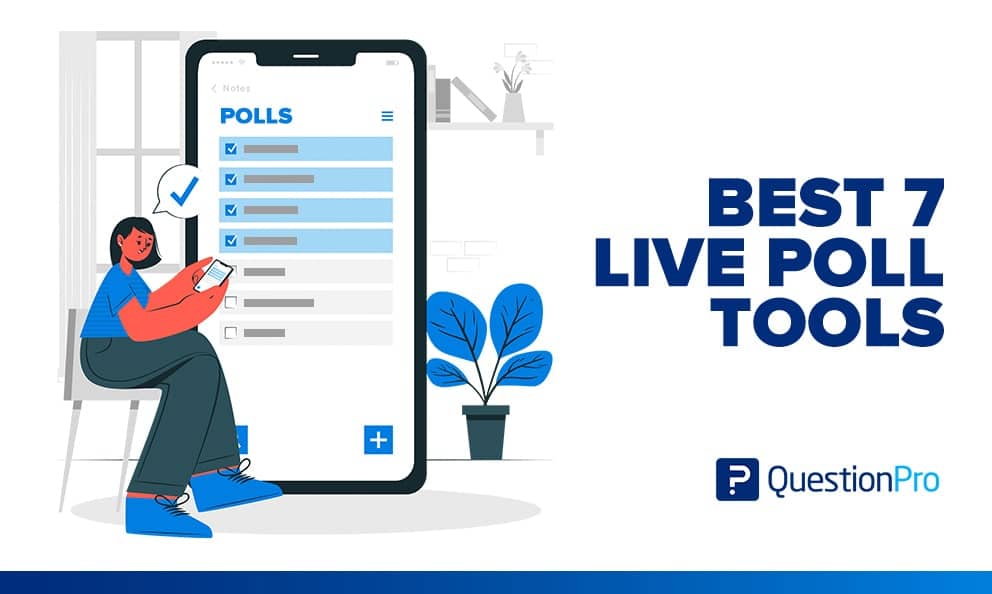 How do you measure the success of an event?
Is it the number of attendees that decides it? Or, how user friendly the event management tools were?
The biggest and most crucial contributor for any event's success should be measured against how engaged your audience was. After all, events are considered the best platform for your business to gain impactful brand exposure, and generate quality leads. You get to present and establish your brand language and convince why your customers must choose you over your competitors.
And for this very reason, it's extremely important to equip yourself with all the right tools and software that can help you boost audience engagement in a limited time. 
In a recent study conducted by markletic, it was found that 71% of marketers use polling to ensure audience attention. A Live poll app can help you extend the power of polls to not just boost engagement but enthusiasm as well. Be it a huge corporate affair or a small classroom discussion, live poll apps will help you conduct online polls, painlessly and generate results for the participants, in real-time. A continuously interactive loop between the presenter and the participants, that will automatically boost engagement is what the live poll tool can enable & build for your business. 
And, today we're going to discuss the 7 best live poll tools that every manager must know about to ensure event success, & actionable outcomes to follow through.
Best Polling Tools
Best live poll tool #1: QuestionPro Live Poll
Keep your audience engaged throughout your presentations, effortlessly using QuestionPro's completely user-friendly live poll tool. From gathering instant feedback to conducting dynamic quizzes and times trivias, this live poll tool could help you drive interactions smoothly.
The respondent will be able to answer the questions present on the speaker's presentation screen via their smartphone. It's that seamless! Besides, the tool doesn't demand any app download, or a sign-up. It's completely free.
Best live poll tool #2: Mentimeter
Turn your presentations into interactive experiences using Mentimeter. Generate word clouds based on your audience's impressions, conduct quiz competitions, or ask your audience to vote with this live poll tool that helps you to collaborate with your audience, easily.
Perform quick assessments to help you design the meetings better, and the best part? The tool doesn't require a sign-up- though the free version has a two-question limit.
Best live poll tool #3: Slido 
Yet another highly rated tool, Skido helps you build interactive polls, quizzes and surveys.  The tool is scalable and can cater their services to both individuals, and businesses. The participants don't need to download any apps into their device and can join the event by clicking a simple link.
The free version of the tool is limited to 5 polls per event, with upto 100 participants, but enables unlimited Q&A. 
Best live poll tool #4: Poll Everywhere 
Popular as a polling solution, Poll Everywhere helps you add live audience interactions to slides, so that the speaker could deliver effective presentations. Being a web-based audience response system, the poll helps speakers embed all the live activities directly into their presentations, easily. The participants respond using the Poll Everywhere app, via SMS texting or even using a private response page.
The free version offers unlimited questions, but only allows an audience size of 25 participants.
Best live poll tool #5: Magency 
Add interaction to your virtual, in-person and hybrid events using Magency. Conduct live Q&A, collect audience feedback, allow participant voting, and make sure that your audience feels like an integral part of the event or meeting. From tracking participant engagement to moderating incoming questions before they get broadcasted, this live poll tool helps you conduct your events, seamlessly. 
You have to contact the team, to get a custom quote that will fit your requirements just right!
Best live poll tool #6: DirectPoll
With DirectPoll you get to create interactive live polls instantly. All you need is an internet connection and a browser- no app downloads. If you're planning to make the poll a part of your presentation, then you don't even need the browser. The user friendly tool will help you bring in the power of real-time responsive elements into your events.
It is a free tool and is limited to 500 concurrent users.
Best live poll tool #7: Vevox
A real-time audience engagement tool, Vevox helps you run live polls, conduct Q&A, generate crowdsourced word clouds, & engage your audience with quizzes. The live poll tool helps you boost focus and drive engagement during your events. Organizations can use Vevox to collect feedback and also manage access permissions via their central dashboard. The tool will help you identify gaps, and reach the ebay solutions to avoid it.
A free plan of Vevox is available for you out its functionalities before committing to it.
Opinions are continuously changing and which is why it's vital to stay updated on the evolving moods. And, that's exactly what live polling helps you achieve! A live poll tool helps you create custom polls, exclusively designed to help you track audience engagement. 
Every tool discussed here has its own strengths, and nuances. While some cannot work without app downloads, some tools demand you to create presentations from scratch since they lack the import option, and more.  And, it is up to you to choose the right tool that could scale to fit your unique event requirements, the best. 
Why don't you just get started right away? Try QuestionPro LivePolls for free, we know you will love it!