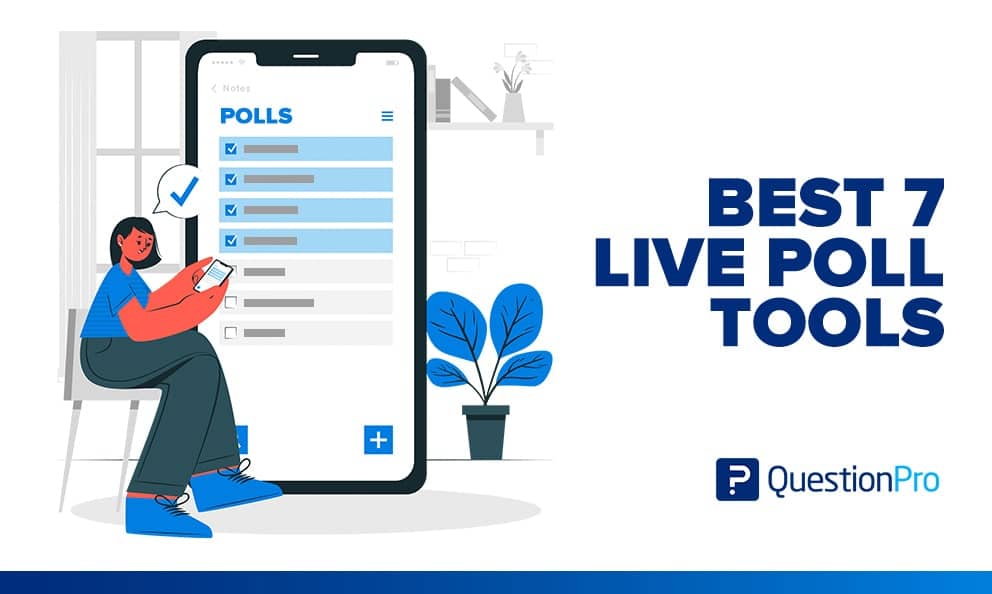 After you conduct an event or presentation, how do you measure its success? Is it the number of attendees that determines it? Or how user-friendly the event management tools were? What's for sure is that the right tools will be your allies to achieve a perfect presentation. Today we're talking about live polling.
The most significant and crucial contributor to any event's success should be measured against your audience's engagement. After all, events are considered the best platform for your business to gain impactful brand exposure and generate quality leads.
You get to present and establish your brand language and convince why your customers must choose you over your competitors. And for this very reason, it's essential to equip yourself with all the right software that can help you boost audience engagement in a limited time.
What is live polling?
Live polling is the action of conducting a poll or quiz in real-time among a live audience, either in real-life or online. In a recent study conducted by Markletic, data scientists found that 71% of marketers use polling to ensure audience engagement.
A Live polling app can help you extend the power of polls to boost engagement and enthusiasm. Be it a substantial corporate affair or a small classroom discussion, live-polling apps will help you conduct online polls, painlessly to generate results for the participants in real-time.
A continuously interactive loop between the presenter and the audience will automatically boost engagement, which is what the live poll tool can enable & build for your business. 
The key to successful live polling is to make it as accessible as possible. Avoid software that asks the user for a download or sign-up anywhere; time is valuable for a successful presentation. Opt for software that offers you a quick and easy-to-use interface.
Top 7 Live Polling Tools in 2022
Let's discuss the seven best live poll tools that every manager must know about to ensure event success & actionable outcomes to follow through.
Best live polling tool #1: QuestionPro Live Poll
QuestionPro's LivePolls is a user-friendly live poll tool to effortlessly keep your audience engaged throughout your presentations. This live poll tool will help you smoothly drive interactions with any audience, from gathering instant feedback to conducting dynamic, practical, and fun quizzes and trivia.
The respondent will be able to answer the questions shown on the speaker's presentation screen via their smartphone in real-time without needing downloads or sign-ups. It's effortless to use yet highly professional. Amazingly, the tool is entirely Free, which positions it as No. 1 on the list.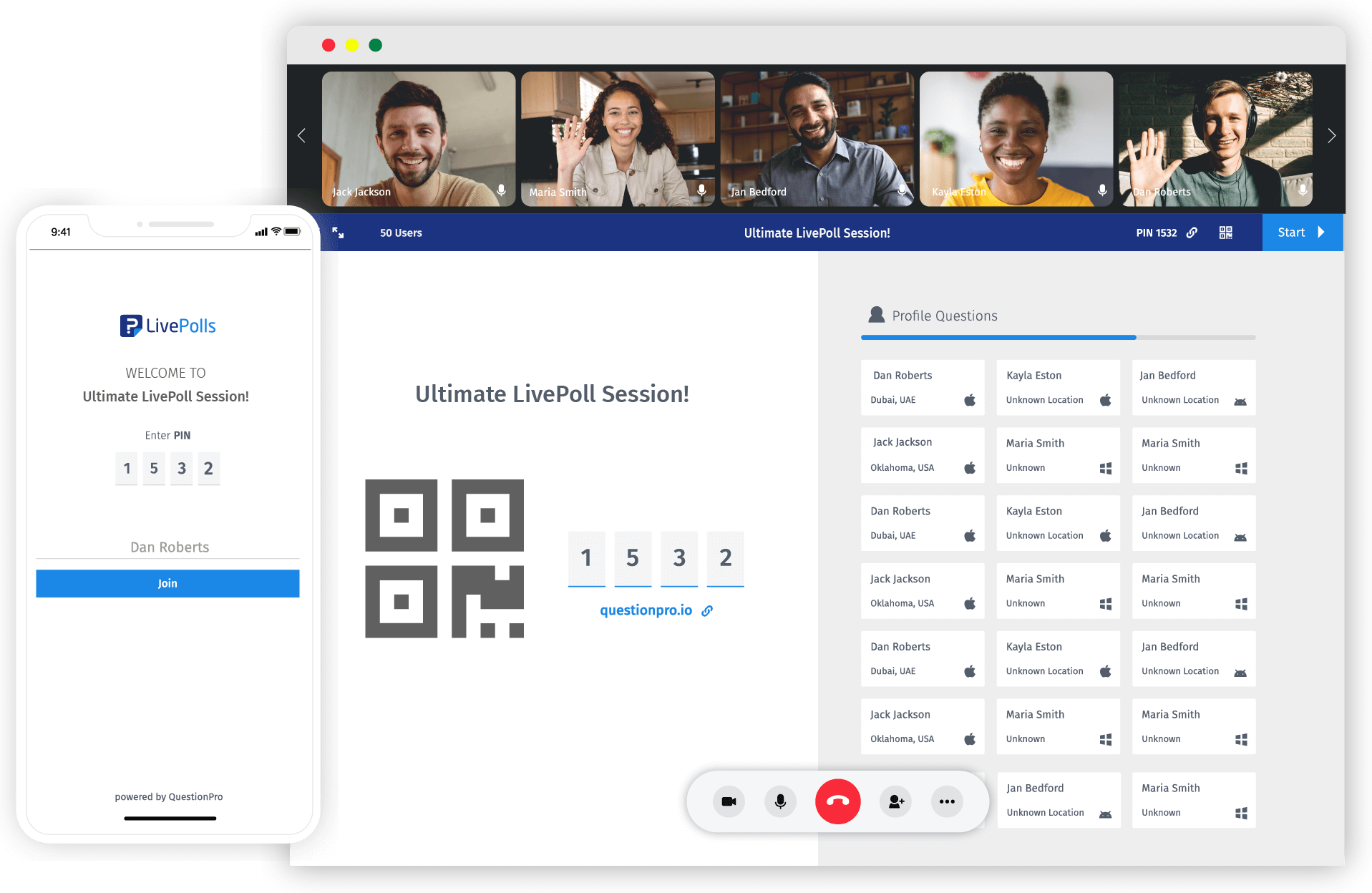 Best live poll tool #2: Mentimeter
This tool aims to make presentations interactive. It could allow users to generate word clouds based on audience impressions, conduct quiz competitions, or request audiences to vote. This live poll tool might provide help to collaborate with an audience.
It can be helpful to perform assessments that help you design meetings. Seemingly, the tool doesn't require a sign-up; however, the free version has a two-question limitation.
Best live polling tool #3: Slido 
Yet another fairly rated tool, Slido, helps build interactive polls or surveys. The participants aren't obligated to download apps and can join the event by locating and accessing a link. The software is scalable and can provide services to individuals and businesses.
The downside is that the free version is limited to 5 polls per event, with a capacity of only 100 participants or less.
Best live poll tool #4: Poll Everywhere 
Poll Everywhere is popular as it allows adding live-audience interactions to slides so that the speaker can deliver their presentations. It is a web-based audience response system, so it might help speakers embed all the live activities directly into their presentations.
The participants must download the Poll Everywhere app to respond, which might take valuable time. They can also reply via SMS texting or using a private response page. The free version offers unlimited questions but only allows an audience size of barely 25 participants.
Best live poll tool #5: Magency 
Add interaction to your virtual, in-person and hybrid events using Magency. Conduct live Q&A, collect audience feedback, allow participant voting, and make sure that your audience feels like an integral part of the event or meeting. From tracking participant engagement to moderating incoming questions before they get broadcasted, this live poll tool helps you conduct your events, seamlessly. 
You have to contact the team, to get a custom quote that will fit your requirements just right!
Best live poll tool #6: DirectPoll
With DirectPoll you get to create interactive live polls instantly. All you need is an internet connection and a browser- no app downloads. If you're planning to make the poll a part of your presentation, you don't need the browser. The user friendly tool will help you bring in the power of real-time responsive elements into your events.
It is a free tool and is limited to 500 concurrent users.
Best live poll tool #7: Vevox
An audience engagement tool. Vevox can run live polls, conduct Q&A, generate crowdsourced word clouds, or engage an audience with quizzes. The live poll tool helps aims to boost focus or drive engagement during events. Organizations can use Vevox to collect feedback and access a dashboard. The tool can help identify gaps, and search for solutions to avoid them.
A free plan of Vevox is available for you out of its functionalities before committing to it.
Now that you know your options, you can choose the software that better meets your needs. Of course, we recommend QuestionPro's LivePolls. For this reason, we created an easy-to-follow free guide for you.
Live Polls are all about collecting on-the-spot feedback. It takes a quick pulse of your audience while also showing them that you care about their feedback. Let's start!
Live Polling Step-by-Step Guide
With the right live polling software, you will be able to implement interactive presentations into your meetings, classes, or any exposition. By making interactions in real-time with your audience, you will be generating audience engagement.
Step 1: List your questions 
Prepare your questions and keep them the shortest you can. Easy-to-read questions are the best kind for a poll. 
Remember that live polls are fun when they don't drag along for long. Keep your answer choices to a maximum of four, and the total number of questions must not go over 10. We've noticed that 4-7 is the sweet spot.

Being quick and concise is the key!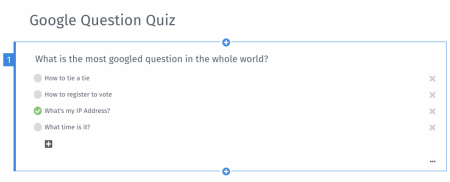 Step 2: Open a free account 
You only need your email for this step. No credit cards and no hoops to jump through. Quickly sign up for a free account so that you can create your first live poll right away. 

Step 3: Assemble your questions and configure
QuestionPro LivePolls lets you run a poll, as well as collect live comments from the audience. Just follow the directions like in the picture below to go to your poll template. From here, it's a simple matter of entering your questions and answers. 
You can also have fun with the various customizing options like enabling the audience to submit anonymous responses with an alias, insert a live comment box for respondents to leave their comments, and even split your audience randomly into teams to see which side wins! 
Step 4: Share the URL with your attendees so they can join the live polling
Ask your audience to get ready with their mobile phone or open another window on their screen. They need to type in questionpro.io  to get to the page where the action is! 
Step 5:  Share the 4 digit code with your respondents 
Since you are the creator and presenter of the Live Poll (we'll call you Live Poll Admin), a 4-digit code will appear on your screen when you click 'Start' (refer to the picture below). At this stage, you can also set a response time limit for each question. Now share this code with your attendees and you can kick it off!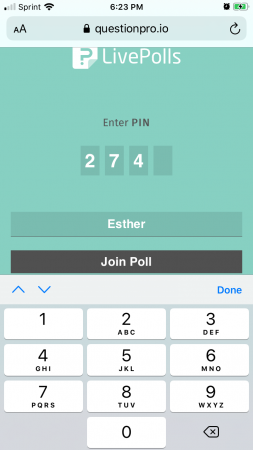 Step 6: Launch your Live Poll
Wait for your audience to join the LivePoll session and once they are all there, click 'Start'! Yes, that's it- you've successfully launched your LivePoll. 
You'll see a countdown clock displaying the time left for your respondents to choose their answer. And a leaderboard will show up on the right side of your screen with a live showcase of the top 20 scores listed in the order of who answered right the quickest! It adds an element of thrill to the Poll experience. 

Step 7: Watch the live polling results real-time 
There is a basic chart that updates real-time as the responses pour in. You can share this with your respondents and it's quite interesting to watch the graph as audience choices and answers get updated.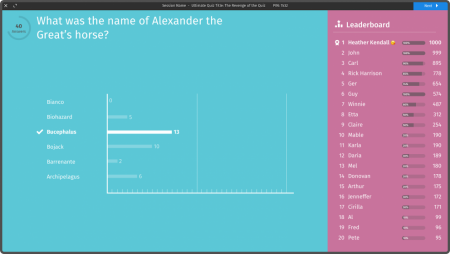 Step 8: Review results in dashboard – tada!
So your live poll happened in a flash, but you can hold on to the responses collected and comments received. What's more, you can even get separate stats on the device usage, fastest respondents details, and the accuracy rate of right responses for each question. Wasn't that fun?
Now if you enjoy watching videos over reading guides like this one here, head over to our Youtube video to learn everything about creating Live Polls!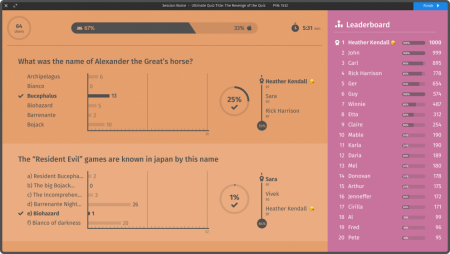 So there, you have it! You're ready to have fun with your Live Polls and deliver the best presentation of a lifetime.
Conclusion
Opinions are continuously changing, so it's vital to stay updated on the evolving moods. That's precisely what live polling helps you achieve! A live poll tool helps you create custom polls exclusively designed to help you track audience engagement. 
Every tool discussed here has its strengths and nuances. While some cannot work without app downloads, some tools demand you to create presentations from scratch since they lack the import option and more. And, it is up to you to choose the proper tool to fit your unique event requirements. With QuestionPro's LivePolls, we provide it and surpass your expectations. 
Why don't you just get started right away? Try QuestionPro LivePolls for free, we know you will love it!