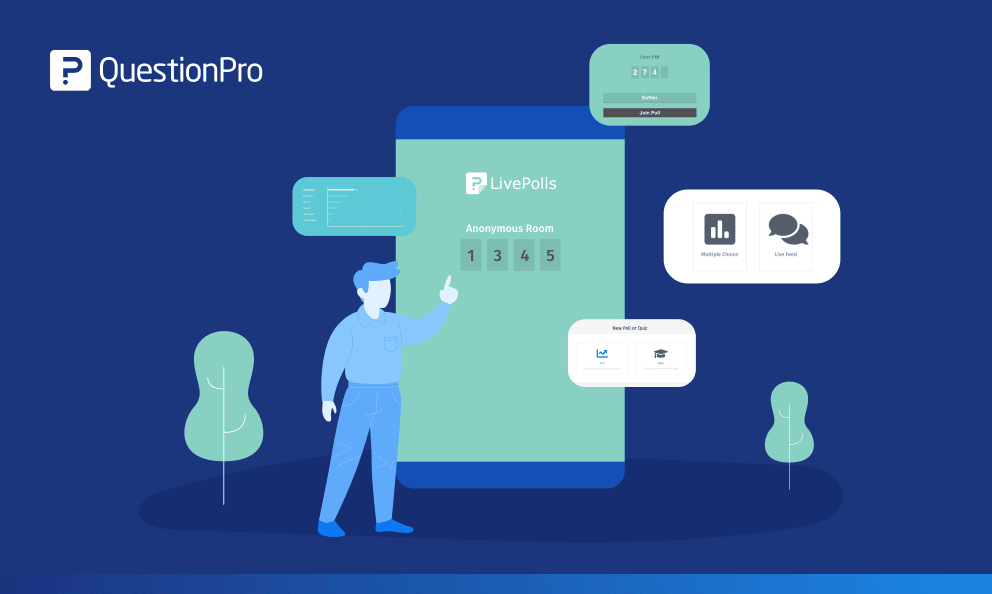 Online meetings large and small are pretty much the norm these days. With so many meetings throughout the week, how do you know your audience is fully engaged in your presentation? How do you know if they're learning something? More importantly, how can organizations fight online meeting fatigue while still staying productive? Whether it's a room full of students, or an online training webinar, we've got a solution that rises to the challenge!
LEARN ABOUT: Audience Engagement Tools
LivePolls by QuestionPro is a totally free user-friendly live polling tool that lets you conduct quick online quizzes, timed trivia, gather instant feedback, and show the results to participants in real time.
In a nutshell, LivePolls engages audience participants in three easy steps:
1. Questions appear on the presenter's and respondents' screen.
2. Respondents answer questions.
3. Everyone sees the same results and engage based on them.
To spice up your online meetings and increase audience engagement, we've put together the ultimate guide to QuestionPro LivePolls. No app downloads and quick turn-around on results guaranteed! Let's dive right in.
Getting started
Got polls? Write your quiz or poll questions ahead of time. Remember, the highest level of engagement is always at the start of a poll or quiz, so maximize your audience's attention with these LivePoll tips.
Quiz and polls should include:
A clear title. A short title to summarize what the quiz is about.
Short questions and answers. Go for a concise easy-to-read format.
No more than 10 questions max.
No more than four answers to choose from.
A set time per question. Think how long it should take to answer each quiz question.
Sprinkle in humor with funny questions and answers – Trust us, it works!
Programming LivePolls
To keep it simple, all you need to access LivePolls is a QuestionPro account. It doesn't matter if it's a free or paid account. Every QuestionPro user gets LivePolls.
Sign up for QuestionPro here
Got one already? Awesome! Login to your account and on the top right hand click the drop down button next to 'Surveys' and select 'LivePolls.'

* Third one down from the top.
Click on the blue plus + sign to start creating your quiz or poll.
Choose your own adventure and select a new poll or quiz.
Create an online quiz or trivia
For questions that have predefined correct answers, select the 'Quiz template.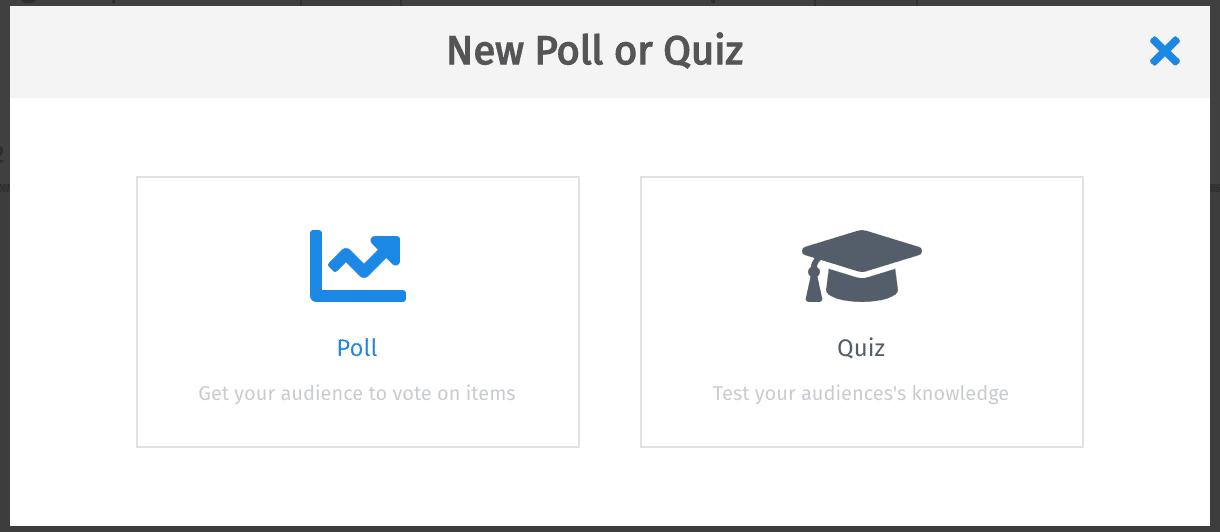 Under LivePolls > Edit > Workspace > Click on the blue plus + sign in the template and select question type. For questions with predefined answers, select 'Multiple Choice.'
Add question and answer text within the template.
Checkmark the predefined correct answer to the left of the answer. For multiple answer options, checkmark all that applies.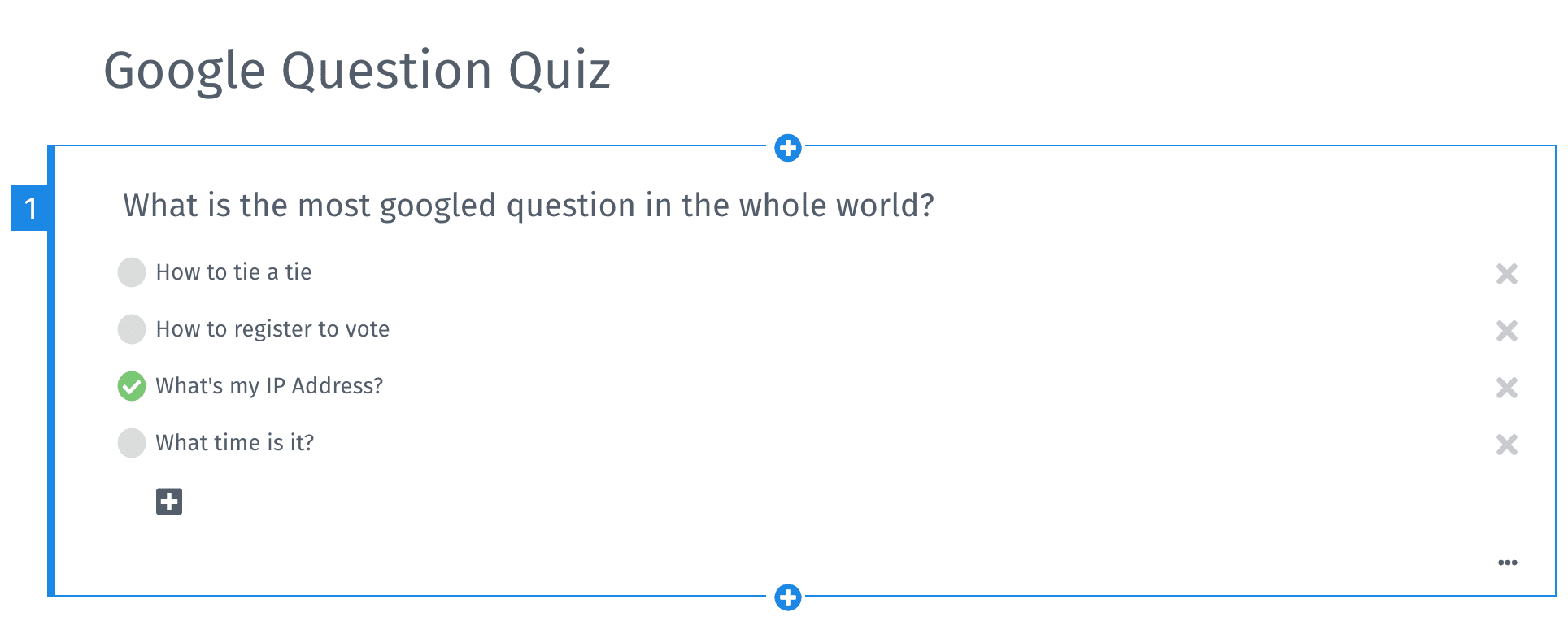 Next, select the blue plus sign + to add additional questions and answers until complete.
When the quiz has been fully programmed, select 'Settings to update quiz setting preferences.'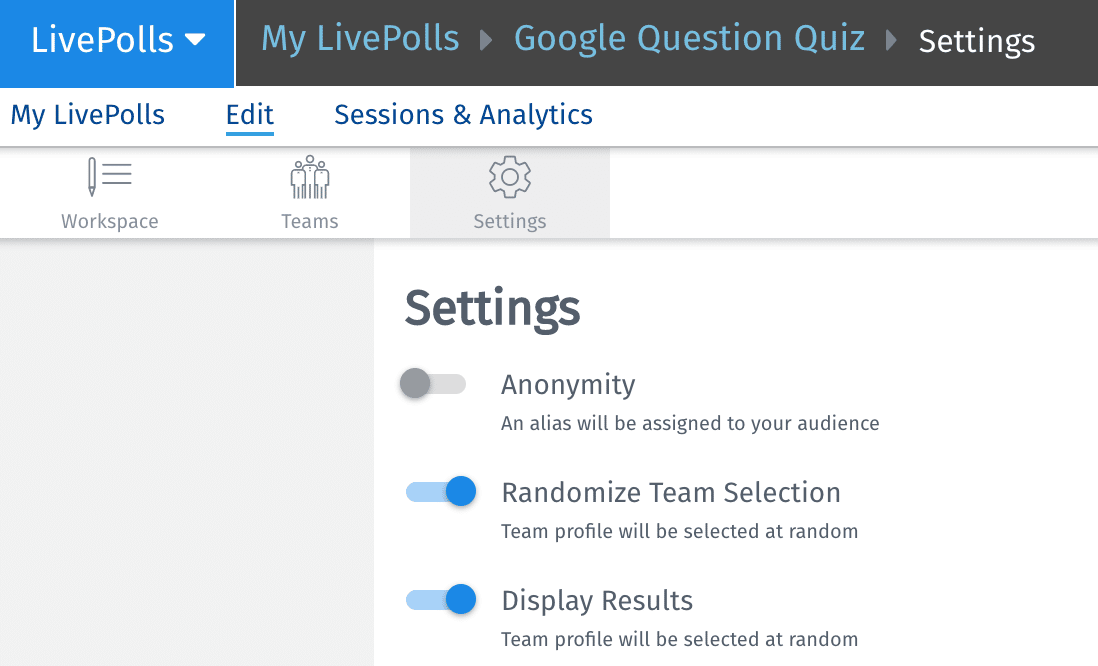 Anonymity: Keeps audience members anonymous
Randomize team selection: Enable If you want to randomly select teams the audience. Useful for games.
Display results: Enables team profile to be selected at random.
Got your quiz created and settings updated? You're ready to launch the quiz!
Quiz FAQ: What's the difference between a quiz and trivia?
Quizzes are used to test useful knowledge while general knowledge trivia is a subcategory of a quiz but generally doesn't provide useful information but fun to answer.
The structure of the question and answer format is the same.
Quiz questions and trivia can be programmed within the same quiz template in LivePolls
Create a live poll
Live polls empowers your live audience to give feedback using simple closed-ended answers and live comments. It is typically no more than one to three questions long and the results can be shared immediately during the online session.
To set up live polls, go to LivePolls > click the blue plus + sign > Select Click on the blue plus + sign > select new poll to open the poll template.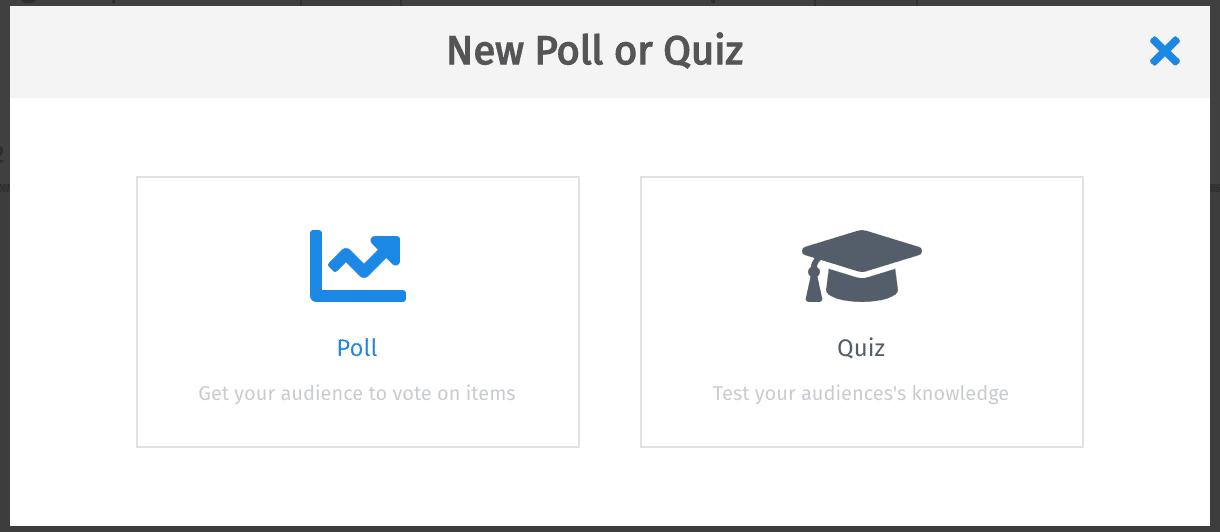 Click on the blue plus + sign within the template to add multiple choice or live feed question in your poll template. Fill the question template with question and answer options.

Add additional questions and answer until completed.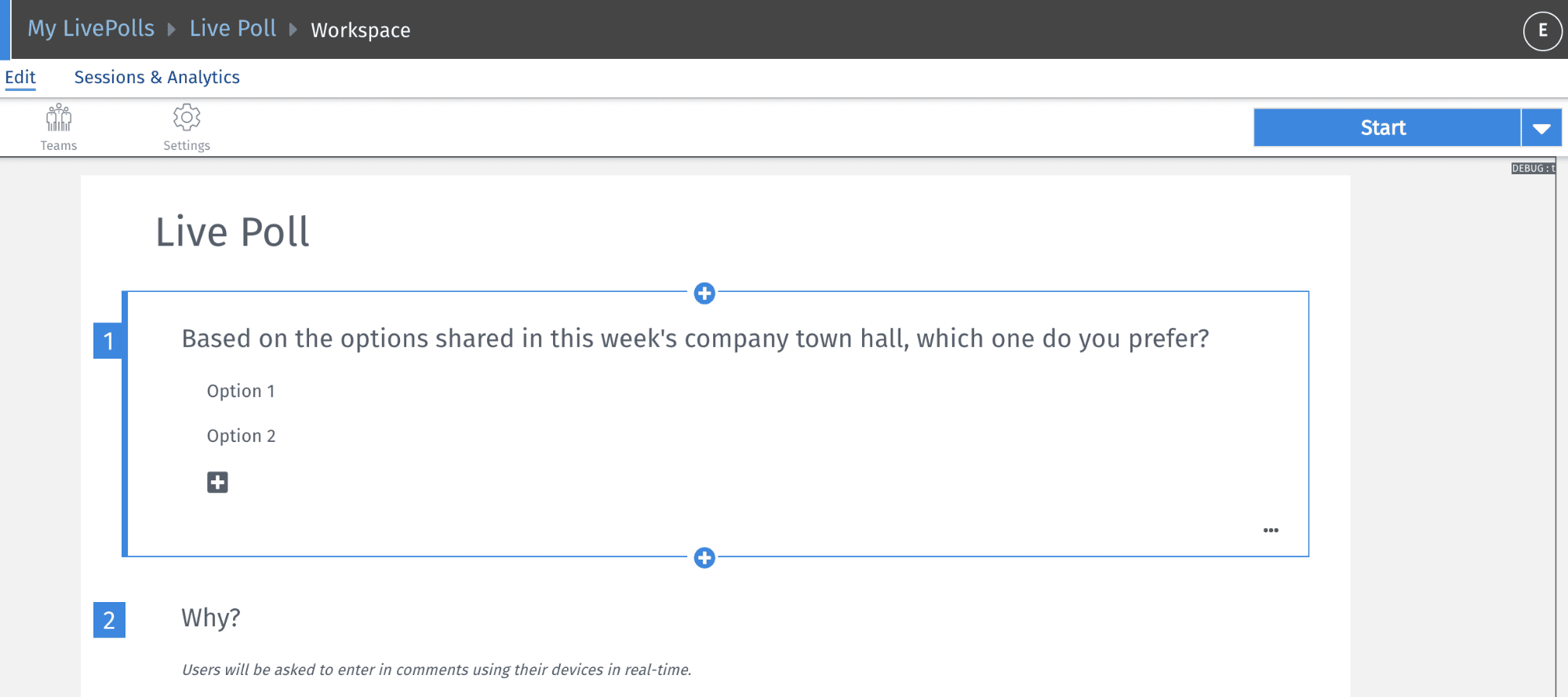 Next, open Poll settings to customize poll preferences.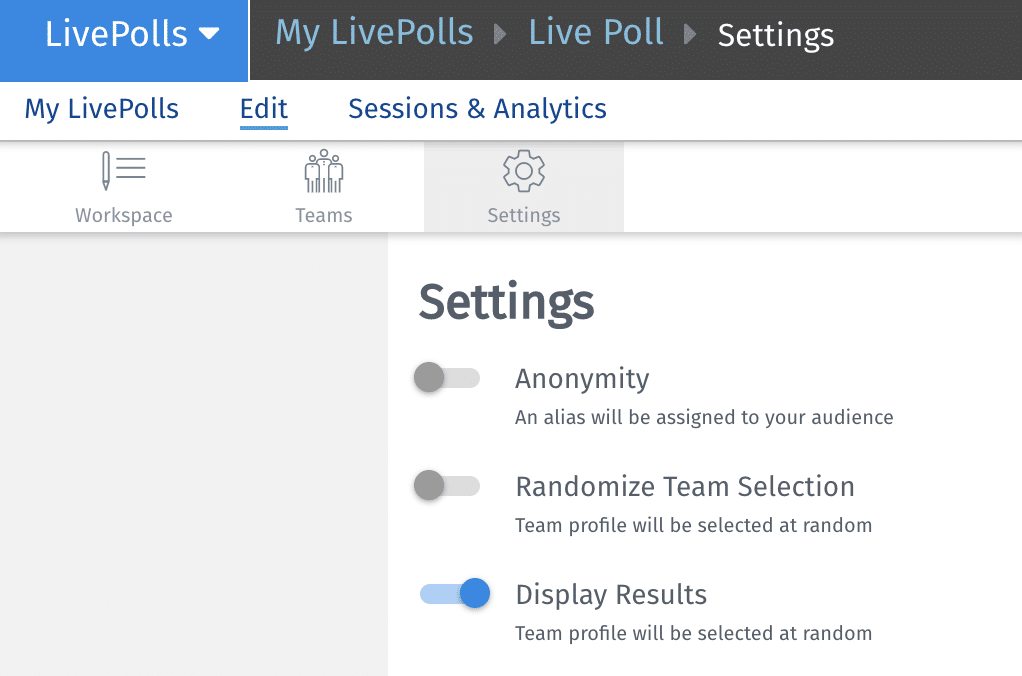 Got your poll created and settings updated? You're ready to launch the poll!
Gather Live feedback
The live feed question lets you ask the live audience an open-end question and gather responses in real-time. Live feed that is available for both polls and quizzes.
Live feed comments can also be enabled during the presentation for participants to give a steady stream of feedback while also being able to vote on live comments as they roll in.
Live feed is used when you want to ask for suggestions, preferences, or have folks give reasons why they selected previous answers in the poll or quiz.
To add live feedback to an online poll or quiz > click on blue plus + sign >select 'Live Feed.'

Add question text to live poll or quiz.

Got your live feed questions added? You're ready to launch LivePolls!
Assign teams
If you are looking to divide your live audience into teams so you can track and score, then you can update the teams settings within the LivePoll workspace.
To access Team settings, go to LivePolls > Edit > click on Teams next to workspace.
Give team names one per line.


Turn on auto-select random if you want the tool to divide your audience into teams for you.
When audience members access LivePolls via questionpro.io, they will be asked to roll the dice and the system will pick their team for them.
Assign teams: Live audience perspective
Audience to have a mobile phone or second laptop screen open.
Audience to type in questionpro.io in the toolbar
Type in 4-digit pin code seen on the presenter screen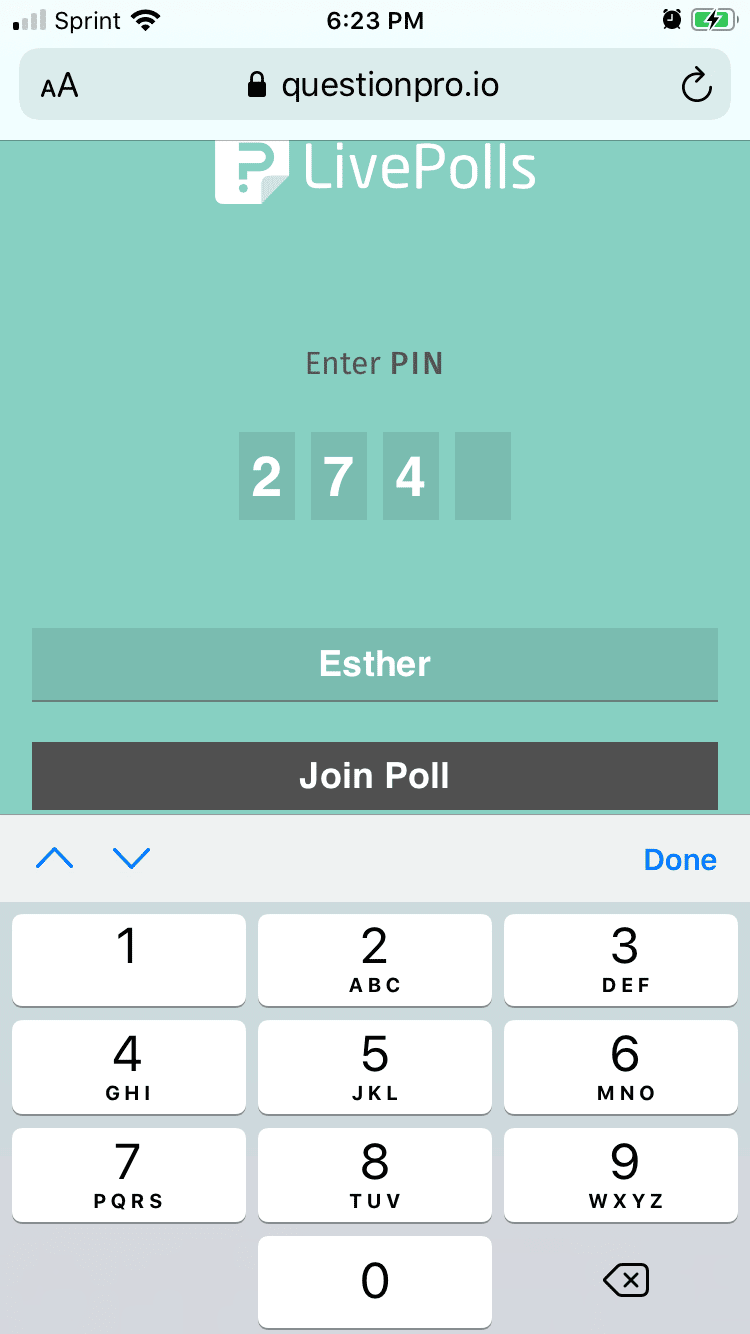 For random teams, audience members will be prompted to click the dice icon to find out which team they are in.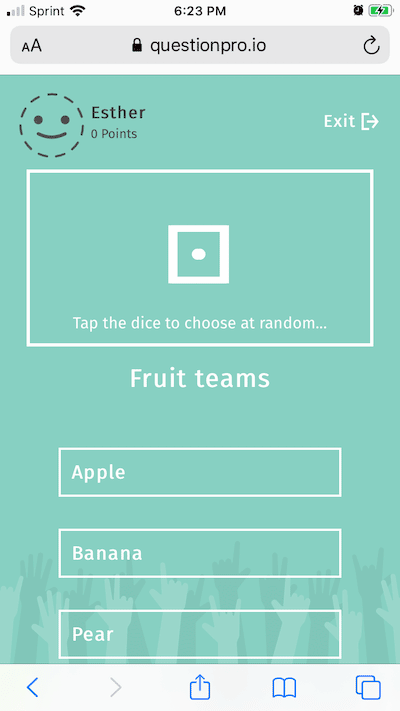 Questionpro.io will tell each participant which team they need to join from the choices given after tapping the dice on the screen.
Congratulations! Your audience has been randomly divided into teams.
Launch LivePolls in an online meeting
Now comes the fun part – Launching a LivePoll!
For LivePoll Admins, go to LivePolls, select name of LivePoll > click 'Start' on the top right hand of the screen.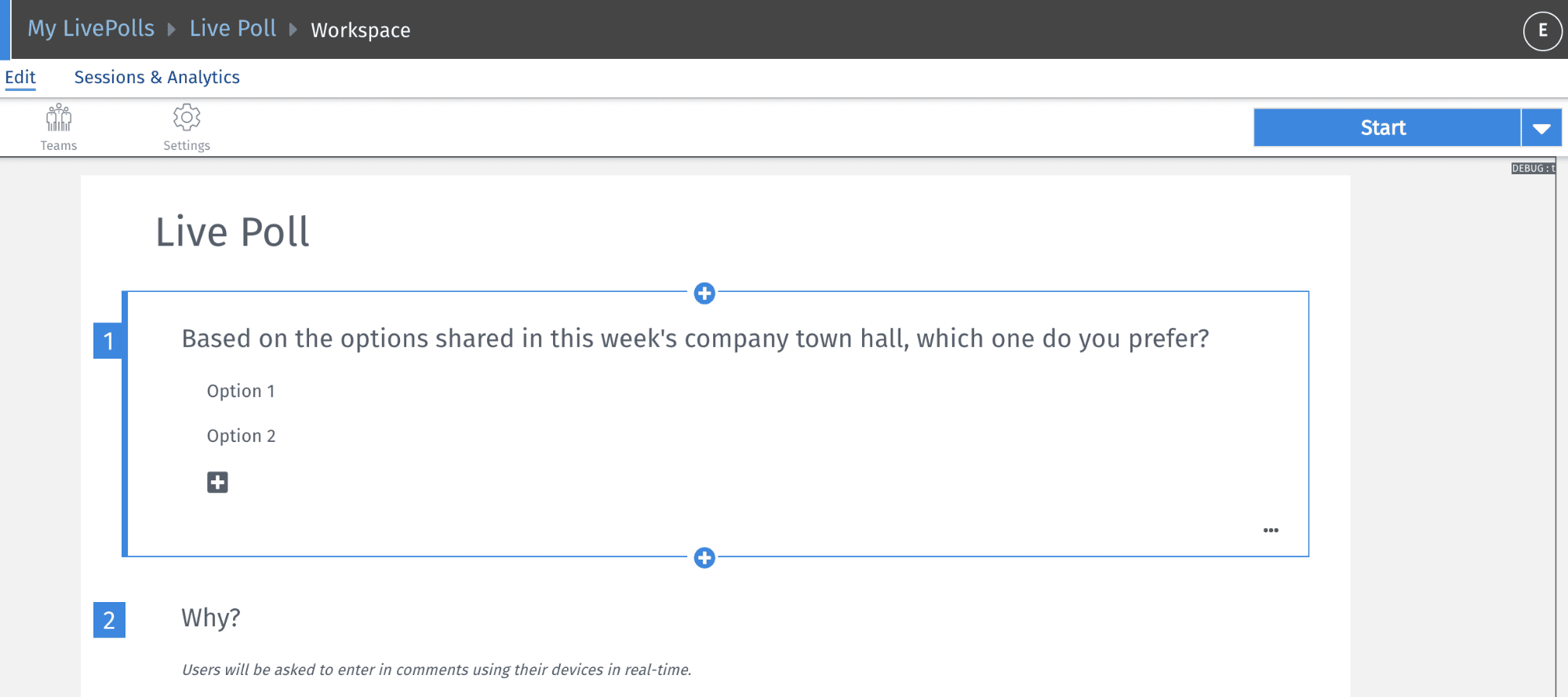 Give the session a name. Example: Date and title of poll or quiz
Set the response timer for each question
Enable or disable 'start on full screen'
Click 'Start Poll or Quiz.'

An auto-generated 4-digit pin code will display on the screen.
Notify audience members to go to Questionpro.io and share the 4-digit pin code.
Watch as audience participants start joining the LivePoll session.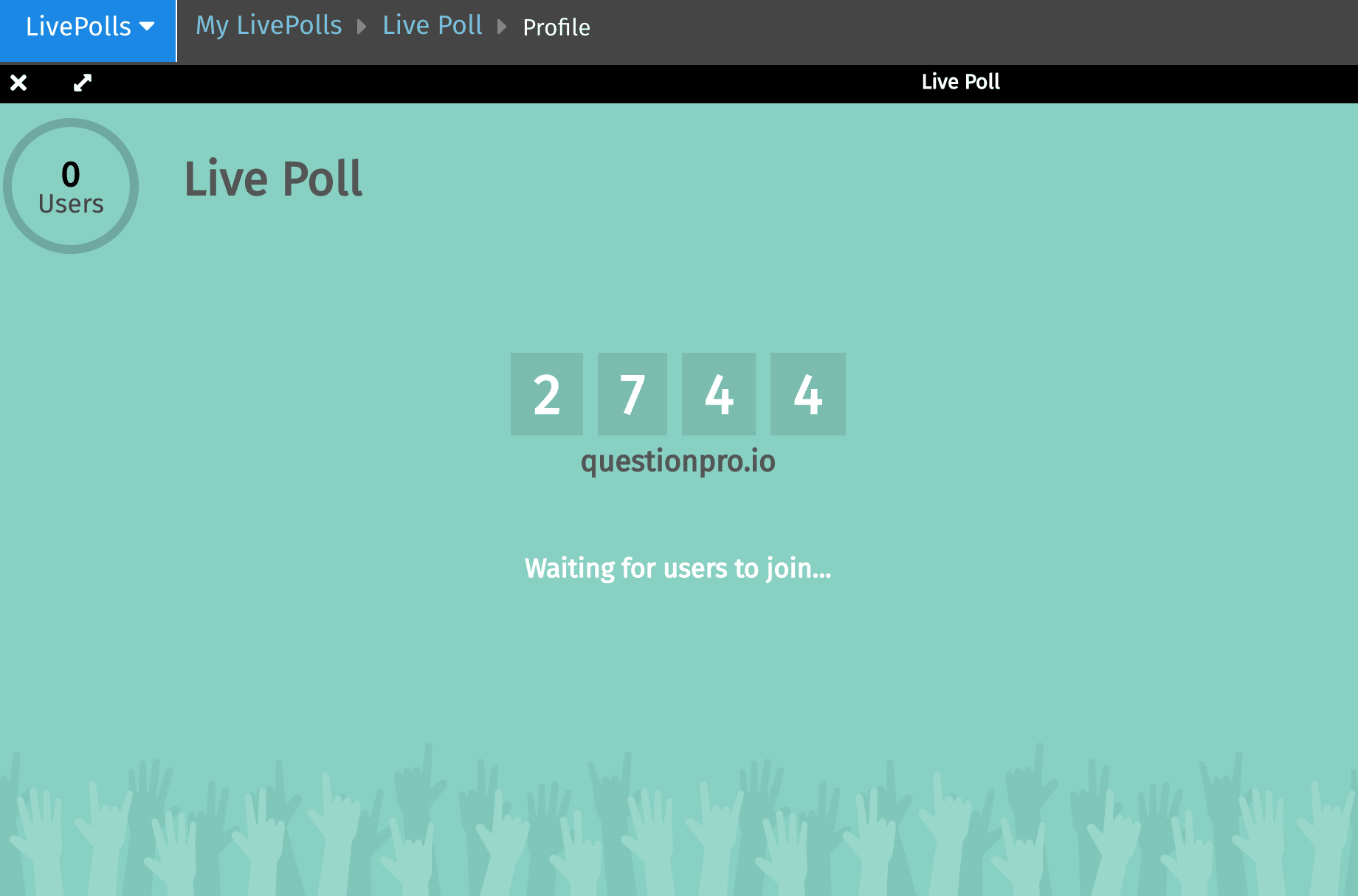 Once everyone has joined, click 'Start' on the top right corner to start displaying the LivePoll questions.
A countdown clock will appear on the top right corner to notify you how much time is left for audience participants to give their answer.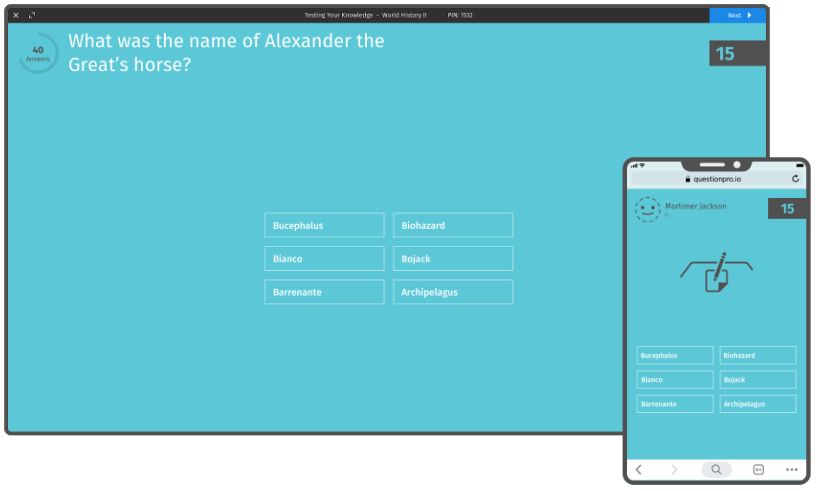 Immediately after the countdown is complete, the correct answer, total number of answers and top scorers will be displayed for all to see.
A leaderboard to the right will showcase the top 20 scores based on the correct answer and time it took to submit an answer. Throughout the polls, both the presenter and respondent can view the scoreboard. With this, it makes it very easy for the host to declare a winner in no time.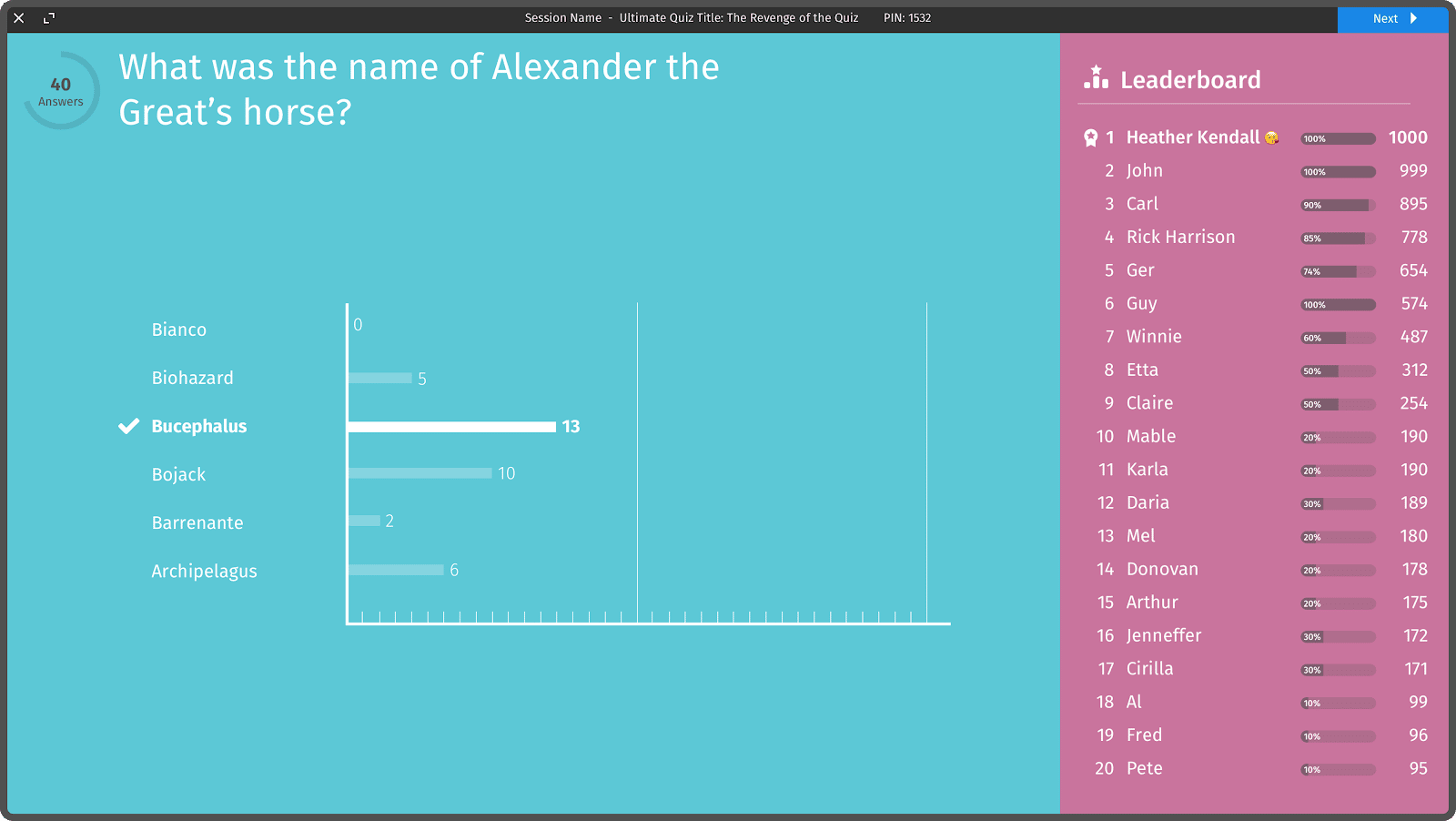 Once you are done reviewing the results with the audience, select 'Next' on the top right to continue to the next quiz or poll question.
Live feed comments and voting
To receive comments and feedback in real-time either during the quiz or presentation, add the Live Feed question to your quiz or poll and start the LivePoll session. When viewers see the Live Feed question, they will be prompted with a comment box to share their thoughts which will show in the live feed.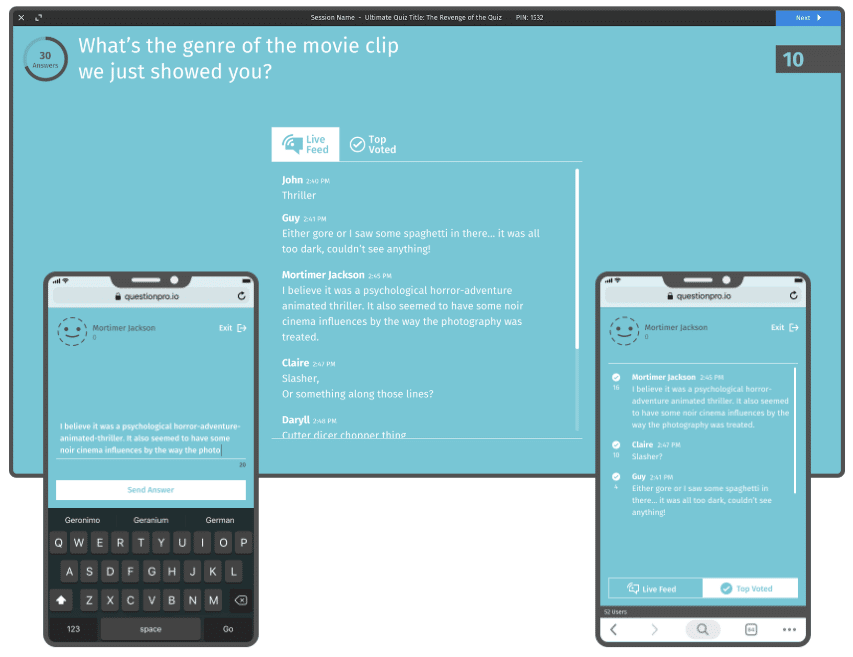 Audience participants will be able to view, scroll through, and vote up their favorite comments. The voting results will be ranked from highest to lowest votes for easy analysis.
Poll and quiz results in real-time
Track audiences' preferences and answers with a simple chart that updates in real-time. What may score high at the beginning of a presentation could change significantly towards the end. The best part – you're aware of it the entire time.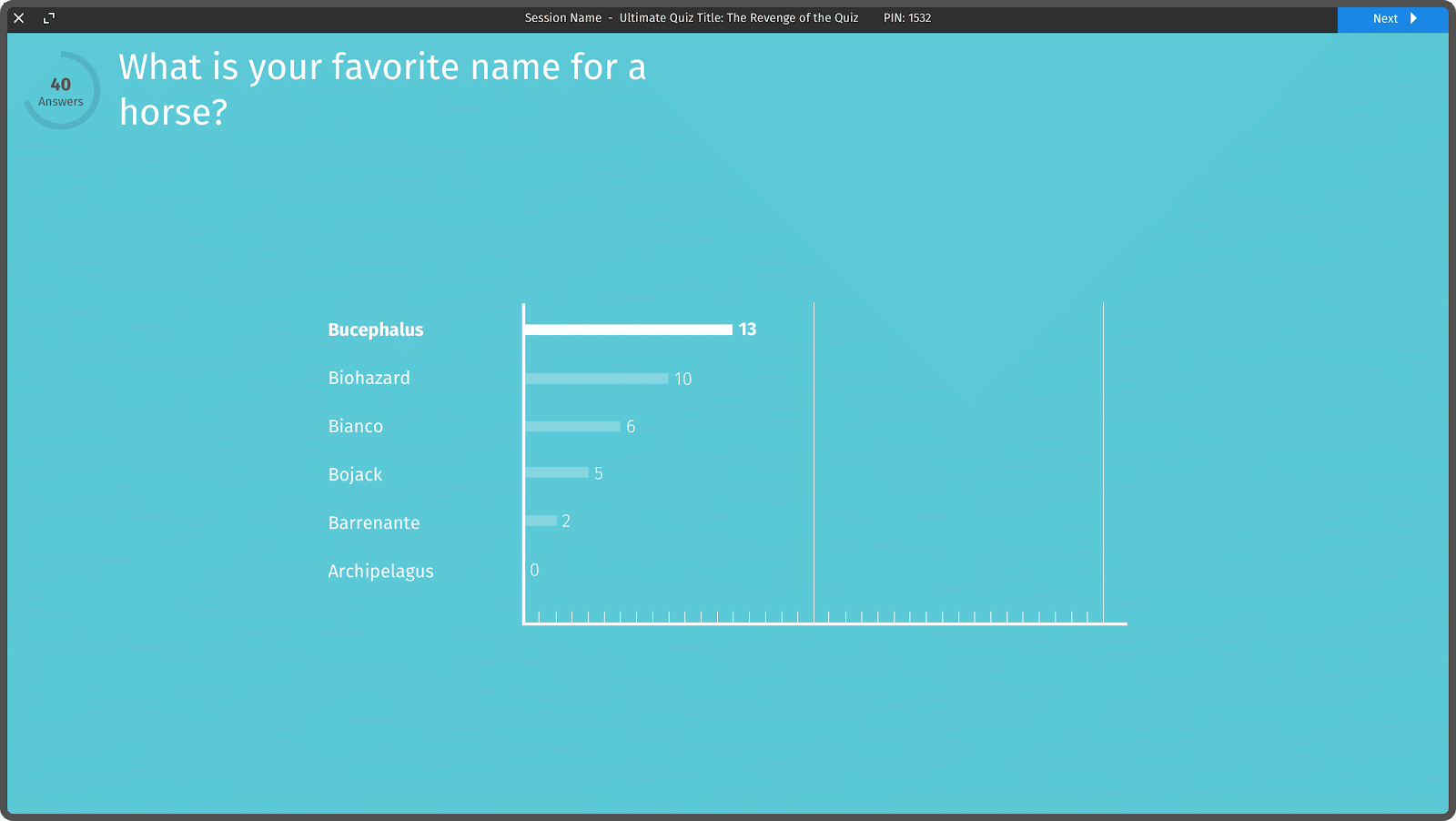 Post-session analytics
One a poll or quiz is complete, all of the answers received, including live feed comments and votes, will be available to access at LivePolls > Select poll or quiz name > Sessions & Analytics.
Click on the session dashboard to review all of the results. Stats you can view once the live polls are over are:
Device usage: The percentage number of respondents' based on their mobile platforms.
Accuracy rate: The total percentage of the right responses for each question.
Top respondents: The fastest respondents for each question.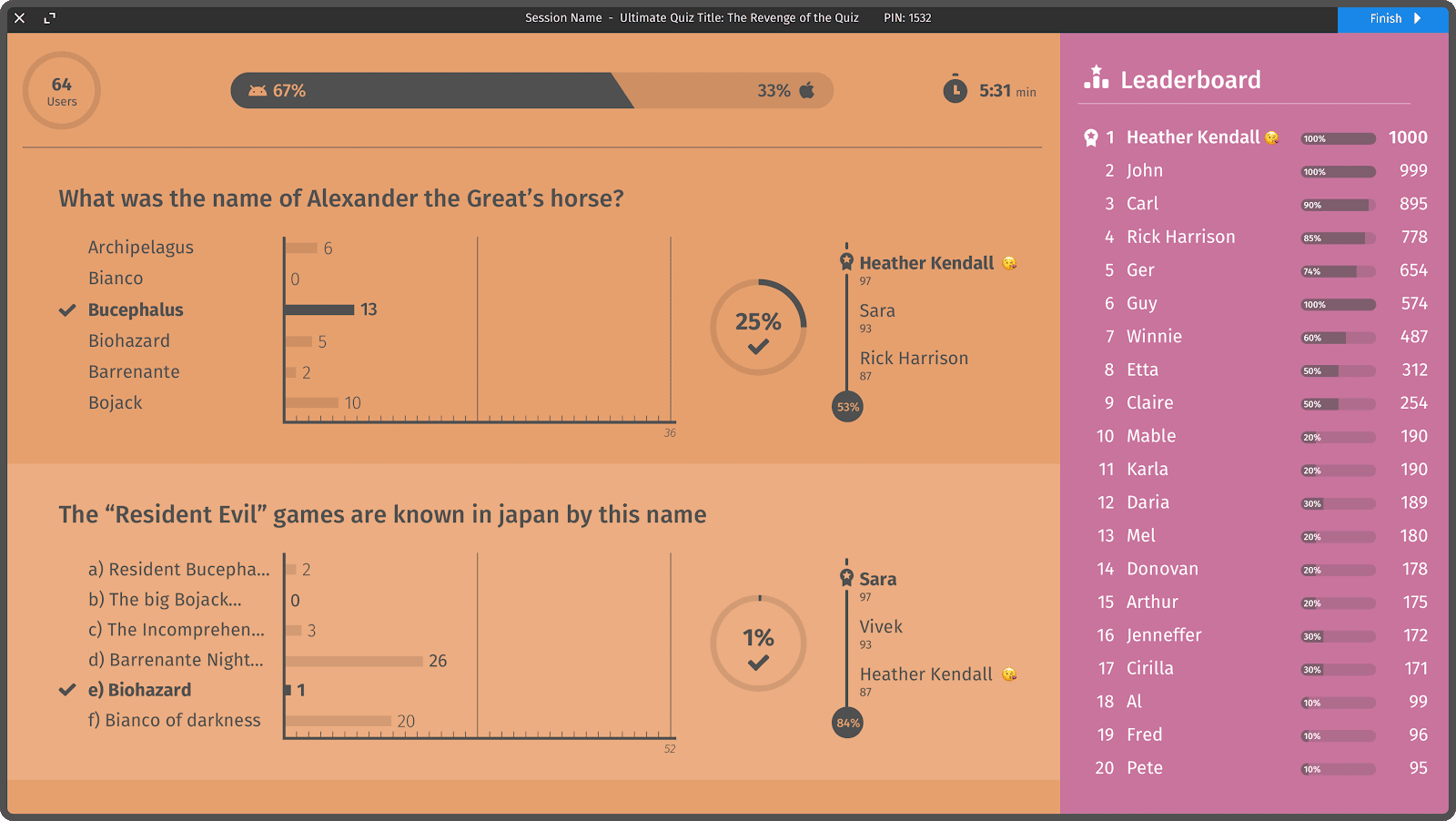 Once you have completed your analysis, click 'Back' on the top left hand side to go back to the index of polls and quizzes.
10 Trivia questions to start having fun
1. What country's national animal is the unicorn?
Finland
Scotland (correct)*
Ireland
Netherlands
2. What is Hippopotomostrosesquippedaliophobia?
Fear of hippos
Fear of falling equipment
Fear of long words (correct)*
Fear of growing overgrown moss
3. What color is the 'black box' on an airplane?
Red
Orange (correct)*
Black
Yellow
4. According to Apollo astronauts, the Moon smells like:
Gun powder (correct)*
Cheese
Coffee grounds
Gasoline
5. If a coffee bean is darker, is the caffeine content higher or lower?
Higher
Lower (correct)*
Same
6. Which atmospheric gas on earth is the most common?
Argon
Nitrogen (correct)*
Oxygen
Carbon dioxide
7. What's the loudest animal on earth?
Lion
Blue whale (correct)*
African Elephant
Humans
8. Which country consumes the most electricity in the world?
United States of America
China (correct)*
Russia
Brazil
9. What is the main ingredient in Bombay duck?
Fish (correct)*
Duck
Chicken
Potatoes
10. What does "HTTP" stand for?
Hyper Tone Transaction Place
Hyper Transfer Text Protocol
HyperText Transfer Protocol (correct)*
Hyper Track Text Process
LivePolls tips and best practices
Here are five important tips that will help you create, launch, and analyze LivePolls.
Prior to launching the LivePolls, turn off the audience share screen, then launch LivePolls, and reshare screen for all to see the pin code. If you have a quiz then you will not want your audience to see the answers ahead of time.
Decide how long you want participants to answer questions and set the timer before launching the LivePoll. Decide if you want to read questions and answers out loud.
Practice practice practice! Learn how to juggle multiple employee meeting tools and presentation materials including LivePolls, Zoom, and Google slides.
Introduce the audience to LivePolls early on so participants can prepare. If you are doing a webinar, let folks know there will be a quiz, trivia, or poll at the end of presentation and share the URL, questionpro.io, for audiences to type into their mobile phones or laptops.
Make it fun! Add humor where applicable and comment on interesting Live Feed responses as they roll in.
Finally, we invite you to watch our latest webinar where you will learn in depth how to use LivePolls, start doing better polls today.