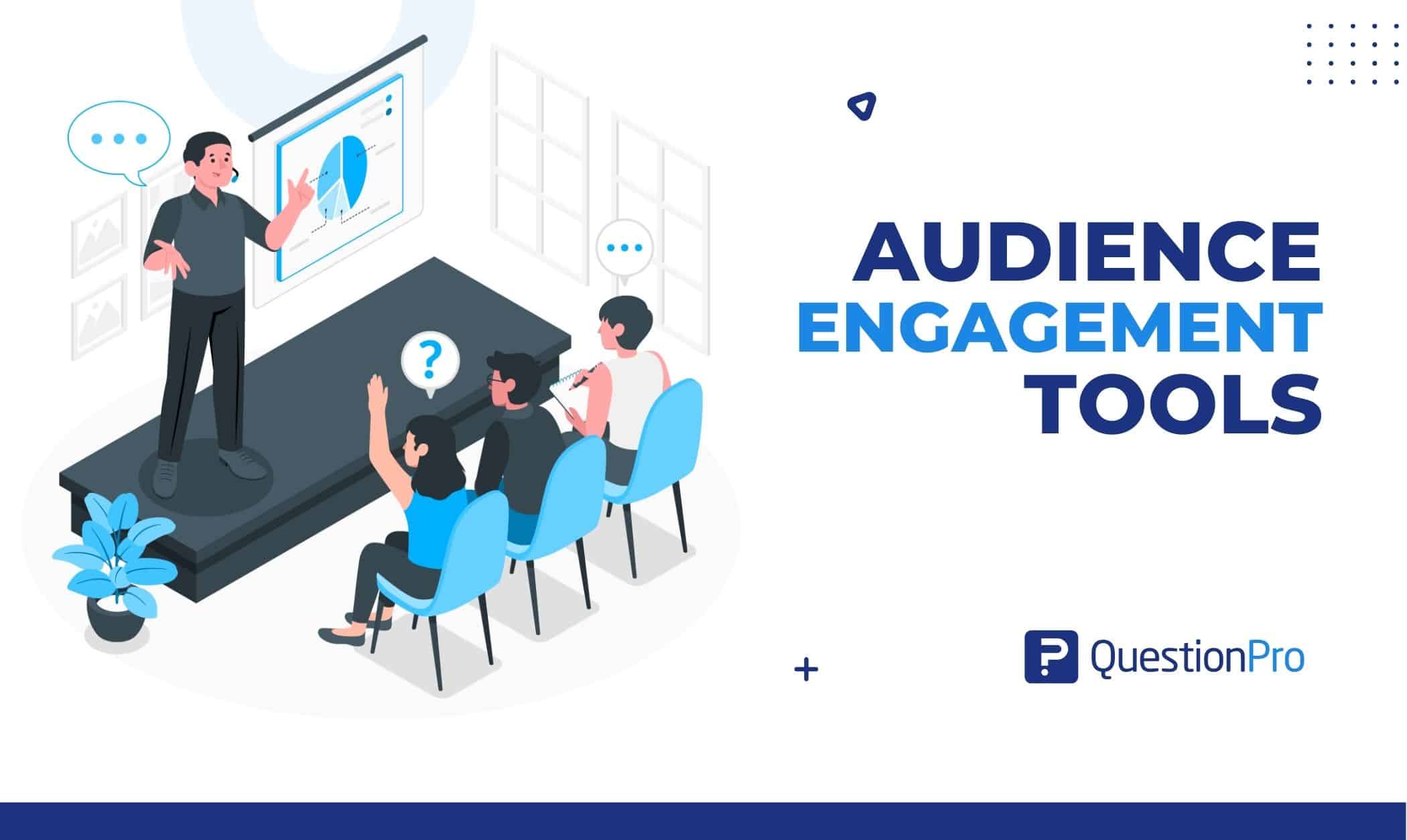 Consider a time when you had the most fun at an event or when someone described an event as being interesting. What made it such a memorable experience?
You probably remember this event because it was enjoyable. Getting attendees fired up to participate and come back year after year is the first step in creating an engaging attendance experience.
Audience engagement tools enable participants to interact with live questions on a device and receive real-time responses during in-person and online events. This blog will define audience engagement tools, why they are used, and the top 5 tools that can help to increase engagement in events.
What are audience engagement tools?
Audience engagement tools, also called audience interaction platforms, are software presenters can use to interact with and engage their audience in real time through live polling, quizzes, surveys, or Q&A sessions.
Audience engagement tools are a great way to make it easier for people to talk to each other and get people interested in what the speaker has to say. It can help keep the conversation going between the presenter and the audience and make it easier for people to talk to each other.
Example of audience engagement tools in a presentation or event: Imagine presenting on plant-based diet benefits. Use these methods to engage your audience:
Polling tool: Use QuestionPro LivePolls to question guests about their diet and plant-based eating attitudes.
Interactive presentation: Clickable slides or games can keep audience members engaged.
Q&A: Encourage audience participation by allowing questions and feedback during the presentation.
Social media: Invite attendees to post about the plant-based diet on social media to build community.
Hands-on activity: A culinary demonstration or taste-testing can boost participation and make the lecture more interactive.
Combining these tools and approaches can boost audience engagement and make your presentation or event more interactive.
Why are audience engagement tools used?
There are several reasons why you may wish to employ audience engagement tools:

To boost interaction and participation: You may persuade more people to interact with your material by making it simple for audience members to pose questions or participate in discussions. Everyone engaged may enjoy a more engaging and dynamic experience due to this.
To increase knowledge and retention: To help your audience better grasp and recall the information you're giving, allow them to ask questions and get rapid feedback. This is crucial for training or instructional materials since it helps the audience comprehend and retain the presented information.
To create a sense of community: You can create a sense of community among your audience by using audience engagement tools. You may make your audience feel more welcome and included by encouraging a sense of connection and involvement.
To get feedback and insights: Audience engagement tools can also help you gain valuable feedback and insights from your audience. By letting them ask questions or tell you what they think, you can learn more about what your audience cares about and how they react to your content.
To enrich the entire audience experience: By utilizing audience engagement tools, you can create a more collaborative and engaging environment for your viewers, improving their comprehension of your material and fostering a greater feeling of community.
Top 5 audience engagement tools
QuestionPro LivePolls
QuestionPro's LivePolls functionality lets users build and run live polls during events and presentations. LivePolls can be used for market research, audience feedback, or entertaining, interactive audience engagement.
LivePolls lets users design and show real-time poll questions on a screen or projector, and participants may respond using their smartphones or tablets.
LivePolls requires users to build a poll in QuestionPro and share it with their audience via a unique URL or QR code. Participants can then use their devices to answer the poll. Users can observe real-time poll results. LivePolls can be themed and colored to match the event or organization.
Mentimeter
A mobile voting app called Mentimeter lets you see the results in real-time along with graphs and statistics. It is ideal for live, virtual, or hybrid events. It may be used for various events, including wine tastings, painting lessons, fitness classes, and comedy shows.
It may be used for small and large events thanks to its over 30,000 votes per minute capacity. The software offers many question and response types, including word clouds, multiple-choice, open-ended, and rating scales. Additionally, it is simple to customize with your branding.
Taggbox
Taggbox organizes social media posts from Instagram, Facebook, YouTube, Twitter, LinkedIn, and others. Advanced filtering and distinctive themes, styles, designs, and personalization capabilities make this aggregated feed relevant and appealing.
After that, display this curated social feed at live, virtual, in-store, digital signs, DOOH, emails, etc. Taggbox's Instagram wall aggregator tool lets customers customize, embed, and show Instagram feeds on websites, events, e-commerce, virtual events, and digital displays.
Kahoot
Kahoot! creates and runs quiz-based games at live meetings and events to make presentations and training more fun and interactive. You can get more people to come and be more interested in sending out a quiz before the event and showing the results at the event.
Kahoot! games come in many different styles, such as quizzes, polls, word clouds, and puzzle questions. Kahoot! can be used with video conferencing tools like Zoom, Microsoft Teams, and Google Hangouts, as well as online communication tools like Slack.
Crowd Mics
Crowd Mics is a free app that lets audience members use their phones as wireless microphones. CrowdMics is very helpful for events like forums or when a microphone can move around.
The software connects to the venue's wired network and sound system through an ATOM box. On the other hand, the moderator uses an iPad app to decide who gets to speak. Crowd Mics also has options for polls and comments.
How can QuestionPro LivePolls help in audience engagement?
QuestionPro LivePolls can be useful for getting people involved in several ways. Some of the reasons why it's good to use LivePolls are:
Interactive: LivePolls lets users interact with their audience in a fun and interactive way, which can help keep people interested in the event or presentation.
Real-time feedback: LivePolls gives real-time feedback, so users can see how their audience responds to the questions and change their presentation or event accordingly.
Customizable: LivePolls can be changed to have different themes and colors to match the event or organization's branding. This makes them more visually appealing and interesting.
Mobile-friendly: Users can access LivePolls from their phones or tablets, which makes them easy to use.
QuestionPro LivePolls can be a useful tool for making events or presentations more interactive and getting feedback from the audience.
Conclusion
Audience engagement tools can help you make your material more interesting and participatory for your audience, which can improve their understanding of it and their sense of community.
Involving the crowd at your event is much simpler than earlier events. All you require is the right audience engagement tool close at hand.
Experience the finest future events possible. This blog was put together with a list of the top 5 audience engagement tools you should be looking for in 2023 to help you get there. Therefore, pick the one that aligns with the goals of your business and move on.
A LivePoll is a real-time survey taken during a presentation or event. The event may become more interactive and engaging if they let the audience participate and voice their ideas or preferences in real-time. You can add some fun and excitement to the event by using live polls.
Online survey software like QuestionPro LivePolls is frequently used for live polling. Try QuestionPro LivePoll for free!