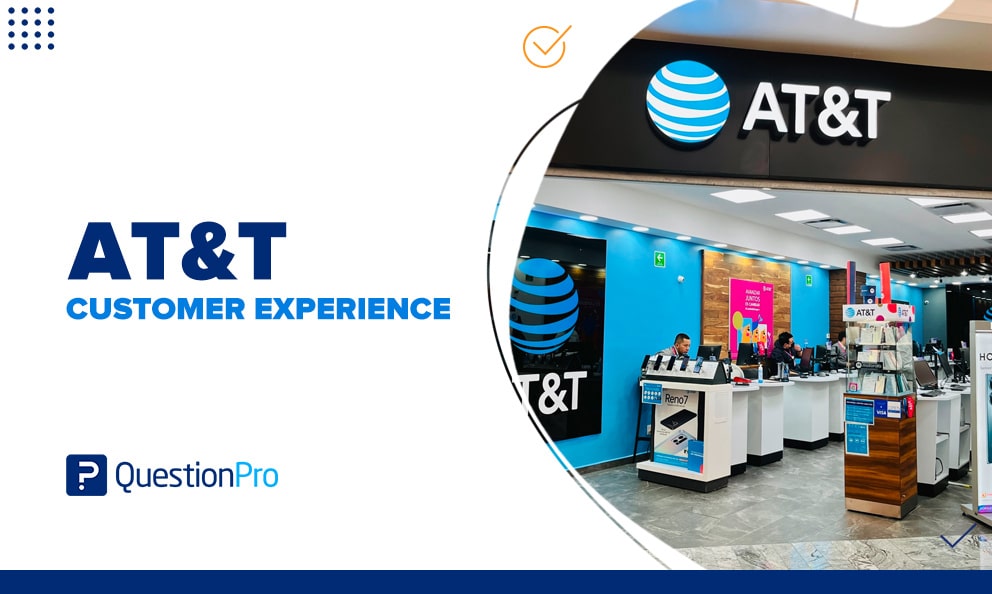 When it comes to customer experience and its impact on the telecommunications industry, AT&T is a standout brand. Based in Dallas, Texas, this company not only employs best practices and innovative methodologies to ensure customer satisfaction but has also begun developing incredible solutions that make it a significant player in the world of customer experience.
In this article, we'll explore some of the actions taken by AT&T to keep its customers happy, which have helped it establish itself among the leading brands in its field. We'll also delve into its customer journey, the meticulous attention given to each touchpoint, and how this experience is reflected in a wide range of solutions offered to other businesses.
Importance of Customer Experience for AT&T
AT&T is known for its close relationship with its consumers, constantly implementing improvements and initiatives over its more than 100 years of existence to provide a pleasant experience for its users. Some of the benefits that AT&T can enjoy by implementing these types of strategies include:
Customer Loyalty: Improved customer satisfaction leads to greater loyalty and reduced churn rates.
Increased Revenue: Satisfied customers are more likely to purchase additional services and recommend AT&T to others.
Cost Reduction: Efficient customer support and fewer complaints can lead to lower operational costs.
Competitive Advantage: Positive experiences differentiate AT&T from competitors in a crowded market.
Data-Driven Insights: Customer feedback and data can inform product and service improvements.
The telecommunications industry is often highly competitive, but thanks to these strategies, AT&T has managed to remain one of the leading competitors over the years, competing with giants like Verizon and T-Mobile.
Notable Customer Experience Actions by AT&T
Throughout its history and expansion, AT&T has been a pioneer in offering excellent customer service in its industry, which has undoubtedly helped it establish a significant presence in its market. Below, we list some of its successful initiatives and accomplishments to learn from and, with a bit of ingenuity, adapt to our own businesses.
Adaptation and Agility
In its over 130 years of history, AT&T has had to adapt quickly to significant changes, which are common in the technology industry, such as telecommunications. The arrival of wireless technology, 5G, fiber-fed broadband, and software-delivered entertainment are just a few of the challenges they've successfully tackled and introduced to the market. To achieve this, they have demonstrated great flexibility combined with clear processes. Being prepared for these types of changes has allowed them to offer their consumers the most innovative technology, making them a current and trustworthy company despite the years.
Omni-Channel Strategy
AT&T constantly tracks and analyzes its customers' journeys and all the touchpoints they interact with. From calls and customer support to social media and website actions, they constantly monitor everything that happens and the levels of satisfaction offered at each point.
Solutions Based on User Preferences
The AT&T team is always aware of trends and new technologies that allow them to provide better services based on user behavior. A great example of this is the recent incorporation of AI into their customer support system to facilitate one of their consumers' most commonly used channels: Self-Service.
"The focus of the department is driving autonomous services through technologies such as machine learning, artificial intelligence, recommendation, and online learning. In artificial intelligence, an expert system can learn from customer interactions just as a human expert can. The systems can imitate the decision-making ability of a human to provide proactive, actionable responses to each customer."

–Mazin Gilbert, Assistant Vice President of Inventive Science at AT&T Labs
A Glimpse into AT&T's Customer Journey
One of the most useful methodologies for visualizing the level of attention that companies provide and identifying areas of opportunity is the Customer Journey Map. This is a graphical representation of the entire path that a potential customer takes, from the first interactions to what happens after making a purchase or contracting services.
AT&T consistently employs these methodologies to ensure that its users receive the attention they deserve at every point. Therefore, it's not uncommon to find various views of some of their customer journey maps online.
Example of AT&T's Customer Journey Map
To provide a clearer example, we've created this customer journey map, taking some of the most common touchpoints in the industry into account and including some real ones based on news and interviews. This is done to allow you to visualize what a customer journey map of companies like this might look like.
This customer journey map summarizes AT&T's approach to customer experience and its impact on its success in the telecommunications industry. By constantly adapting, focusing on user preferences, and meticulously managing each touchpoint, AT&T has positioned itself as a leader in customer experience, setting a standard for others to follow.
Stage 01: AWARENESS
| | | | |
| --- | --- | --- | --- |
| Touchpoint | Activity | Pain Point | Solution |
| TV Commercials | Potential customers see AT&T TV ads. | Limited awareness of AT&T's offerings. | Increase TV ad reach and frequency during prime times. |
| Online Ads | Customers encounter AT&T ads online. | Ad-blockers and banner blindness reduce visibility. | Optimize online ad targeting and creatives. |
| Social Media Marketing | AT&T promotes services on social media. | High competition for user attention. | Use engaging content and targeted ads on social platforms. |
Stage 02: CONSIDERATION
| | | | |
| --- | --- | --- | --- |
| Touchpoint | Activity | Pain Point | Solution |
| Website | Customers visit AT&T's website. | Complex plan and pricing information. | Simplify website navigation and offer clear pricing. |
| Customer Reviews | Customers read reviews about AT&T. | Negative reviews or complaints may deter them. | Address negative feedback and highlight positive reviews. |
| Customer Service | Customers contact AT&T for information. | Long wait times and unhelpful support can frustrate. | Improve customer service response times and training. |
Stage 03: CONVERSION
| | | | |
| --- | --- | --- | --- |
| Touchpoint | Activity | Pain Point | Solution |
| Online Purchase | Customers make purchases on AT&T's website. | Lengthy checkout process. | Simplify the online purchase process. |
| Retail Stores | Customers visit AT&T retail stores. | Confusing in-store promotions and pricing. | Ensure consistent pricing and promotions across stores. |
| Customer Support | Customers finalize deals with support. | Sales representatives may lack knowledge. | Train representatives for better product knowledge. |
Stage 04: LOYALTY
| | | | |
| --- | --- | --- | --- |
| Touchpoint | Activity | Pain Point | Solution |
| Loyalty Programs | Customers enroll in AT&T loyalty programs. | Unclear program benefits and rewards. | Clearly communicate the advantages of loyalty programs. |
| Upgrades and Renewals | Customers consider plan upgrades. | Complexity in understanding upgrade options. | Simplify and explain the benefits of plan upgrades. |
| Exclusive Offers | AT&T offers exclusive deals to loyal customers. | Lack of tailored offers can be frustrating. | Personalize offers based on customer preferences. |
Stage 05: ADVOCACY
| | | | |
| --- | --- | --- | --- |
| Touchpoint | Activity | Pain Point | Solution |
| Social Media Engagement | Satisfied customers share experiences on social media. | Limited engagement and interaction. | Foster active and meaningful social media interactions. |
| Referral Programs | Customers refer friends and family to AT&T. | Incentives for referrals may be lacking. | Reward customers for successful referrals. |
| Customer Reviews | Happy customers leave positive online reviews. | Negative reviews can impact reputation. | Encourage and reward positive reviews; address negatives. |
Put what you've learned into practice!
Your company can also become a benchmark in its industry when it comes to customer experience! If you want to improve your current strategies or start implementing initiatives focused on enhancing customer satisfaction, QuestionPro has what you're looking for.
We've created a range of solutions to help businesses achieve their goals and improve the level of service they provide to their customers.
Within our array of options, you'll find tools for creating customer journey maps in just a few clicks, as well as feedback collection tools, online reputation analysis, and satisfaction level management.
We invite you to explore all the tools and features of QuestionPro CX. We'd love to learn more about your company, your objectives, and your projects to offer the best solution tailored to your needs. Start today!