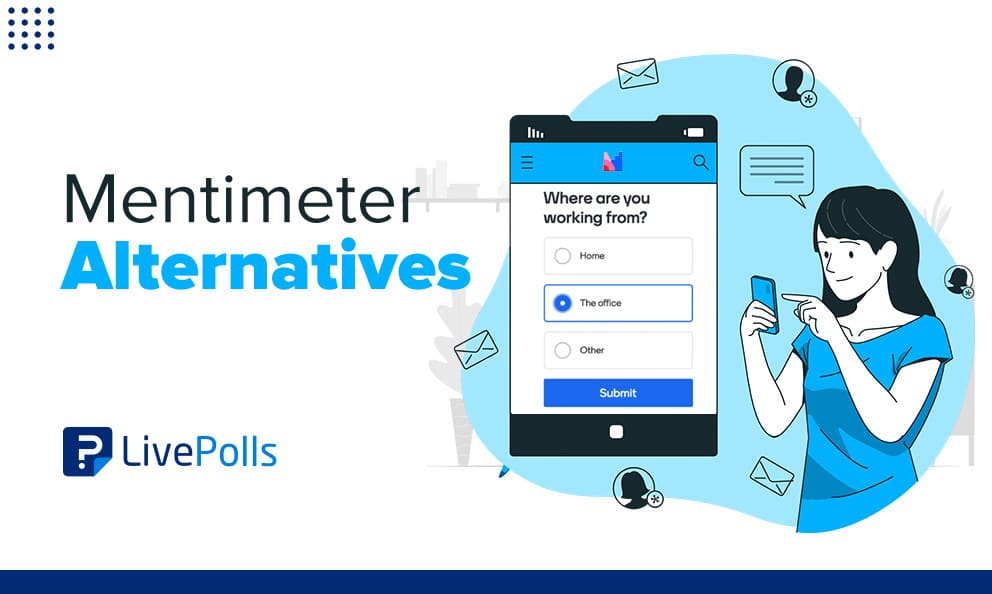 The use of tools to promote student engagement is becoming more common in the classroom around the globe. With this increased demand, more and more interactive tools have emerged. However, professors worldwide demand Polls Everywhere, Kahoot!, and Mentimeter alternatives with improved features. Let's explore the best ones.
LEARN ABOUT: Online Trivia Maker
What are Mentimeter Alternatives?
Mentimeter alternatives are other —sometimes best-suited— prospects to the features that Mentimeter offers. Some examples of these features are:
Creating interactive presentations with a presentation builder.
Gathering data from polls using intelligent appliances.
Obtaining insights from participants in real-time.
As we can see, Mentimeter offers a fair listing of options when it comes to interactive polls for students. Regardless, there are reasonably better options available now. For this reason, learning about every platform and what they can do for you will help you decide when to choose the best Mentimeter Alternatives.
Why opt for Mentimeter Alternatives?
One of the main aspects to consider is Mentimeter's limitations. For example, its free version is restricted to two questions, limiting interactivity. Also, it lacks any choice for importing data, which can be impractical for professors. In other words, it requires users to start from zero. In comparison, tools such as QuestionPro's LivePolls are free with no restrictions.
"The product [Mantimeter] can serve my students and teach better in some ways. If I am using a presentation in multiple classes, I have to ensure I reset results or they will appear for the next class to view. However, I can download results for view later. Additionally, I am not aware of a content filter or way to remove unwanted responses, and as the responses are anonymous, it is difficult to pinpoint who provided each response." —Carly L., Classroom teacher.
While Mentimeter allows us to gather feedback from the entire class rather than getting a couple of opinions, its lack of an element for data import can make it time-consuming to design templates from scratch for a whole class. The anonymity will also represent an issue if we want to evaluate each student individually.
Top 5 Best Mentimeter Alternatives
Each classroom has its own needs, making it fantastic to have more than one option to choose from. Let's explore the best Mantimeter alternatives for student engagement currently available in the market.
No 5: AhaSlides
It is a simple audience engagement tool. It allows the creation of live polls to boost the student's attention in class. Customers say it is an early-stage company with room for improvements, such as reporting features and customizable templates. However, it's a fair option if you're looking to conduct presentations with features such as Q&A and Polls simply.
AhaSlides requires no credit card to sign up. Free users have unlimited questions and full access to all slide types.
It is similar to Mentimeter in its presentation and audience response.
No 4: Quizizz
Even though users have compared it with Kahoot!, Quizizz is a platform for easy quiz creation. Students can do quizzes at their own pace, and they can do activities with different styles. The downside is that it makes it easy for participants to cheat.
Besides, a user said Quizizz could be a positive assessment platform if they could respond to the threats to test security more promptly.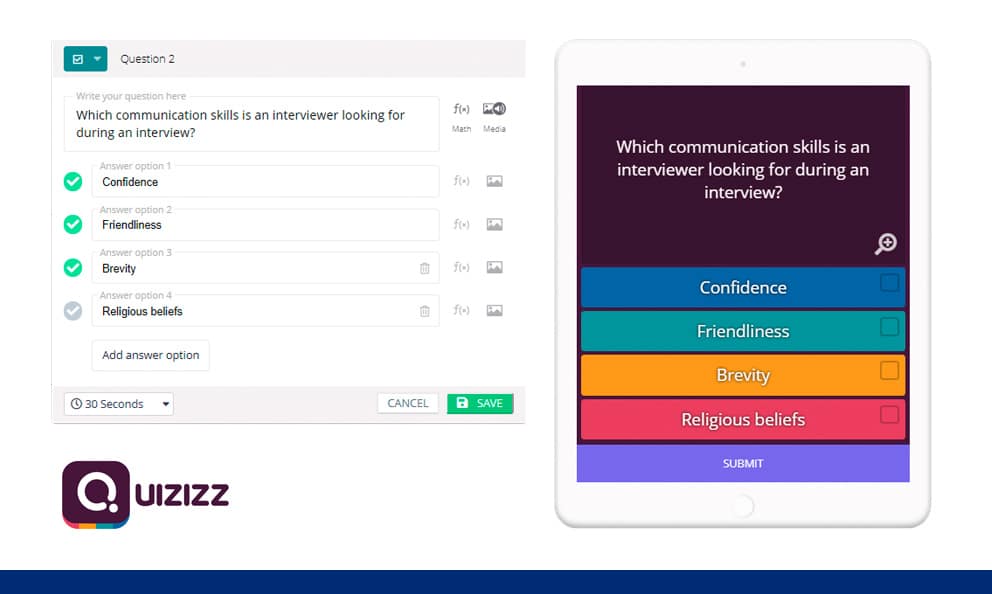 As a Mentimeter alternative, Quizizz is:
Slower to reach ROI
Easier to set up
Better usability
We recently published a blog that talks about Quizziz Alternatives; why don't you check it out for more ideas?
No 3: Slido
Slido is a simple audience interaction platform. It aims to get the most out of meetings and events, whether in-person, virtual, or hybrid. It allows Q&A, live polling, and quiz creation.
Customers have reported there's difficulty in integrating it with other platforms. It claims to be compatible with popular software. However, it requires seeking tech help to support the integration. It also has some complaints about it not being user-friendly.
Slido allows anonymous answers. Depending on your teaching needs, this can be either a pro or a con.
As a Mentimeter alternative, Slido:
Has slower ROI reach
Is more expensive
Has better customer support
If you want to know more about this platform, we suggest you read: Best Slido Alternatives
No 2: Kahoot!
Kahoot! is possibly the most popular tool for interactive presentations in class. For instance, this tool is valuable for keeping training and other meeting-type settings unexplored and interactive.
However, Kahoot! has a 10-player limit on the free version, which is low for a classroom. One of the main reasons teachers are searching for a Kahoot alternative is the need to be careful with the types of questions they choose. Since students earn more points based on speed, they tend to rush rather than stop and think through the problem.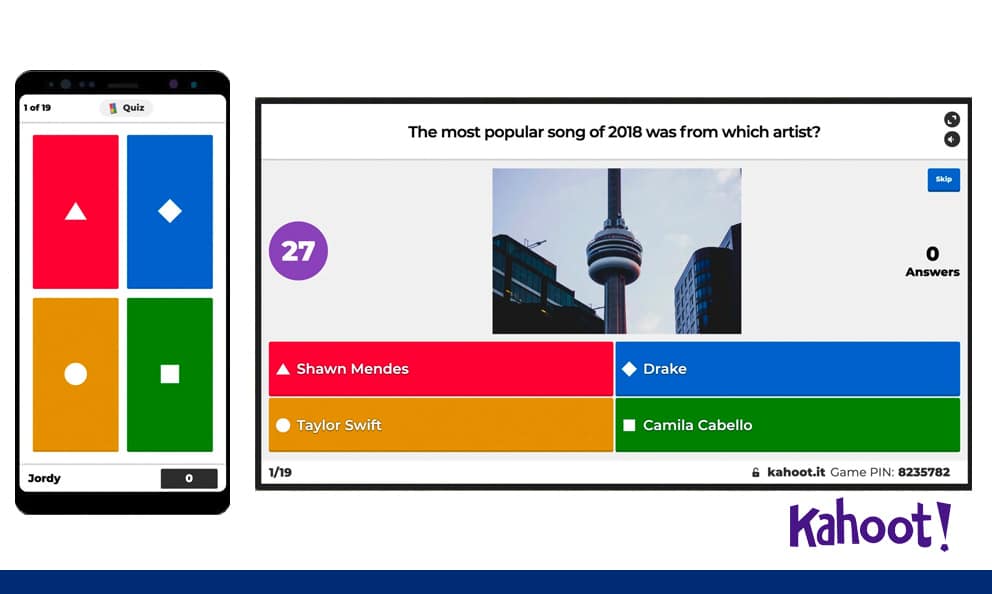 As a Mentimeter alternative, Kahoot! is:
Slower to reach ROI
More usable
Easier to manage
No 1: QuestionPro's LivePolls is the Best Mentimeter Alternative

LivePolls by QuestionPro is a free, user-friendly online engagement and polling tool. This software allows teachers to conduct quick online polls, quizzes, and general knowledge trivia to gather student feedback and showcase results in real-time. QuestionPro's Live Polls engage students in three easy steps:
Questions appear on the teachers' and students' screens.
Students answer the questions.
Everyone gets the results at the same time.
QuestionPro's LivePolls is one of the best Mentimeter alternatives. LivePolls is free for all users of QuestionPro. This tool is especially relevant for today's educators, who need access to digital tools to keep their online students engaged digitally, even when they are not in the classroom.
Most importantly, LivePolls by QuestionPro is a free, user-friendly online polling tool that lets you conduct quick online quizzes and timed trivia, gather instant feedback, and show the results to participants in real time. Done well, student polls will effectively collect your students' insights, test their knowledge, or fire up a discussion.
LEARN ABOUT: Live polls for Classroom Experience
LEARN ABOUT: Audience Engagement Tools