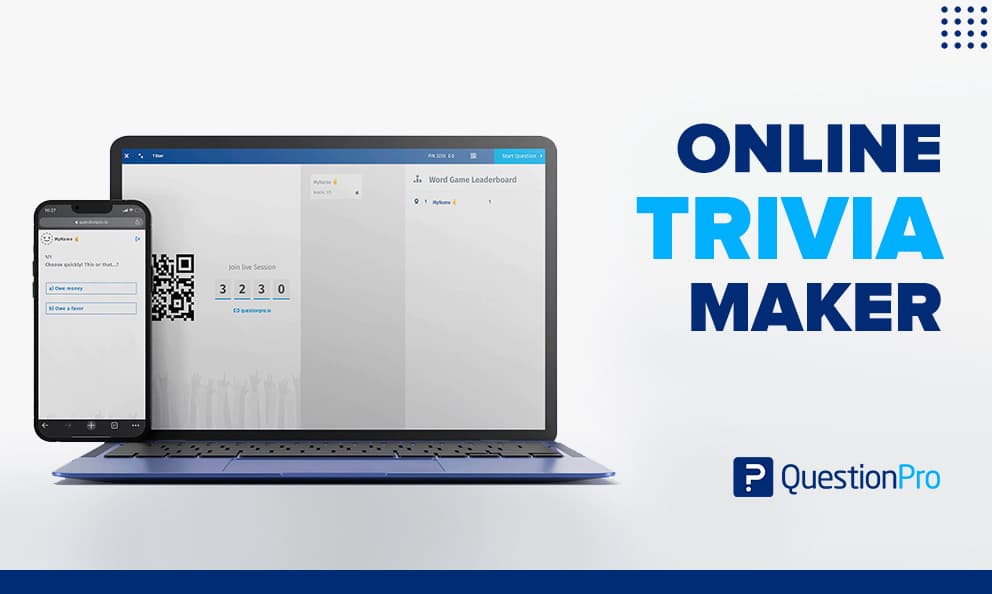 A test of knowledge is an exciting challenge in the right atmosphere. A good challenge for the mind is usually attractive to most people. So, what better way to create a real mental challenge for you and your friends than using an online trivia maker?
An online trivia maker is a fantastic tool to engage people through any specific topic in setups like events, classes, or trivia games. In trivia, the player's challenge is to choose the correct answer to an asked question within a given time. These conditions will add pressure to remember the correct answer.
What is an Online Trivia Maker?
An online trivia maker is a tool to design and assemble questions and answers in trivia form. As its name points out, an online trivia maker will allow us to create our own trivia game online. A custom-made game can be an entertaining way to discuss different topics while having fun.
Online trivia is a fun activity to pass the time. However, it is also a valuable tool to stimulate memory and retention of information. This peculiarity makes an online trivia maker a relevant asset for online education.
The good news is that there are currently several tools to create trivia online. A great example is LivePolls from QuestionPro. This tool stands out from its alternatives for its accesibility and unlimited question addition. Live polls for classroom engagement are the ultimate digital learning tool.
How To Use an Online Trivia Maker
An online trivia maker with uncomplicated mobile use is the more suitable choice to play trivia online with friends since already 85% of American adults used smartphones in 2021, and the number keeps growing. Below you can learn how easy it is to use LivePolls for your trivia games.
1. Chose the questions and answers for your trivia game.
Make sure to know your audience. If you want to create an entertaining and insightful game, select relevant questions for the participants. They must have some knowledge about the topics.
This doesn't mean the questions have to be easy. For example, if the game is aimed at your friends or family, you can add questions about fun experiences from the past or fun facts about relatives to challenge the memory and have a good time. If it's aimed at students, we recommend you use the most exciting or specific data from the topic your class is studying.
With an online trivia maker, there is no limit. You can use answers similar to the correct one but with slight differences that challenge the players' intellect. We recommend using one correct answer, two incorrect answers that make sense, and one that doesn't make sense but is fun.
2. Design the game online.
To design the game, you must create a free QuestionPro account. From our dashboard, we go to the LivePolls section and click on the add button. You will see a pop-up with two options: "Poll" or "Quiz." To use the trivia online maker, select "Quiz."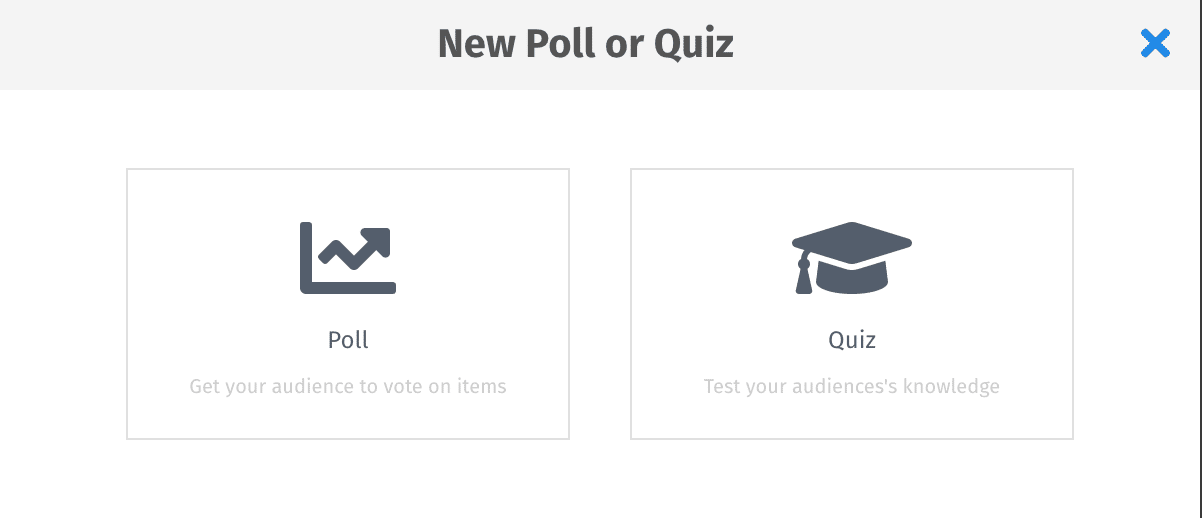 Start creating your trivia games with the questions and answers you prepared. You can choose between Multiple Choice and Live Feed, depending on your needs.
For trivia games, we recommend using Multiple Choice. With this option, you have control over the possible answers. On the other hand, with the Live Feed option, you will ask the audience to enter their answers using their devices in real-time. If you opt for multiple-choice, make sure to add some wrong and confusing options to increase the challenge.
3. Test the game using a smartphone.
Once you've created your own trivia game to play with friends or engage students, it's time to test it. Go to questionpro.io and try it out yourself. You can look at the video below for a quick preview of how the game will look.
As you can see, QuestionPro's LivePolls it's easy to set up, and everybody can use them. It doesn't require any apps or downloads. So as soon as the design is ready, it's game time. This is a game-changer in the classroom response system's world.
Read the ultimate step-by-step guide to QuestionPro's LivePolls.
4. Make sure to have fun.
The last step is to enjoy the game. You will be able to track points by correct answers and speed. The software will take care of the rest. On the screen, both you and the participants will be able to see everybody's score and how it changes with every new question.
Use the time between questions to create engaging conversations. Make mental notes for your students or comment on the experiences of your friends. With a bit of extra imagination, you only need to bring some snacks.
Online Trivia Maker for Education
Through technological tools that allow the creation of trivia, it is possible to create entertaining class plans that promote the learning and evaluating of a specific topic.
Next to "general knowledge" or "common sense," we find trivia —or trivialities—. Initially, trivia was considered "information of little to no value." However, now that we know that its value lies in amusement and promotes memory, it would be a waste to ignore its educational value.
By replicating the information in small pieces of information, no matter how "trivial" these may be, they will be meaningful for the participants who learn them through fun activities. Without a doubt, this stimulates the learning process.
Now that you have the information, it's time to design your own trivia games. Visit QuestionPro's LivePolls to learn everything you need. You can also contact support for help; our team of experts is ready to guide you through the process.