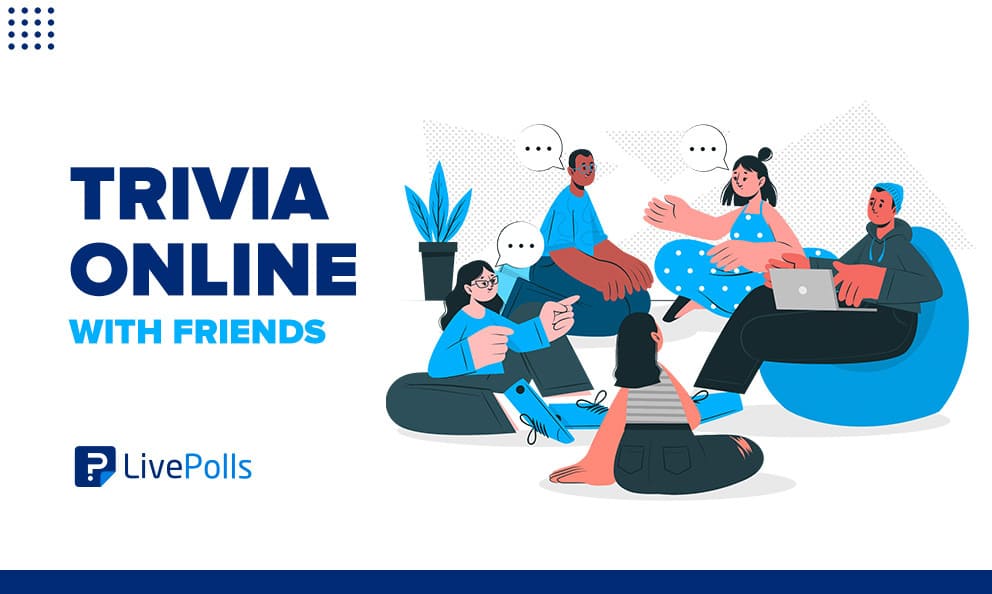 Are you a lover of online trivia? I spent a lot of time scouring the internet for the best approach to engage my friends in online trivia. I even tried some free online trivia websites but they weren't interactive enough and my friends ended up hating me. 
Finally, one of my coworkers introduced me to QuestionPro LivePolls, which changed my life. Now, every weekend I adore hosting online trivia with my pals. In this piece, I'll describe my transformation from the saddest host in the group to the most interesting host among my friends.
What is trivia online with friends?
Trivia online with friends is a game of knowledge to share with your close ones. It is usually played with friends and family, with the goal to answer questions correctly. A trivia game can be played in a physical place or online, in which case it would be called an "online trivia" game. Online trivia games are usually played through websites or apps on computers, tablets, and smartphones.
There are many different types of online trivia games for players to choose from: some have the player answer questions about general knowledge, others about music or movies, while others still focus on specific topics like sports or science.
How do I host an exciting online trivia game?
It's very entertaining to host your friends in online trivia. My recommendation for hosting an exciting online trivia with your friends will be, 
Including some funny answer options in the trivia questions.

Giving away some prizes to winners.

Be an entertainer. Crack some jokes during the trivia session.
What are the advantages & disadvantages of online trivia?
Hosting trivia online is a great way to get people together and have fun. The most popular way of doing it is through a website or app, but there's other options too.
There are many advantages of hosting trivia online. Doing them from anywhere in the world is one of them as you don't need to worry about traveling to a specific location. Another advantage is that you can play with friends who live far away from you and still have fun together.
There are also some disadvantages of hosting trivia online. One disadvantage is that it's not as interactive as playing in person because there's no physical contact between players and they might not feel like they're really playing together. Another disadvantage is that it's hard to keep track of scores because there's no scoreboard or anything.
Why prizes are important in online trivia?
Prizes are a great way to incentivize players to play your trivia game. They can be anything from a free drink at the bar, to a free movie ticket, or even an Amazon gift card.
The prizes you offer should be relevant to your audience and the type of trivia you are hosting. For example, if you are hosting a sports trivia game, then prizes could include tickets to the next big game or signed memorabilia from your favorite team.
What are QuestionPro LivePolls?
Online trivia is a type of game that people are playing to test their knowledge. But the way in which people play trivia has changed over time. One of the most popular ways to play trivia is through online quizzes and polls. These days, there are many online tools available for people to use for their quizzes and polls.
QuestionPro LivePolls is one such tool that allows you to create questions, create a quiz or poll, and then share it with your friends by sending them a link and a four-digit code or posting it on social media platforms such as Facebook or Twitter. Everyone can see the leaderboard, which shows how many points you have accumulated in the game.
It also adds a competitive element by scoring the speed with which each question is answered, encouraging everyone to respond as quickly as possible. The most incredible aspect is that this tool is completely free.
This was my transformation from the most boring member of the group to the most amusing. QuestionPro LivePolls assisted me in creating a variety of online trivia/quizzes to entertain my friends without spending a dime.
It is up to you to choose the proper tool to fit your unique event requirements. With QuestionPro's LivePolls, we provide it and surpass your expectations. Why don't you just get started right away? Try QuestionPro LivePolls for free; we know you will love it!
Authors:  Vijay Tambe and Nilesh Batra