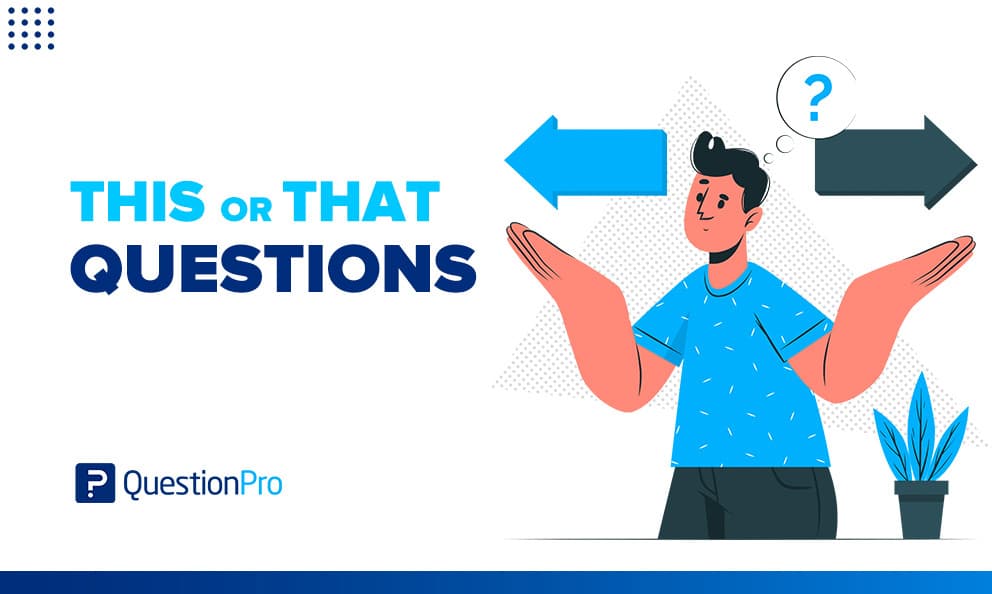 This or that questions are timeless, fun, easy to execute, and a great tool to increase the attention and engagement of any group of people. You don't need fancy equipment, lights, or loud music to keep a group entertained and engaged. Instead, a fun game where every participant is involved can work wonders for audience engagement. Let's talk about it.
What are "This or that questions"?
This or that questions are an entertaining activity that uses comparative questions for participants to choose between two given options. Also known as either-or questions, they are usually used as icebreakers or games. However, they can also be employed as educational and research tools.
This or That Questions might remind us Would you Rather Questions. The difference is that in This or that questions you have two objects to choose from and must answer quickly, while in Would you rather? questions, you have to choose between scenarios and can stop and think for a moment before deciding.
The two options given to the participants to choose from in this or that questions are usually random but can sometimes follow a specific topic or subject. There are no criteria for choosing one or the other as there's no time for the participant to reflect on the choice. There's no limit in the set of questions on a game of this or that questions.
It can be practiced between either small or large groups of people, which is why it's a great tool to implement in a class, presentation, or exposition as an icebreaker and a tool for audience engagement. It's an easy-to-prepare activity and anyone can conduct it.
This or that questions ideas
As mentioned before, this or that questions can be focused in specific topics. Of course, it's essential to consider the participant's age range and context to make sure the questions are appropriate and fair. Below you can find some examples and ideas for topic-specific questions for this or that games.
This or that questions for adults
Hang out with little kids or old folks?
Owe money or owe a favor?
Pay rent or pay a mortgage?
Roommates or live alone?
Cold shower or cold dinner?
Poor and famous or rich and unknown?
Money or love?
Movies or books?
Comedy or horror?
Passenger or driver?
This or that questions for work
Difficult client or difficult coworker?
Emails or calls?
Work from office or work from home?
Zoom meetings or in-person meetings?
Interviewer or interviewee?
Book smarts or street smarts?
Education or experience?
Speed or accuracy?
Private office or reserved parking spot?
Company retreat or company holiday party?
This or that questions for school
Home school or classroom learning?
Field trips or field days?
Homework or classwork?
Big class or small class?
Desks or tables?
Team project or alone project?
Recent history or ancient history?
Chemistry or biology?
Geometry or algebra?
College or high school?
This or that questions for audience engagement
One thing that never changes when giving a presentation is the challenge of keeping the audience entertained and engaged in the topic being discussed. One of the most straightforward tools to implement and with the most favorable results is question games such as trivia and polls; one of them is using this or that questions.
A presentation or class will reflect a satisfactory audience engagement because the participants will feel comfortable and in tune with who is presenting. The small breaks and skill games will motivate the audience and keep them engaged.
There are a lot of free audience response software tools to design all kinds of trivia, live polls, and questionnaire games to increase audience engagement and attention. They act as educational tools and can be a great Kahoot alternative. Using a tool to conduct this or that question games can be the difference between a successful class or presentation and a tiresome one.
How to make your own This or That game online for free in seconds with QuestionPro LivePolls
Getting your friends, students, or audiences involved in a this or that dynamic can be a lot of fun, mainly if everyone participates simultaneously.
These dynamics are much more fun when you incorporate the right technology and tools so that more people are part of it regardless of their location and without having to install anything.
QuestionPro LivePolls will allow you to make your own this or that game in seconds and completely free, be the star of your event with this dynamic.
How to do it?
Sign in to your free QuestionPro account. If you don't have one yet, you can create one here. No credit card is required.
 Once inside, go to the product menu located in the upper left margin. Choose the option "Engagement Tools" and finally "LivePolls."
Once there, click on +New LivePoll and choose the "Poll" option to start adding as many questions as you want. Let your imagination fly!

When you have loaded all your questions and options, click on "Start New Session." In the pop-up window, you will need to put a time limit; We advise you to take a few seconds to pressure your friends to give a genuine answer. Don't let them ponder their answer!
Click on "START POLL," and you're done. Your friends can now join by entering questionpro.io on their mobile and placing the code that is displayed on the screen.
If you prefer, you can scan the QR code, and that's it! Let the fun begin! Now you have to click on "Start Question" and begin to see what your friends prefer, this or that?!
With QuestionPro LivePolls, you'll be able to put everyone to play without installing or downloading anything and have a great time full of entertainment.