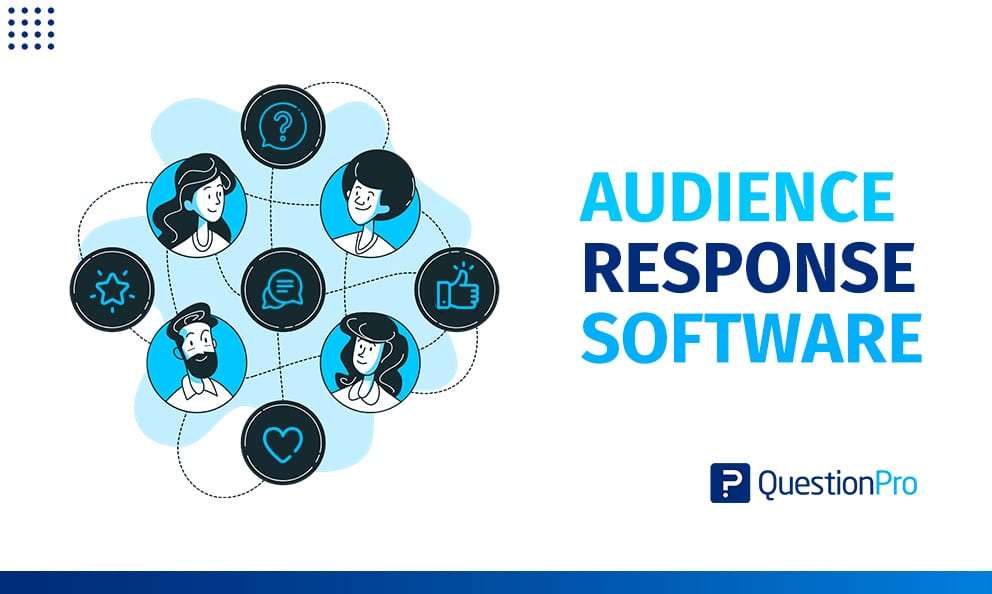 One of the most significant challenges for those responsible for organizing meetings, conferences, keynotes, or educational talks is to keep their audience engaged. Thanks to technological advances, it is possible to achieve this, mainly if we use Audience Response Software.
Many companies and events use these platforms to create dynamic and memorable events. Fortunately, there are a couple of outstanding prospects on the market. Below, we will tell you a little more about this type of software and list the best options for you to start implementing it in your following events.
What is an Audience Response Software?
An audience response software is a tool that a company or institution uses to increase audience engagement and interaction during live presentations both online and in person. Audience response software is adequate for anyone with an audience of any size.
An appropriate audience Response Software will manage to successfully connect an audience to one or more speakers involved in an online or face-to-face event such as conferences and exhibitions. Success is often achieved through the use of interactive polls, Q&A, and quizzes that constantly keep the audience engaged and entertained, making the event more enjoyable and meaningful.
But, how do you choose between the options available? Don't worry. We took the time to do some research for you and the results were fantastic. Let's talk about the Top 3 Audience Response Software tools.
Top 3 Best Audience Response Software
Here is a list of the best audience response software on the market; you can see their strengths and weaknesses to choose the most appropriate for your needs. Making informed decisions is crucial.
1.- LivePolls
LivePolls is an all-terrain tool that allows you to interact and engage your audience through the use of polls, quizzes, and custom trivia games in real-time and without the need to download or install anything.
With a simple link or QR code that can be distributed in any medium (physical or digital), your audience will be able to participate in your dynamics quickly thanks to its intuitive interface.
LivePolls has a series of features that will allow you to create quizzes or polls very easily and start using them in seconds.
One of the main strengths without a doubt is the cost-benefit ratio. It is a relatively new product powered by the QuestionPro company, so for now you can use this tool at no cost. What's the catch? None, not only is it free but it far exceeds the free and paid versions of other audience response software.
It's a no-brainer decision! You can create an account free of charge and start using it here: LivePolls
2.- Kahoot
Kahoot has positioned itself as one of the easiest and most fun ways to take an online quiz for small events. In its free version, only 20 participants can join, if you have an audience greater than that you can access their payment plans. This platform is usually quite intuitive and easy to use, which is why it is widely used by students in school dynamics.
In the market, there are many alternatives to Kahoot! that you can take into account in case you need a free version with greater capabilities.
3.- Solid
Slido is a well-known audience engagement platform primarily for managing questions for Q&A sessions. Although they have a simple system, they are often widely used in large events to receive and show the questions from the public to the speakers. The free version will allow you to create a poll for 100 participants, in case you need more than that you can access its paid licenses and increase your number of participants or the unions you need.
Benefits of using an Audience Response Software
There is nothing worse than a boring event, that's why implementing the use of platforms such as audience response software is a great option to make things more fun and allow your audience to have a more than pleasant time.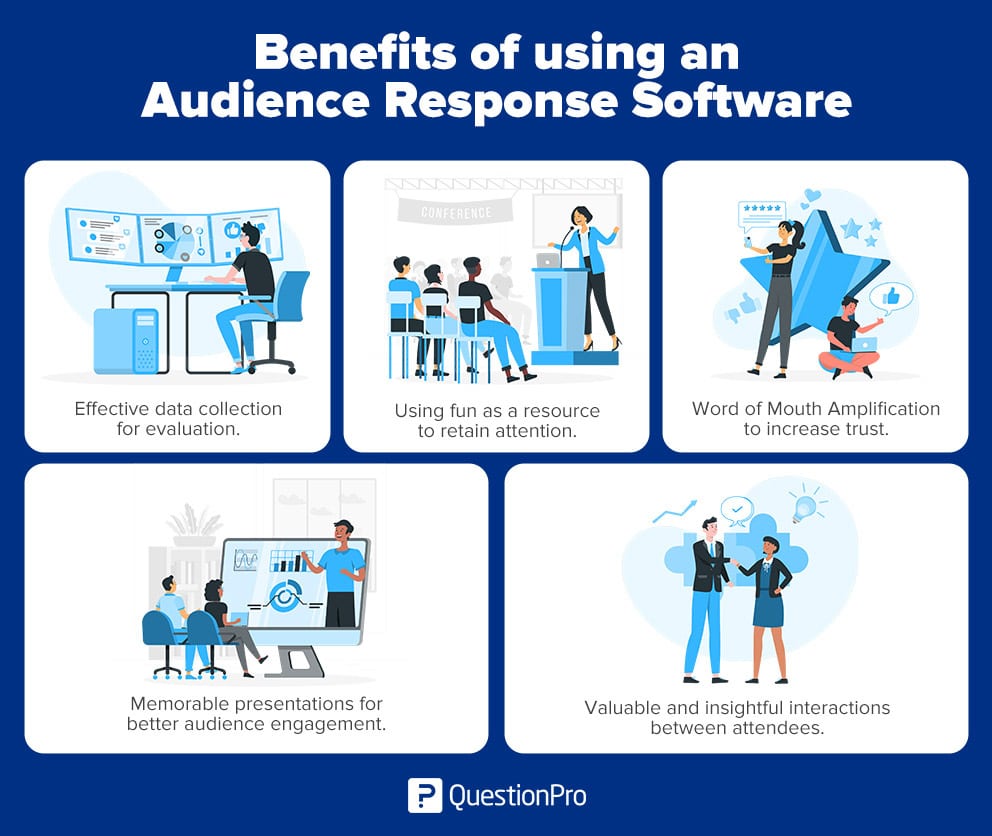 The benefits of achieving this are:
Memorable event: Without a doubt, making your audience have a great time by attending your events or conferences will make them want to attend the next edition.
Word of Mouth Amplification: There is no better advertising than people's opinions, if you compliment the use of these dynamics with memorable prizes you will make people not only have a great time and want to return, but also invite more people to attend other events organized by you or your company.
Fun: Quizzes are a great opportunity to include fun questions that will make more than one laugh and perceive your event as fun and interesting.
Value interactions: A good audience response software will also allow you to manage the questions and answers of your audience in order to carry out a dynamic Q&A session.
Data: Many audience response software can be used as a survey for conferences or something similar, so you can collect data and analyze it later to find areas for improvement.
We hope that all this information will be of great help to you to begin to implement this type of technology in your meetings and events to begin to distinguish yourself from all the others. This can bring you great benefits as we mentioned earlier.
If you are interested in using an Audience Response Software, we invite you to try LivePolls, it is free of charge, we will support you with any questions and you can use all our features to keep your audience interacting with your event in an original way.